Eric Marcotte (SmartStop) won the USA Cycling Professional Championship men's road race, just ahead of teammate Travis McCabe. The result is a surprise by itself, but what's more interesting: 34-year-old Marcotte is a full-time worker, he works as a Chiropractic[1].
Is it possible to win a big event like that, while working on a full-time job?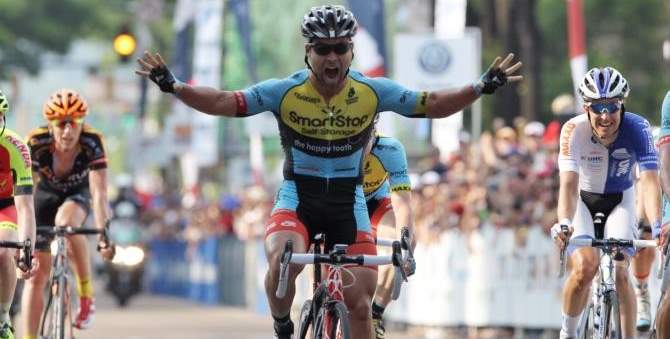 Eric Marcotte showed us the answer is "yes". In fact, he is not the first. In 1994, American cyclist Karen Brems Kurreck won women's individual time trial at the UCI Road World Championships in Catania, Italy. She was working as a full-time software developer when she achieved this.
But it's so rare, of course.
In the Roadbikerider.com's training guide named "29 Pro Cycling Secret for roadies", Kurreck reveals her training methods.
Look for small blocks of time in your schedule. Kurreck identified 5 time slots available for
training during her busy day: before work, the morning commute, lunch, commuting home,
and evening. She combined these slots in varied ways.

For instance, Kurreck sometimes trained at 6 a.m. If she arrived at her office a little late, she
would stay late to make up for it. Or she rode 8 miles to work, trained at lunch, and rode
home.

"If you can find several one-hour blocks in your day," she says, "you can do double workouts
and improve."

Quality is more important than quantity. When time is limited, increase intensity.
Kurreck based her training around twice-weekly evening criteriums at the local community
college. The secret, she says, is to "warm up, do the training, and cool down—no wasted
time."

It also helps to be a fast changer. Kurreck says she can shower and change from riding
clothes to work clothes in less than 5 minutes.

Be just as efficient at your job to protect riding opportunities. "You need to get your work done
in less time than your colleagues," Kurreck says.
Notes

[1]Chiropractic is a form of alternative medicine that emphasizes diagnosis, treatment and prevention of mechanical disorders of the musculoskeletal system, especially the spine, under the belief that these disorders affect general health via the nervous system.
Latest posts by M. Özgür Nevres
(see all)