1971 Tour de France was a great tragedy for Luis Ocaña, who won the Tour de France in 1973 and the Vuelta a España in 1970.

Legendary Eddy Merckx won Tour de France in 1969 and 1970, and it looked like he was well on the way to his hat trick. Pre-race predictions were certain that if he would not become ill or crash, Merckx would be the winner, and were speculating whether he would be able to lead the race from start to end. But Luis Ocaña of Spain had something to say about this matter.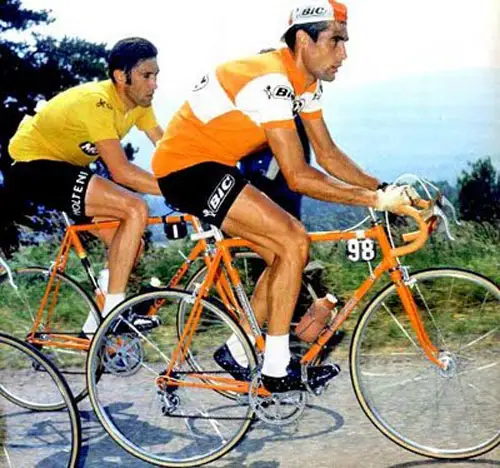 The 1971 Tour began in Mulhouse with a team time trial, and Merckx's Molteni team won the stage. He held the yellow jersey for 9 days until Joop Zoetemelk took it off him on the 10th stage to Grenoble, (stage won by Bernard Thevenet). The next day, in the eleventh stage, on the way to Orcieres-Merlette, Ocaña attacked on Merckx on the climbs and soloed to the victory with more than six minutes ahead of second finisher, Lucien Van Impe. Merckx and Zoetemelk finished in third and fourth place, almost nine minutes behind.
Ocaña had set such a pace, that 61 cyclists finished outside the original time limit, leaving only 39 in the race. The time limit was consequently extended such that 58 more were allowed to start the next day. Ocaña seemed so strong, that Merckx abandoned the idea to win his third Tour.
Merckx attacked the very next day but he gained only two minutes by the time he reached the finish in Marseille. He then won the time trial around Albi, but at only 16.3km in length, he struggled to make much headway into Ocaña's lead.
It seemed, the Tour victory was going to Ocaña.
But then the tragedy took place. In the fourteenth stage, there was heavy rain. On the way up to the Col de Mente, Merckx attacked several times, but each time Ocaña managed to come back. Merckx was the first to hit the deck but bounced straight back up again. During a descent, Ocaña fell. At first, he was slow to get up, before Joop Zoetemelk came screaming around the same corner. Zoetemelk punctured and was unable to avoid him, and hit him at high speed. Ocaña had to give up with a badly injured shoulder.
Merckx became the new leader, but out of respect for his biggest rival, Ocaña, he refused to go to the ceremony at the end of the stage, and refused wear the yellow jersey the next stage. Merckx considered to leave the race, because he did not want to win because of Ocaña's bad luck. Tour directors Levitan and Goddet convinced him to continue the race.
Merckx finished almost 10 minutes ahead of second finisher Joop Zoetemelk, and over 11 minutes ahead of third finisher Lucien Van Impe. He also took 4 stage wins plus the team time trial, and the green jersey.
1971 Tour de France (58th edition) General Classification – Top ten:
| | RIDER | COUNTRY | TEAM | TIME |
| --- | --- | --- | --- | --- |
| 1 | Eddy Merckx | Belgium | Molteni | 96:45:14 |
| 2 | Joop Zoetemelk | Netherlands | Mars-Flandria | +09:51 |
| 3 | Lucien Van Impe | Belgium | Sonolor-Lejeune |  +11:06 |
| 4 | Bernard Thévenet | France | Peugeot-BP |  +14:50 |
| 5 | Joaquim Agostinho | Portugal | Hoover De Gribaldy | +21:00 |
| 6 | Leif Mortensen | Denmark | Bic | +21:38 |
| 7 | Cyrille Guimard | France | Fagor-Mercier |  +22:58 |
| 8 | Bernard Labourdette | France | Bic |  +30:07 |
| 9 | Lucien Aimar | France | Sonolor-Lejeune |  +32:45 |
| 10 | Vicente López Carril | Spain | Kas |  +36:00 |
Green Jersey: Eddy Merckx (Belgium) Molteni
Polka-dot Jersey (KOM): Lucien Van Impe (Belgium) Sonolor-Lejeune
I am a software developer, an ex-racing cyclist (at the amateur level) and a science enthusiast. Also an animal lover! I write about cycling on this website, cycling-passion.com. You can check out my social media profiles by clicking on their icons.
Latest posts by M. Özgür Nevres (see all)