Stage 3 of Tour de France 2013 (100th edition) is a hilly stage between Ajaccio and Calvi. The length of the course is 145.5 kilometers. Both Ajaccio and Calvi will be host a Tour de France stage first time in history.
STAGE DETAILS
DATE: July 01 2013, Monday
STAGE TYPE: Hilly
START-FINISH: Ajaccio (1 m) > Calvi (8 m)
LENGTH OF THE COURSE: 145.5 km
DIFFICULTY:


<< Previous Stage | All stages of Tour de France 2013 | Next Stage >>
Stage Profile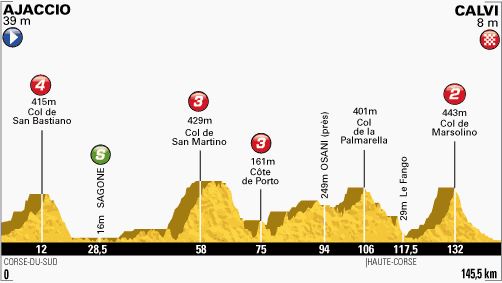 Mountain passes & hills
@12.0 km, Col de San Bastiano, 3.4 kilometre-long climb at 4.6%. Category: 4
@58.0 km, Col de San Martino, 7.5 kilometre-long climb at 5.4%. Category: 3
@75.0 km, Côte de Porto, 2 kilometre-long climb at 6.4%. Category: 3
@132.0 km, Col de Marsolino (443 m), 3.3 kilometre-long climb at 8.1%. Category: 2
Intermediate Sprint
@km 28.5, Sagone
Last kilometers
Stage Map
Start: Ajaccio
Ajaccio is a commune on the island of Corsica in France. It is the capital and largest city of the region of Corsica and the prefecture of the department of Corse-du-Sud. Ajaccio is located on the west coast of the island of Corsica, 210 nautical miles (390 km) southeast of Marseille. It occupies a sheltered position at the foot of wooded hills on the northern shore of the Gulf of Ajaccio. The harbour lies to the east of the foundation site at the original citadel on a hill overlooking a peninsula protecting the harbor on the south, where now are located the Quai de la Citadelle and the Jettée de la Citadelle. The modern city not only encloses the entire harbor but takes up the better part of the Gulf of Ajaccio and in suburban form extends for some miles up the valley of the Gravona River. The flow from that river is nearly entirely consumed as the city's water supply. (wiki)
Finish: Calvi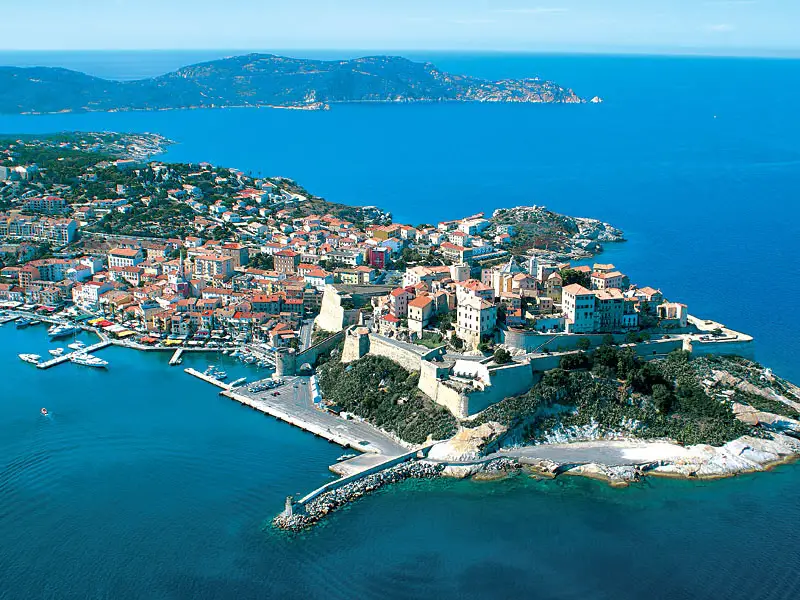 Calvi is a commune in the Haute-Corse department of France on the island of Corsica. It is the seat of the Canton of Calvi, which contains Calvi and one other commune, Lumio. Calvi is also the capital of the Arrondissement of Calvi, which contains, besides the Canton of Calvi, three other cantons: L'Île-Rousse, Belgodère, and Calenzana. (wiki)
I am a software developer, an ex-racing cyclist (at the amateur level) and a science enthusiast. Also an animal lover! I write about cycling on this website, cycling-passion.com. You can check out my social media profiles by clicking on their icons.
Latest posts by M. Özgür Nevres (see all)