Stage 13 of Tour de France 2013 is a 173 km flat stage from Tours to Saint-Amand-Montrond. Despite the course is suitable for the pure sprinters, the small climb close to the finish line may cause a selection.

STAGE DETAILS
DATE: July 12 2013, Friday
STAGE TYPE: Flat
START-FINISH: Tours (95 m) > Saint-Amand-Montrond (162 m)
LENGTH OF THE COURSE: 173 km
DIFFICULTY.


<< Previous Stage | All stages of Tour de France 2013 | Next Stage >>
Stage Profile
Mountain passes & hills
Km 77.5 – Côte de Crotz, 1.2 kilometre long climb at 4% – category 4
Intermediate sprint
Km. 112.5, Saint-Aoustrille
Last kilometers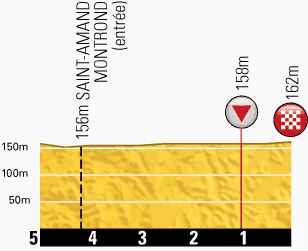 Stage Map
Start: Tours
Tours is a city in central France, the capital of the Indre-et-Loire department.It stands on the lower reaches of the river Loire, between Orléans and the Atlantic coast. Touraine, the region around Tours, is known for its wines, the alleged perfection (as perceived by some speakers) of its local spoken French, and the Battle of Tours in 732. It is also the site of the Paris–Tours road bicycle race. Tours is the largest city in the Centre region of France, although it is not the regional capital, which is the region's second-largest city, Orléans.
Finish: Saint-Amand-Montrond
Saint-Amand-Montrond is a commune in the Cher department in the Centre region of France.A small town of farming and a little light industry situated some 26 miles (42 km) southeast of Bourges, at the junction of the D951 with the D300 and D2144 roads. The town was built in the basin of the eastern banks of the Cher River which separates it from the commune of Orval, to which it is connected by two bridges.
A small river, the Marmande, joins the Cher here, and the canal de Berry crosses the commune from southeast to southwest. Some flooding is common because of the nearby marshes. The town is the capital of the small region of Boischaut, known for its woodland and cattle pastures.
Latest posts by M. Özgür Nevres
(see all)