The UCI Road World Championships are the annual world championships for bicycle road racing organized by the Union Cycliste Internationale (UCI). Here's the complete list of the UCI Elite Men Road Race World Champions.
The first professional world championship took place in July 1927 at the Nürburgring in Germany, where legendary Italian Alfredo Binda won the professional men's race.
In fact, the first world championships took place in 1921, but it was contested as the Men's Road Race for Amateurs.
Current World Champion (2022): Remco Evenepoel (Belgium)
The current UCI world champion (2022) is Remco Evenepoel of Belgium. Evenepoel won the race in Wollongong, Australia with a powerful solo attack from the two-men break in the last 30 kilometers.
Total Numbers of UCI Elite Men Road Race World Champions by country: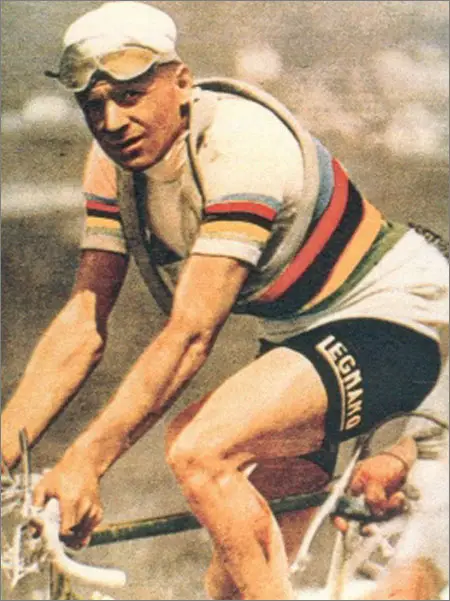 Belgium: 27
Italy: 19
France: 10
Netherlands: 7
Spain: 6
Slovakia: 3
Switzerland: 3
USA: 3
Great Britain: 2
Germany: 2
Denmark: 1
Ireland: 1
Latvia: 1
Australia: 1
Norway: 1
Portugal: 1
Poland: 1
Complete List of UCI Elite Men Road Race World Champions in Historical Order
Year, Rider, Country, Race Location
1927, Alfredo Binda, Italy, Nürburgring (Germany)
1928, Georges Ronsse, Belgium, Budapest (Hungary)
1929, Georges Ronsse (2), Belgium (2), Zürich (Switzerland)
1930, Alfredo Binda (2), Italy (2), Liège (Belgium)
1931, Learco Guerra, Italy (3), Copenhagen (Denmark)
1932, Alfredo Binda (3), Italy (4), Rome (Italy)
1933, Georges Speicher, France, Montlhéry (France)
1934, Karel Kaers, Belgium (3), Leipzig (Germany)
1935, Jean Aerts, Belgium (4), Floreffe (Belgium)
1936, Antonin Magne, France (2), Berne (Switzerland)
1937, Eloi Meulenberg, Belgium (5), Copenhagen (Denmark)
1938, Marcel Kint, Belgium (6), Valkenburg (Netherlands)
1939 NO RACE (SECOND WORLD WAR)
1940 NO RACE (SECOND WORLD WAR)
1941 NO RACE (SECOND WORLD WAR)
1942 NO RACE (SECOND WORLD WAR)
1943 NO RACE (SECOND WORLD WAR)
1944 NO RACE (SECOND WORLD WAR)
1945 NO RACE (SECOND WORLD WAR)
1946, Hans Knecht, Switzerland, Zürich(Switzerland)
1947, Theo Middelkamp, Netherlands, Reims (France)
1948, Briek Schotte, Belgium (7), Valkenburg (Netherlands)
1949, Rik Van Steenbergen, Belgium (8), Copenhagen (Denmark)
1950, Briek Schotte (2), Belgium (9), Moorslede (Belgium)
1951, Ferdi Kübler, Switzerland (2), Varese (Italy)
1952, Heinz Müller, Germany, Luxembourg
1953, Fausto Coppi, Italy (5), Lugano (Switzerland)
1954, Louison Bobet, France (3), Solingen (West Germany)
1955, Stan Ockers, Belgium (10), Frascati (Italy)
1956, Rik Van Steenbergen (2), Belgium (11), Copenhagen (Denmark)
1957, Rik Van Steenbergen (3), Belgium (12), Waregem (Belgium)
1958, Ercole Baldini, Italy (6), Reims (France)
1959, André Darrigade, France (4), Zandvoort (Netherlands)
1960, Rik Van Looy, Belgium (13), Karl Marx Stadt (East Germany)
1961, Rik Van Looy (2), Belgium (14), Berne (Switzerland)
1962, Jean Stablinski, France (5), Salò di Garda (Italy)
1963, Benoni Beheyt, Belgium (15), Ronse (Belgium)
1964, Jan Janssen, Netherlands (2), Sallanches (France)
1965, Tom Simpson, Great Britain, San Sebastián (Spain)
1966, Rudi Altig, Germany (2), Nürburgring (West Germany)
1967, Eddy Merckx, Belgium (16), Heerlen (Netherlands)
1968, Vittorio Adorni, Italy (7), Imola (Italy)
1969, Harm Ottenbros, Netherlands (3), Zolder (Belgium)
1970, Jean-Pierre Monsere, Belgium (17), Leicester (United Kingdom)
1971, Eddy Merckx (2), Belgium (18), Mendrisio (Switzerland)
1972, Marino Basso, Italy (8), Gap (France)
1973, Felice Gimondi, Italy (9), Barcelona (Spain)
1974, Eddy Merckx (3), Belgium (19), Montreal (Canada)
1975, Hennie Kuiper, Netherlands (4), Yvoir (Belgium)
1976, Freddy Maertens, Belgium (20), Ostuni (Italy)
1977, Francesco Moser, Italy (10), San Cristóbal (Venezuela)
1978, Gerrie Knetemann, Netherlands (5), Nürburgring (West Germany)
1979, Jan Raas, Netherlands (6), Valkenburg (Netherlands)
1980, Bernard Hinault, France (6), Sallanches (France)
1981, Freddy Maertens (2), Belgium (21), Prague (Czechoslovakia)
1982, Giuseppe Saronni, Italy (11), Goodwood (United Kingdom)
1983, Greg LeMond, United States, Altenrhein (Switzerland)
1984, Claude Criquielion, Belgium (22), Barcelona (Spain)
1985, Joop Zoetemelk, Netherlands (7), Giavera del Montello (Italy)
1986, Moreno Argentin, Italy (12), Colorado Springs (United States)
1987, Stephen Roche, Ireland, Villach (Austria)
1988, Maurizio Fondriest, Italy (13), Ronse (Belgium)
1989, Greg LeMond (2), United States (2), Chambéry (France)
1990, Rudy Dhaenens, Belgium (23), Utsunomiya (Japan)
1991, Gianni Bugno, Italy (14), Stuttgart (Germany)
1992, Gianni Bugno (2), Italy (15), Benidorm (Spain)
1993, Lance Armstrong, United States (3), Oslo (Norway)
1994, Luc Leblanc, France (7), Agrigento (Italy)
1995, Abraham Olano, Spain, Duitama (Colombia)
1996, Johan Museeuw, Belgium (24), Lugano (Switzerland)
1997, Laurent Brochard, France (8), San Sebastián (Spain)
1998, Oscar Camenzind, Switzerland (3), Valkenburg (Netherlands)
1999, Óscar Freire, Spain (2), Verona (Italy)
2000, Romans Vainsteins, Latvia, Plouay (France)
2001, Óscar Freire (2), Spain (3), Lisbon (Portugal)
2002, Mario Cipollini, Italy (16), Zolder and Hasselt (Belgium)
2003, Igor Astarloa, Spain (4), Hamilton (Canada)
2004, Óscar Freire (3), Spain (5), Verona (Italy)
2005, Tom Boonen, Belgium (25), Madrid (Spain)
2006, Paolo Bettini, Italy (17), Salzburg (Austria)
2007, Paolo Bettini (2), Italy (18), Stuttgart (Germany)
2008, Alessandro Ballan, Italy (19), Varese (Italy)
2009, Cadel Evans, Australia, Mendrisio (Switzerland)
2010, Thor Hushovd, Norway, Melbourne, and Geelong (Australia)
2011, Mark Cavendish, Great Britain (2), Copenhagen (Denmark)
2012, Philippe Gilbert, Belgium (26), Limburg (Netherlands)
2013, Rui Alberto Faria da Costa, Portugal, Florence (Italy)
2014, Michał Kwiatkowski, Poland, Ponferrada (Spain)
2015, Peter Sagan, Slovakia, Richmond (United States)
2016, Peter Sagan (2), Slovakia (2), Doha (Qatar)
2017, Peter Sagan (3), Slovakia (3), Bergen (Norway)
2018, Alejandro Valverde, Spain (6), Innsbruck (Austria)
2019, Mads Pedersen, Denmark, Yorkshire (United Kingdom)
2020, Julian Alaphilippe, France (9), Imola (Emilia-Romagna, Italy)
2021, Julian Alaphilippe (2), France (10), Flanders (Belgium)
2022, Remco Evenepoel, Belgium (27), Wollongong (Australia)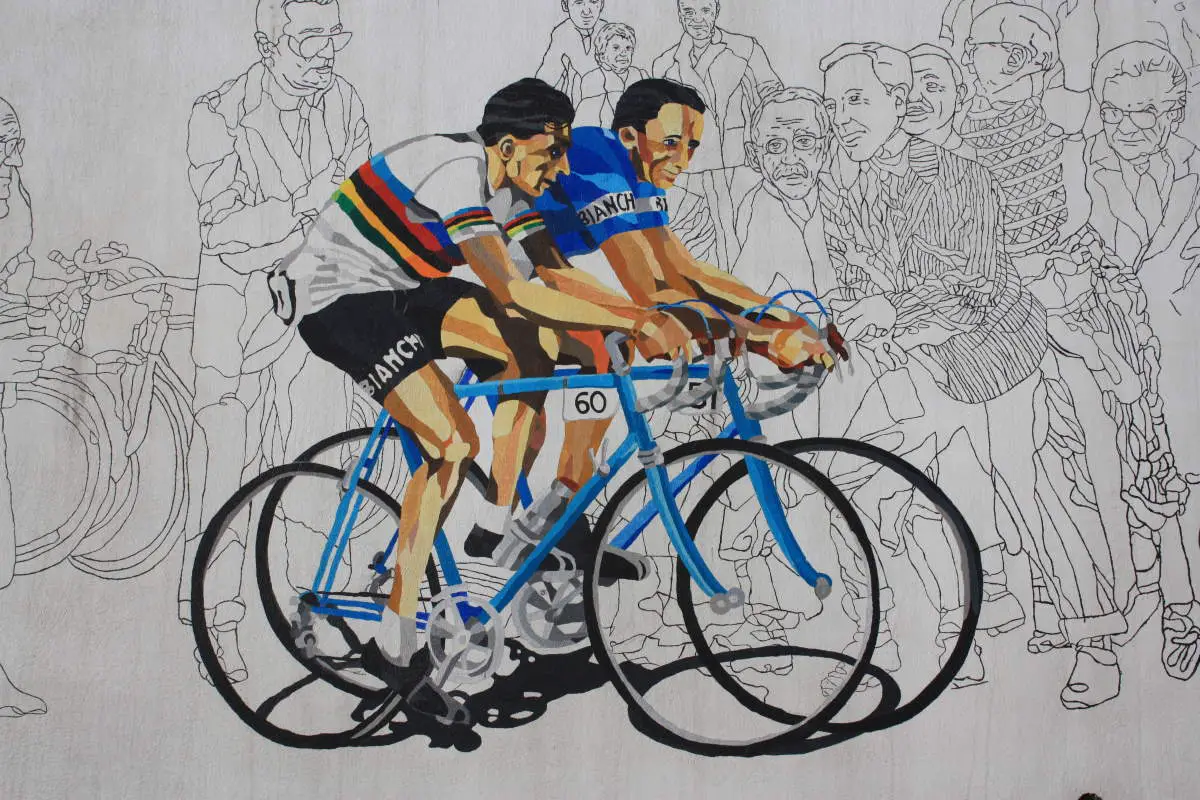 Latest posts by M. Özgür Nevres
(see all)