Tour de France 2013 stage 8 is a mountain stage with summit finish between Castres and Ax 3 Domaines. The length of the course is 195 kilometers.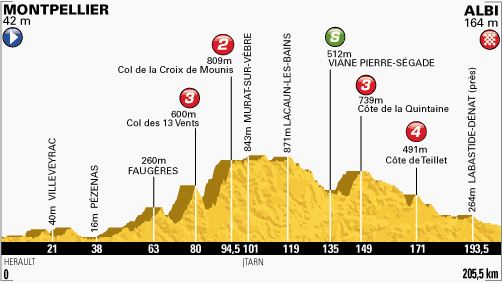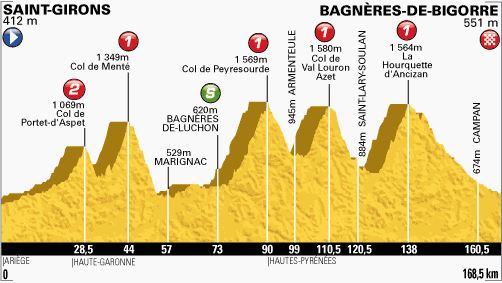 Tour de France 2013 stage 8 quick info
DATE July 06, 2013, Saturday
STAGE TYPE Mountain with summit finish
START-FINISH Castres (175 m) > Ax 3 Domaines (1375 m)
LENGTH OF THE COURSE 195 km
DIFFICULTY
Tour de France 2013 stage 8 profile
Mountain passes & hills
Km — Details — Category
26.5 — Côte de Saint-Ferréol, 2.2 kilometre-long climb at 5.4% — 3
166.0 — Col de Pailhères (2 001 m), 15.3 kilometre-long climb at 8% — HC
193.5 — Ax 3 Domaines, 7.8 kilometre-long climb at 8.2% — 1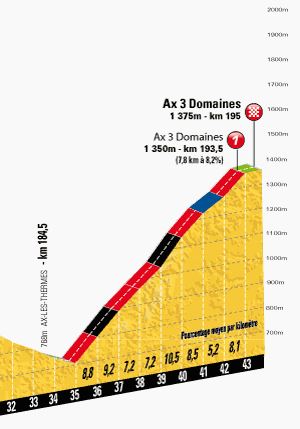 Intermediate sprint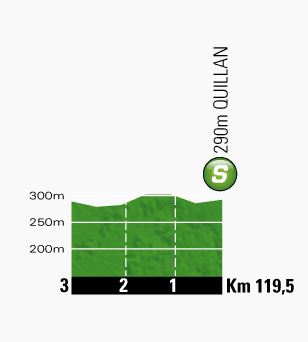 Last kilometers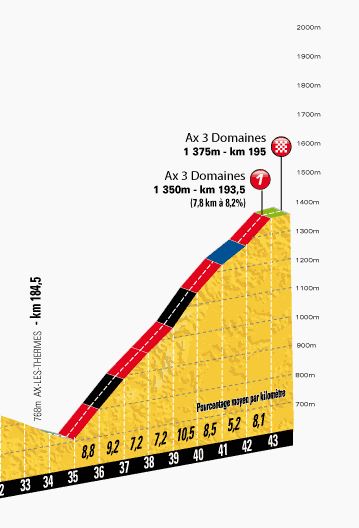 Castres
Castres is a commune, and arrondissement capital in the Tarn department and Midi-Pyrénées region in southern France. It lies in the former French province of Languedoc.Castres is (after Toulouse, Tarbes and Albi) the fourth largest industrial centre of the predominantly rural Midi-Pyrénées région and the largest in that part of Languedoc lying between Toulouse and Montpellier.
Castres hosted a Tour de France stage 5-time in history. The birthplace of famous socialist leader Jean Jaurès was notably the scene of a time trial that proved decisive in the victories of Chris Boardman in 1996 and Bobby Julich in 1998. Apart from Tom Boonen, another winner of the Tour's Green Jersey is even more intimately connected to the town: Jacques Esclassan, the winner of the points' classification in 1977 and five-time stage winner, was born and still lives in Castres.
Col de Pailhères
The Port de Pailhères or Col de Pailhères is a pass in the Ariège department of the French Pyrenees. The summit is at an altitude of 2,001 meters and is located on the secondary road D25 between Mijanès (south-eastern) and Ax-les-Thermes (western).
The climb has been used in four stages of the Tour de France before: in 2003, 2005, 2007 (14th stage), and 2010 (14th stage).
Ax 3 Domaines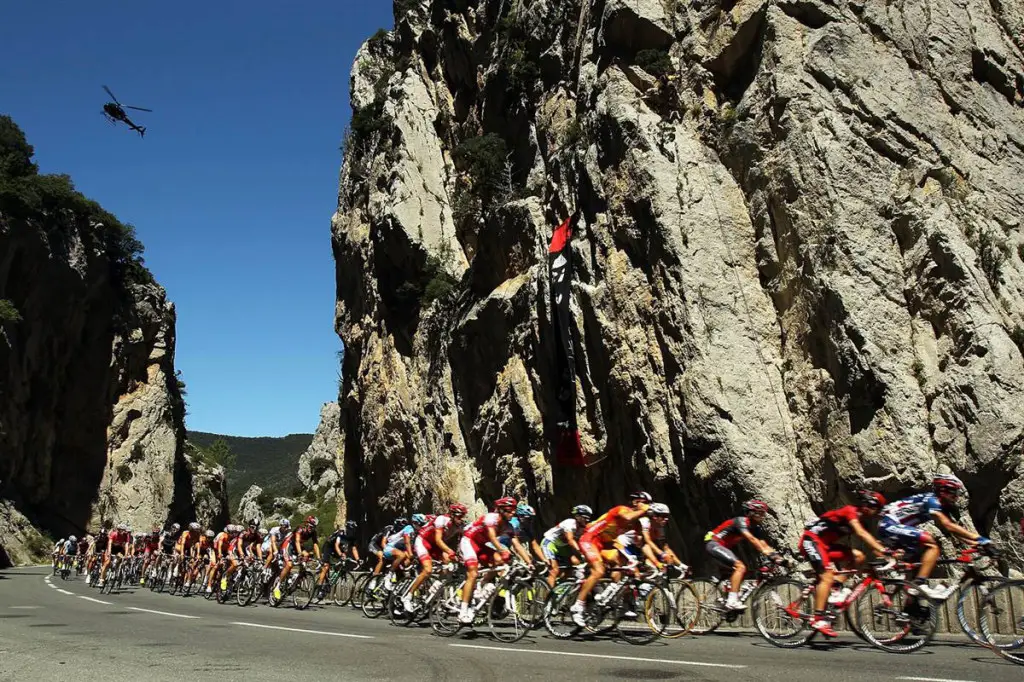 Ax 3 Domaines is a winter sports resort situated in the commune of Ax-les-Thermes, departement of Ariège, in France.
Ten years after an Ax 3 Domaines finish, when Carlos Sastre celebrated both his first Tour stage victory and the birth of his son, the peloton will begin its visit to the Pyrenees with a final which has already been tried and tested. During the 2010 edition, Christophe Riblon made the most of the two consecutive climbs – picking up his first Grande Boucle win en solo. (letour.fr)
Sources