Vuelta a España 2014 stage 14 Details – it is a 200.8 km mountain stage with summit finish from Santander to La Camperona. Valle De Sabero.
Stage 14 has another unprecedented finish. The peloton will arrive at the Camperona summit, after having endured the Collada de la Hoz, the setting for one of Alberto Contador's greatest feats. In 2012 Vuelta, "El Pistolero" made a play for victory on the way to Fuente Dé and managed to knock Joaquim Rodríguez off the first position in the general classification. The riders will also pass San Glorio, a 1st category climb, before facing the final climb up to the Camperona summit. The last 3 kilometers feature slopes with inclinations up to 24%.
Vuelta a España 2014 Stage 14 quick info
DATE September 06, 2014, Saturday
STAGE TYPE Mountains (summit finish)
START-FINISH Santander (30 m) – La Camperona. Valle De Sabero (1,600 m)
LENGTH OF THE COURSE 200.8 km
Vuelta a España 2014 Stage 14 profile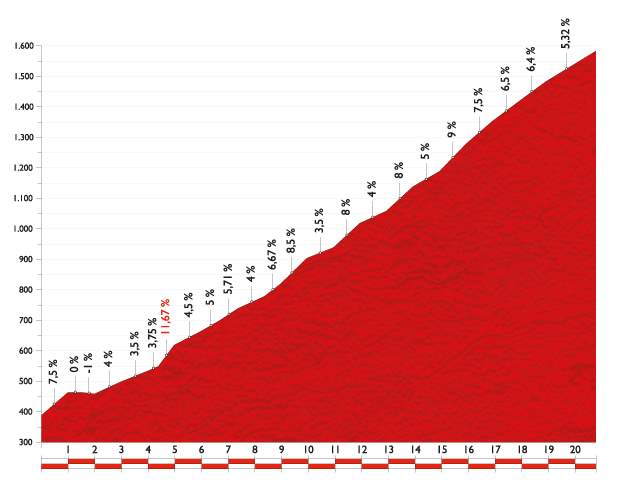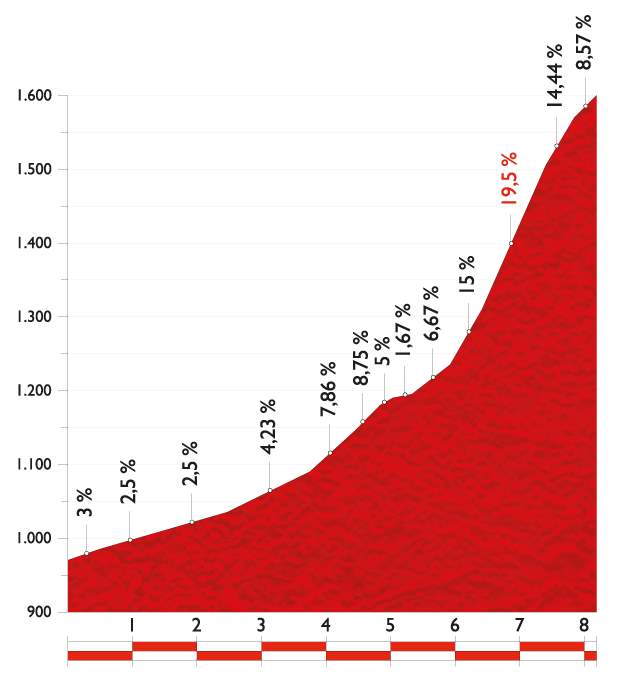 Vuelta a España 2014 Stage 14 start city: Santander
Vuelta a España 2014 Stage 14 start city, Santander is a port city and the capital of the autonomous community and historical region of Cantabria situated on the north coast of Spain.
With a surface of 35 square km, the city has a population of 185.000. Its climate is Atlantic and humid. Well communicated by land and by air with the rest of the country as well as with all major European cities, and with England by sea.
Santander also has a great tradition and cultural activity, with events that play an important role in the cultural and social life of the city.
Vuelta a España 2014 Stage 14 finish: La Camperona. Valle De Sabero
The Sabero Valley has a wide range of touristic offers, its main axis being the Museo de la Siderurgia y la Minería Castilla y Leon (MSM), centred on the industrial and mining past of our Autonomous Community's Basins. This centre also offers a varied programme of cultural activities for every sector of the population. In just six years, it has become a touristic, social and cultural reference.
Other projects have been developed around the MSM, such as the Aguas Bravas in the Esla River, the Hiking Trails, the mountain biking routes that cross the Mining Regions, or paragliding from the Summit of "La Camperona".
The Cave of Valdelajo, La Cruz, the remains of the "Aguilar" Medieval Castle and the Castro Viewpoint offer visitors unique and exceptional views. In addition, the gastronomy is made up of great quality products, such as meat from the Esla Valleys, blood sausage from Morvega and sweets from Montessori and Esla Bakeries, all of which can be tasted in the local restaurants: Fornos, Rosario, Las Ruedonas or Nerja.
Sources