Cycle touring is one of the most fascinating adventures that'll offer you some life experiences to carry with you forever. Everything from finding your perfect place to cooking your own food, watching the stars lying on the grass under the sky, and sleeping in nature will give you a great experience.
However, when it comes to having a great cycle tour, choosing the right cooking equipment can make a huge difference. So, if you're planning a cycle tour, this guide can be a great help. From here, you can figure out the perfect cooking equipment for cycle touring. So, are you ready to know more? If yes, then let's begin.
What to Eat on a Bike Tour?
There's no doubt that a bike tour will definitely make you hungry. When you pedal so hard, you'll require a balanced diet to keep cycling without feeling weak. But, in some places, fresh food isn't always available. And because of this, you can prepare in advance what food to take on your bike trip to eat.
So, if you're planning for your next bike tour, then explore from this section, what to carry and eat on a bike tour.
Fruits:
Vegetables:
Avocado
Sweet Corn
Celery
Cucumber
Carrots
Instant and Dried Foods:
Oats
Nuts & Raisins
Peanut Butter
Bread
Instant Noodles
Coffee
Trail mix
Instant soup
Powdered Milk
Chocolates
Water
Lunch and Dinner Foods:
Rice
Potatoes
Tinned Tuna or other fish
Boneless chicken
Choosing Cooking Equipment: Things to Consider
Before choosing the cooking equipment, you should consider some facts. This way, you can make a perfect choice also, it'll make your buying decision easier. So, let's get into them.
Where Are You Going, And For How Long?
It's crucial to consider where you are going and for how long, to decide exactly how many pots and pans, fuel, food, etc., you'll require. So, before starting shopping for anything, take a moment and think about where you're going and what things are available at that place. Then, based on the availability of things, plan out the quantity of food, fuel, cookware, etc. you'll carry with you.
What Do You Mean By 'Cooking'?
Then comes to think about cooking, and what we mean by the word cooking here is what kind of cooking you'll do. Is it just boiled, or instant, or proper cooking? If you only do boiling or instant cooking then, minimal cooking equipment will be enough. But, if you're thinking about proper cooking, then, you'll require an adjustable stove, more pots, pans, utensils, spices, water, etc.
How Many People Will You Go With?
It's obvious when you cook for more people, you'll require bigger-sized pots, pans, and a more powerful stove. So, decide how many people you're going with and the size of the cookware set, and then match them with the stove.
Cooking Equipment for Cycle Touring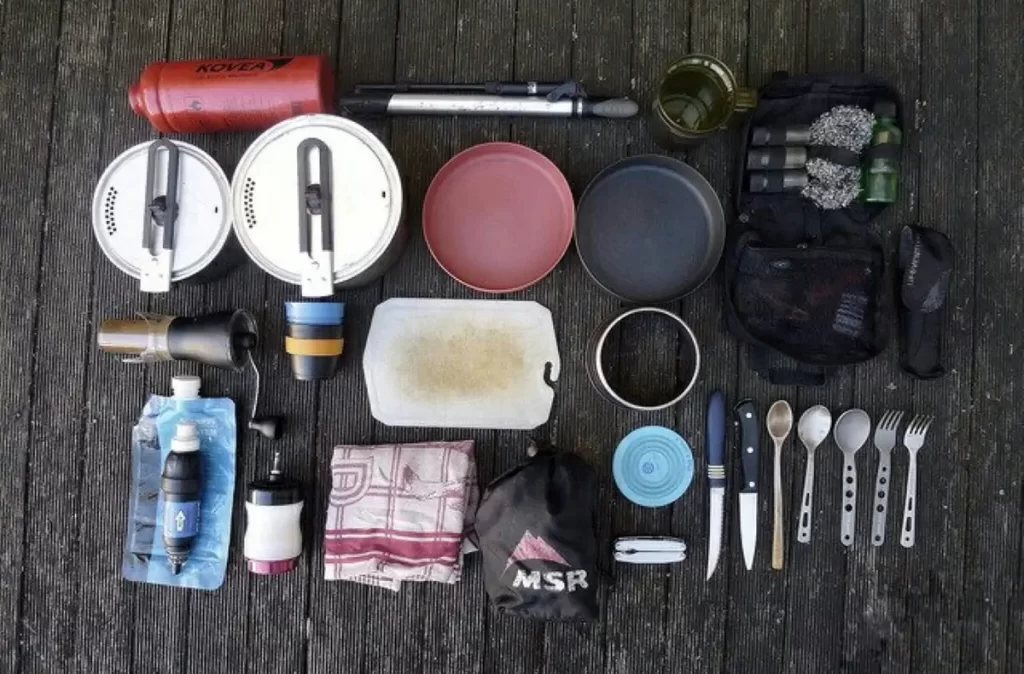 Planning a bike tour soon? The right cooking gear can make or break your adventure. The following cooking equipment for cycle touring will help you plan and prepare the perfect bike tour kitchen kit. From camp cookware and backpacking stoves to blender and water bottles – we've got what you need to eat well.
Pots & Pans
Pots and pans are fundamental pieces of gear for cooking on the cycle tour, and there are various types with different features. You should look out for some of the best durable cookware. But the best doesn't necessarily mean the most expensive. The best quality low-budget cookware will be a sensible investment for your long cycle tour.
The most popular options for cycle tours are Aluminum Pots and Pans, hard-anodized Pots and Pans, and stainless Steel Pots. These work well but have their own advantages in terms of lifting weight versus durability.
Aluminum – Lightweight and really easy to carry;
Anodized Aluminum – Offers good heat retention properties due to its nonstick finish;
Stainless Steel – Scratch-resistant steel will last longer than low-quality milder steel, so it might make sense to purchase for your long cycle tour.
Plates, Mugs, and Utensils
For camping, consider avoiding carrying as little weight as possible. Therefore, you should carry plates made from paper, or silicon, or plastic. For mugs, you can go for aluminum mugs, and choose ultralight but durable forks and spoons.
Lastly, choose knives that are foldable but sharp. And make sure that you can use it to cut everything from vegetables to meat.
Stove & Fuel
There are different types of stoves that you can carry with you on your cycle tour. If you don't want to carry fuel, there are wood stoves. Also, you can use a gas stove, petrol stove, or alcohol stove. Don't forget to carry optimum fuel; in fact, you should curry some additional fuel in case of need.
Other
When it comes to cycle tours or spending night's outdoor skewers, grills, windshield, pot cozy, and canister Refiller. These will add additional help and convenience to your bike tour.
Conclusion
One of the most exciting things about cycle touring is that you can cook your own food and eat whatever you want while enjoying nature. But you have to be careful while selecting the cooking equipment for your cycle tour. As the right equipment can make your nights and days amazing on the other side, the wrong ones can make your memories horrible.
So, if you're on a budget, simply save it up for your trip instead of spending all of them on buying cookware. Choose the quality cooking equipment that comes at affordable prices and spend the rest of the money on your tour.
Latest posts by Richard Bougere
(see all)