Are you searching for an alternate means of transport around town? If so, then an electric bike might be the perfect match for you.
In today's ever-evolving world of transportation, electric bikes have gained tremendous popularity. They offer the convenience of a car, eco-friendly, and cost-effective way to commute while embracing the joy of cycling. 
Among the various ebike brands in the market, Hovsco has emerged as a prominent player, capturing the attention of riders worldwide. They offer a wide range of electric bike models to choose from, each designed for a specific purpose. 
Whether you're looking for an ebike for commuting, off-road riding, or leisure, Hovsco has a model that's perfect for you. With this in mind, let's delve into the world of Hovsco Ebikes and explore whether they are worth buying.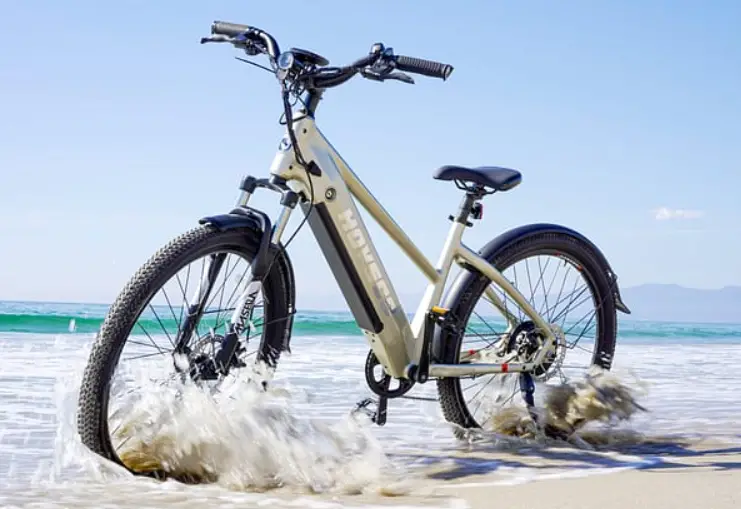 Exploring Hovsco Ebikes
First thing first, let's start with the basics. Hovsco was founded in 2019 by a group of cycling fanatics who were passionate about developing an electric bike that is of the best quality, reliable, and of course affordable. 
Hovsco offers a diverse range of ebike models to cater to different riding needs from commuting to trail exploring, urban traversing, mountain trekking, or regular riding with different designs and cool appearances. All of their products are well-known for their superior performance, robustness, and customer support.
So, here are a few of their most popular models:
HovRanger 27.5″ Step-Thru Commuter: The Hovsco City Commuter model is designed for urban commuting and daily transportation. It features a 500w motor and 720Wh battery, making it ideal for offering 60 miles range. With its integrated LED strip lights and practical accessories, this model prioritizes convenience and functionality for commuters.
HovAlpha 26″ Electric Fat Tire Bike: This bike is specially built for mountain, off-road adventures, and trail riding. It boasts robust construction, rugged tires, and enhanced suspension to handle all terrains including snow, beach, mountain, dirt, sand, gravel, and roads with ease. 
This model typically includes advanced features like a geared-hub motor, and better-stopping power with a new high-performance hydraulic disc brake to provide an exhilarating and reliable off-road experience.
HovCity 27.5″ Step-Thru Cruiser Electric Bike: The Leisure Cruiser model caters to riders looking for a comfortable and enjoyable cruising experience. With a focus on comfort and style, this model is perfect for leisurely rides in parks, beachfront, or exploring scenic routes while enjoying the surrounding scenery.
HovBeta 20″ Foldable Fat Tire Electric Bike: With convenience and portability in mind, the Folding Compact e-bike comes in a folding frame, allowing you to easily fold and store it in compact spaces, such as car trunks or small apartments. Despite its compact size, this model still provides a comfortable riding experience and practical features for urban commuting or leisurely rides.
HovCart 20" Step-Thru Electric Fat Bike: The Cargo Hauler is a specialized model designed for carrying heavy loads and cargo. It features sturdy frames and larger cargo racks that can carry up to 450 pounds. This model is perfect for individuals who need to transport groceries, supplies, and equipment efficiently, and even kids across town, making it suitable for delivery riders, families, or those with specific cargo-carrying needs.
Performance and Functionality
When it comes to efficiency, Hovsco Ebikes stand out in a variety of aspects. Additionally, what sets Hovsco apart are their unique features and cutting-edge technologies incorporated into their e-bikes, elevating the riding experience. 
From advanced motor systems to intuitive controls, Hovsco Ebikes offer a blend of power, efficiency, and convenience. This means, with Hovsco's e-bike, you can expect a comfortable and user-friendly experience, with excellent handling and stability.
However, Hovsco Ebikes are equipped with a variety of features that make them both efficient and enjoyable to ride. These features include:
Powerful 750W motors and long-range batteries can provide 40 to 80 miles of riding on a single charge.
The Pedal-assist technology allows you to pedal your bike as you normally would, but the motor will provide additional power to help you reach your destination faster.
The 7-speed Shimano gears allow you to adjust your speed to the terrain.
The fat tires make the e-bikes perfect to ride in almost all terrain. 
Bright headlights and taillights keep you safe on the road.
Seats and handlebars are designed to provide maximum comfort.
The suspension systems help to absorb bumps and vibrations.
Price and Value for Money
Understanding the price range of Hovsco Ebikes compared to other similar brands/models is crucial in assessing their value for money. 
While prices may vary depending on the model and specific features, Hovsco Ebikes offer competitive pricing for the quality and performance they deliver. 
Their models range in price from $1,299 to $2,499. This makes them a great option for those who are looking for an affordable ebike that still offers excellent performance, high-quality ebike, and features.
Maintenance and Support
Just like any mode of transportation, ebikes require maintenance and servicing. Hovsco recognizes this need and provides comprehensive after-sales support to its customers. 
In fact, Hovsco offers excellent after-sales support. They have a team of practiced technicians and dealers who are available to respond to any queries and assist with repairs.
The best part of Hovsco is that you can even test their e-bike before purchasing, with their test ride facility. This is a great way to get first-hand experience with an ebike before you make a purchase. You can even find out more about the diverse models and features that are available.
To Summarize, 
Hovsco Ebikes have emerged as a leading brand in the ebike market, offering a range of models designed for various riding purposes. With their impressive performance, user-friendly features, and high-quality build, Hovsco Ebikes demonstrate their worthiness. 
However, as with any significant purchase, it's advisable for readers to further research and even test-ride Hovsco Ebikes before making a final buying decision.
Latest posts by Robert Farnum
(see all)