Giro d'Italia 2013 Stage 3 is a medium mountain stage between Sorrento and Marina di Ascea. The length of the course is 222 km.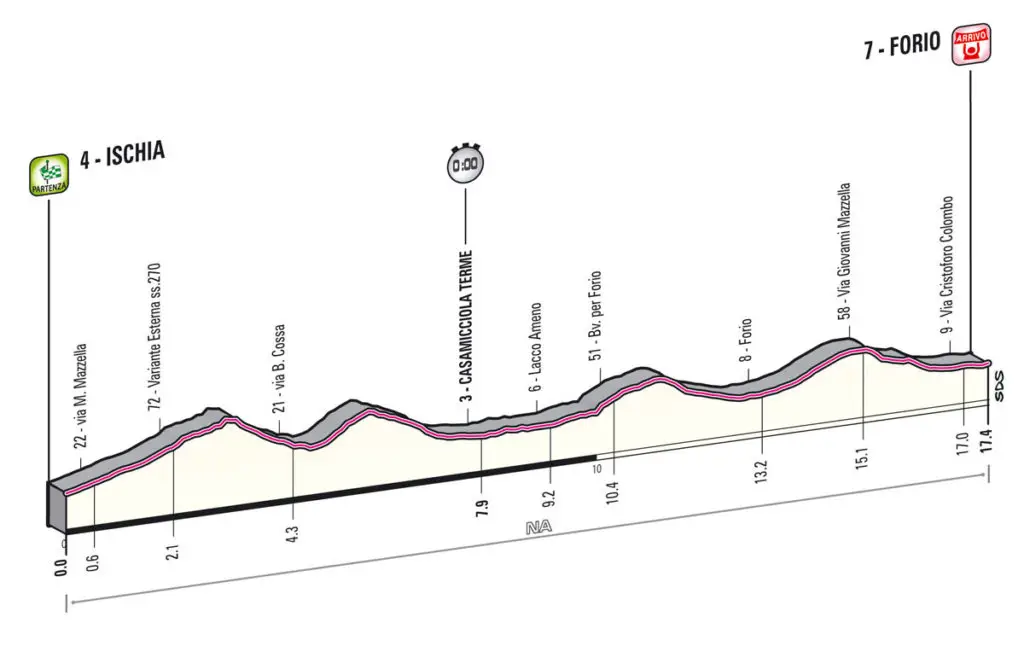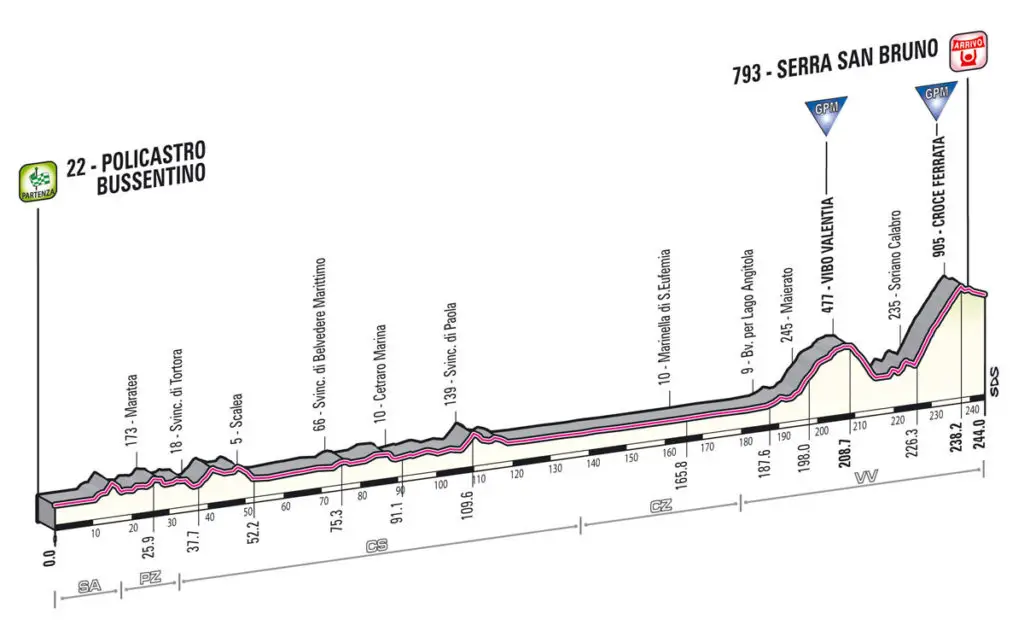 Giro d'Italia 2013 Stage 3 quick info
DATE: May 06, 2013, Monday
STAGE TYPE: Medium mountain
START-FINISH: Sorrento (58 m) – Marina di Ascea (2 m)
LENGTH OF THE COURSE: 222 km
DIFFICULTY:
Giro d'Italia 2013 Stage 3 profile
There are two main climbs within last 60 km: San Mauro Cilento, starting at the 145th km, the highest point is 551 meters, with 526 meters of elevation gain in just 8 km (6.5% average); and Sella di Catona, starting at the 182nd km, the highest point is 587 meters, with 481 meters of elevation gain in 20 km (2.4% average). The stage will end with a 20 km downhill.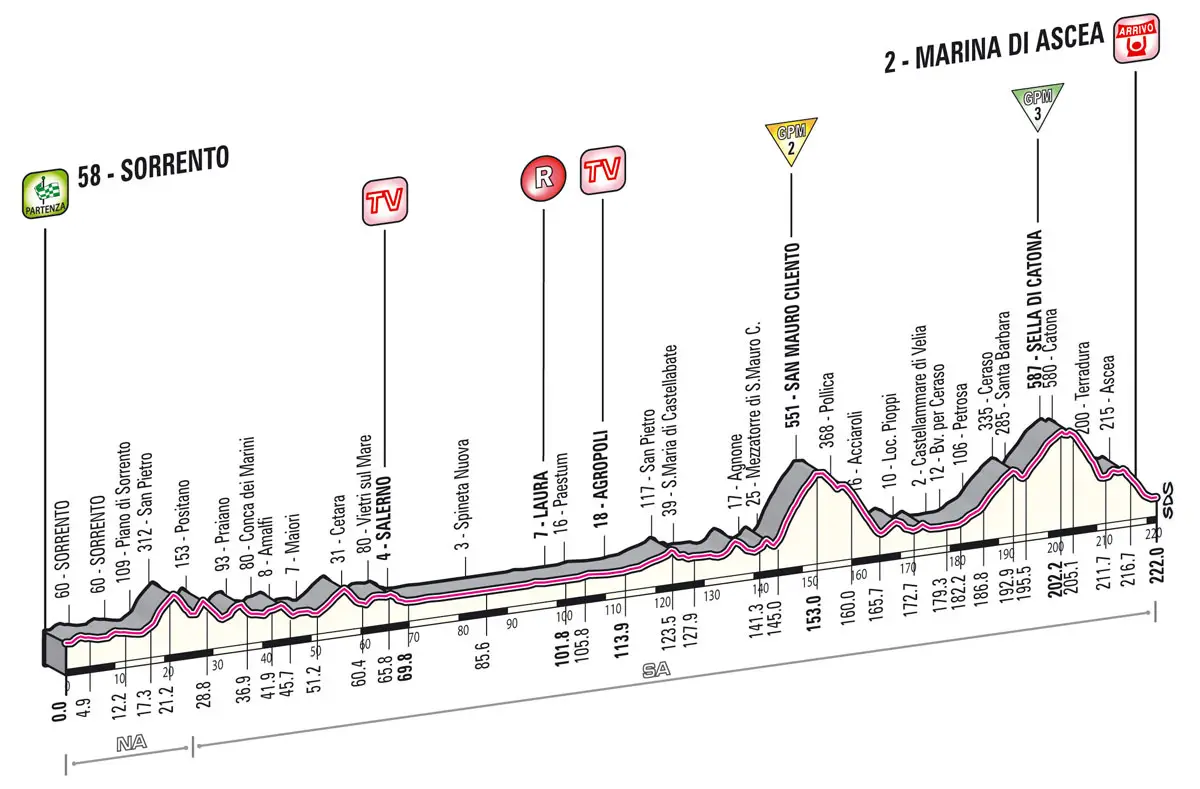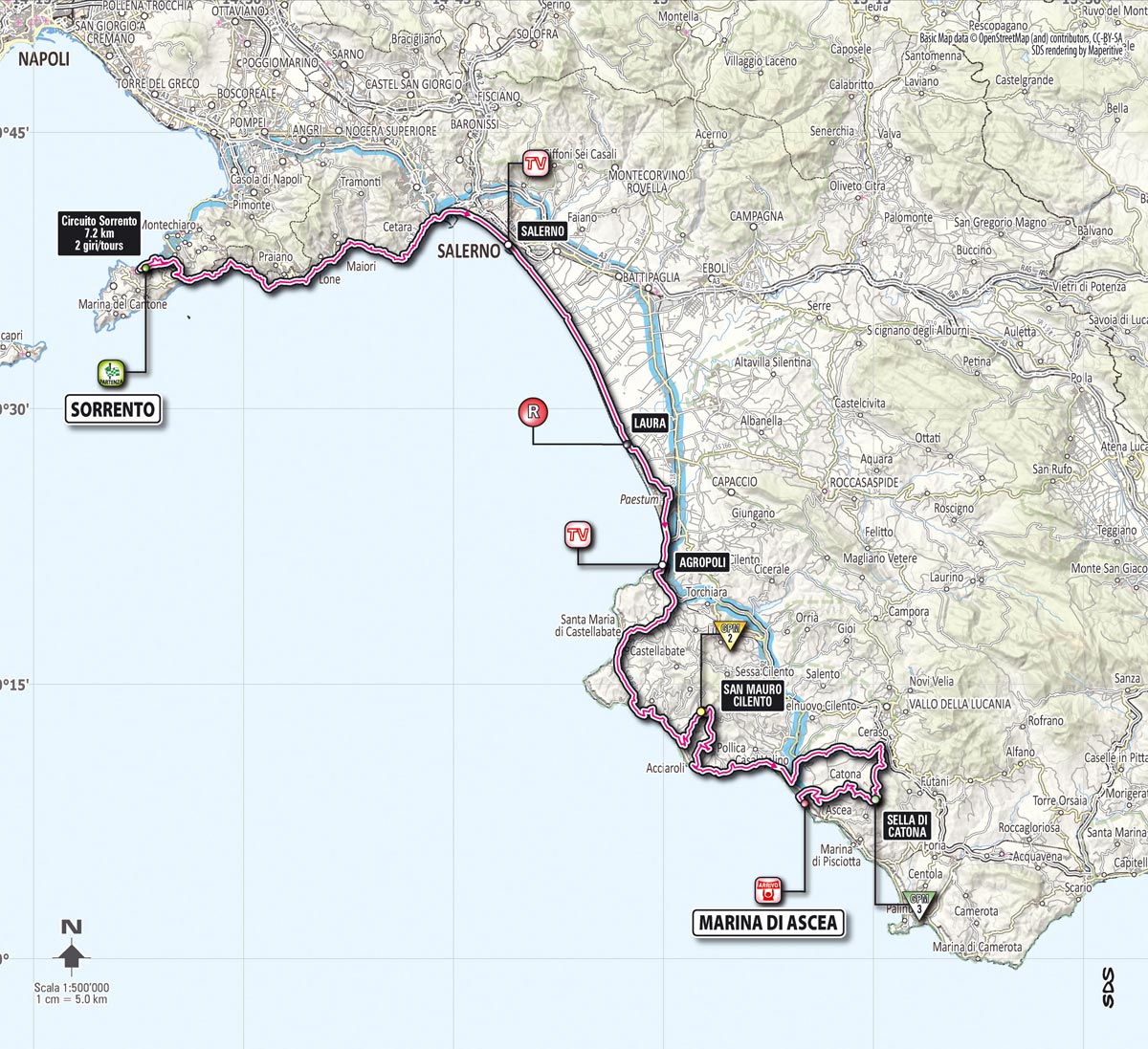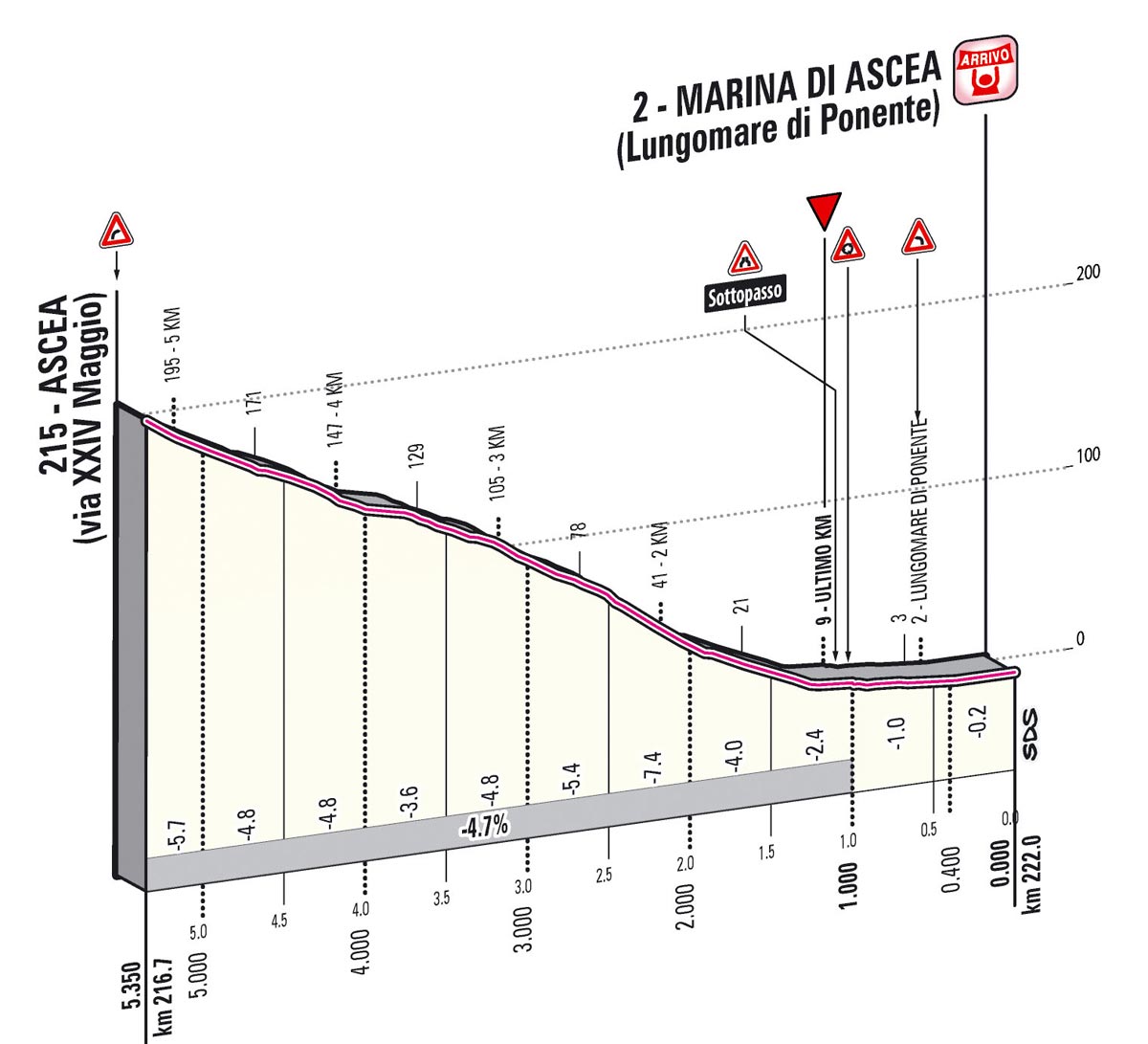 Sorrento
Sorrento (Neapolitan: Surriento) is a small town in Campania, southern Italy, with some 16,500 inhabitants. It is a popular tourist destination that can be reached easily from Naples and Pompeii, as it lies at the south-eastern end of the Circumvesuviana rail line. The town overlooks the Bay of Naples as the key place of the Sorrentine Peninsula, and many viewpoints allow sight of Naples itself, Vesuvius and the Isle of Capri.
The Roman name for Sorrento was Surrentum.
Ascea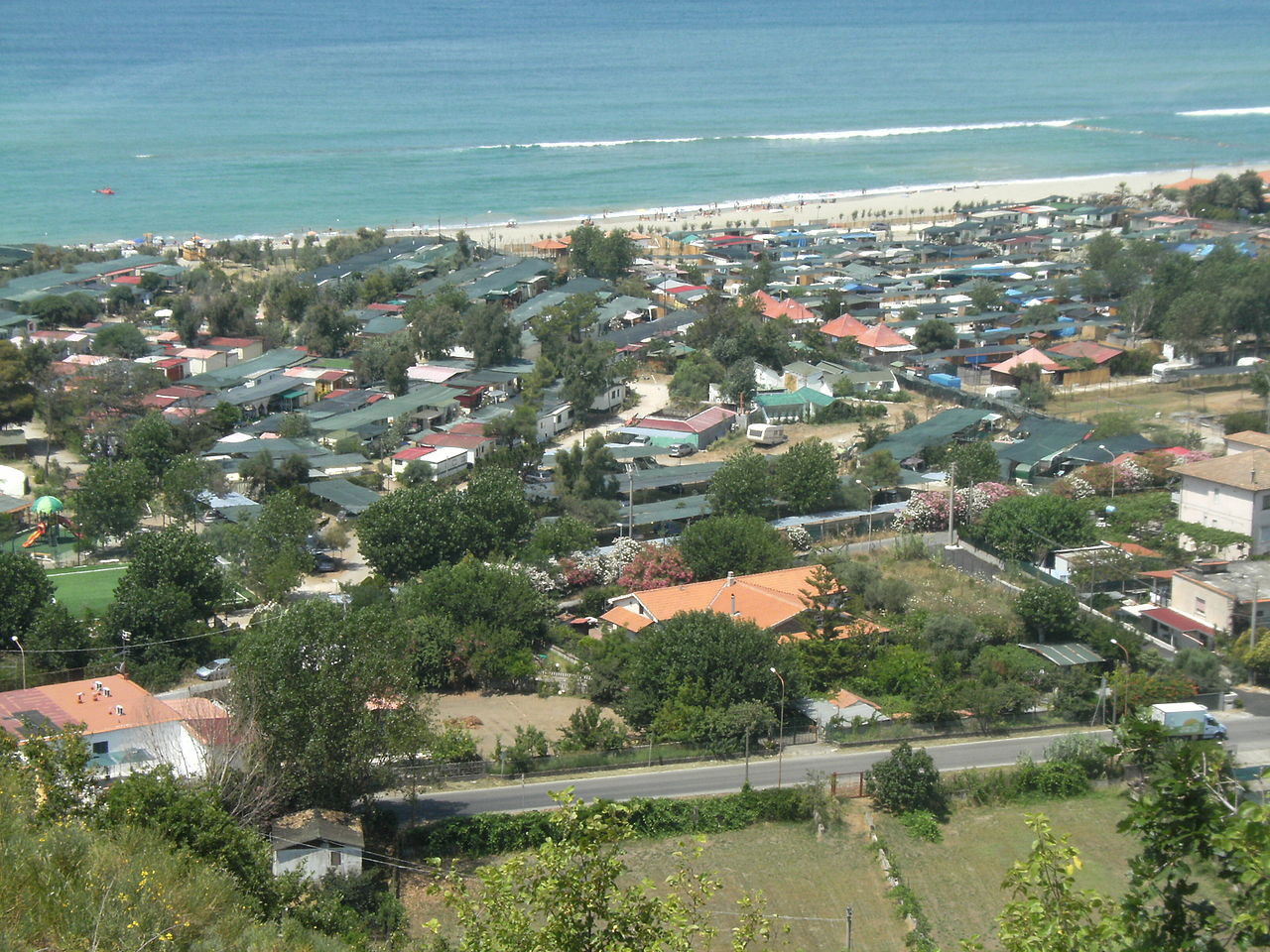 Ascea is a town and comune in the province of Salerno in the Campania region of southwestern Italy. In the communal territory are the Greek ruins of Velia. It is part of the Cilento traditional area and the maritime touristic part of the municipality is the Marina di Ascea. The town is located on the beach and is popular with European tourists in the summer months.
Sources