Giro d'Italia 2013 Stage 4 is a medium mountain stage between Policastro Bussentino and Serra San Bruno. The length of the course is 246 km, which is the longest in the 96th edition of Giro.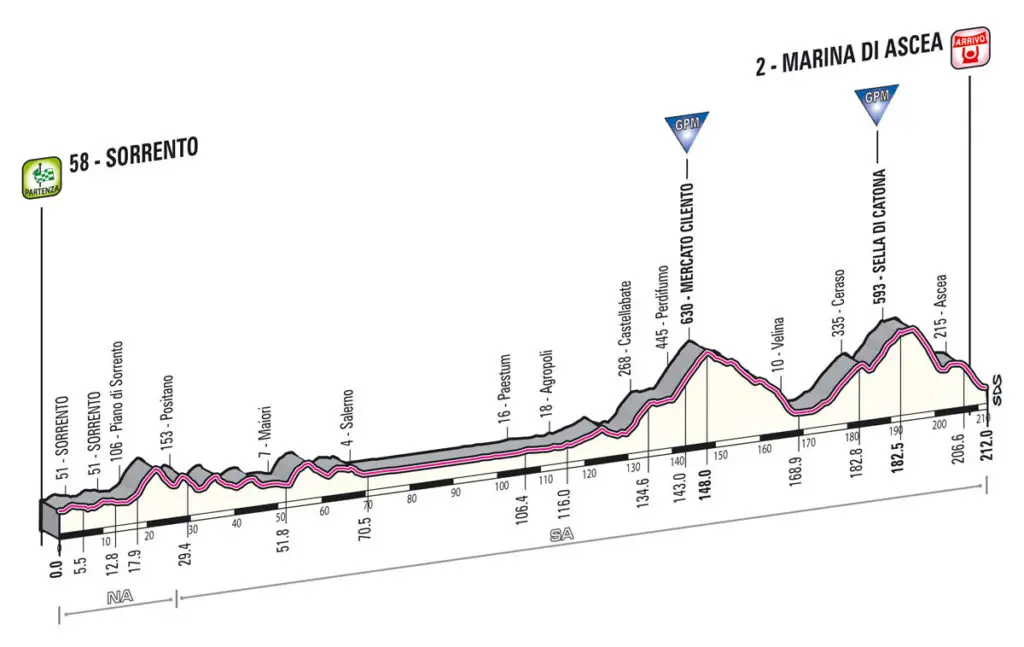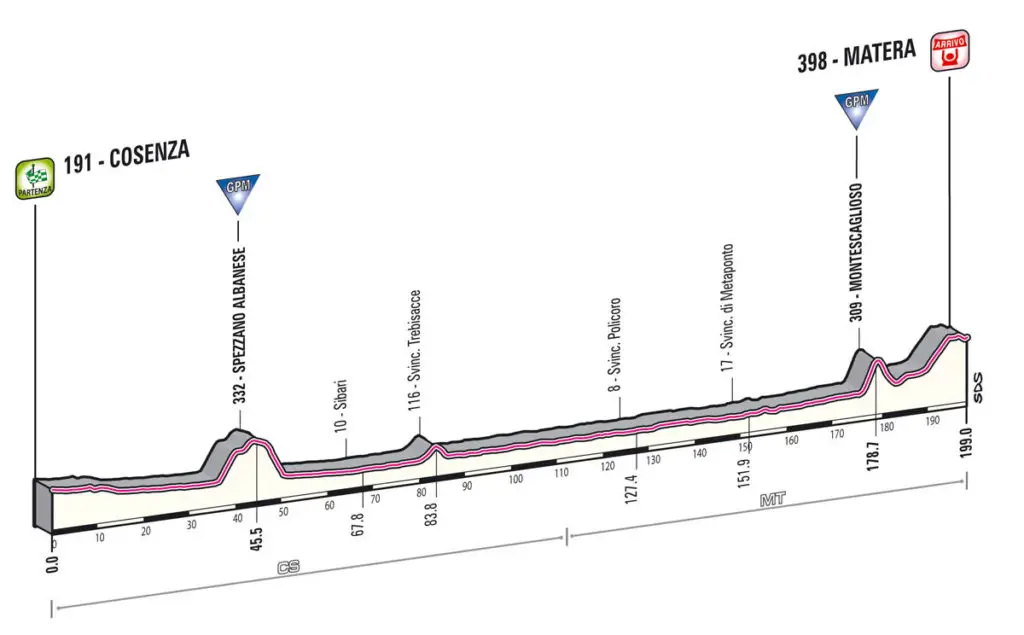 Giro d'Italia 2013 Stage 4 quick info
DATE: May 07, 2013, Tuesday
STAGE TYPE: Medium mountain
START-FINISH: Policastro Bussentino (8m) > Serra San Bruno (804m)
LENGTH OF THE COURSE: 246 km
DIFFICULTY:
Giro d'Italia 2013 Stage 4 profile
The stage is mostly flat, but there are two main climbs in the last 57 km. First, Vibo Valentia, starting at 187.6th km, the highest point is 477m, with 468 meters of elevation gain in 21km (2.2% average). Then the second climb will be the summit finish: Croce Ferrata, starting at Soriano Calabro (226.3rd km), the highest point is 907m, with 670 meters of elevation gain in 17.7km (3.8% average).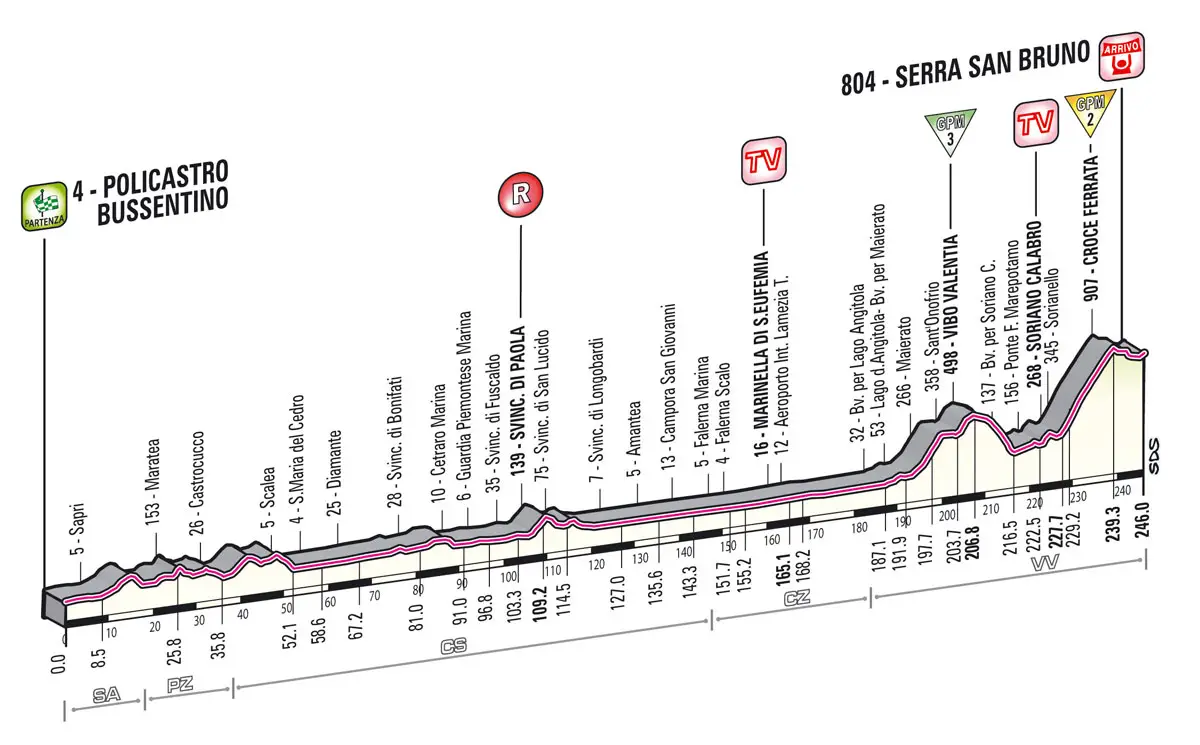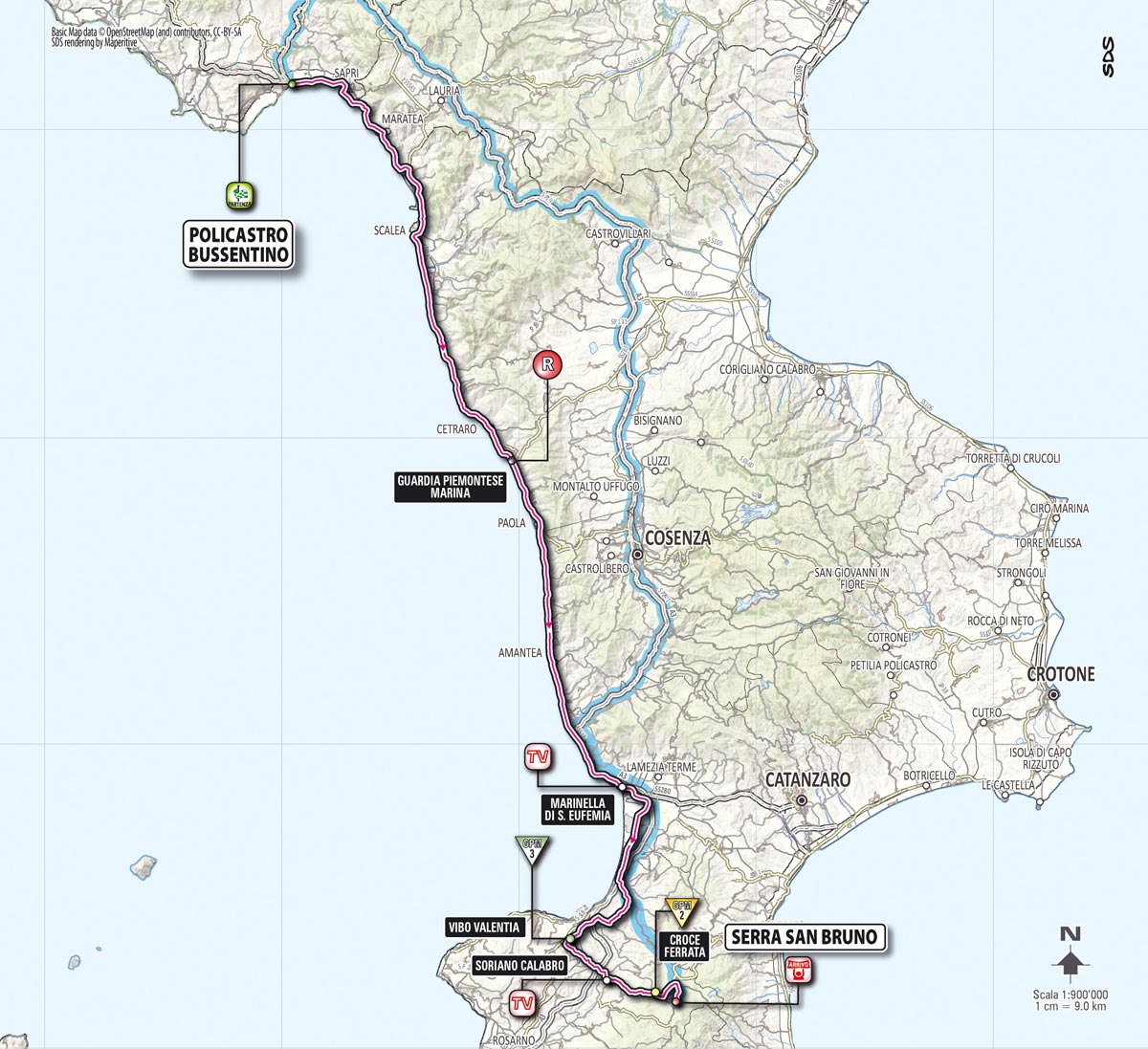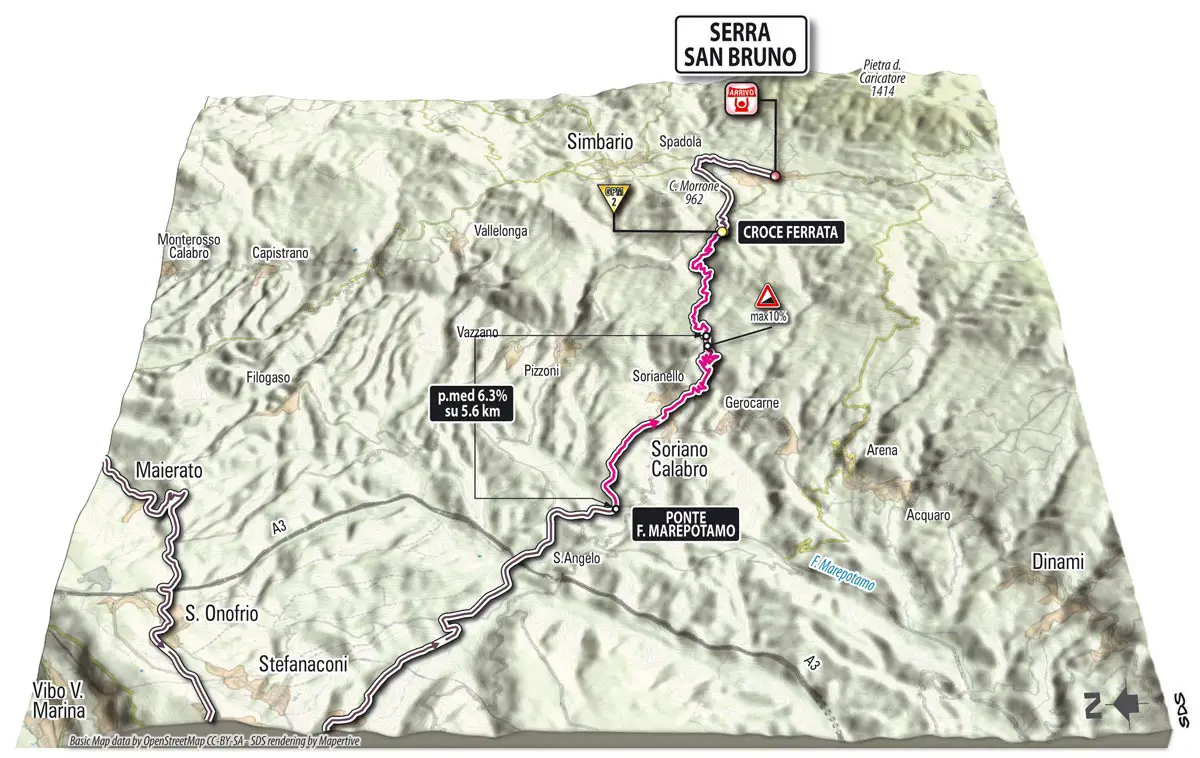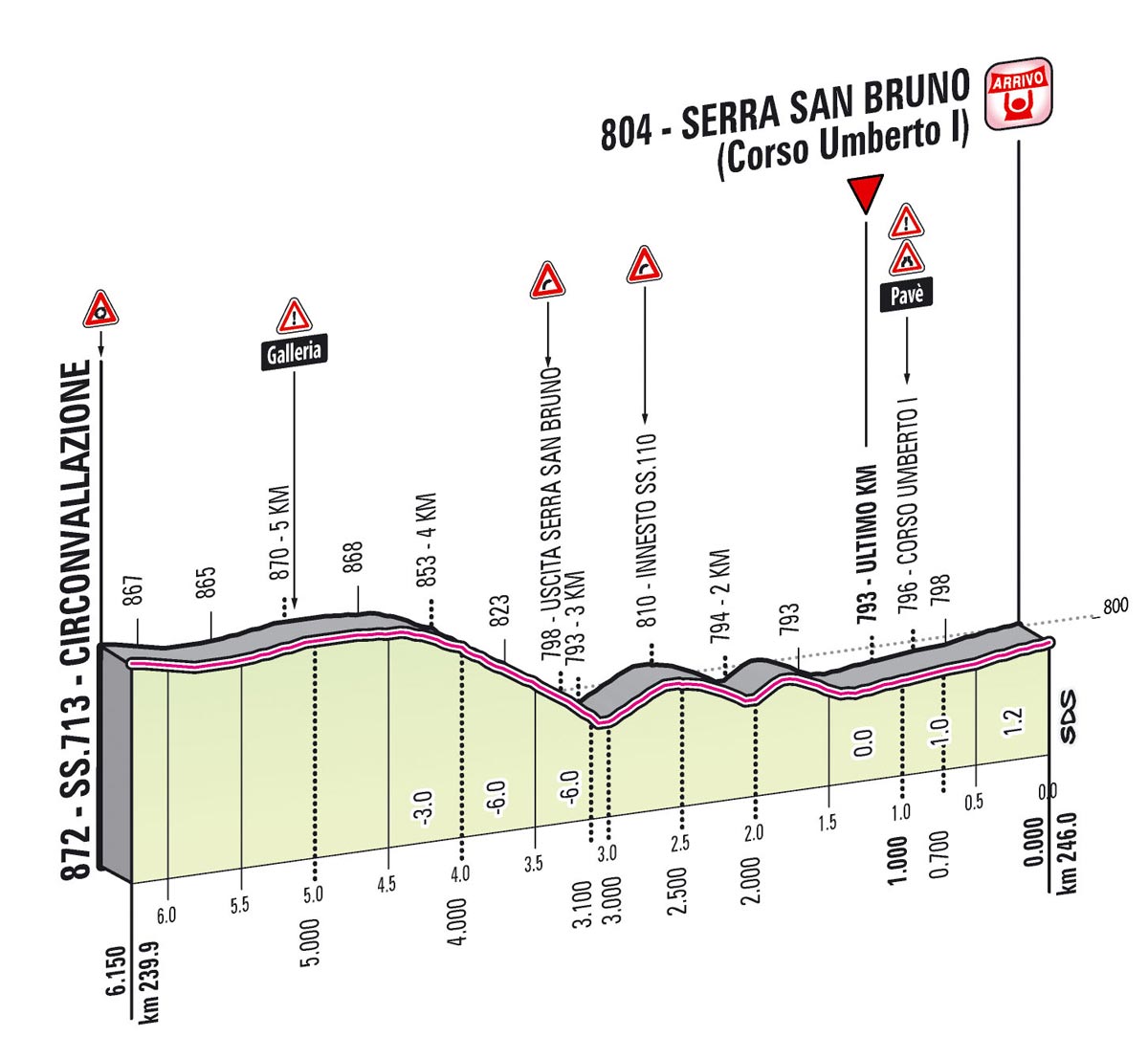 Policastro Bussentino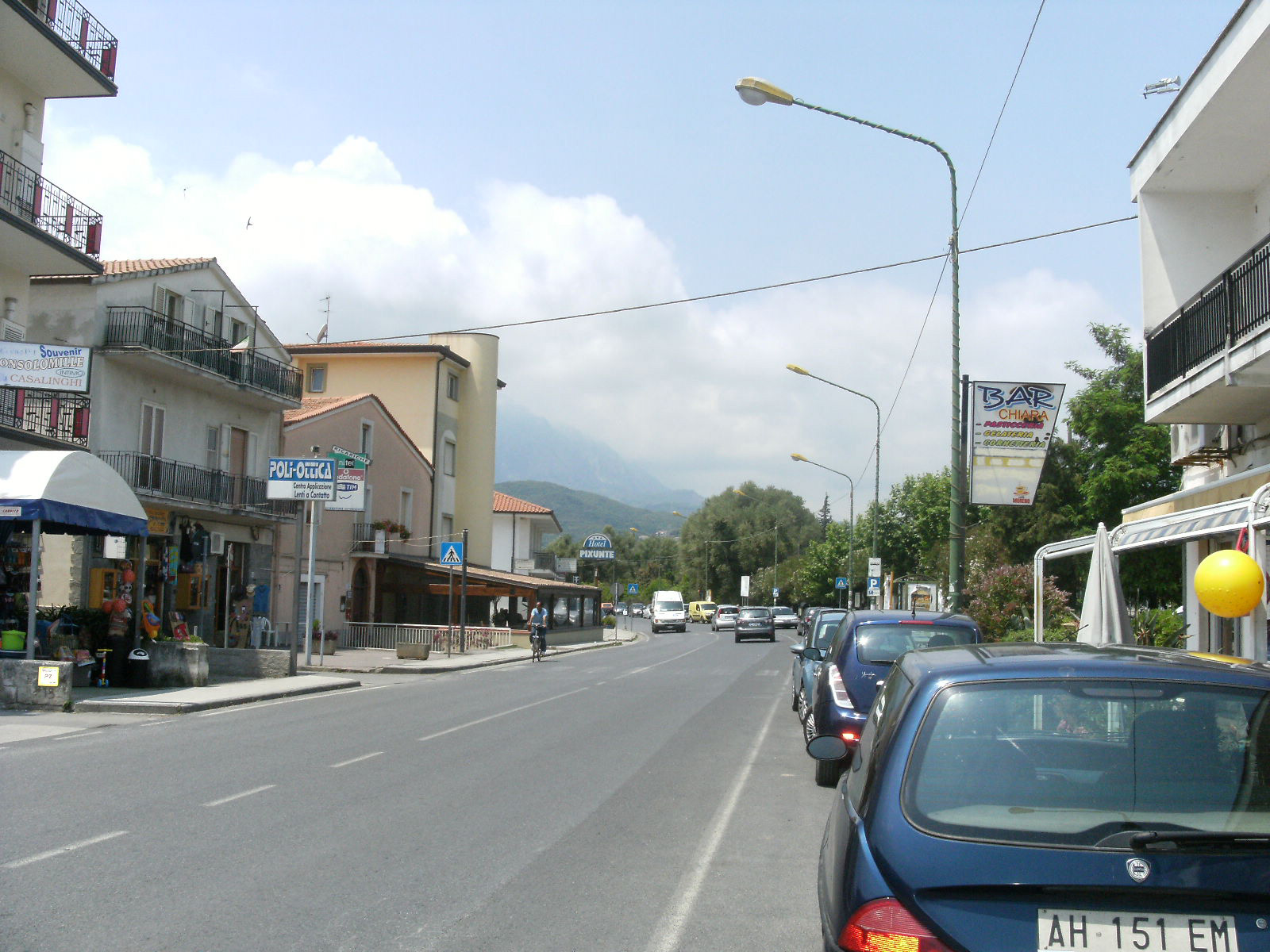 Policastro Bussentino (or simply Policastro) is an Italian hamlet (frazione), the greatest one in the municipality of Santa Marina (even of its seat) in the province of Salerno, Campania region.
It is located on the southern side of Cilento, not too far from the national park, in the middle of the Gulf of Policastro on the Tyrrhenian Sea. Situated by the estuary of river Bussento, it is 10 km far (north) from Sapri, 5 from Santa Marina, 4 from Scario (hamlet of San Giovanni a Piro), 25 from Marina di Camerota (hamlet of Camerota) and almost 90 from Salerno. The nearest villages by the sea are Capitello (hamlet of Ispani, far 2 km) and Villammare (hamlet of Vibonati, far 4 km).
Policastro attracts visitors, especially in summer, due to the quality of its water, its rural surroundings, and a good rail link and for camping.
Serra San Bruno
Serra San Bruno is a comune (municipality) in the Province of Vibo Valentia in the Italian region Calabria, located about 40 km southwest of Catanzaro and about 25 km southeast of Vibo Valentia. As of 31 December 2004, it had a population of 6,966.
Close by is the famous Carthusian monastery, Serra San Bruno Charterhouse (Certosa di Santo Stefano di Serra San Bruno), around which the town grew up. The town is named after Saint Bruno of Cologne, who founded the Carthusian Order in 1053 and the Grande Chartreuse, the mother house of the Carthusians, near Grenoble, in France. He built the charterhouse of Serra San Bruno in 1095 and died here in 1101.
Sources