Tour de France 2013 Stage 15 is a Mountain stage with summit finish between Givors and Mont Ventoux. The length of the course is 242.5 kilometers, the longest in 2013 Tour de France.
Tour de France 2013 Stage 15 quick info
DATE July 14, 2013, Sunday
STAGE TYPE Mountains with summit finish
START-FINISH Givors (163 m) > Mont Ventoux (1912 m)
LENGTH OF THE COURSE 242 km
DIFFICULTY
Tour de France 2013 Stage 15 profile
Mountain passes & hills
km. 20.5 Côte d'Eyzin-Pinet, 3.1 kilometer-long climb at 4.9% category 4
km. 26.5 Côte de Primarette, 2.6 kilometer-long climb at 4.1% 4
km. 44.5 Côte de Lens-Lestang, 2.1 kilometer-long climb at 3.8% 4
km. 143.0 Côte de Bourdeaux, 4.2 kilometer-long climb at 5.7% 3
km. 242.5 Mont Ventoux (1 912 m), 20.8 kilometer-long climb at 7.5% Hors Catégorie (HC)
Climb details: Mont Ventoux climb profile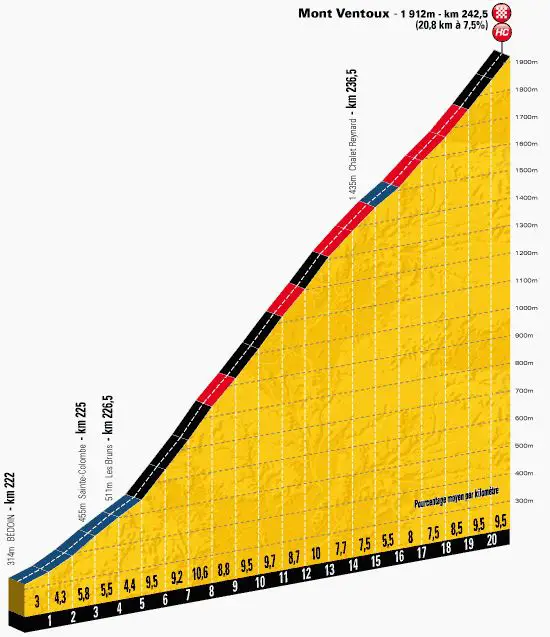 Intermediate sprint
Last kilometers
Start: Givors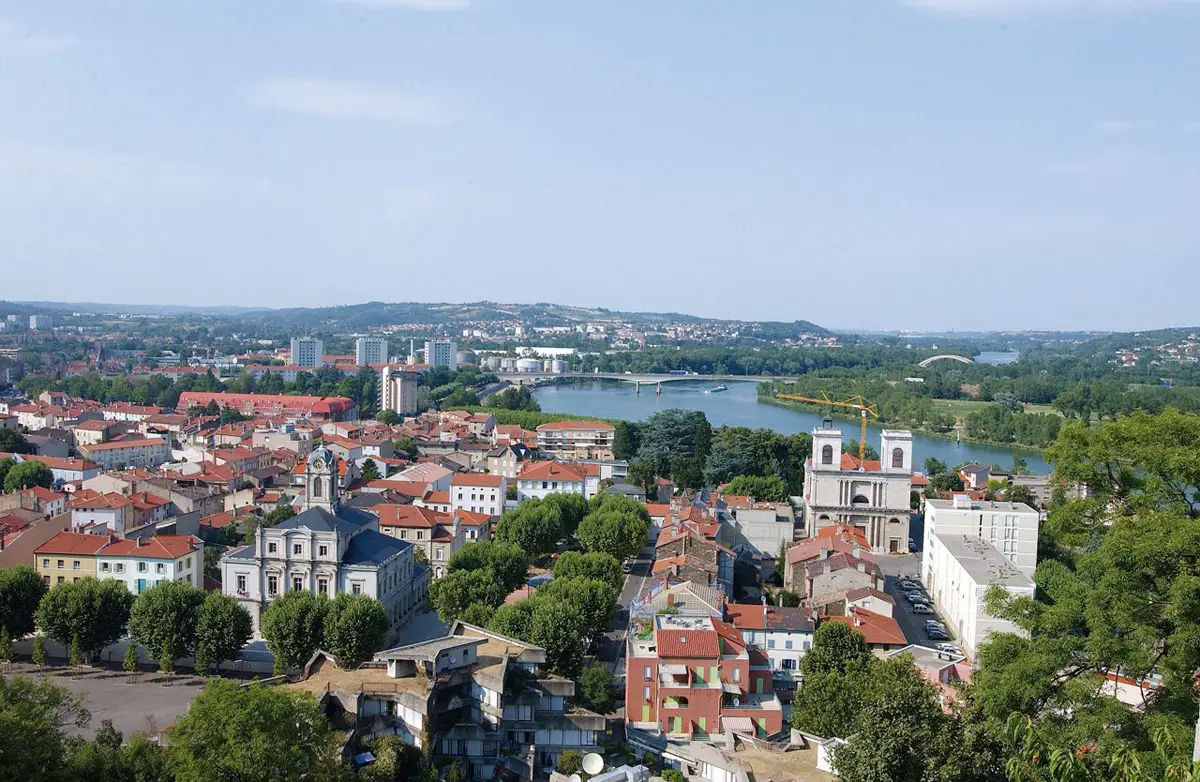 Givors is a commune in the Rhône department in eastern France. It lies on the Rhône River about 25 km (16 mi) south of Lyon and on the main road between that city and Saint-Étienne. The city has long served as a crossroads between the communities of the Rhône River and those of the Loire River. It was well known as a glassmaking center during the 18th century.
Givors will host a Tour de France stage first time in history.
Finish: Mont Ventoux
Mont Ventoux is a mountain in the Provence region of southern France, located some 20 km northeast of Carpentras, Vaucluse. On the north side, the mountain borders the Drôme département. It is the largest mountain in the region and has been nicknamed the "Beast of Provence", the "Giant of Provence", or "The Bald Mountain". It has gained fame through its use in the Tour de France cycling race.
As the name might suggest (venteux means windy in French), it can get windy at the summit, especially with the mistral; wind speeds as high as 320 km/h (200 mph) have been recorded. The wind blows at 90+ km/h (56+ mph) 240 days a year. The road over the mountain is often closed due to high winds. Especially the "col de tempêtes" ("storm pass") just before the summit, which is known for its strong winds.
Tour de France, which has ascended the mountain fourteen times since 1951.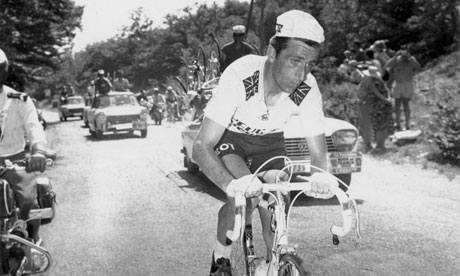 The mountain achieved worldwide notoriety when it claimed the life of British cyclist Tom Simpson, who died here on July 13, 1967, from heat exhaustion caused by a combination of factors including dehydration (caused by lack of fluid intake and diarrhea), amphetamines, and alcohol, although there is still speculation as to the exact cause of his death.
Sources