Tour de France 2013 Stage 20 is a Mountain stage with summit finish between Annecy and Annecy-Semnoz. The length of the course is 125 kilometers.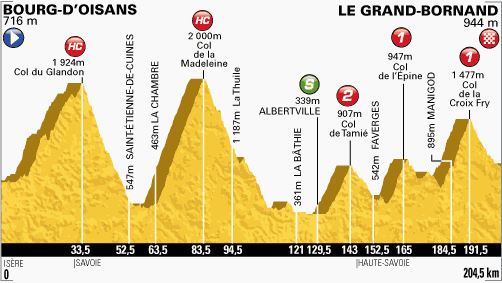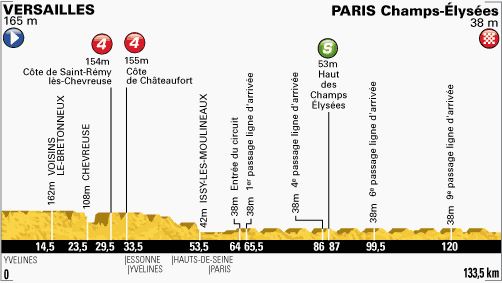 Tour de France 2013 Stage 20 quick info
DATE July 20, 2013, Saturday
STAGE TYPE Mountain with Summit finish
START-FINISH Annecy (461 m) > Annecy-Semnoz (1655 m)
LENGTH OF THE COURSE 125 km
DIFFICULTY
Tour de France 2013 Stage 20 profile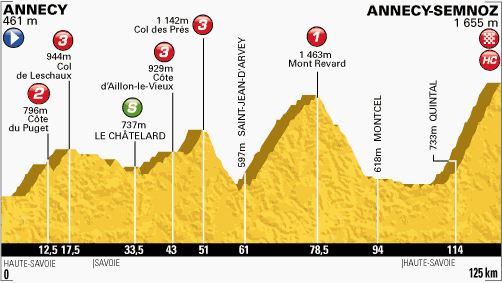 Mountain passes & hills
km. 12.5 Côte du Puget, 5.4 kilometer-long climb at 5.9% (Category 2)
km. 17.5 Col de Leschaux, 3.6 kilometer-long climb at 6.1% (Category 3)
km. 43.0 Côte d'Aillon-le-Vieux, 6 kilometer-long climb at 4% (Category 3)
km. 51.0 Col des Prés (1 142 m), 3.4 kilometer-long climb at 6.9% (Category 3)
km. 78.5 Mont Revard, 15.9 kilometer-long climb at 5.6% (Category 1)
km. 125.0 Annecy-Semnoz, 10.7 kilometer-long climb at 8.5% (Hors Catégorie-HC)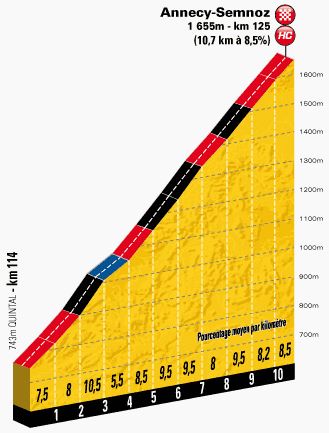 Intermediate sprint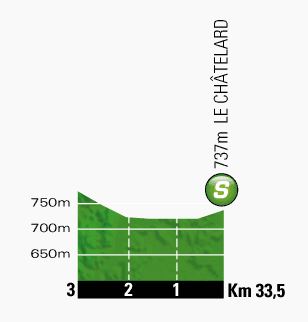 Last kilometers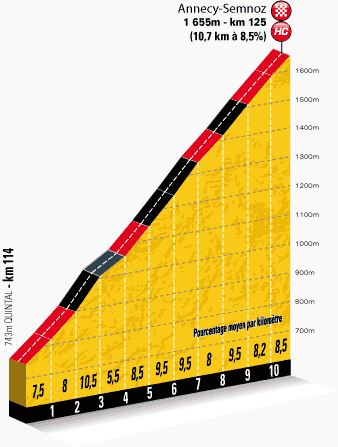 Annecy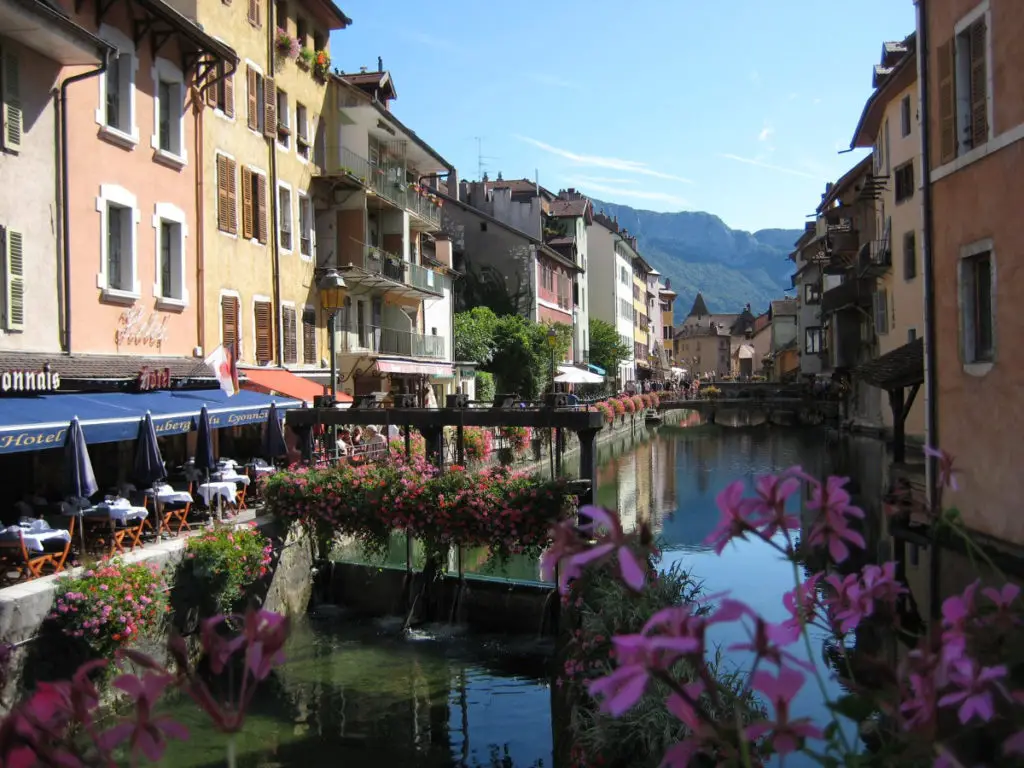 Annecy is a commune in the Haute-Savoie department in the Rhône-Alpes region in south-eastern France. It lies on the northern tip of Lake Annecy (Lac d'Annecy), 35 kilometers south of Geneva.
Annecy hosted a Tour de France stage 3-time in history.
Annecy, the capital of Haute-Savoie, is a city of art with an architectural harmony. Walking around the old town of Annecy is a real delight. Annecy truly bears the nickname of Savoyard Venice (sometimes also called "Venice of the Alps") with its charming canals, its flower-covered banks, its wonderful little bridges, and its stunning houses with colorful facades.
Annecy is a popular year-round holiday destination, surrounded by mountains and situated on the banks of the 27-square-kilometer beautiful lake of the same name. It is known as one of the cleanest lakes in Europe.
Main sights of Annecy
The Palais de l'Isle is a 12th-century castle on an island in the river Thiou in Annecy's administrative headquarters. It mostly served as a prison and courthouse until the French Revolution. It again was a prison during World War II. The Palais de l'Ile was classified as a Historical Monument in 1900, and today houses a local history museum.
The Château d'Annecy (Annecy Castle): Constructed between the 12th and 16th centuries, it is a French historical monument that now houses the Museum of Alpine Popular Art, a lake-side museum with an aquarium and temporary art exhibits.
Annecy Basilica: The Basilica of Visitation, dedicated to and housing the relics of Saint-François de Sales and Saint-Jeanne de Chantal, the patron saints of Annecy, sits just a walk south of the Old Town. Designed in 1930, it is made of white stone in a baroque style and features lovely large stained glass windows, lavish decoration, and printed material about the 2 saints buried here. The highlight of the Basilica is the bell tower, which is 72 meters high (236 feet) and provides spectacular views of Annecy and the lake.
The old town: The Old Town of Annecy offers you a walk through history. Settled on the banks of Lake Annecy and crossed by the Thiou River and the Vassé Canal, it features colorful buildings in the Piedmontese style. Most of the old town is pedestrianized due to the narrowness of the streets. A range of quaint bars, restaurants, and boutiques nestled in arcaded streets and alleys can be found here.
Mont Revard
Mont Revard (1,538 m) is a mountain in the Bauges Massif near Aix-les-Bains in Savoie, France.
Annecy-Semnoz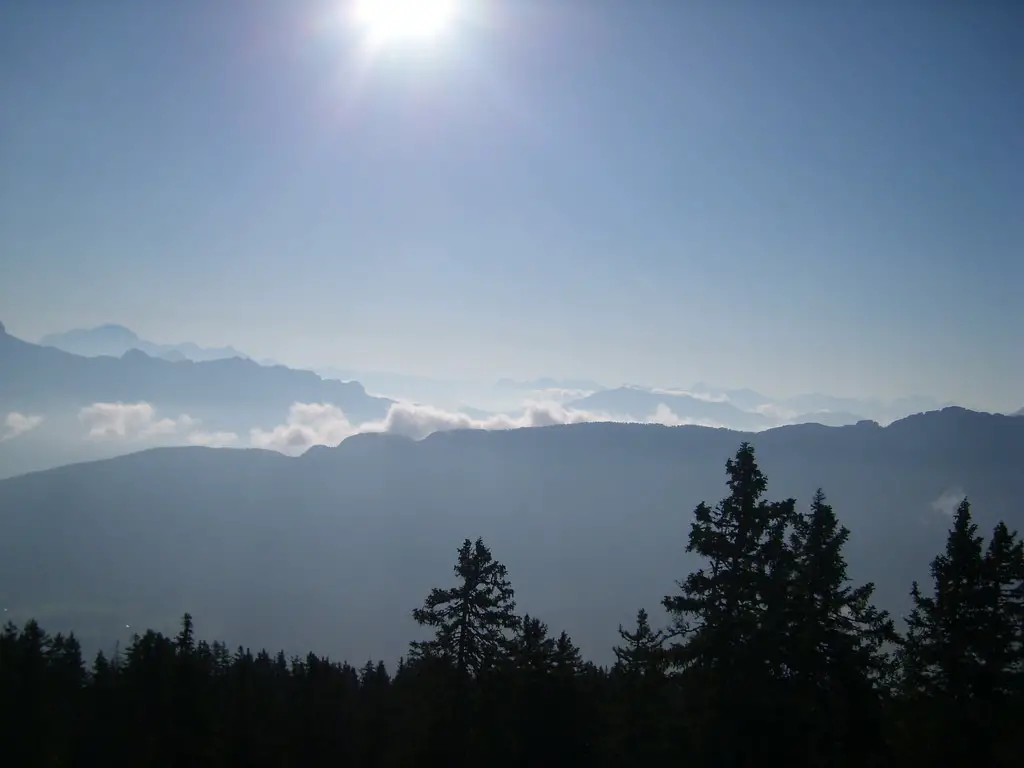 The Semnoz is a mountain of medium altitude (1699 meters), between Annecy and Allèves (gorge of Banges) in a north-east/south-west. It is located in Haute-Savoie.
Known as the green lung of Annecy, the Semnoz mountain is a year-round destination for hikers, equestrians, mountain bikers, paragliders, and skiers. However, until today, the Tour de France has only once passed through this panoramic landscape during an eventful stage of the 1998 edition, which went from Albertville to Aix-les-Bains. This year, the finishing line has been drawn on the summit, in recognition of Semnoz's majestic position in the Annecy landscape.
Sources