Tour de France 2013 stage 21 is a flat sage from Versailles to Paris Champs-Élysées. The length of the course is 133.5 km. The stage will start in the evening and finish in the night.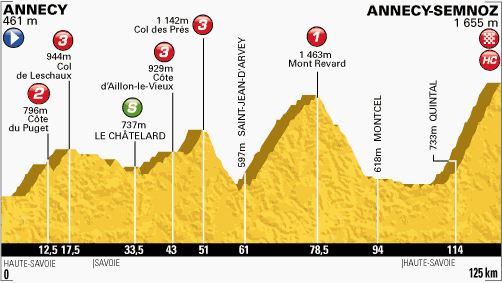 Tour de France 2013 stage 21 quick info
DATE July 21, 2013, Sunday
STAGE TYPE Flat
START-FINISH Versailles (165 m) > Paris Champs-Élysées (38 m)
LENGTH OF THE COURSE 133.5 km
DIFFICULTY
Tour de France 2013 stage 21 profile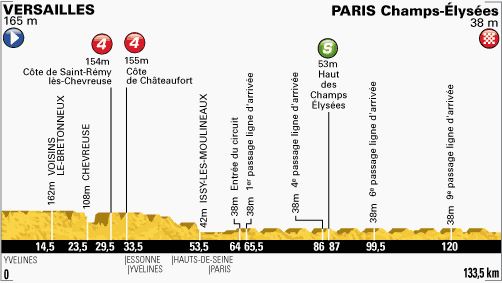 Mountain passes & hills
km. 29.5 Côte de Saint-Rémy-lès-Chevreuse, 1 kilometer-long climb at 6.9% 4
km. 33.5 Côte de Châteaufort (Stèle Jacques Anquetil), 0.9 kilometer-long climb at 4.7%
Intermediate sprint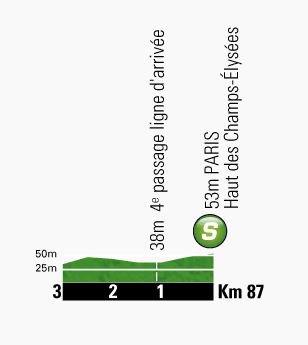 Versailles
Versailles is a city in the Yvelines département in Île-de-France region, world-widely renowned for its château, the Château de Versailles and the gardens of Versailles, designated UNESCO World Heritage Sites.
Champs-Élysées
The Avenue des Champs-Élysées is a street in Paris, France. With its cinemas, cafés, luxury specialty shops, and clipped horse-chestnut trees, the Champs-Élysées is arguably the most famous street – and one of the most expensive strips of real estate – in the world. Several French monuments are also on the street, including the Arc de Triomphe and the Place de la Concorde. The name is French for Elysian Fields, the place of the blessed dead in Greek mythology. According to a much-used description, the Champs-Élysées is la plus belle avenue du monde ("the most beautiful avenue in the world").
Sources