Tour de France 2013 Stage 5 is a hilly stage from Cagnes-sur-Mer to Marseille. The length of the course is 228.5 kilometers. The course is suitable to both sprinters and breakaway groups.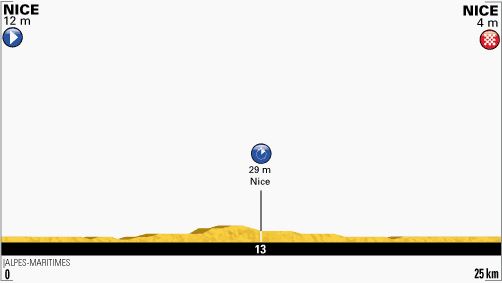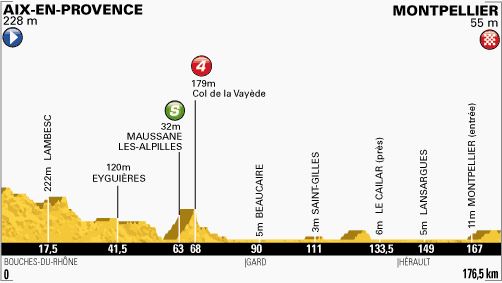 Tour de France 2013 Stage 5 quick info
DATE July 03, 2013, Wednesday
STAGE TYPE Hilly
START-FINISH Cagnes-sur-Mer (10 m) > Marseille (0 m)
LENGTH OF THE COURSE 228.5 km
DIFFICULTY
Tour de France 2013 Stage 5 profile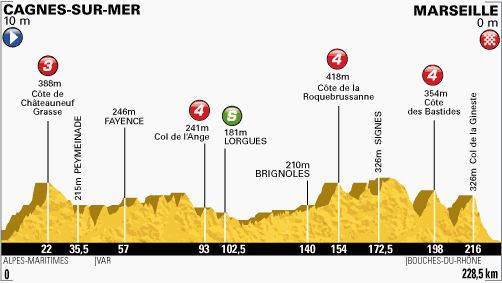 Mountain passes & hills
Km — Details — Category
22.0 — Côte de Châteauneuf-Grasse, 1.4 kilometer-long climb at 8.4% — 3
93.0 — Col de l'Ange, 1.6 kilometer-long climb at 4.1% — 4
154.0 — Côte de la Roquebrussanne, 3.5 kilometer-long climb at 4.2%% — 4
198.0 — Côte des Bastides, 5.7 kilometer-long climb at 3.1% — 4
Sprint point and last kilometers of the stage

Cagnes-sur-Mer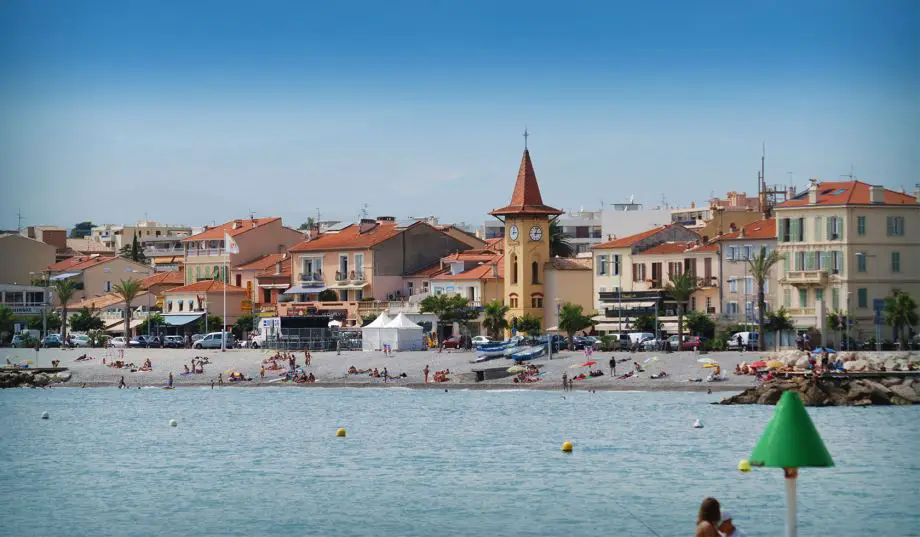 Cagnes-sur-Mer is a commune of the Alpes-Maritimes department in the Provence-Alpes-Côte d'Azur region in southeastern France.
Places of interest include Renoir's estate, Les Collettes, surrounded by olive trees ; the Medieval castle at le Haut-de-Cagnes and the Cros quarter, founded by Italian fishermen in the nineteenth century.
It is also known for its horse racing venue, the Hippodrome de la Côte d'Azur, and a four-kilometer-long pebble beach.
The Gare de Cagnes-sur-Mer railway station offers local services in the directions of Nice and Cannes.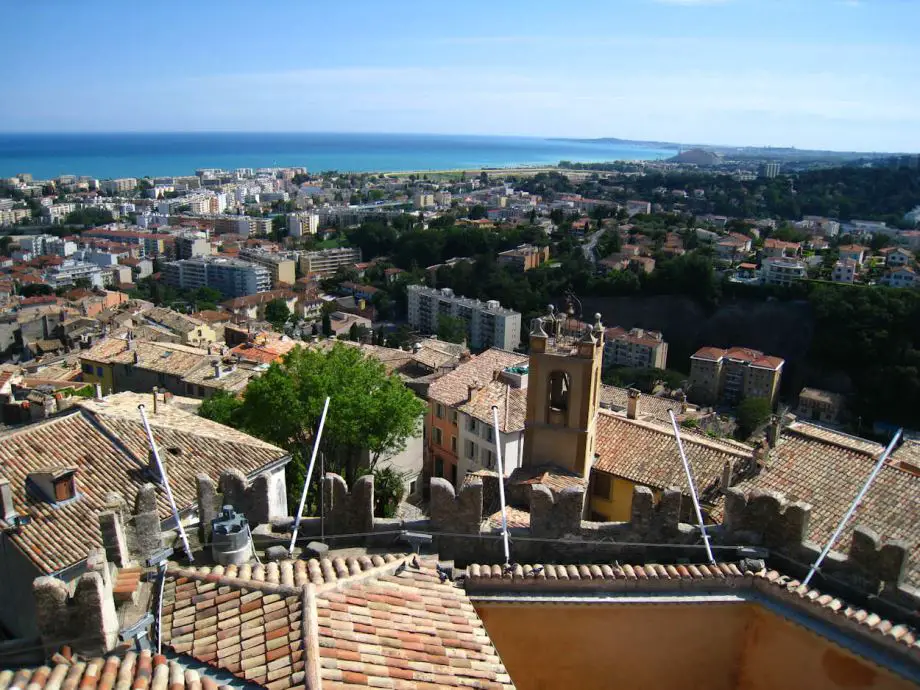 Marseille
Marseille, known in antiquity as Massilia or Massalia (from Greek: Μασσαλία), (probably adapted from a pre-existing language related to Ligurian) is the second largest city in France, after Paris, with a population of 853,000 within its administrative limits on a land area of 240.62 km2 (93 sq mi).
The urban area and metropolitan area of Marseille extends beyond the city limits with a population of around 1.6 million. Located on the southeast coast of France, Marseille is France's largest city on the Mediterranean coast and largest commercial port. Marseille is the capital of the Provence-Alpes-Côte d'Azur region, as well as the capital of the Bouches-du-Rhône department.
With its beaches, history, architecture and culture (24 museums and 42 theatres), Marseille is one of the most visited cities in France, with 4.1 million visitors in 2012. Marseille is ranked 86th in the world for business tourism and events, advancing from the 150th spot one year before. From 109,000 days in 1996, the number of congress days hosted on its territory increased to almost 300,000 in 2011. They take place in three main sites, Le Palais du Pharo, Le Palais des Congrès et des Expositions (Parc Chanot) and the World Trade Center.
In 2012 Marseille hosted the World Water Forum. Several urban projects are developed to make Marseille attractive. Thus new parks, museums, public spaces, and real estate projects aim to improve the city cadre de vie (Parc du 26e Centenaire, Old Port of Marseille, numerous places in Euromediterrannee) to attract firms and people. Marseille municipality acts to develop Marseille as a regional nexus for entertainment in the south of France with a high concentration of museums, cinemas, theaters, clubs, bars, restaurants, fashion shops, hotels, and art galleries.
Marseille is a city with a unique culture of its own, and proud of its differences with the rest of France. It is now a regional cultural and entertainment center with a significant opera house, historical and maritime museums, five art galleries, and numerous cinemas, clubs, bars , and restaurants.
Marseille has several theatres, including La Criée, Le Gymnase and the Toursky Theatre. La Friche, a former match factory behind Saint-Charles station, is now home to an extensive arts center.
The Alcazar, a well-known music hall and variety theater until the 1960s, was recently entirely remodelled behind its original façade and now houses the municipal central library. Other Marseille music venues include Le Silo (also a theatre) and GRIM.
In the arts Marseille was also significant. It was the home and birthplace of many French authors and poets like Victor Gélu, Valère Bernard, Pierre Bertas, Edmond Rostand, and André Roussin.
L'Estaque's small port at the far end of Marseille Bay became a popular haunt for artists, including Auguste Renoir, Paul Cézanne (who often visited his home in Aix), Georges Braque, and Raoul Dufy.
Sources