Tour de France 2013 Stage 6 is a flat stage from Aix-en-Provence to Montpellier. The length of the course is 176.5 kilometers. The course is suitable for pure sprinters.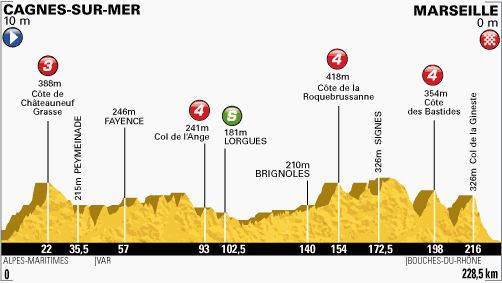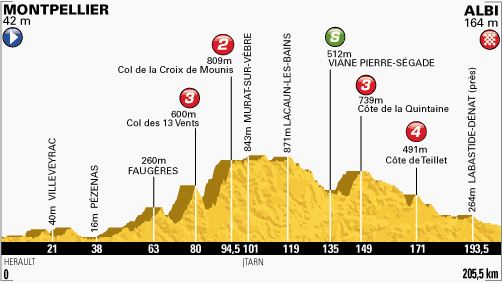 Tour de France 2013 Stage 6 quick info
DATE July 04 2013, Thursday
STAGE TYPE Flat
START-FINISH Aix-en-Provence (228 m) > Montpellier (55 m)
LENGTH OF THE COURSE 176.5 km
DIFFICULTY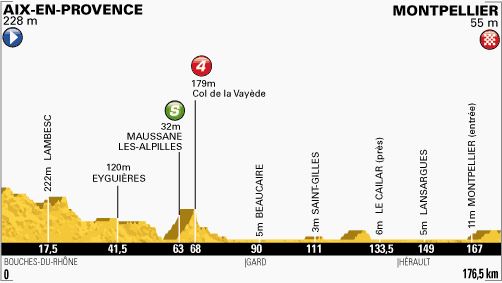 Tour de France 2013 Stage 6 profile
Mountain passes & hills
km 68.0, Col de la Vayède, 0.7 kilometer-long climb at 7%
Sprint point and last kilometers of the stage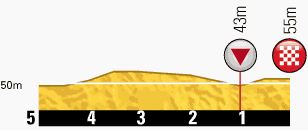 Aix-en-Provence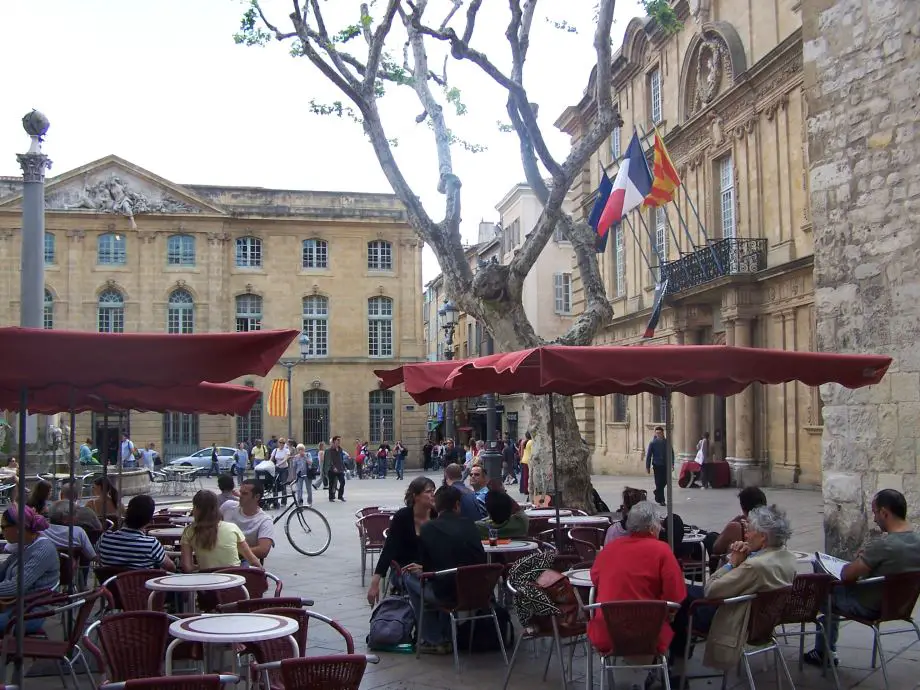 Aix-en-Provence is a city-commune in the south of France, some 30 km (19 mi) north of Marseille. It is in the region of Provence-Alpes-Côte d'Azur, in the département of Bouches-du-Rhône, of which it is a subprefecture. The population of Aix is approximately 143,000. Its inhabitants are called Aixois or, less commonly, Aquisextains.
Aix-en-Provence is an elegant town with its streets and lively squares. Here you can combine the pleasures of taking a stroll and window shopping with a noble heritage, enjoy a drink on the terraces whilst admiring the architectural beauty.
Aix is often referred to as the city of a thousand fountains. Among the most notable are the 17th-century Fontaine des Quatre Dauphins (Fountain of the Four Dolphins) in the Quartier Mazarin, designed by Jean-Claude Rambot, and three of the fountains down the central Cours Mirabeau: At the top, a 19th-century fountain depicts the "good king" René holding the Muscat grapes that he introduced to Provence in the 15th century; halfway down is a natural hot water fountain (34 °C), covered in moss, dating back to the Romans; and at the bottom at la Rotonde, the hub of modern Aix, stands a monumental fountain from 1860 beneath three giant statues representing art, justice, and agriculture.
In the older part of Aix, there are also fountains of note in the Place d'Albertas and the Place des Trois-Ormeaux.
Montpellier
Montpellier is the capital of the Languedoc-Roussillon region, as well as the Hérault department. Montpellier is the 8th largest city of France and is also the fastest-growing city in the country over the past 25 years. Located on the south coast of France on the Mediterranean Sea, it is the third-largest French city on the Mediterranean coast after Marseille and Nice.
Main sights of the city include:
The main focus point of the city is the Place de la Comédie, with the Opéra Comédie which built in 1888.
The Musée Fabre.
In the historic center, a significant number of hôtels particuliers (i.e. mansions) can be found. The majority of the buildings of the historic center of Montpellier (called the Écusson because its shape is roughly that of an escutcheon) have medieval roots and were modified between the 16th and the 18th centuries. Some buildings, along Rue Foch and the Place de la Comédie, were built in the 19th century.
The Rue du Bras de Fer (Iron Arm Street) is very typical of the medieval Montpellier.
The mikve, ritual Jewish bath, dates back to the 12th century and is one of the very few old mikves preserved in Europe.
The Jardin des plantes de Montpellier-oldest botanical garden in France, founded in 1593
The La Serre Amazonienne, a tropical rain forest greenhouse
The 14th-century Saint Pierre Cathedral
The Porte du Peyrou, a triumphal arch built at the end of the 17th century, and the Place Royal du Peyrou built in the 17th century, are the highest point of the Ecusson.
The Tour des Pins, the only remaining of 25 towers of the city medieval walls, built around 1200.
The Tour de la Babotte, a medieval tower that was modified in the 18th century to house an observatory.
The Saint Clément Aqueduct, built in the 18th century.
The Antigone District and other housing projects have been designed by the architect Ricardo Bofill from Catalonia, Spain
A number of châteaux, so-called follies, built by wealthy merchants surround the city
Nearly 80 private mansions were built in the city from the 17th to 19th century, and some of their interior courtyards are open
Sources