Vuelta a España 2014 stage 18 – it is a 157 km mountain stage with a summit finish from A Estrada to Monte Castrove (Meis).
The departure will be in A Estrada and the arrival in the Monte Castrove. It is expected to be a tough and dangerous day as the arrival will take place at high altitude. The peloton will have to pass Monte Castrove, a 2nd category climb, on two occasions. This will involve a 5-kilometer climb with slopes featuring inclinations of 12%. Almost three weeks of competition may start to take their toll in a stage that marks the beginning of the end of this edition of the Vuelta.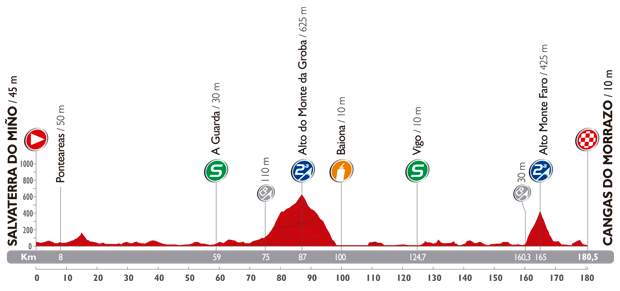 Vuelta a España 2014 Stage 18 quick info
DATE September 11, 2014, Thursday
STAGE TYPE Mountains (summit finish)
START-FINISH A Estrada (260 m) – Monte Castrove. Meis (490 m)
LENGTH OF THE COURSE 157 km
Vuelta a España 2014 Stage 18 profile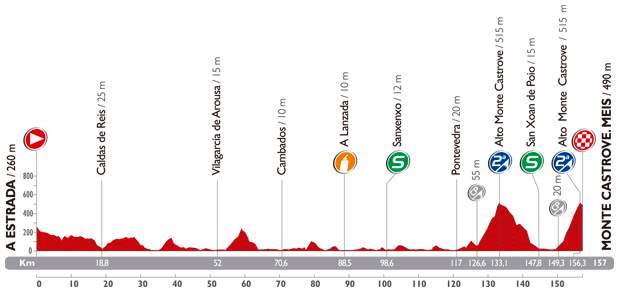 Vuelta a España 2014 Stage 18 start town: A Estrada
A Estrada is a municipality of the Pontevedra province in Galicia in northwestern Spain. It is located some 15 miles southeast of Santiago de Compostela.
It is the chief town of a densely populated mountainous district; its industries are agriculture, stockbreeding, and the manufacture of linen and woolen cloth. Timber from the mountain forests is conveyed from Estrada to the Ulla River, 4 miles north, and thence floated down to the seaports on Arousa Bay. There are mineral springs at A Estrada and at Caldas de Reis, 11 miles west-southwest.
Vuelta a España 2014 Stage 18 finish: Monte Castrove
Monte Castrove is a small mountain located in the province of Pontevedra, which serves as the administrative boundary between the municipalities of Barro, Meis, Pontevedra, and Poio. It has an elevation of 515 meters above sea level.
It is a col in category 2. The closing climb is 5 kilometers in length and the maximum grade is 12%.
Sources