Vuelta a España 2014 Stage 8 Details – it is a 207 km flat stage from Baeza to Albacete.
This is a completely flat stage as La Vuelta leaves Andalucía and heads to Castilla la Mancha. The day's route will be more than 200 km long and will favor a mass sprint towards the finish line located in Albacete. Every time the Vuelta goes to Albacete, the wind must be taken into account, as it is a very common occurrence in that part of Spain.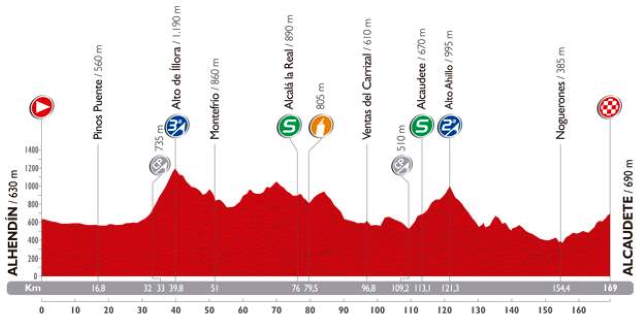 Vuelta a España 2014 Stage 8 quick info
DATE August 30, 2014, Saturday
STAGE TYPE Flat
START-FINISH Baeza (740 m) – Albacete (682 m)
LENGTH OF THE COURSE 207 km
Vuelta a España 2014 Stage 8 Profile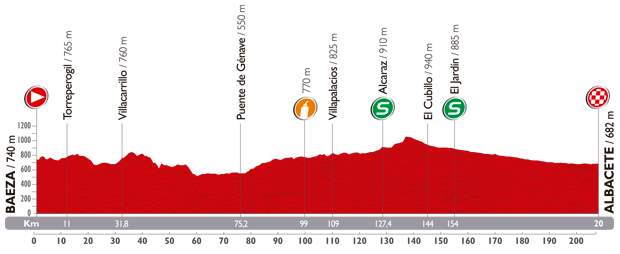 Vuelta a España 2014 Stage 8 start town: Baeza
Vuelta a España 2014 Stage 8 start town, Baeza is a town of approximately 16,200 inhabitants in Andalusia, Spain, in the province of Jaén, perched on a cliff in the "Loma de Úbeda", a mountain range between the river Guadalquivir on the south and its tributary the Guadalimar on the north. It is chiefly known today as having many of the best-preserved examples of Italian Renaissance architecture in Spain. UNESCO added Baeza and Úbeda to the World Heritage Sites list in 2003.
Main sights of Baeza:
Town Hall (Ayuntamiento), a Plateresque building originally built as Court House and Prison, hence its two independent doors.
The university, established in 1538, which is now a secondary school
Cathedral of the Nativity of Our Lady, built above a former Moorish mosque. It was converted to the Christian rite by King Alfonso VII of Castile in 1147. After another period as a mosque, it was restored to Christianity in 1227 by Ferdinand III of Castile. The most ancient part of the edifice are the lower part of the bell tower, of cubic shape, and three Islamic arches, now hidden. The current edifice was built from 1529, in Gothic style, including a nave and two aisles, pilasters and crossed vaults. The tower was remade in 1549 and the Chapel of St. Michael was added in 1560. The whole construction was completed by Andrés de Vandelvira, who added Renaissance elements.
Arco de Villalar erected to celebrate the battle of Villalar in 1521 on the occasion of Emperor Charles V's visit to the town in 1526
Romanesque church of Santa Cruz. It has a nave and two aisles, with a semicircular apse; one of the side walls includes a Visigothic arch.
Palacio de Jabalquinto. The entrance gate is sided by two cylindrical pilasters with Plateresque capitals with mocárabes, and between them are decorations in the final Gothic style. In the interior are a Renaissance courtyard and a Baroque staircase.
Squares of Plaza de España and the Paseo de la Constitucíon
Chapel of St. Francis, founded in 1538. It's the ruins of a Renaissance building.
Gothic church of St. Paul, with a Renaissance portal. It has a nave and two aisles with Gothic-style chapels. Pablo de Olavide is buried here.
Úbeda Gate, of which the only one of the three original arcades has remained.
Fountain of St. Mary (1564)
Fuente de los Leones (Fountain of the Lions), coming from the Iberian-Roman city of Cástulo. It has been suggested that it could represent Himilce, wife of the Carthaginian general Hannibal.
Seminary of St. Philip Neri (1660)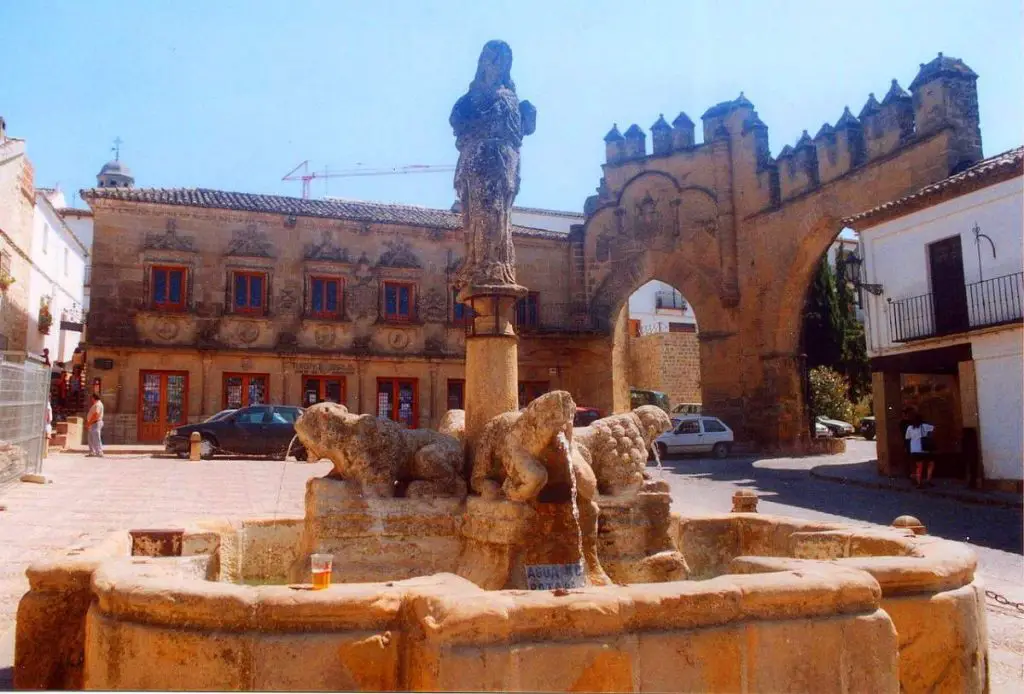 Vuelta a España 2014 Stage 8 finish city: Albacete
Vuelta a España 2014 Stage 8 finish city, Albacete is a city and municipality in southeastern Spain, 258 km (160 miles) southeast of Madrid, and 127 km (79 miles) northwest of Murcia, the capital of the province of Albacete in the autonomous community of Castile-La Mancha. It is located to the southeast of the Meseta Central, specifically in the historic Manchego region of La Mancha de Montearagón. It currently falls within the region of the Llanos de Albacete, being the only municipality in this region.
Born out of a fair between the plain and the mountain range, Albacete is characterized for its hospitality, entrepreneurial and commercial spirits and offers visitors new experiences for the senses and the emotions as well as interaction with the city and its people.
Its Fair is an undeniable attraction, held annually from the 7th to the 17th of September and declared of International Touristic Interest. During a few intense days, all the Albacete locals get together in an atmosphere of fun, friendship, tradition, participation and culture.
But Albacete is not just about September; the capital and its province provide these experiences all year long through their cultural, sporting, natural, museum, commercial, craftwork, business and leisure resources.
All of this in a comfortable, friendly and accessible city, with beautiful parks and gardens that, along with the more than 100km of routes and natural tracks, make it easy for visitors and locals alike to enjoy nature up-close, by foot or on a bicycle. And let's not forget the wide range of gastronomy and nightlife on offer provided by our excellent restaurants and bars, mixing traditional products and dishes (gazpacho, game, saffron, honey, and magnificent Manchegan broths) with the latest gastronomic tendencies.
Sources