Alex Zanardi showed one of the most inspiring performances of the London 2012 summer as he won H4 hand-cycle class individual time trial gold medal and the hearts of millions.

In the H4 hand-cycle class at Brands Hatch, where he once raced as a Formula 1 driver, the 45-year-old Italian's time of 24min 50.22sec over the 16km course was good enough to clinch victory. Norbert Mosandl of Germany finished in second, 27 seconds behind, and United States rider Oscar Sanchez, finished in third, 45 seconds back.
Having driven the course many times but never previously cycled it, Zanardi said: "With an engine pushing me I didn't realise it was so hilly. It is very hard, but if I had to design a course, this is what I would have done."
Alex Zanardi's (Alessandro Zanardi) average speed of 38.652 km/h was considerably less than his previous best at the fabled circuit in southeast England.
"It is beautiful, hard, it suits my characteristics of an old man."
He sat on the track following his victory, and raised his lightweight bike, above his head, one-handed in triumph.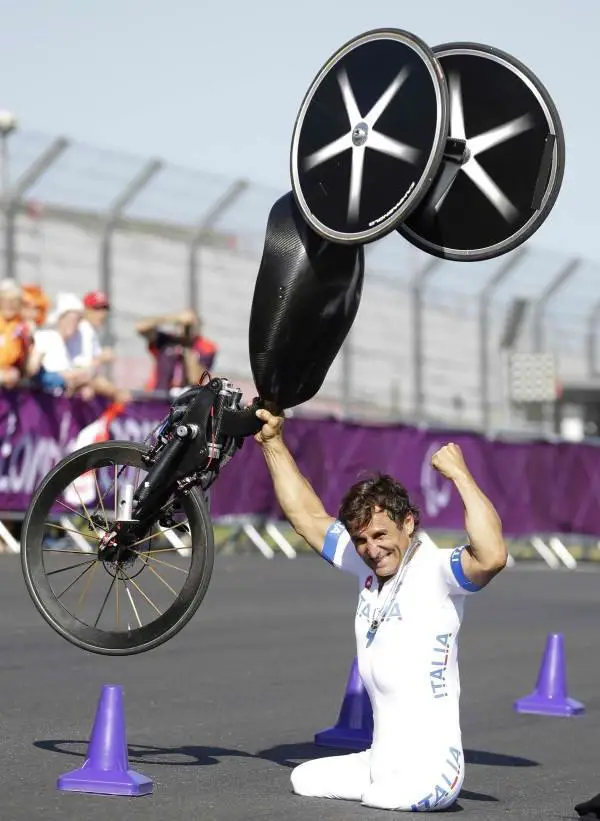 Zanardi lost both his legs and almost his life in an horrific IndieCar crash 11 years ago. You can read his story from here.
After winning the gold, he said that: "This is a great accomplishment, one of the greatest of my life. I worked very hard to get here. It was great to live such an experience at 45. This moment also brings a little bit of sadness for an adventure that lasted for two years."
"Three years ago, at age 42, I stopped motor racing. It seemed a stupid thing to do to drop everything. It was against all odds. But it's not the first crazy thing that I do in life. At the end I was right. "
"You should not chase pipe-dreams, but if you have a horizon to look into, happiness is just around the corner."
I am a software developer, a former road racing cyclist (at the amateur level) and a science enthusiast. Also an animal lover! I write about cycling on this website, cycling-passion.com. You can check out my social media profiles by clicking on their icons.
Latest posts by M. Özgür Nevres (see all)