It has been announced that Bianchi and Ferrari were joining forces for a range of bicycles in the end of July 2017. The Italian noteworthy brands were collaborated to launch the "Bianchi for Scuderia Ferrari" project. Now, they revealed the project's first fruit – the SF01.

The new bike, the SF01 is actually based on the Bianchi Specialissima, with a few customized components here and there. There's also a Marco Pantani edition of Bianchi Specialissima to celebrate the 20th anniversary of Marco Pantani's Giro-Tour double.
The Italian bicycle manufacturer (the world's oldest bicycle manufacturing company still in existence) announced on their website that:
"When two noteworthy brands like Bianchi and Ferrari, that made history in cycling races and motorsports respectively, come together, the result is bound to be exciting and fascinating. This is what is going to happen as Bianchi, known as an iconic brand in the cycling world for its Italian creativity, innovation and design, joins forces with Ferrari, the revered sports car manufacturer and the most winning team in the history of Formula One, to launch the 'Bianchi for Scuderia Ferrari' project under a licensing agreement."
"Bianchi will develop, produce and distribute worldwide a 'Scuderia Ferrari' branded range of high-end bicycles which will offer various product categories: Road, MTB, E-Bike, City-Fitness, and Kids. The R&D and Design departments from Bianchi and Ferrari will work closely to develop exclusive models inspired by the technical excellence of the racing team."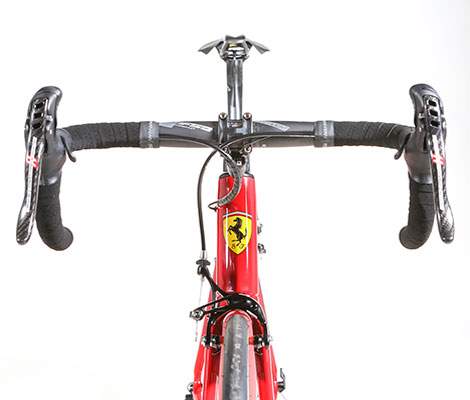 The two Italian brands also will reveal a triathlon bike soon – as Bianchi anounced that "Triathlon Concept: We are launching the new performance luxury cycling project Bianchi for Scuderia Ferrari. Stay tuned and follow us to learn more!"
Since the SF01 is actually a Bianchi Specialissima with a few touches here and there, the triathlon concept bike will represent the first actual engineering collaboration between Bianchi and Ferrari.
The Bianchi-Ferrari collaboration is also intended to expand into a full line of road, triathlon, mountain, city, fitness, e-bikes, and even kids' bikes.
Read more on Bianchi web site
Latest posts by M. Özgür Nevres
(see all)