Innovative Swiss Sports Performance Tech, CORE Body Temperature finally gives Performance Athletes Accurate, Accessible, and Easy Temperature Metrics.
While performance athletes can capture their heart rate and power output with ease, the missing metric is accurate core body temperature which has previously been difficult to obtain. The CORE will debut at the 2020 Tour de France and makes live core body temperature monitoring more convenient and accessible for performance athletes.
The new CORE Body Temperature monitor is the missing piece of the puzzle, the CORE device fits onto the HRM strap and accurately monitors core body temperature (within 0.21°C). As a wearable / reusable device, it connects via ANT+ and BLE with smart-watches, smartphones, and cycle computers such as Garmin or Wahoo to record and display core body temperature metrics.
Why is core body temperature important?
Most athletes recognize that when they get too hot, their energy levels and performance drops. In the 2016 UCI Road Cycling World Championships, for example, 25% of riders who were tested (see notes 1) exceeded a core body temperature of 40 °C (104°F). Under the skin, up to 70% of cardiac output (see notes 2) is used to divert blood to the skin for thermo-regulation instead of to the muscles.
When athletes are able to establish their thresholds and actively monitor core body temperature, in conjunction with their other metrics such as heart rate and power output, this improves training and also helps them to make strategic decisions during competition (see notes 3) – for example, to adjust power output or to actively cool.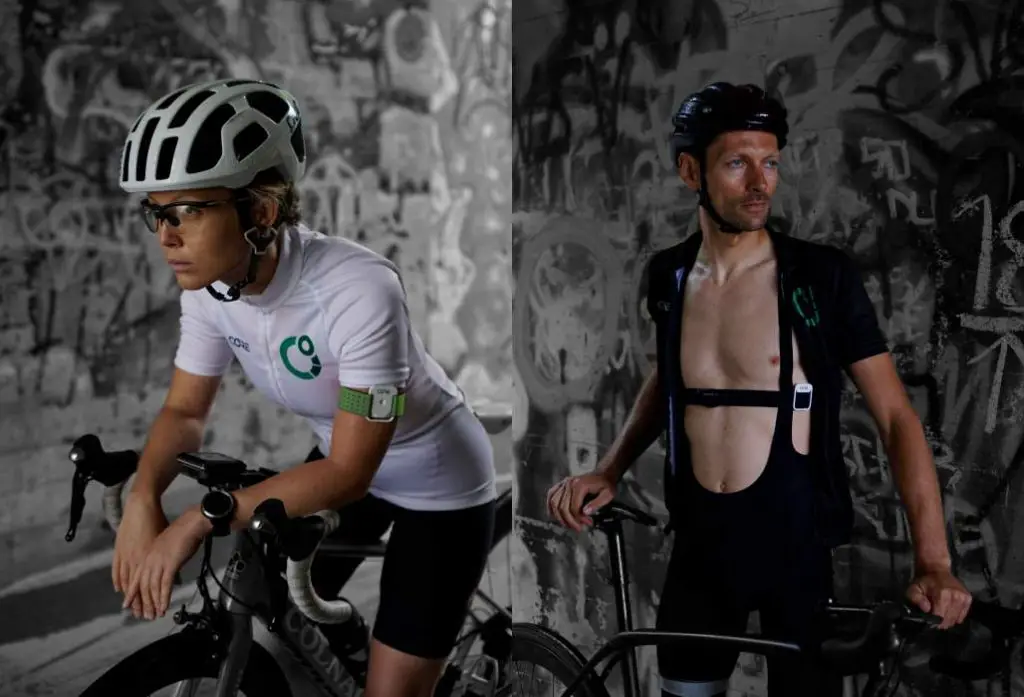 Core Body Temperature monitoring is now accessible and convenient
Up to now, coaches and athletes have relied on single-use e-pills which are swallowed to measure accurate core body temperature. This approach requires additional equipment and the costs, invasive nature and technical hurdles has limited access for many athletes. The innovative Swiss team from greenTEG have developed new patented sensor technology that is wearable and provides the level of accuracy of e-pills.
The CORE Sports algorithm has been developed especially for athletes and provides an accuracy of 0.21°C. The CORE device clips onto a Heart Rate Monitor strap and can deliver 24/7 core body temperature metrics. It is rechargeable and data can easily be sent to various devices and used for training and analysis.
Champion Swiss duathlete and triathlete Ronnie Schildknecht is the Ambassador for CORE and says, "Being able to measure core body temperature and control the intensity on the go accordingly during training and racing is a very important piece of the puzzle to prevent overheating, which will ultimately affect performance to maintain constant power output."
Availability of CORE
We have been working with professional triathletes and a prominent UCI WorldTeam who have been training extensively with CORE and will be using it during the 2020 Tour de France.
The CORE is available for pre-order and in late September 2020 will be released with the CORE Sports algorithm specifically for athletes with compatibility for key devices and applications.
Pre-orders and product details: CoreBodyTemp.com
Retail Price is 250 CHF (ca. EUR 232 / USD 270)
About Core Body Temp
greenTEG AG was founded in 2009 as a spin-off of the Swiss Federal Institute of Technology (ETH). The company develops, manufactures, and markets thermal energy sensors and laser power/position measurements and provides consulting on the thermal integration of its products. Using proprietary technology, the Core Body Temperature solution was developed by greenTEG as an affordable, portable, and convenient device to accurately measure core body temperature in a non-invasive wearable device.
Notes
Racinais S, Moussay S, Nichols D, et al
Core temperature up to 41.5ºC during the UCI Road Cycling World Championships in the heat
British Journal of Sports Medicine 2019;53:426-429.
https://bjsm.bmj.com/content/53/7/426
Périard, J.D.,& Racinais, S., 
Heat Stress in Sport and Exercise: Thermophysiology of Health and Performance
Springer, 2019, DOI: 10.1007/978-3-319-93515-7
"While resting in a thermoneutral environment, about 0.5 L/min of blood (5–10% of cardiac output) is supplying the cutaneous circulation, but during heat stress, the cutaneous circulation receives up to 8 L/min (50–70% of cardiac output)" (page 5)
González-Alonso J, Teller C, Andersen SL, Jensen FB, Hyldig T, Nielsen B.
Influence of body temperature on the development of fatigue during prolonged exercise in the heat.
J Appl Physiol (1985). 1999;86(3):1032-1039. doi:10.1152/jappl.1999.86.3.1032
https://pubmed.ncbi.nlm.nih.gov/10066720/
Latest posts by M. Özgür Nevres
(see all)