A very beautiful photo by the German-American portrait and documentary photographer Evelyn Hofer (January 21, 1922 – November 2, 2009): Girl with Bicycle, Dublin, 1966.
In the photo, the colorful little girl stands in contrast to dreary, gray-skied Dublin, and even to her clunky, old bike which is very big to her. It seems it was raining until recently. A dog in the empty streets. It's spring, perhaps? Beautiful.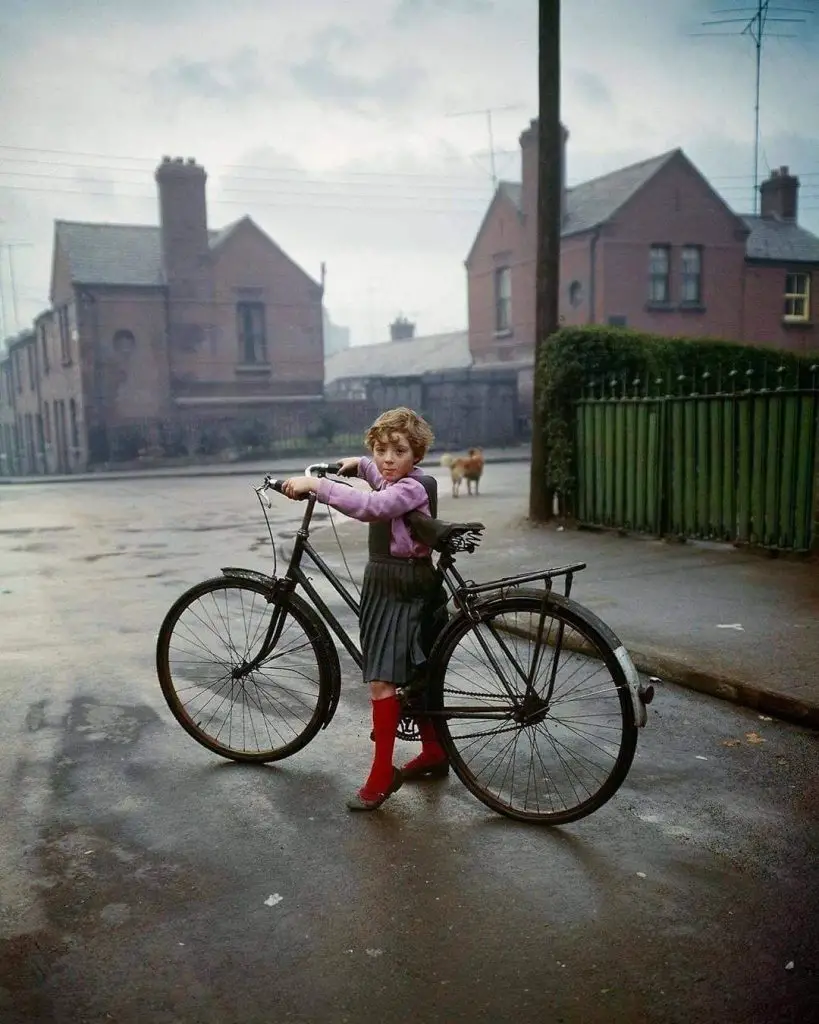 You can buy this beautiful photo in print from artsy.net.
The photographer of "girl with bicycle": Evelyn Hofer
Evelyn Hofer (January 21, 1922 – November 2, 2009) was born in Marburg, Germany. In 1933 the family moved to Geneva to escape from Nazism, and later to Madrid. Evelyn unsuccessfully tried to enter the Paris Conservatory and then turned to photography, first apprenticing in Zürich and Basel and then taking private tuition in Zürich.
After Francisco Franco came to power in Spain, they moved again, this time to Mexico, to escape the Francoist dictatorship.
In 1946 Hofer moved to New York where she collaborated with Harper's Bazaar's Alexey Brodovitch and had friendships with Richard Lindner and Saul Steinberg.
She created organized and well-constructed portraits and scenic photographs using a four-by-five-inch view camera. Her style focused on plain but not simple, straightforward compositions. Her portraits show subjects that look lost, sad, or at least ambiguous.
Hofer is best known for her exquisite portraiture and detailed architectural and interior shots. Starting from the more common documentary styles of her day, Hofer carefully assembled her pictures, spending considerable time arranging interior scenes and looking in her subjects for an "internal meaning, some interior respect."
Hofer has collaborated with writers such as Mary McCarthy, and V.S. Pritchett on many travel books, including city-specific publications such as London Perceived (1962), Dublin: A Portrait (1967), and The Evidence of Washington (1966).
She died on November 2, 2009, in Mexico City, Mexico, aged 87.
Sources
Latest posts by M. Özgür Nevres
(see all)