Look at these two great photos about cycling, with no bikes. The photos were taken by Robert Capa in Pleyben, Brittany, France, during the 1939 Tour de France. The owner of the small bicycle shop in Brittany, Pierre Cloarec was competing in the 1939 tour for the French team A. Leducq-Hutchinson. The excited crowd in the photos watching the tour come by in front of the bicycle shop owned by Cloarec. He won two stages in this Tour, stages 3 and 14.
The first photo was taken while the peloton was coming, and the second one, after the cyclists passed by. In the second photo, you can see Pierre Cloarec's name on the window. Enjoy.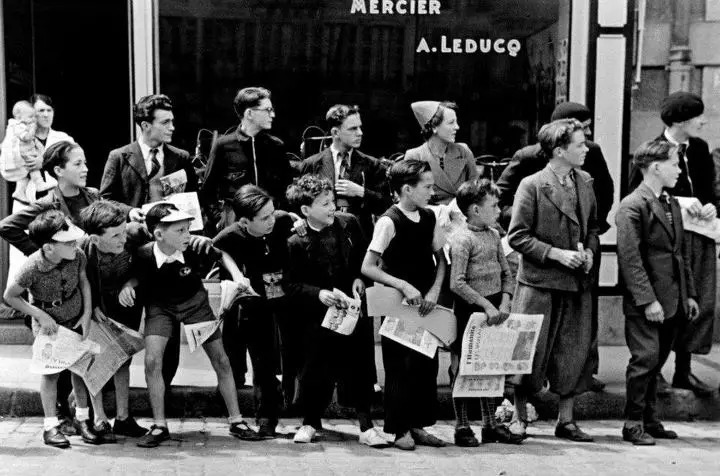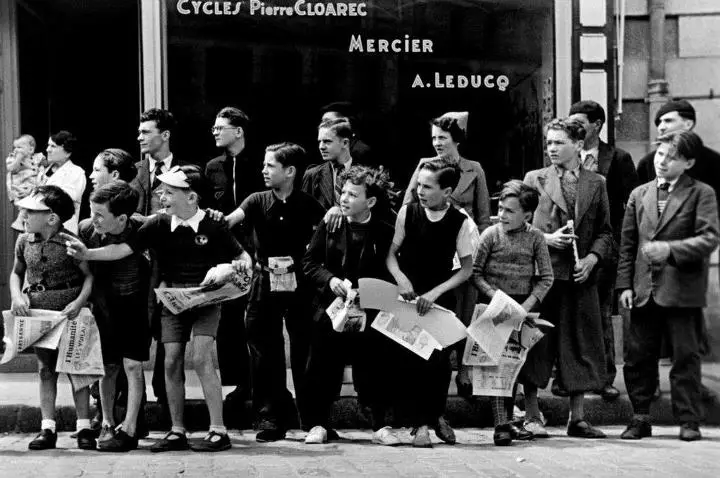 Robert Capa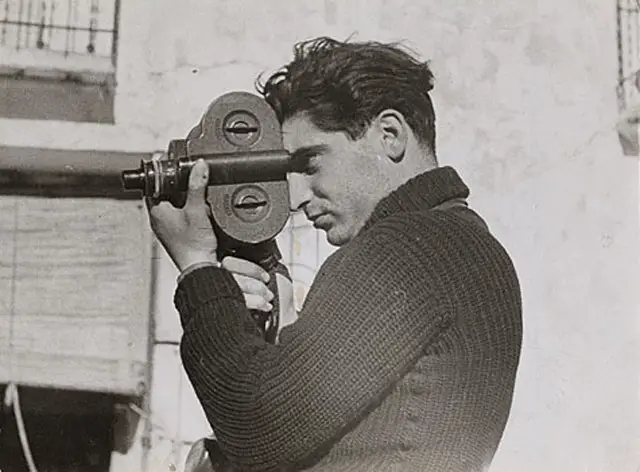 Robert Capa (born Endre Ernő Friedmann; October 22, 1913 – May 25, 1954) was a Hungarian combat photographer and photojournalist who covered five different wars: the Spanish Civil War, the Second Sino-Japanese War, World War II across Europe, the 1948 Arab-Israeli War, and the First Indochina War.
In the early 1950s, Capa traveled to Japan for an exhibition associated with Magnum Photos. While there, Life magazine asked him to go on assignment to Southeast Asia, where the French had been fighting for eight years in the First Indochina War. Despite the fact he had sworn not to photograph another war a few years earlier, Capa accepted and accompanied a French regiment with two other Time-Life journalists, John Mecklin and Jim Lucas.
On May 25, 1954, at 2:55 p.m., the regiment was passing through a dangerous area under fire when Capa decided to leave his Jeep and go up the road to photograph the advance. About five minutes later, Mecklin and Lucas heard an explosion; Capa had stepped on a landmine. When they arrived on the scene, he was still alive but his left leg had been blown to pieces, and he had a serious wound in his chest. Mecklin called for a medic and Capa was taken to a small field hospital where he was pronounced dead on arrival.
Pierre Cloarec
Pierre Cloarec (14 March 1909 – 7 December 1994) was a French professional road bicycle racer. During his career, he won two stages in the Tour de France.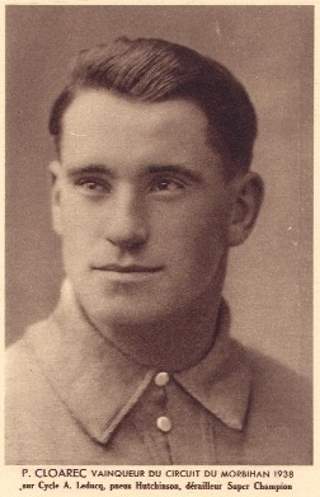 Pierre Marie Cloarec was born on March 14, 1909 in Pleyben (Finistère) where his parents were day laborers. After successfully competing in local races, he joined Dunlop team at the age of 17. He then left his work in a steel mill in Longwy. He stayed three years at Dunlop, during these yearsh he won ten races, and became Meurthe-et-Moselle Champion in 1929. He also finished 15th and 6th in Paris-Longwy in 1928 and 1929.
After his military service, he returned to Pleyben, married there, and opened his first bicycle store. Nicknamed Cloclo by his classmates because of his resemblance to the actor Michel Simon, he participated in many races in Britain and beyond. His power in the races and his physique of a wrestler earned him the nickname "Bull of Pleyben". He finished 8th, 3rd, and 8th again in Western Circuit in 1931, 1932, and 1933. His excellent results in 1933 would open the doors of professionalism to him.
Then he participated in five Tour de France: first in the "tourist-road" category and in the jersey of the France team and finally in the West team. In 1933, he finished 38th out of 40 classified finishers. In 1935, he became the ninth in three stages: Paris-Lille, Belfort-Geneva, Rochefort La Rochelle, and finish 18th overall. In 1936 he finished in 7th stage of Paris-Lille, second in Grenoble-Briançon (where he took the lead at the top of the Col Bayard) and finish 22nd in the general classification. In 1937, he joined the France national team and finished 32th overall.
He finished 44th overall in the 1935 Giro d'Italia (he became 9th in the foreign rider classification).
Two consecutive years in 1935 and 1936, he was the winner at the Circuit de Aulne in Châteaulin. In 1937, he won the Paris-Saint Etienne and finished 3rd at the Circuit de Paris. In 1938, he won the Tour of Morbihan, Marseille, Lyon, Rouen and Caen-Rouen and took 3rd place in Paris-Caen.
The year 1939 was a good year for Pierre Cloarec in the Tour: he won two stages, Rennes-Brest and Monaco-worthy, and finished 5th in the final stage, Troyes-Paris. The 1939 Tour would be an opportunity for the photographer Robert Capa, who was working for Paris-Soir Match. He took amazing photos of Pierre Cloarec and his family.
In 1941, Pierre Cloarec finished in 8th in the France Road Racing Championship and 3rd in the Paris-Tours.
A femur fracture after a fall put an end to his cycling career in 1942. But his passion for cycling continued. In 1947, he became the technical director of the West team participating in the Tour de France. The team's leader, the Breton Jean Robic, won the Tour.
Pierre Cloarec died on 7 December 1994 in Pont l'Abbé (Finistère).
Sources
Latest posts by M. Özgür Nevres
(see all)