Specialized Roubaix, named after Paris-Roubaix, "the queen of the classics", the famous classic race over the cobbles, the bike was designed to soak up the worst of the bumps through its innovative Zerts inserts.
The Zerts are essentially a damper placed in the rear stays and the forks that absorb road vibration. Specialized Roubaix is specifically designed for the cobbled classics in Europe and is good for bad road surfaces, cobbled roads, and long-distance endurance rides (i.e. century rides).
UCI WorldTour teams Saxo Bank-Tinkoff Bank, Omega Pharma-Quick Step and Astana use Specialized Roubaix in the Paris-Roubaix race. This year (2012), Omega Pharma-Quick Step's Belgian rider Tom Boonen won the classic 4th time, and he has equaled the record of another Belgian, legendary Roger De Vlaeminck. Also in 2010, Fabian Cancellara of Switzerland won Paris-Roubaix riding a Specialized Roubaix.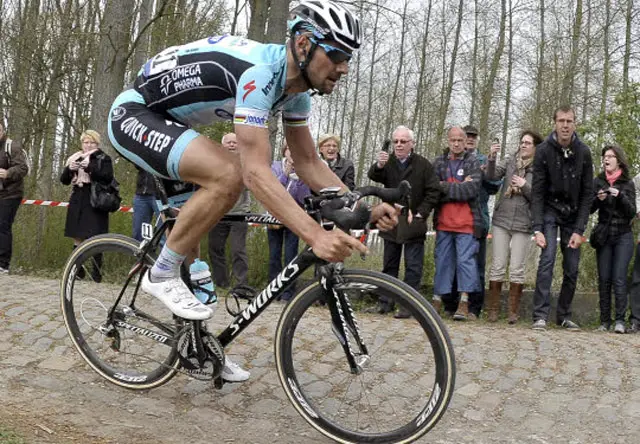 Specialized Roubaix is coming with 10 different builds.
S-Works SL4 Di2 Compact
Frame
S-Works Roubaix FACT 11r carbon, FACT IS construction, tapered/shaped 1-1/8" to size specific lower head tube, compact race design, Zertz, internal cable routing, carbon OSBB
Fork
S-Works Roubaix, FACT carbon full monocoque, Zertz
Headset
1-1/8" upper and 1-3/8" lower Cr-Mo cartridge bearings, 20mm carbon cone spacer and 20mm of carbon spacers
Stem
S-Works Pro-Set, 7050 3D-forged, carbon-clip front cap/cone, 4-degree shim, CNC head bolts
Handlebars
S-Works SL Carbon, shallow drop
Tape
Specialized Roubaix Tape w/ S gel
Front Brake
New Shimano Dura-Ace
Rear Brake
New Shimano Dura-Ace
Brake Levers
New Shimano Dura-Ace
Front Derailleur
New Shimano Dura-Ace Di2 11-speed
Rear Derailleur
New Shimano Dura-Ace Di2 11-speed
Shift Levers
New Shimano Dura-Ace Di2
Cassette
Shimano Dura Ace, 11-speed, 11-28
Chain
New Shimano Dura-Ace 11-speed
Crankset
S-Works FACT carbon
Chainrings
50/34
Bottom Bracket
Ceramic Speed, OSBB integrated ceramic, 30x42x7mm
Pedals
Nylon flat test ride, loose ball, w/ reflectors
Front Wheel
Roval Rapide CLX 40 with Ceramic Speed bearings
Rear Wheel
Roval Rapide CLX 40 with Ceramic Speed bearings
Front Tire
Specialized Turbo Pro, BlackBelt, 127TPI, aramid bead, 700x25c
Rear Tire
Specialized Turbo Pro, BlackBelt, 127TPI, aramid bead, 700x25c
Inner Tubes
Turbo Ultralight, 60mm, presta
Saddle
Body Geometry Toupé RBX Pro, carbon rails, 143mm
Seatpost
Specialized S-Works Carbon Pave SL, FACT carbon, 27.2mm
Seat Binder
Forged bolt and nut, 32.6mm
Notes
Carbon chainstay protector, derailleur hanger, clear coat, owners manual
S-Works SL4 Red Compact
Frame
S-Works Roubaix FACT 11r carbon, FACT IS construction, tapered/shaped 1-1/8" to size specific lower HT, compact race design, Zertz, internal cable routing, carbon OSBB
Fork
S-Works Roubaix, FACT carbon full monocoque, Zertz
Headset
1-1/8" upper and 1-3/8" lower stainless steel cartridge bearings, 20mm carbon cone spacer and 20mm of carbon spacers
Stem
S-Works Pro-Set, 7050 3D-forged, carbon-clip front cap/cone, 4-degree shim, CNC head bolts
Handlebars
S-Works SL carbon, shallow drop
Tape
Specialized Roubaix Tape w/ S gel
Front Brake
New SRAM RED
Rear Brake
New SRAM RED
Brake Levers
New SRAM RED
Front Derailleur
New SRAM RED
Rear Derailleur
New SRAM RED
Shift Levers
New SRAM RED
Cassette
New SRAM RED, 10-speed, 11-28
Chain
KMC X10 DLC Superlight
Crankset
SRAM Red
Chainrings
50/34
Bottom Bracket
Ceramic Speed, OSBB integrated ceramic, 30x42x7mm
Pedals
Nylon flat test ride, loose ball, w/ reflectors
Front Wheel
Roval Rapide CLX 40 with Ceramic Speed bearings
Rear Wheel
Roval Rapide CLX 40 with Ceramic Speed bearings
Front Tire
Specialized Turbo Pro, BlackBelt, 127TPI, aramid bead, 700x25c
Rear Tire
Specialized Turbo Pro, BlackBelt, 127TPI, aramid bead, 700x25c
Inner Tubes
Turbo Ultralight, 60mm, presta
Saddle
Body Geometry Toupé RBX Pro, carbon rails, 143mm
Seatpost
Specialized S-Works Carbon Pave SL, FACT carbon, 27.2mm
Seat Binder
Forged bolt and nut, 32.6mm
Notes
Carbon chainstay protector, derailleur hanger, clear coat, owners manual
SL4 Pro Compact
Frame
Specialized FACT 10r carbon, FACT IS construction, tapered/shaped 1-1/8" to size specific lower HT, compact race design, Zertz, internal cable routing, OSBB
Fork
Roubaix size specific, FACT carbon full monocoque, Zertz
Headset
1-1/8" upper and size specific lower stainless steel cartridge bearings, 20mm carbon cone spacer and 20mm of carbon spacers
Stem
Specialized Pro-Set 7075 3D forged alloy, cone head bolt and plastic clip, 12-degree, 4-degree shim, 31.8mm
Handlebars
Specialized Expert alloy, shallow drop
Tape
Specialized Roubaix Tape w/ S gel
Front Brake
Shimano Ultegra
Rear Brake
Shimano Ultegra
Brake Levers
Shimano Dura-Ace
Front Derailleur
New Shimano Dura-Ace 11-speed
Rear Derailleur
New Shimano Dura-Ace 11-speed
Shift Levers
New Shimano Dura-Ace STI
Cassette
Shimano Dura Ace, 11-speed, 11-28
Chain
New Shimano Dura-Ace 11-speed
Crankset
Specialized Pro FACT carbon
Chainrings
50/34
Bottom Bracket
OS integrated, sealed bearings
Pedals
Nylon flat test ride, loose ball, w/ reflectors
Front Wheel
Roval Rapide SLX 23
Rear Wheel
Roval Rapide SLX 23
Front Tire
Specialized Turbo Pro, BlackBelt, 127TPI, aramid bead, 700x25c
Rear Tire
Specialized Turbo Pro, BlackBelt, 127TPI, aramid bead, 700x25c
Inner Tubes
Turbo Ultralight, presta valve
Saddle
Body Geometry Toupé RBX Expert, hollow Ti rails, 143mm
Seatpost
Specialized Pave SL, FACT carbon, 27.2mm
Seat Binder
Forged bolt and nut, 32.6mm
Notes
Carbon chainstay protector, derailleur hanger, clear coat, owners manual
SL4 Expert Ul2 Compact
Frame
Specialized FACT 10r carbon, FACT IS construction, tapered/shaped 1-1/8" to size specific lower HT, compact race design, Zertz, internal cable routing, threaded BB
Fork
Roubaix size specific, FACT carbon full monocoque, Zertz
Headset
1-1/8" upper and size specific lower stainless steel cartridge bearings, 20mm carbon cone spacer and 20mm of carbon spacers
Stem
Specialized Comp-Set 6061 alloy, cone head bolt, 12-degree, 4-degree shim, 31.8mm
Handlebars
Specialized Expert alloy, shallow drop
Tape
Specialized Roubaix tape w/ 2.5 gel pads
Front Brake
Shimano Ultegra
Rear Brake
Shimano Ultegra
Front Derailleur
Shimano Ultegra Di2
Rear Derailleur
Shimano Ultegra Di2
Shift Levers
Shimano Ultegra Di2
Cassette
Shimano Tiagra, 10-speed, 11-28
Chain
Shimano Tiagra 10-speed
Crankset
Shimano Ultegra compact
Chainrings
50/34
Bottom Bracket
OS integrated, sealed bearings
Pedals
Nylon flat test ride, loose ball, w/ reflectors
Front Wheel
DT Axis 4.0
Rear Wheel
DT Axis 4.0
Front Tire
Specialized Roubaix Pro, BlackBelt, 120TPI, aramid bead, 700x25c
Rear Tire
Specialized Roubaix Pro, BlackBelt, 120TPI, aramid bead, 700x25c
Inner Tubes
Lightweight, presta
Saddle
Body Geometry Toupé RBX Comp, hollow Cr-Mo rails, 143mm
Seatpost
Specialized Comp, FACT carbon, 27.2mm
Seat Binder
Forged bolt and nut, 32.6mm
Notes
Carbon chainstay protector, derailleur hanger, clear coat, owners manual
SL4 Expert Compact

Frame
Specialized FACT 10r carbon, FACT IS construction, tapered/shaped 1-1/8" to size specific lower HT, compact race design, Zertz, internal cable routing, threaded BB
Fork
Roubaix, FACT carbon full monocoque, Zertz
Headset
1-1/8" upper and size specific lower Cr-Mo cartridge bearings, 20mm carbon cone spacer and 20mm of carbon spacers
Stem
Specialized Comp-Set 6061 alloy, cone head bolt, 12-degree, 4-degree shim, 31.8mm
Handlebars
Specialized Expert alloy, shallow drop
Tape
Specialized Roubaix tape w/ 2.5 gel pads
Front Brake
Shimano Ultegra
Rear Brake
Shimano Ultegra
Brake Levers
Shimano Ultegra
Front Derailleur
Shimano Ultegra
Rear Derailleur
Shimano Ultegra
Shift Levers
Shimano Ultegra STI
Cassette
Shimano 105, 10-speed, 11-28
Chain
Shimano Tiagra 10-speed
Crankset
Shimano Ultegra compact
Chainrings
50/34
Pedals
Nylon flat test ride, loose ball, w/ reflectors
Front Wheel
DT Axis 4.0
Rear Wheel
DT Axis 4.0
Front Tire
Specialized Roubaix Pro, BlackBelt, 120TPI, aramid bead, 700x25c
Rear Tire
Specialized Roubaix Pro, BlackBelt, 120TPI, aramid bead, 700x25c
Inner Tubes
Lightweight, presta
Saddle
Body Geometry Toupé RBX Comp, hollow Cr-Mo rails, 143mm
Seatpost
Specialized Comp, FACT carbon, 27.2mm
Seat Binder
Forged bolt and nut, 32.6mm
Notes
Carbon chainstay protector, derailleur hanger, clear coat, owners manual
Comp Compact

Frame
Specialized FACT 8r carbon, FACT TM construction, 1-1/8" to 1-3/8" HT, compact race design, Zertz, internal rear brake cable, threaded BB
Fork
Specialized Roubaix, FACT carbon, full monocoque, Zertz
Headset
1-1/8" upper and 1-3/8" lower Cr-Mo cartridge bearings, w/ 20mm cone spacer and 20mm of spacers
Stem
Specialized Comp-Set 6061 alloy, cone head bolt, 12-degree, 4-degree shim, 31.8mm
Handlebars
Specialized Comp, alloy, shallow drop
Tape
Specialized Roubaix tape w/ 2.5 gel pads
Front Brake
Shimano Ultegra
Rear Brake
Shimano Ultegra
Brake Levers
Shimano Ultegra
Front Derailleur
Shimano 105
Rear Derailleur
Shimano Ultegra
Shift Levers
Shimano Ultegra STI
Cassette
Shimano 105, 10-speed, 11-28
Chain
Shimano Tiagra 10-speed
Crankset
Shimano Ultegra compact
Chainrings
50/34
Pedals
Nylon flat test ride, loose ball, w/ reflectors
Front Wheel
DT Axis 3.0
Rear Wheel
DT Axis 3.0
Front Tire
Specialized Espoir Elite, double BlackBelt, 60TPI, aramid bead, 700x25c
Rear Tire
Specialized Espoir Elite, double BlackBelt, 60TPI, aramid bead, 700x25c
Inner Tubes
Lightweight, presta
Saddle
Body Geometry Toupé RBX Comp, hollow Cr-Mo rails, 143mm
Seatpost
Specialized Comp, FACT carbon, 27.2mm
Seat Binder
Forged alloy, 32.6mm
Notes
Carbon chainstay protector, derailleur hanger, clear coat, owners manual
Elite Compact
Frame
Specialized FACT 8r carbon, FACT TM construction,1-1/8" to 1-3/8" HT, compact race design, Zertz, internal rear brake cable, threaded BB
Fork
Specialized Roubaix, FACT carbon, full monocoque, Zertz
Headset
1-1/8" upper and 1-3/8" lower Cr-Mo cartridge bearings, w/ 20mm cone spacer and 20mm of spacers
Stem
Specialized Comp-Set 6061 alloy, cone head bolt, 12-degree, 4-degree shim, 31.8mm
Handlebars
Specialized Comp, alloy, shallow drop
Tape
Specialized Roubaix tape w/ 2.5 gel pads
Front Brake
Shimano 105
Rear Brake
Shimano 105
Brake Levers
Shimano 105
Front Derailleur
Shimano 105
Rear Derailleur
Shimano 105
Shift Levers
Shimano 105 STI
Cassette
Shimano Tiagra, 10-speed, 11-28
Chain
Shimano Tiagra 10-speed
Crankset
Shimano 105 compact
Chainrings
50/34
Pedals
Nylon flat test ride, loose ball, w/ reflectors
Front Wheel
DT Axis 2.0
Rear Wheel
DT Axis 2.0
Front Tire
Specialized Espoir Elite, double BlackBelt, 60TPI, aramid bead, 700x25c
Rear Tire
Specialized Espoir Elite, double BlackBelt, 60TPI, aramid bead, 700x25c
Inner Tubes
Lightweight, presta
Saddle
Body Geometry Toupé RBX Sport, 143mm
Seatpost
Specialized Comp, FACT carbon, 27.2mm
Seat Binder
Forged alloy, 32.6mm
Notes
Carbon chainstay protector, derailleur hanger, clear coat, owners manual
Elite Apex Compact
Frame
Specialized FACT 8r carbon, FACT TM construction,1-1/8" to 1-3/8" HT, compact race design, Zertz, internal rear brake cable, threaded BB
Fork
Specialized Roubaix, FACT carbon, full monocoque, Zertz
Headset
1-1/8" upper and 1-3/8" lower Cr-Mo cartridge bearings, w/ 20mm cone spacer and 20mm of spacers
Stem
Specialized Comp-Set 6061 alloy, cone head bolt, 12-degree, 4-degree shim, 31.8mm
Handlebars
Specialized Comp, alloy, shallow drop
Tape
Specialized Roubaix tape w/ 2.5 gel pads
Front Brake
Axis DC 2.0
Rear Brake
Axis DC 2.0
Front Derailleur
SRAM Apex
Rear Derailleur
SRAM Apex, mid cage
Shift Levers
SRAM Apex DoubleTap
Cassette
SRAM Apex, 10-speed, 11-32
Chain
Shimano Tiagra 10-speed
Crankset
SRAM S150
Chainrings
50/34
Bottom Bracket
SRAM Power Spline BB
Pedals
Nylon flat test ride, loose ball, w/ reflectors
Front Wheel
DT Axis 2.0
Rear Wheel
DT Axis 2.0
Front Tire
Specialized Espoir Elite, double BlackBelt, 60TPI, aramid bead, 700x25c
Rear Tire
Specialized Espoir Elite, double BlackBelt, 60TPI, aramid bead, 700x25c
Inner Tubes
Lightweight, presta
Saddle
Body Geometry Toupé RBX Sport, 143mm
Seatpost
Specialized Comp, FACT carbon, 27.2mm
Seat Binder
Forged alloy, 32.6mm
Notes
Chainstay protector, chain catcher, derailleur hanger, clear coat, owners manual
Sport Compact
Frame
Specialized FACT 8r carbon, FACT IS construction, 1-1/8" to 1-3/8" HT, compact race design, Zertz, threaded BB
Fork
Specialized Roubaix, FACT carbon full monocoque, Zertz
Headset
1-1/8" upper and 1-3/8" lower Cr-Mo cartridge bearings, w/ 20mm cone spacer and 20mm of spacers
Stem
Specialized Elite-Set, 3D-forged alloy, 4-position adjustable, 4-bolt 31.8mm clamp
Handlebars
Specialized Comp, alloy, standard drop
Tape
Specialized Roubaix tape w/ 2.5 gel pads
Front Brake
Shimano Tiagra
Rear Brake
Shimano Tiagra
Front Derailleur
Shimano Tiagra, braze-on
Rear Derailleur
Shimano 105
Shift Levers
Shimano 105 STI
Cassette
Shimano Tiagra, 10-speed, 11-32
Chain
Shimano Tiagra 10-speed
Crankset
SRAM Tiagra compact
Chainrings
50/34
Bottom Bracket
SRAM Power Spline BB
Pedals
Nylon flat test ride, loose ball, w/ reflectors
Front Wheel
DT Axis 1.0
Rear Wheel
DT Axis 1.0
Front Tire
Specialized Espoir Sport, double BlackBelt, 60TPI, wire bead, 700x23c
Rear Tire
Specialized Espoir Sport, double BlackBelt, 60TPI, wire bead, 700x23c
Inner Tubes
Lightweight, presta
Saddle
Body Geometry Toupé RBX Sport, 143mm
Seatpost
Specialized Comp, FACT carbon, 27.2mm
Seat Binder
Forged alloy, 32.6mm
Notes
Chainstay protector, chain catcher, derailleur hanger, clear coat, owners manual
Compact
Frame
Specialized FACT 8r carbon, FACT TM construction, 1-1/8" to 1-3/8" HT, compact race design, Zertz, threaded BB
Fork
Specialized Roubaix, FACT carbon full monocoque, Zertz
Headset
1-1/8" upper and 1-3/8" lower Cr-Mo cartridge bearings, w/ 20mm cone spacer and 20mm of spacers
Stem
Specialized Elite-Set, 3D-forged alloy, 4-position adjustable, 4-bolt 31.8mm clamp
Handlebars
Specialized Comp, alloy, standard drop
Tape
Specialized Roubaix tape w/ 2.5 gel pads
Front Brake
Axis DC 1.0
Rear Brake
Axis DC 1.0
Front Derailleur
New Shimano Sora, braze-on
Rear Derailleur
New Shimano Sora
Shift Levers
New Shimano Sora STI, 10-speed
Cassette
Shimano CS-HG-50, 9-speed, 11-32
Chain
KMC X9, 9-speed, nickel plate, w/ reusable Missing Link
Crankset
New Shimano Sora compact
Chainrings
50/34
Bottom Bracket
SRAM Power Spline BB
Pedals
Nylon flat test ride, loose ball, w/ reflectors
Front Wheel
DT Axis 1.0
Rear Wheel
DT Axis 1.0
Front Tire
Specialized Espoir Sport, double BlackBelt, 60TPI, wire bead, 700x23c
Rear Tire
Specialized Espoir Sport, double BlackBelt, 60TPI, wire bead, 700x23c
Inner Tubes
Lightweight, presta
Saddle
Body Geometry Riva Road, Cr-Mo rails
Seatpost
Specialized Comp, FACT carbon, 27.2mm
Seat Binder
Forged alloy, 32.6mm
Notes
Chainstay protector, chain catcher, derailleur hanger, clear coat, owners manual
Latest posts by M. Özgür Nevres
(see all)