Specialized Venge 2013 – Venge is one of the top-end racing bike models of Specialized (the other one is Tarmac). It is produced and optimized for better sprint performance and aerodynamics, while Tarmac is an all-round racing bike.
Like Tarmac, Venge is very popular and successful in pro-peloton. World's probably best sprinter Mark Cavendish won the UCI Road World Championship and a lot of grand tour stages in 2012 with Specialized Venge.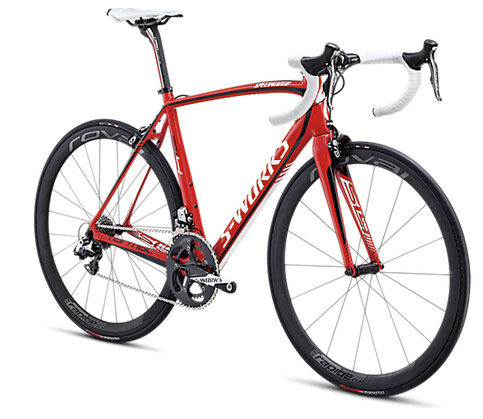 Specialized Venge 2013 builds
Specialized Venge 2013 is coming with 6 different builds.
Specialized S-Works Venge 2013 Super Record EPS (Limited Edition)
US Price: $14,000.00*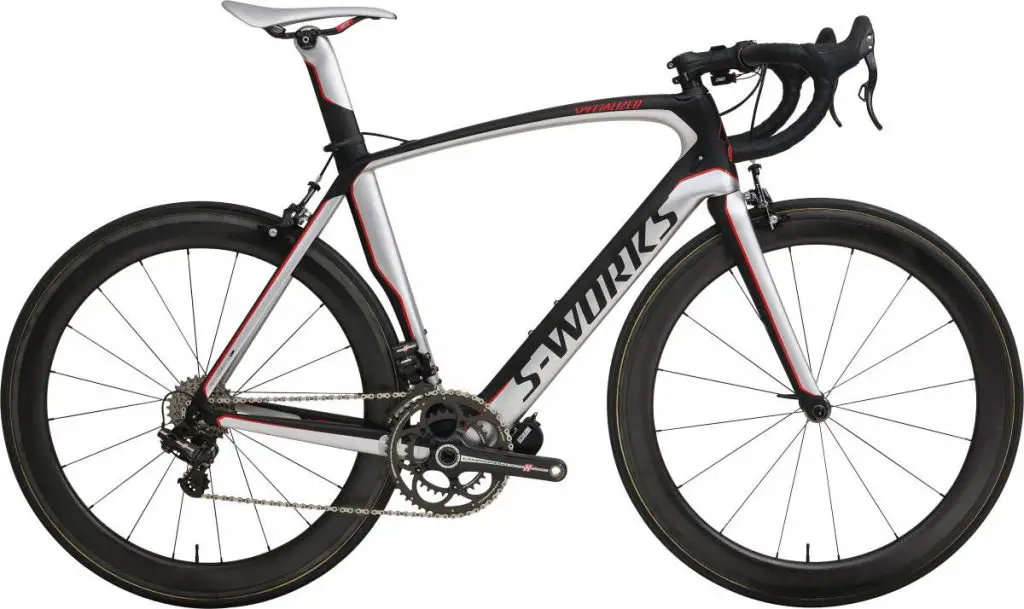 Frame: S-Works FACT 11r carbon, FACT IS construction, aero tube shape, compact race design, tapered 1-1/8" to 1-3/8" head tube, internal cable routing, carbon OSBB
Rear Shock
Fork: S-Works FACT carbon, full monocoque, OS race for 1-3/8" bearing
Headset: 1-1/8" upper and 1-3/8" lower Cr-Mo cartridge bearings, w/ custom Venge top cap
Stem: S-Works ProSet stem, 7050 3D-forged with carbon-clip front cap/cone, 4-degree shim, CNC head bolts
Handlebars: S-Works Tarmac carbon, short drop
Tape: Specialized S-Works wrap
Front Brake: Campagnolo Super Record
Rear Brake: Campagnolo Super Record
Brake Levers: Campagnolo Super Record
Front Derailleur: Campagnolo Super Record EPS
Rear Derailleur: Campagnolo Super Record EPS
Shift Levers: Campagnolo Super Record, 11-speed
Cassette: Campagnolo Super Record, 11-speed, 11-25
Chain: Campagnolo Record 11-speed
Crankset: Campagnolo Super Record Ultra-Torque, carbon/Ti, 11-speed
Chainrings: 53/39
Bottom Bracket: Ceramic Speed, OSBB integrated ceramic, 30x42x7mm
Pedals: Nylon flat test ride, loose ball, w/ reflectors
Front Wheel: Zipp 404 Firecrest Carbon Tubular
Rear Wheel: Zipp 404 Firecrest Carbon Tubular
Front Tire: S-Works Turbo tubular w/ BlackBelt, 290TPI, aramid bead, 700x23c
Rear Tire: S-Works Turbo tubular w/ BlackBelt, 290TPI, aramid bead, 700x23c
Inner Tubes
Saddle: Body Geometry Romin Pro, carbon rails, 143mm
Seatpost: S-Works Venge FACT carbon, flippable 20/0mm offset
Seat Binder: Venge integrated seat clamp assembly
Notes: Carbon chainstay protector, derailleur hanger, clear coat, owners manual
Specialized S-Works Venge 2013 Di2
US Price: $12,000.00*
Frame: S-Works FACT 11r carbon, FACT IS construction, aero tube shape, compact race design, tapered 1-1/8" to 1-3/8" head tube, internal cable routing, carbon OSBB
Fork: S-Works FACT carbon, full monocoque, OS race for 1-3/8" bearing
Headset: 1-1/8" upper and 1-3/8" lower Cr-Mo cartridge bearings, w/ custom Venge top cap
Stem: New S-Works ProSet stem, 7050 3D-forged with carbon-clip front cap/cone, 4-degree shim, CNC head bolts
Handlebars: S-Works Tarmac carbon, short drop
Tape: Specialized S-Works wrap
Front Brake: New Shimano Dura-Ace
Rear Brake: New Shimano Dura-Ace
Brake Levers: Shimano Dura-Ace Di2, Flight Deck compatible
Front Derailleur: New Shimano Dura-Ace Di2 11-speed
Rear Derailleur: New Shimano Dura-Ace Di2 11-speed
Shift Levers: New Shimano Dura-Ace Di2
Cassette: Shimano Dura-Ace, 11-speed, 11-25
Chain: New Shimano Dura-Ace 11-speed
Crankset: S-Works FACT carbon
Chainrings: 53/39
Bottom Bracket: Ceramic Speed, OSBB integrated ceramic, 30x42x7mm
Pedals: Nylon flat test ride, loose ball, w/ reflectors
Front Wheel: Roval Rapide CLX 60 with Ceramic Speed bearings
Rear Wheel: Roval Rapide CLX 60 with Ceramic Speed bearings
Front Tire: S-Works Turbo, BlackBelt, 220TPI, aramid bead, 700x23c
Rear Tire: S-Works Turbo, BlackBelt, 220TPI, aramid bead, 700x23c
Inner Tubes: Super Light Turbo, 60mm Presta valve
Saddle: Body Geometry Romin Pro, carbon rails, 143mm
Seatpost: S-Works Venge FACT carbon, flippable 20/0mm offset
Seat Binder: Venge integrated seat clamp assembly
Notes: Carbon chainstay protector, derailleur hanger, clear coat, owners manual
Specialized S-Works Venge 2013 SRAM Red
US Price: $8,750.00*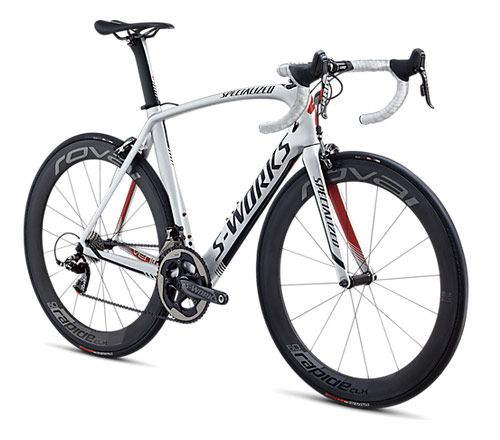 Frame: S-Works FACT 11r carbon, FACT IS construction, aero tube shape, compact race design, tapered 1-1/8" to 1-3/8" head tube, internal cable routing, carbon OSBB
Fork: S-Works FACT carbon, full monocoque, OS race for 1-3/8" bearing
Headset: 1-1/8" upper and 1-3/8" lower stainless steel cartridge bearings, w/ custom Venge top cap
Stem: New S-Works SL Stem, 7050 3D-forged, CNC head bolts
Handlebars: S-Works Tarmac carbon, short drop
Tape: Specialized S-Works wrap
Front Brake: New SRAM RED
Rear Brake: New SRAM RED
Brake Levers: New SRAM RED
Front Derailleur: New SRAM RED
Rear Derailleur: New SRAM RED
Shift Levers: New SRAM RED
Cassette: New SRAM RED, 10-speed, 11-25
Chain: KMC X10 DLC Superlight
Crankset: S-Works FACT carbon
Chainrings: 53/39
Bottom Bracket: Ceramic Speed, OSBB integrated ceramic, 30x42x7mm
Pedals: Nylon flat test ride, loose ball, w/ reflectors
Front Wheel: Roval Rapide CLX 60 with Ceramic Speed bearings
Rear Wheel: Roval Rapide CLX 60 with Ceramic Speed bearings
Front Tire: S-Works Turbo, BlackBelt, 220TPI, aramid bead, 700x23c
Rear Tire: S-Works Turbo, BlackBelt, 220TPI, aramid bead, 700x23c
Inner Tubes: Super Light Turbo, 60mm Presta valve
Saddle: Body Geometry Romin Pro, carbon rails, 143mm
Seatpost: S-Works Venge FACT carbon, flippable 20/0mm offset
Seat Binder: Venge integrated seat clamp assembly
Notes: Carbon chainstay protector, derailleur hanger, clear coat, owners manual
Specialized Venge 2013 Pro Force
US Price: $5,800.00*
Frame: FACT 10r carbon, FACT IS construction, aero tube shape, compact race design, tapered 1-1/8" to 1-3/8" head tube, internal cable routing, carbon OSBB
Fork: Venge Pro FACT carbon, full monocoque, OS race for 1-3/8" bearing
Headset: 1-1/8" upper and 1-3/8" lower Cr-Mo cartridge bearings, w/ custom Venge top cap
Stem: Specialized Pro-Set 7075 3D forged alloy, cone head bolt, and plastic clip, 12-degree, 4-degree shim, 31.8mm
Handlebars: Specialized Tarmac Expert, 2014 alloy
Tape: Specialized Pro D2
Front Brake: SRAM Force
Rear Brake: SRAM Force
Brake Levers: SRAM Force
Front Derailleur: SRAM Force
Rear Derailleur: SRAM Force DoubleTap
Shift Levers: SRAM Force DoubleTap
Cassette: SRAM 1070, 10-speed, 11-28
Chain: KMC X10 DLC Superlight
Crankset: Specialized Pro FACT carbon
Chainrings: 50/36
Bottom Bracket
Pedals: Nylon flat test ride, loose ball, w/ reflectors
Front Wheel: Roval Rapide CL 60
Rear Wheel: Roval Rapide CL 60
Front Tire: Specialized Turbo Pro, BlackBelt, 127TPI, aramid bead, 700x23c
Rear Tire: Specialized Turbo Pro, BlackBelt, 127TPI, aramid bead, 700x23c
Inner Tubes: Standard Presta valve
Saddle: Body Geometry Romin Expert, hollow Ti rails, 143mm
Seatpost: Venge Aero, FACT carbon, flippable 20/0mm offset
Seat Binder: Venge integrated seat clamp assembly
Notes: Carbon chainstay protector, derailleur hanger, clear coat, owners manual
Specialized Venge 2013 Pro Ul2
US Price: $5,500.00*
Frame: FACT 10r carbon, FACT IS construction, aero tube shape, compact race design, tapered 1-1/8" to 1-3/8" head tube, internal cable routing, carbon OSBB
Fork: Venge Pro FACT carbon, full monocoque, OS race for 1-3/8" bearing
Headset: 1-1/8" upper and 1-3/8" lower Cr-Mo cartridge bearings, w/ custom Venge top cap
Stem: Specialized Comp-Set 6061 alloy, cone head bolt, 12-degree, 4-degree shim, 31.8mm
Handlebars: Specialized Tarmac Expert, 2014 alloy
Tape: Specialized Pro D2
Front Brake: Shimano Ultegra
Rear Brake: Shimano Ultegra
Brake Levers: Shimano Ultegra Di2, Flight Deck compatible
Front Derailleur: New Shimano Ultegra Di2
Rear Derailleur: Shimano Ultegra Di2
Shift Levers: Shimano Ultegra Di2
Cassette: Shimano Tiagra, 10-speed, 11-28
Chain: Shimano Tiagra 10-speed
Crankset: FSA SL-K Light, carbon, BB30
Chainrings: 50/36
Bottom Bracket
Pedals: Nylon flat test ride, loose ball, w/ reflectors
Front Wheel: Roval Rapide SL 35
Rear Wheel: Roval Rapide SL 35
Front Tire: Specialized Turbo Elite, BlackBelt, 100TPI, aramid bead, 700x23c
Rear Tire: Specialized Turbo Elite, BlackBelt, 100TPI, aramid bead, 700x23c
Inner Tubes: Lightweight, 60mm, Presta
Saddle: Body Geometry Romin Comp, hollow Cr-Mo rails, 143mm
Seatpost: Venge Aero, FACT carbon, flippable 20/0mm offset
Seat Binder: Venge integrated seat clamp assembly
Notes: Carbon chainstay protector, derailleur hanger, clear coat, owners manual
Specialized Venge 2013 Expert
US Price: $4,300.00*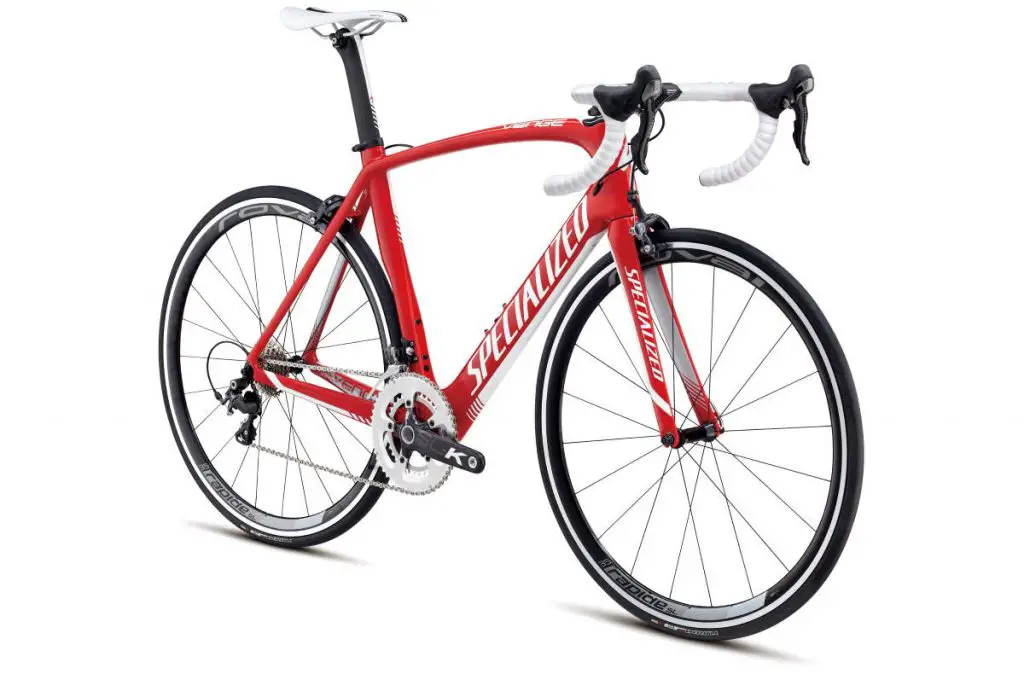 Frame: FACT 10r carbon, FACT IS construction, aero tube shape, compact race design, tapered 1-1/8" to 1-3/8" head tube, internal cable routing, carbon OSBB
Fork: Venge Pro FACT carbon, full monocoque, OS race for 1-3/8" bearing
Headset: 1-1/8" upper and 1-3/8" lower Cr-Mo cartridge bearings, w/ custom Venge top cap
Stem: Specialized Comp-Set 6061 alloy, cone head bolt, 12-degree, 4-degree shim, 31.8mm
Handlebars: Specialized Tarmac Expert, 2014 alloy
Tape: Specialized Pro D2
Front Brake: Shimano Ultegra
Rear Brake: Shimano Ultegra
Brake Levers: Shimano Ultegra STI, Flight Deck compatible
Front Derailleur: Shimano Ultegra
Rear Derailleur: Shimano Ultegra
Shift Levers: Shimano Ultegra STI
Cassette: Shimano 105, 10-speed, 11-28
Chain: Shimano Tiagra 10-speed
Crankset: FSA SL-K Light, carbon, BB30
Chainrings: 50/36
Bottom Bracket: With crankset
Pedals: Nylon flat test ride, loose ball, w/ reflectors
Front Wheel: Roval Rapide SL 35
Rear Wheel: Roval Rapide SL 35
Front Tire: Specialized Turbo Elite, BlackBelt, 100TPI, aramid bead, 700x23c
Rear Tire: Specialized Turbo Elite, BlackBelt, 100TPI, aramid bead, 700x23c
Inner Tubes: Lightweight, 60mm, Presta
Saddle: Body Geometry Romin Comp, hollow Cr-Mo rails, 143mm
Seatpost: Venge Aero, FACT carbon, flippable 20/0mm offset
Seat Binder: Venge integrated seat clamp assembly
Notes: chainstay protector, chain catcher, derailleur hanger, clear coat, owners manual
* Specialized Venge 2013 prices are taken from the Specialized web site. For more information see: specialized.com
Latest posts by M. Özgür Nevres
(see all)