Specialized Tarmac 2013: Tarmac may be the most successful racing bike in recent years. Only in 2012, Spring Classics Amstel Gold Race and Ronde Van Vlaanderen (Tour of Flanders), Monumental Spring Classic Liège-Bastogne-Liège, Vuelta a España, and Olympic Men Road Race are won by the cyclists riding Specialized Tarmac.
UCI WorldTour teams Saxo Bank-Tinkoff Bank, Omega Pharma-Quick Step and Astana use Specialized bikes, and most of the races, they use Specialized S-Works Tarmac.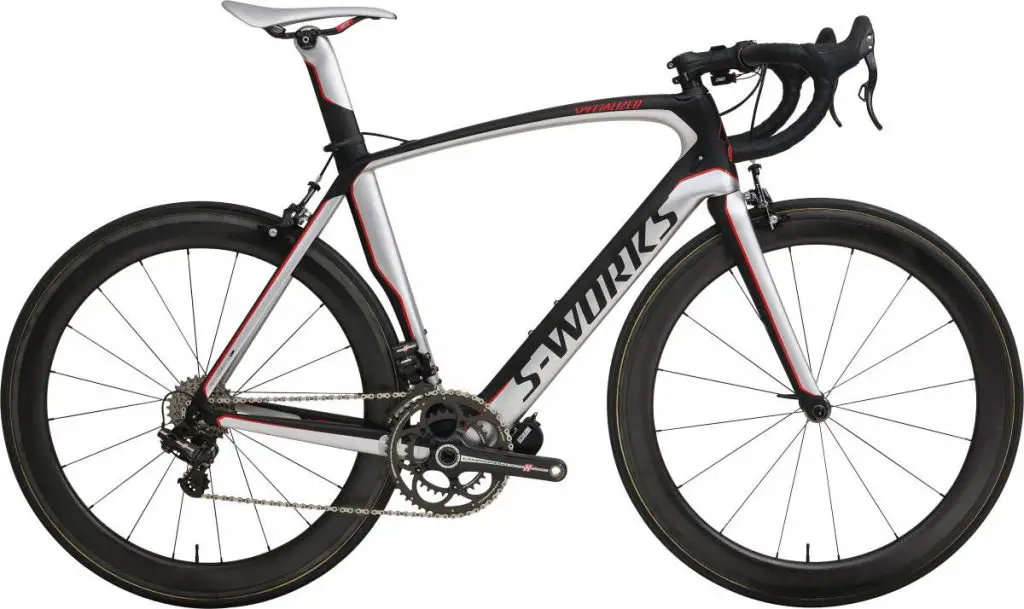 Specialized Tarmac 2013 builds
Specialized Tarmac 2013 is coming with 11 different builds.
S-Works SL4 Di2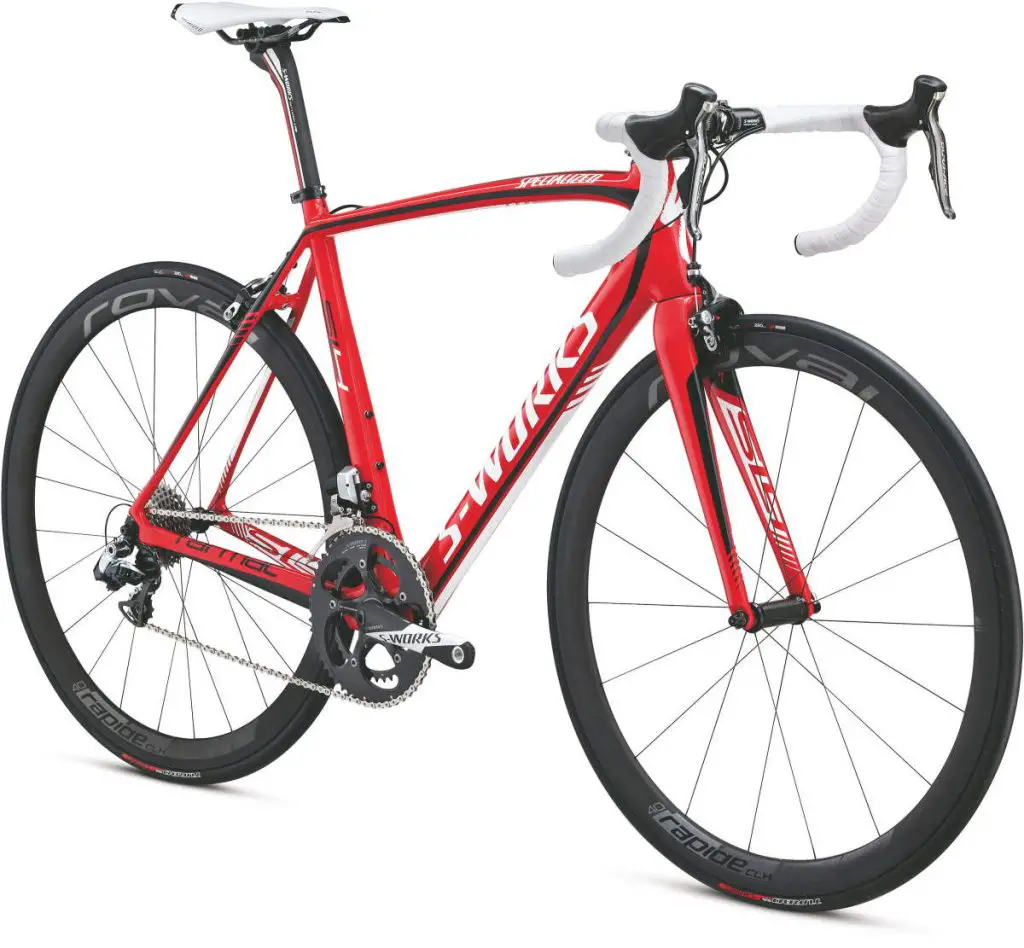 Frame: S-Works SL4 FACT 11r, FACT IS construction, tapered/shaped HT, compact race design, 1-3/8" lower HS bearing, carbon OSBB
Fork: S-Works Tarmac, FACT carbon, full monocoque, OS race for 1-3/8" bearing
Headset: 1-1/8" upper and 1-3/8" lower Cr-Mo cartridge bearings, w/ 8mm carbon cone spacer and 20mm of carbon spacers
Stem: New S-Works SL stem, 7050 3D-forged, CNC head bolts
Handlebars: S-Works Tarmac carbon, short drop
Tape: Specialized S-Works wrap
Front Brake: New Shimano Dura-Ace
Rear Brake: New Shimano Dura-Ace
Brake Levers: New Shimano Dura-Ace STI
Front Derailleur: New Shimano Dura-Ace Di2 11-speed
Rear Derailleur: New Shimano Dura-Ace Di2 11-speed
Shift Levers: New Shimano Dura-Ace Di2
Cassette: Shimano Dura-Ace, 11-speed, 11-26
Chain: New Shimano Dura-Ace 11-speed
Crankset: S-Works FACT carbon
Chainrings: 53/39
Bottom Bracket: Ceramic Speed, OSBB integrated ceramic, 30x42x7mm
Pedals: Nylon flat test ride, loose ball, w/ reflectors
Front Wheel: Roval Rapide CLX 40 with Ceramic Speed bearings
Rear Wheel: Roval Rapide CLX 40 with Ceramic Speed bearings
Tires: S-Works Turbo, BlackBelt, 220TPI, aramid bead, 700x23c
Inner Tubes: Turbo Ultralight, 60mm, Presta
Saddle: Body Geometry Toupé Pro, carbon rails, 143mm
Seatpost: S-Works SL, FACT carbon, 27.2mm
Seat Binder: Forged bolt and nut, 32.6mm
Notes: Carbon chainstay protector, derailleur hanger, clear coat, owners manual
S-Works SRAM Red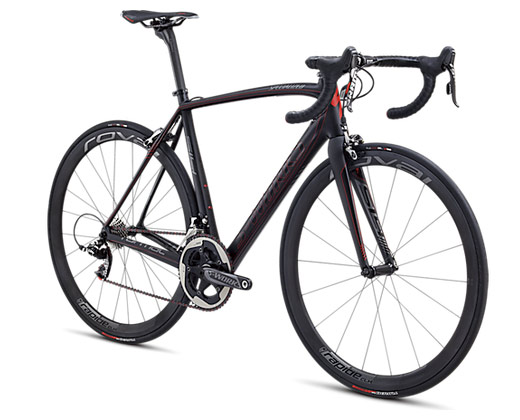 Frame: S-Works SL4 FACT 11r, FACT IS construction, tapered/shaped HT, compact race design, 1-3/8" lower HS bearing, carbon OSBB
Fork: S-Works Tarmac, FACT carbon, full monocoque, OS race for 1-3/8" bearing
Headset: 1-1/8" upper and 1-3/8" lower stainless steel cartridge bearings, w/ 8mm carbon cone spacer and 20mm of carbon spacers
Stem: New S-Works SL stem, 7050 3D-forged, CNC head bolts
Handlebars: S-Works Tarmac carbon, short drop
Tape: Specialized S-Works wrap
Front Brake: New SRAM RED
Rear Brake: New SRAM RED
Brake Levers: New SRAM RED
Front Derailleur: New SRAM RED
Rear Derailleur: New SRAM RED
Shift Levers: New SRAM RED
Cassette: New SRAM RED, 10-speed, 11-26
Chain: KMC X10 DLC Superlight
Crankset: S-Works FACT carbon
Chainrings: 53/39
Bottom Bracket: Ceramic Speed, OSBB integrated ceramic, 30x42x7mm
Pedals: Nylon flat test ride, loose ball, w/ reflectors
Front Wheel: Roval Rapide CLX 40 with Ceramic Speed bearings
Rear Wheel: Roval Rapide CLX 40 with Ceramic Speed bearings
Tires: S-Works Turbo, BlackBelt, 220TPI, aramid bead, 700x23c
Inner Tubes: Turbo Ultralight, 60mm, Presta
Saddle: Body Geometry Toupé Pro, carbon rails, 143mm
Seatpost: S-Works SL, FACT carbon, 27.2mm
Seat Binder: Forged bolt and nut, 32.6mm
Notes: Carbon chainstay protector, derailleur hanger, clear coat, owners manual
SL4 Pro Mid Compact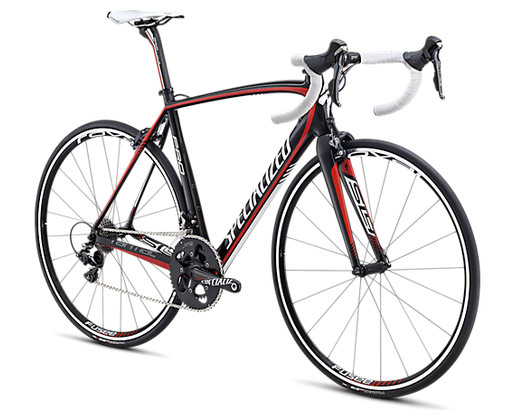 Frame: Specialized FACT 10r carbon, FACT IS construction, tapered/shaped HT, compact race design, 1-3/8" lower bearing, OSBB
Fork: Specialized FACT carbon, full monocoque, OS race for 1-3/8" bearing
Headset: 1-1/8" upper and 1-3/8" lower stainless steel cartridge bearings, w/ 8mm carbon cone spacer and 20mm of carbon spacers
Stem: Specialized Pro-Set 7075 3D forged alloy, cone head bolt, and plastic clip, 12-degree, 4-degree shim, 31.8mm
Handlebars: Specialized Tarmac Expert, 2014 alloy
Tape: Specialized Pro D2
Front Brake: Shimano Ultegra
Rear Brake: Shimano Ultegra
Brake Levers: New Shimano Dura-Ace STI, Flight Deck compatible
Front Derailleur: New Shimano Dura-Ace 11-speed
Rear Derailleur: New Shimano Dura-Ace 11-speed
Shift Levers: New Shimano Dura-Ace STI
Cassette: New Shimano Dura-Ace, 11-speed, 11-28
Chain: New Shimano Dura-Ace 11-speed
Crankset: Specialized Pro FACT carbon
Chainrings: 52/36
Bottom Bracket: OS integrated, sealed bearings
Pedals: Nylon flat test ride, loose ball, w/ reflectors
Front Wheel: Roval Fusee SLX23
Rear Wheel: Roval Fusee SLX23
Tires: Specialized Turbo Pro, BlackBelt, 127TPI, aramid bead, 700x23c
Inner Tubes: Turbo Ultralight, Presta valve
Saddle: Body Geometry Toupé Expert, hollow Ti rails, 143mm
Seatpost: Specialized Pro SL, FACT carbon, 27.2mm
Seat Binder: Forged bolt and nut, 32.6mm
Notes: Carbon chainstay protector, derailleur hanger, clear coat, owners manual
SL4 Pro SRAM Mid Compact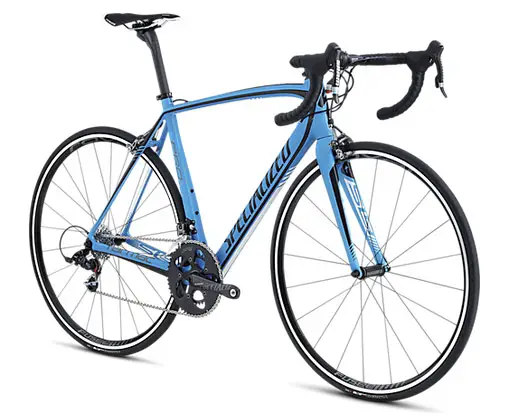 Frame: Specialized FACT 10r carbon, FACT IS construction, tapered/shaped HT, compact race design, 1-3/8" lower bearing, OSBB
Fork: Specialized FACT carbon, full monocoque, OS race for 1-3/8" bearing
Headset: 1-1/8" upper and 1-3/8" lower stainless steel cartridge bearings, w/ 8mm carbon cone spacer and 20mm of carbon spacers
Stem: Specialized Pro-Set 7075 3D forged alloy, cone head bolt, and plastic clip, 12-degree, 4-degree shim, 31.8mm
Handlebars: Specialized Tarmac Expert, 2014 alloy
Tape: Specialized Pro D2
Front Brake: SRAM Force
Rear Brake: SRAM Force
Brake Levers: SRAM Black RED
Front Derailleur: SRAM Force
Rear Derailleur: SRAM Black RED
Shift Levers: SRAM Black RED
Cassette: SRAM 1070, 10-speed, 11-28
Chain: KMC X10 DLC Superlight
Crankset: Specialized Pro FACT carbon
Chainrings: 52/36
Bottom Bracket: OS integrated, sealed bearings
Pedals: Nylon flat test ride, loose ball, w/ reflectors
Front Wheel: Roval Fusee SLX23
Rear Wheel: Roval Fusee SLX23
Tires: Specialized Turbo Pro, BlackBelt, 127TPI, aramid bead, 700x23c
Inner Tubes: Turbo Ultralight, Presta valve
Saddle: Body Geometry Toupé Expert, hollow Ti rails, 143mm
Seatpost: Specialized Pro SL, FACT carbon, 27.2mm
Seat Binder: Forged bolt and nut, 32.6mm
Notes: Carbon chainstay protector, derailleur hanger, clear coat, owners manual
SL4 Expert Ul2 Mid Compact
Frame: Specialized FACT 10r carbon, FACT IS construction, tapered/shaped HT, compact race design, 1-3/8" lower bearing, OSBB
Fork: Specialized FACT carbon, full monocoque, OS race for 1-3/8" bearing
Headset: 1-1/8" upper and 1-3/8" lower stainless steel cartridge bearings, w/ 8mm carbon cone spacer and 20mm of carbon spacers
Stem: Specialized Comp-Set 6061 alloy, cone head bolt, 12-degree, 4-degree shim, 31.8mm
Handlebars: Specialized Tarmac Expert, 2014 alloy
Tape: Specialized Pro D2
Front Brake: Shimano Ultegra
Rear Brake: Shimano Ultegra
Brake Levers: Shimano Ultegra Di2, Flight Deck compatible
Front Derailleur: Shimano Ultegra Di2
Rear Derailleur: Shimano Ultegra Di2
Shift Levers: Shimano Ultegra Di2
Cassette: Shimano Tiagra, 10-speed, 11-28
Chain: KMC X10 CP
Crankset: FSA SL-K Light, carbon, BB30
Chainrings: 52/36
Bottom Bracket: OS integrated, sealed bearings
Pedals: Nylon flat test ride, loose ball, w/ reflectors
Front Wheel: DT Axis 4.0
Rear Wheel: DT Axis 4.0
Tires: Specialized Turbo Elite, BlackBelt, 100TPI, aramid bead, 700x23c
Inner Tubes: Lightweight, Presta
Saddle: Body Geometry Toupé Comp, hollow Cr-Mo rails, 143mm
Seatpost: Specialized Comp, FACT carbon, 27.2mm
Seat Binder: Forged bolt and nut, 32.6mm
Notes: Carbon chainstay protector, derailleur hanger, clear coat, owners manual
SL4 Expert Mid Compact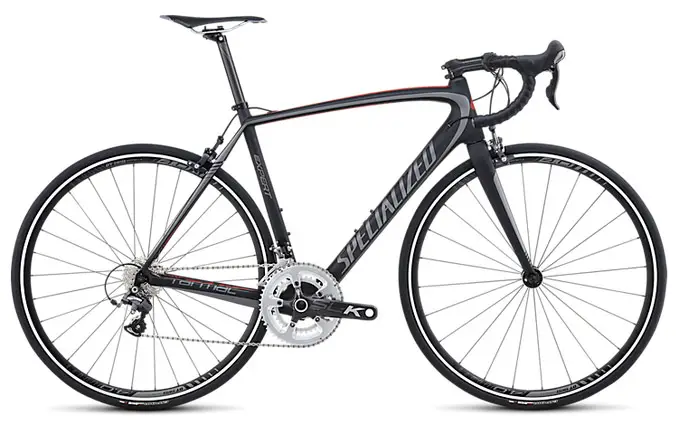 Frame: Specialized FACT 10r carbon, FACT IS construction, tapered/shaped HT, compact race design, 1-3/8" lower bearing, OSBB
Fork: Specialized FACT carbon, full monocoque, OS race for 1-3/8" bearing
Headset: 1-1/8 upper and 1-3/8" lower stainless steel cartridge bearings integrated w/ headset, 8mm cone spacer with 20mm of spacers
Stem: Specialized Comp-Set 6061 alloy, cone head bolt, 12-degree, 4-degree shim, 31.8mm
Handlebars: Specialized Tarmac Expert, 2014 alloy
Tape: Specialized Pro D2
Front Brake: Shimano Ultegra
Rear Brake: Shimano Ultegra
Brake Levers: Shimano Ultegra STI, Flight Deck compatible
Front Derailleur: Shimano Ultegra
Rear Derailleur: Shimano Ultegra
Shift Levers: Shimano Ultegra STI
Cassette: Shimano 105, 10-speed, 11-28
Chain: Shimano Tiagra 10-speed
Crankset: FSA SL-K Light, carbon, BB30
Chainrings: 52/36
Bottom Bracket: OS integrated, sealed bearings
Pedals: Nylon flat test ride, loose ball, w/ reflectors
Front Wheel: DT Axis 4.0
Rear Wheel: DT Axis 4.0
Tires: Specialized Turbo Elite, BlackBelt, 100TPI, aramid bead, 700x23c
Inner Tubes: Lightweight, Presta
Saddle: Body Geometry Toupé Comp, hollow Cr-Mo rails, 143mm
Seatpost: Specialized Comp, FACT carbon, 27.2mm
Seat Binder: Forged alloy, 32.6mm
Notes: Chainstay protector, chain catcher, derailleur hanger, clear coat, owners manual
Comp Mid Compact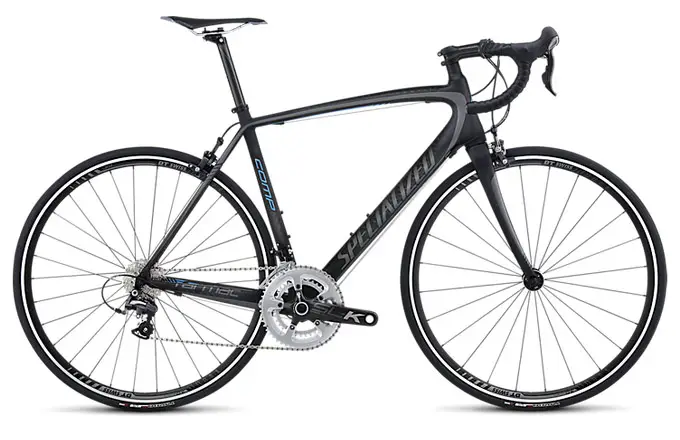 Frame: Specialized FACT 8r carbon, FACT IS construction, compact race design, 1-1/2" lower bearing, OSBB
Fork: Specialized FACT carbon, full monocoque, OS race for 1-1/2" bearing
Headset: 1-1/8" upper and 1-1/2" lower Cr-Mo cartridge bearings integrated w/ headset, 20mm cone spacer, w/ 20mm of spacers
Stem: Specialized Comp-Set 6061 alloy, cone head bolt, 12-degree, 4-degree shim, 31.8mm
Handlebars: Specialized Tarmac Comp, alloy, deep bend
Tape: Specialized S-Wrap, w/ gel
Front Brake: Shimano Ultegra
Rear Brake: Shimano Ultegra
Brake Levers: Shimano Ultegra STI, Flight Deck compatible
Front Derailleur: Shimano 105
Rear Derailleur: Shimano Ultegra
Shift Levers: Shimano Ultegra STI
Cassette: Shimano 105, 10-speed, 11-28
Chain: Shimano Tiagra 10-speed
Crankset: FSA SL-K Light, carbon, BB30
Chainrings: 52/36
Bottom Bracket: OS integrated, sealed bearings
Pedals: Nylon flat test ride, loose ball, w/ reflectors
Front Wheel: DT Axis 3.0
Rear Wheel: DT Axis 3.0
Tires: Specialized Turbo Elite, BlackBelt, 100TPI, aramid bead, 700x23c
Inner Tubes: Lightweight, Presta
Saddle: Body Geometry Toupé Comp, hollow Cr-Mo rails, 143mm
Seatpost: Specialized Comp, FACT carbon, 27.2mm
Seat Binder: Forged alloy, 32.6mm
Notes: Chainstay protector, chain catcher, derailleur hanger, clear coat, owners manual
Race Rival Mid Compact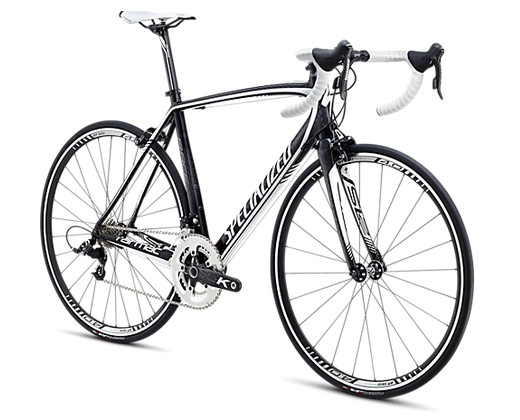 Frame: Specialized FACT 8r carbon, FACT IS construction, compact race design, 1-1/2" lower bearing, OSBB
Fork: Specialized FACT carbon, full monocoque, OS race for 1-1/2" bearing
Headset: 1-1/8" upper and 1-1/2" lower Cr-Mo cartridge bearings integrated w/ headset, 20mm cone spacer, w/ 20mm of spacers
Stem: Specialized Comp-Set 6061 alloy, cone head bolt, 12-degree, 4-degree shim, 31.8mm
Handlebars: Specialized Tarmac Expert, 2014 alloy
Tape: Specialized S-Wrap, w/ gel
Front Brake: Axis DC 2.0
Rear Brake: Axis DC 2.0
Brake Levers: SRAM Rival
Front Derailleur: SRAM Rival
Rear Derailleur: SRAM Rival
Shift Levers: SRAM Rival DoubleTap
Cassette: Shimano Tiagra, 10-speed, 11-28
Chain: Shimano Tiagra 10-speed
Crankset: FSA SL-K Light, carbon, BB30
Chainrings: 52/36
Bottom Bracket: OS integrated, sealed bearings
Pedals: Nylon flat test ride, loose ball, w/ reflectors
Front Wheel: DT Axis 4.0
Rear Wheel: DT Axis 4.0
Tires: Specialized Turbo Pro, BlackBelt, 127TPI, aramid bead, 700x23c
Inner Tubes: Lightweight, Presta
Saddle: Body Geometry Toupé Sport, hollow Cr-Mo rails, 143mm
Seatpost: Specialized Comp, FACT carbon, 27.2mm
Seat Binder: Forged alloy, 32.6mm
Notes: Chainstay protector, chain catcher, derailleur hanger, clear coat, owners manual
Elite Mid Compact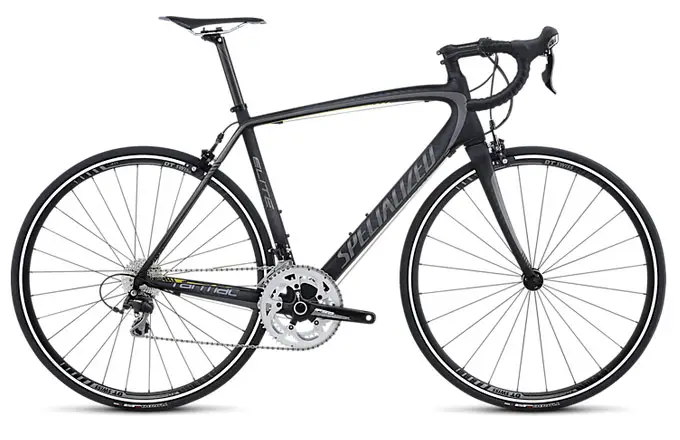 Frame: Specialized FACT 8r carbon, FACT IS construction, compact race design, 1-1/2" lower bearing, OSBB
Fork: Specialized FACT carbon, full monocoque, OS race for 1-1/2" bearing
Headset: 1-1/8" upper and 1-1/2" lower Cr-Mo cartridge bearings integrated w/ headset, 20mm cone spacer, w/ 20mm of spacers
Stem: Specialized Comp-Set 6061 alloy, cone head bolt, 12-degree, 4-degree shim, 31.8mm
Handlebars: Specialized Tarmac Comp, alloy, deep bend
Tape: Specialized S-Wrap, w/ gel
Front Brake: Shimano 105
Rear Brake: Shimano 105
Brake Levers: Shimano 105 STI
Front Derailleur: Shimano 105
Rear Derailleur: Shimano 105
Shift Levers: Shimano 105 STI
Cassette: Shimano Tiagra, 10-speed, 11-28
Chain: Shimano Tiagra 10-speed
Crankset: FSA Gossamer Pro
Chainrings: 52/36
Bottom Bracket: OS integrated, sealed bearings
Pedals: Nylon flat test ride, loose ball, w/ reflectors
Front Wheel: DT Axis 3.0
Rear Wheel: DT Axis 3.0
Tires: Specialized Turbo Elite, BlackBelt, 100TPI, aramid bead, 700x23c
Inner Tubes: Lightweight, Presta
Saddle: Body Geometry Toupé Sport, hollow Cr-Mo rails, 143mm
Seatpost: Specialized Comp, FACT carbon, 27.2mm
Seat Binder: Forged alloy, 32.6mm
Notes: Chainstay protector, chain catcher, derailleur hanger, clear coat, owners manual
Sport Mid Compact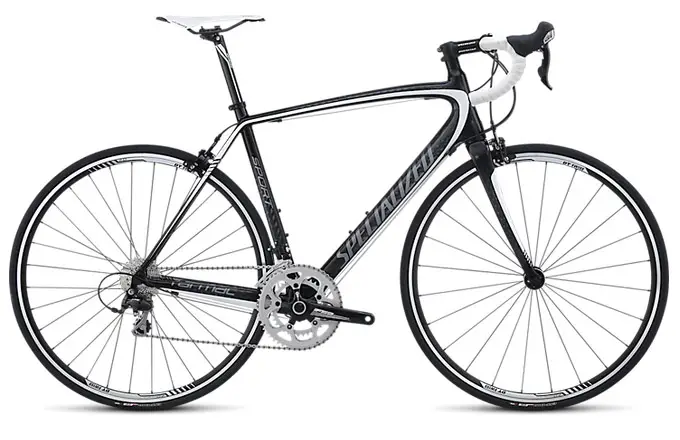 Frame: Specialized FACT 8r carbon, FACT IS construction, compact race design, 1-1/2" lower bearing, OSBB
Fork: Specialized FACT carbon, full monocoque, OS race for 1-1/2" bearing
Headset: 1-1/8" upper and 1-1/2" lower Cr-Mo cartridge bearings integrated w/ headset, 20mm cone spacer, w/ 20mm of spacers
Stem: Specialized Elite-Set, 3D-forged alloy, 4-position adjustable, 4-bolt 31.8mm clamp
Handlebars: Specialized Comp, alloy, shallow drop
Tape: Specialized S-Wrap, w/ gel
Front Brake: Axis DC 1.0
Rear Brake: Axis DC 1.0
Brake Levers: Shimano 105 STI
Front Derailleur: Shimano 105
Rear Derailleur: Shimano 105
Shift Levers: Shimano 105 STI
Cassette: Shimano Tiagra, 10-speed, 11-28
Chain: Shimano Tiagra 10-speed
Crankset: FSA Gossamer BB30
Chainrings: 52/36
Pedals: Nylon flat test ride, loose ball, w/ reflectors
Front Wheel: DT Axis 2.0
Rear Wheel: DT Axis 2.0
Tires: Specialized Espoir Sport, double BlackBelt, 60TPI, wire bead, 700x23c
Inner Tubes: Lightweight, Presta
Saddle: Body Geometry Toupé Sport, hollow Cr-Mo rails, 143mm
Seatpost: Specialized Comp, FACT carbon, 27.2mm
Seat Binder: Forged alloy, 32.6mm
Notes: Chainstay protector, chain catcher, derailleur hanger, clear coat, owners manual
Mid Compact
Frame: Specialized FACT 8r carbon, FACT IS construction, compact race design, 1-1/2" lower bearing, OSBB
Fork: Specialized FACT carbon, full monocoque, OS race for 1-1/2" bearing
Headset: 1-1/8" upper and 1-1/2" lower Cr-Mo cartridge bearings integrated w/ headset, 20mm cone spacer, w/ 20mm of spacers
Stem: Specialized Elite-Set, 3D-forged alloy, 4-position adjustable, 4-bolt 31.8mm clamp
Handlebars: Specialized Comp CX, alloy, shallow drop
Tape: Specialized S-Wrap, w/ gel
Front Brake: Axis DC 1.0
Rear Brake: Axis DC 1.0
Brake Levers: New Shimano Sora
Front Derailleur: New Shimano Sora, braze-on
Rear Derailleur: New Shimano Sora
Shift Levers: New Shimano Sora STI, 10-speed
Cassette: Shimano CS-HG-50, 9-speed, 11-28
Chain: KMC X9, 9-speed, nickel plate, w/ reusable Missing Link
Crankset: FSA Gossamer BB30
Chainrings: 52/36
Pedals: Nylon flat test ride, loose ball, w/ reflectors
Front Wheel: DT Axis 1.0
Rear Wheel: DT Axis 1.0
Tires: Specialized Espoir Sport, double BlackBelt, 60TPI, wire bead, 700x23c
Inner Tubes: Lightweight, Presta
Saddle: Body Geometry Riva Road, Cr-Mo rails
Seatpost: Specialized Comp, FACT carbon, 27.2mm
Seat Binder: Forged alloy, 32.6mm
Notes: Chainstay protector, chain catcher, derailleur hanger, clear coat, owners manual
Sources
Latest posts by M. Özgür Nevres
(see all)