Dura-Ace is the admiral ship of Shimano, the Japanese (now multinational) manufacturer of cycling components (and some other things like fishing tackle and rowing equipment). Here is a brief history of the Shimano Dura-Ace.
1973: The first Dura-Ace release
The story begins in 1973, the same year that the Campagnolo Super Record group was introduced. The first Dura-Ace was built using aluminum. It was Shimano's first attempt at the professional quality road racing component group niche which was dominated by Campagnolo, the Italian manufacturer who was unchallenged for years.
There were two types of rear derailleur (short-cage, up to 28-teeth compatible, and the long-cage, up to 34-teeth compatible). The cranks were 39/52 165mm, 45/54 165mm, 39/52 170mm, and 45/54 170mm.
The "pro" model had 5/6 speed options, while the "touring" model was 5-speed.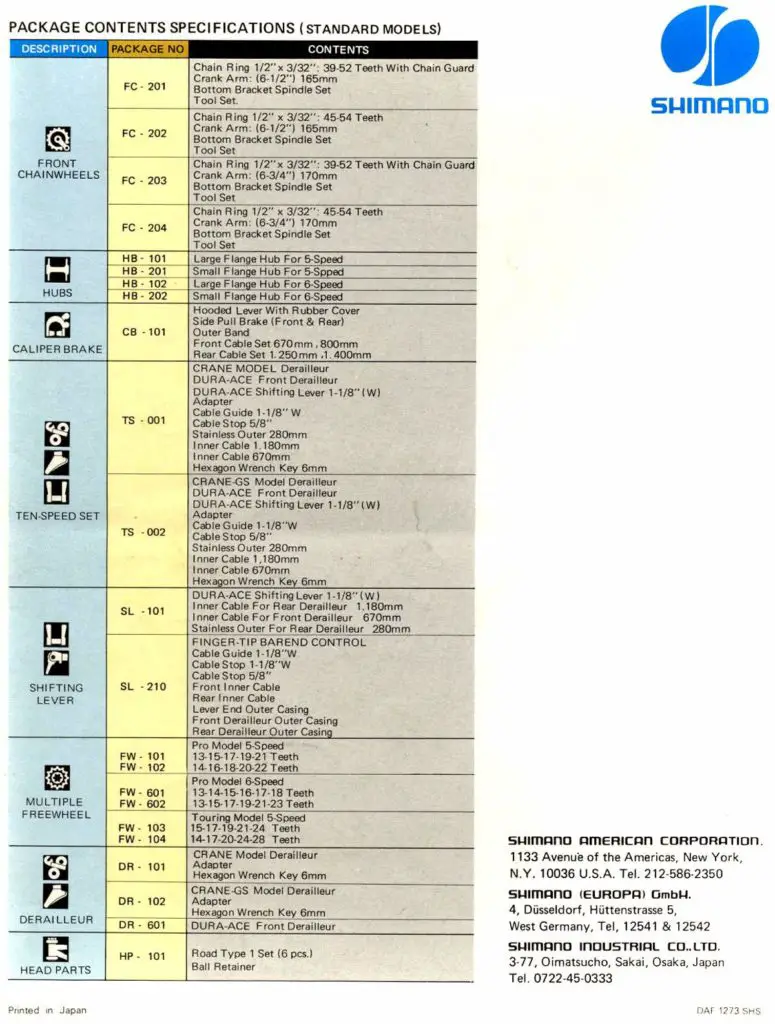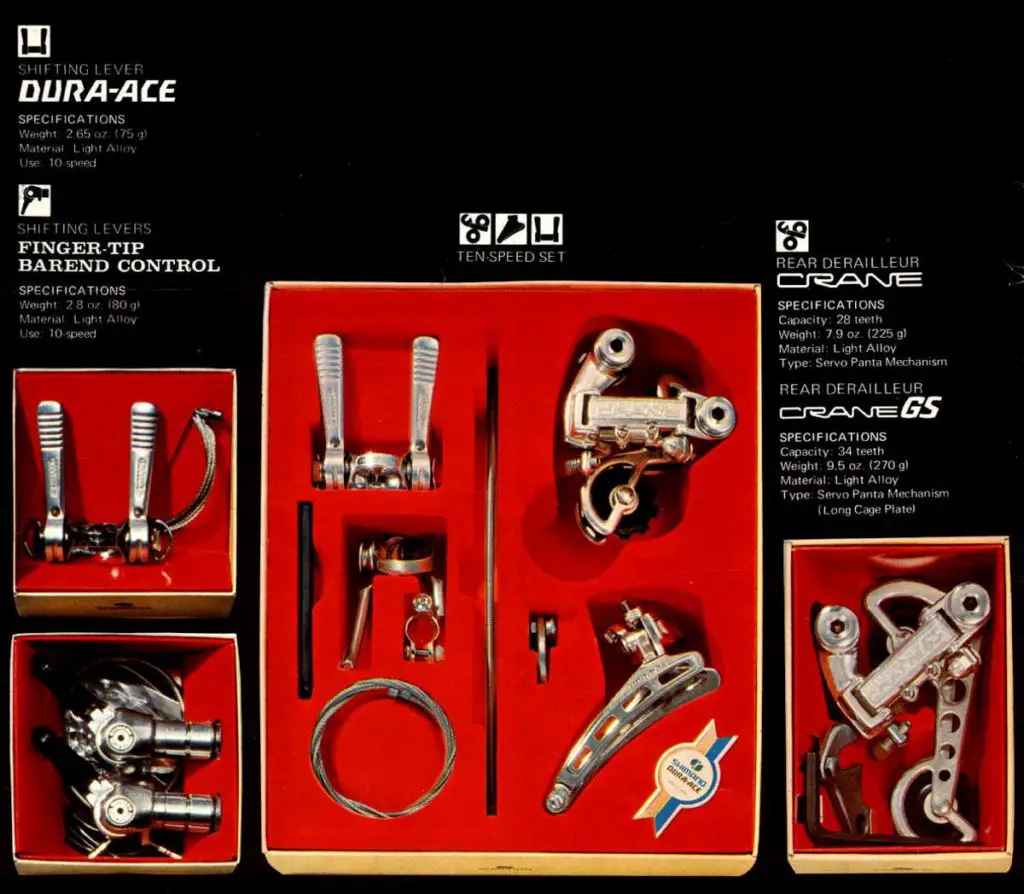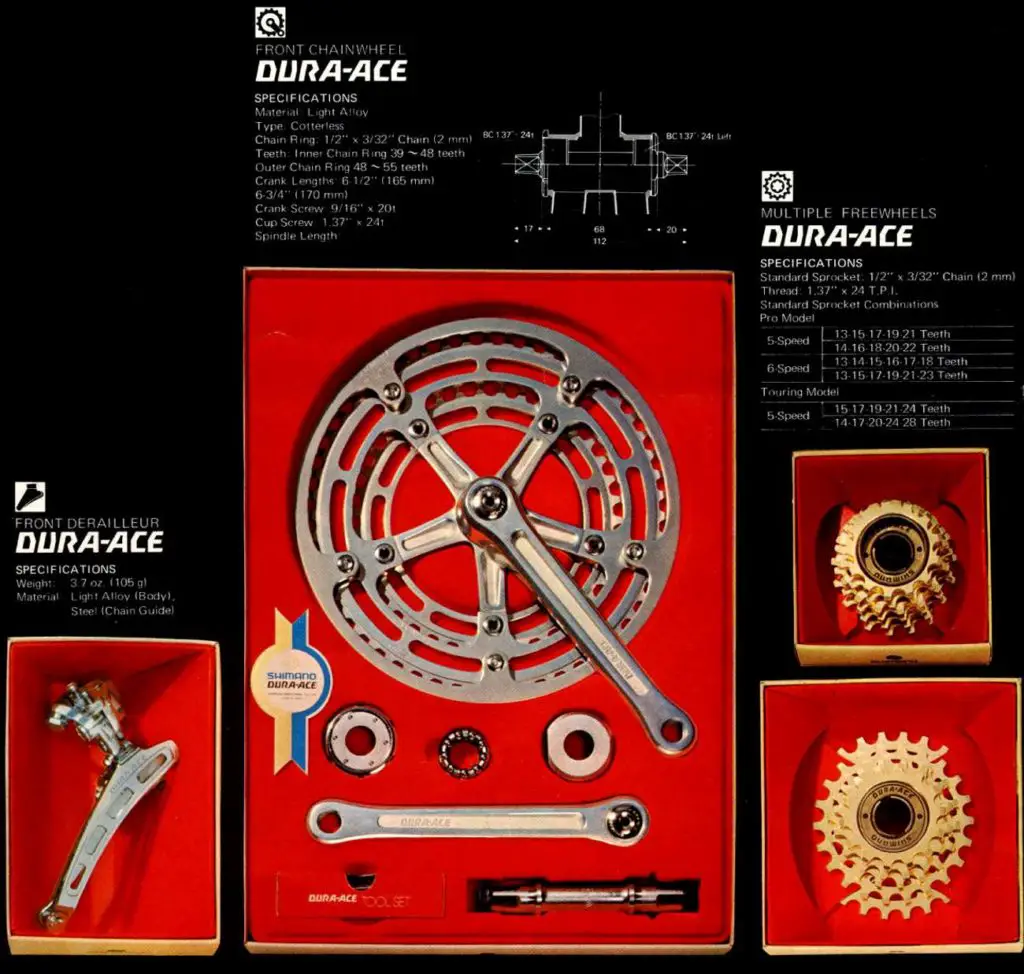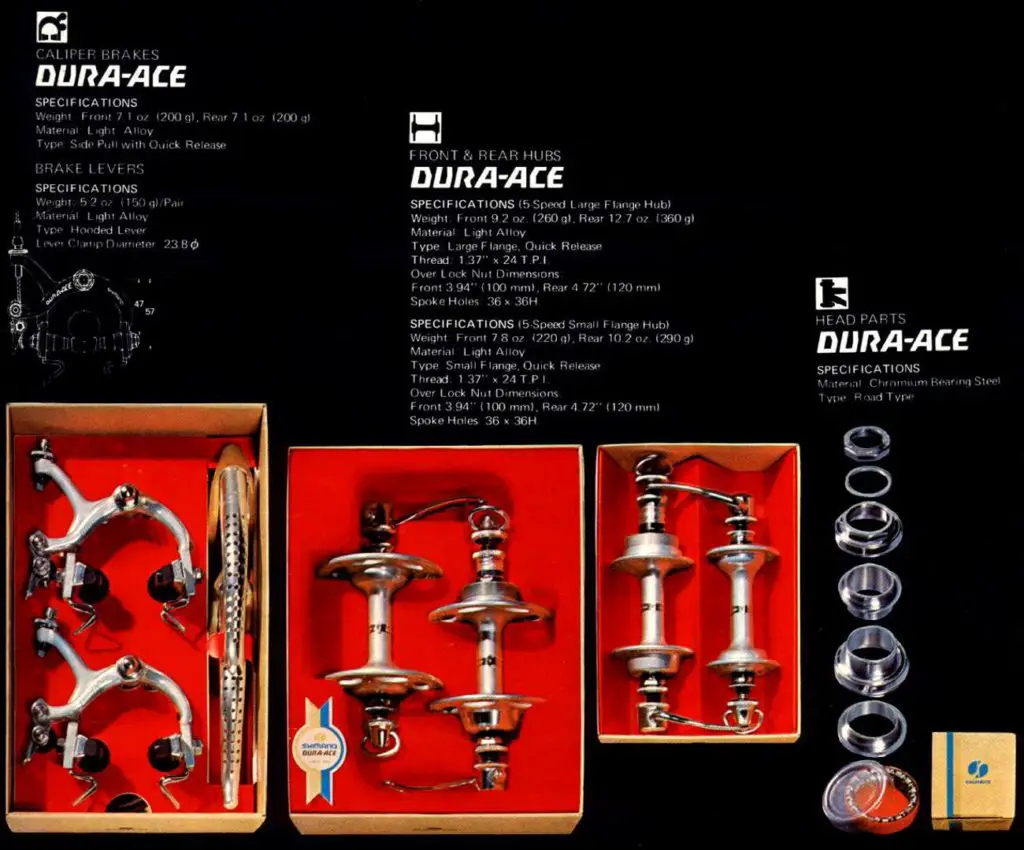 1976: Dura-Ace 10
It was a track groupset that used a 10mm pitch chain and gears.
Almost all bike chains are half-inch pitch, so the centers of the pins are half an inch, or 12.7mm, apart. Introduced in 1976, and discontinued sometime in the 80s, Dura-Ace 10 used a smaller chain and therefore smaller chainrings and sprockets – the number of teeth was the same, but they were closer together.
The biggest advantage was lower weight, and eventually, according to legend, the Japanese Keirin federation banned the 10mm pitch equipment because it might give some riders an unfair advantage.
1977: Dura-Ace 7100
It was the second generation Dura-Ace. It was slightly different from the First Generation parts. Crank arms appear to be the same, but with different rings and used standard pedal threading.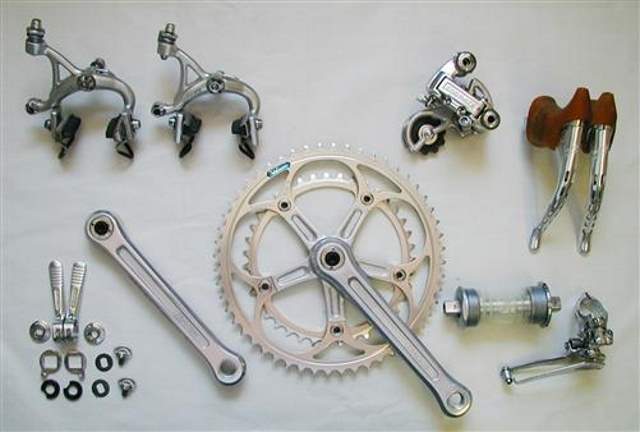 1978: Dura-Ace EX 7200
The Dura-Ace EX 7200 introduced Shimano's EX concept as being a design optimized for the (then radical) idea of using 6-speed, particularly with the new freehubs.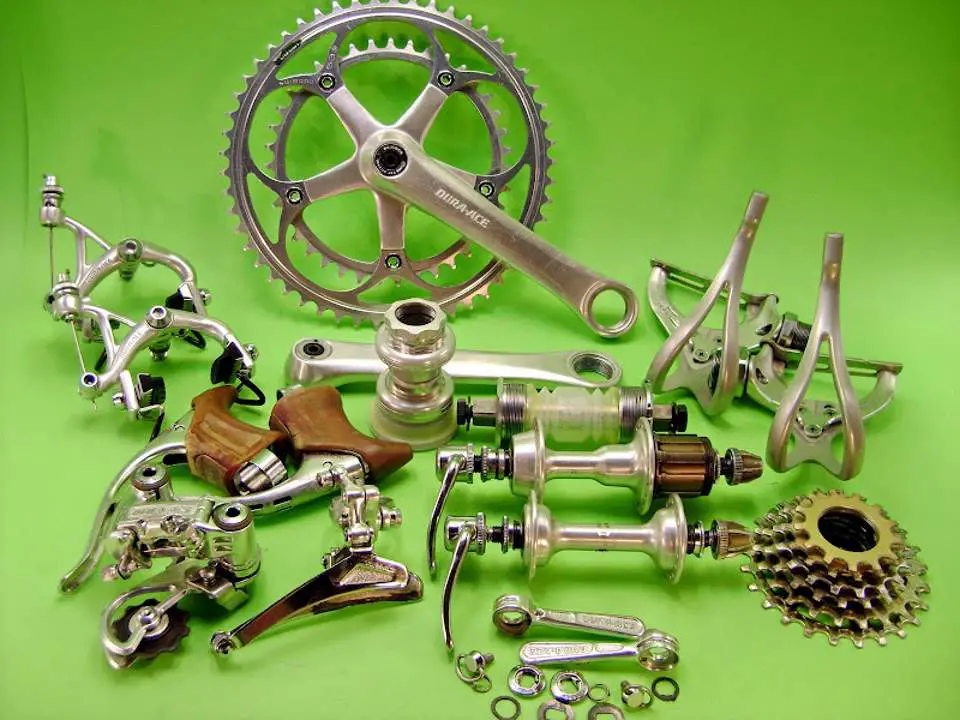 1980: Dura-Ace AX 7300
Shimano Dura-Ace AX 7300 comes out in 1980. It is specifically designed to be more aerodynamic.
Despite being a commercial disaster (Dura-Ace series were not really successful until the introduction of the indexed shifting, the "Shimano Index System – SIS" in 1984), the AX 7300 is arguably one of the foundation stones of Shimano's current success.
It created a fear of being left behind that forced every other derailleur manufacturer in the world to redesign their own derailleurs to incorporate "aerodynamic" elements. With the European manufacturers already on their knees, and SunTour about to be clobbered by technical problems, this expenditure crippled every one of Shimano's competitors.
1984: Dura-Ace 7400 series with Shimano Indexed Shifting (SIS)
In 1984, Shimano introduced the revolutionary Dura-Ace S.I.S. (Shimano Indexed Shifting), the first successful indexed-shifting system in cycling history. It was a 6-speed system (then 7 and 8-speed with the new versions) with indexed shifters mounted on the down tube.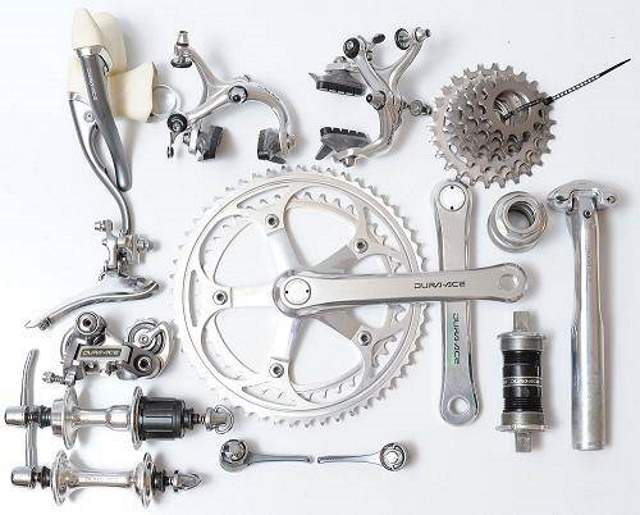 1988: The First Grand Tour Victory: Giro d'Italia
In 1988, Andy Hampsten (Seven-Eleven Team) won the Giro d'Italia with the Dura-Ace groupset.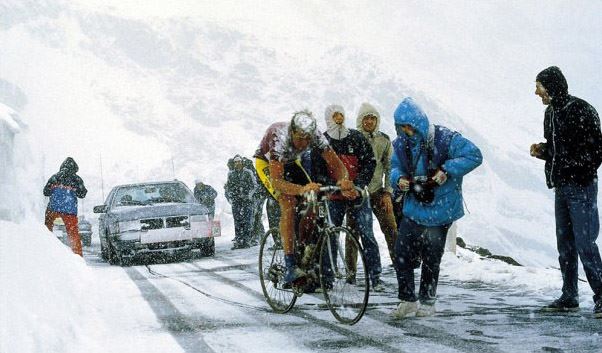 1990: Dura-Ace 7400 series with Dual Control Levers
The dual-control lever incorporates a shifter mechanism into the brake lever, making it possible to change speeds without removing one's hands from handlebars. Another revolutionary upgrade.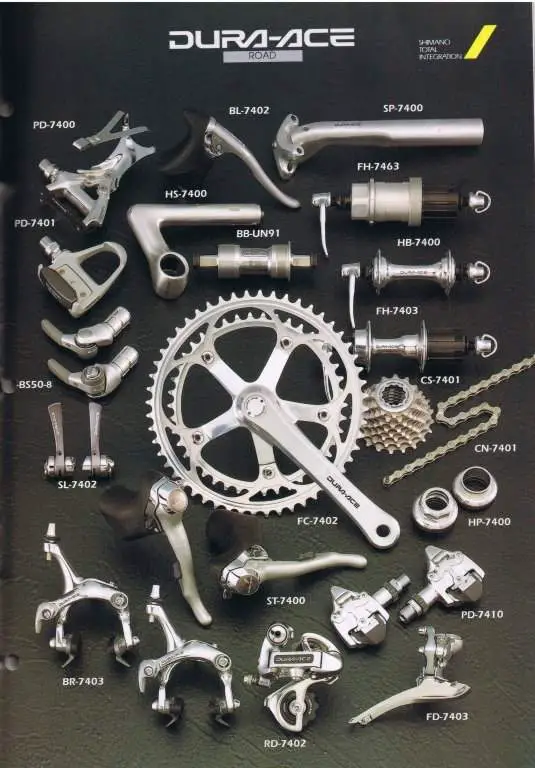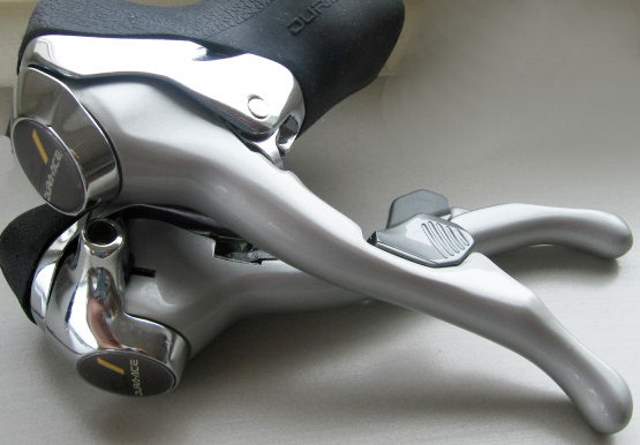 1993: Dura-Ace 7410
It was actually the last of the Dura-Ace 7400 series but was enough of a departure from the original 7400 series that many sources list it as a separate group.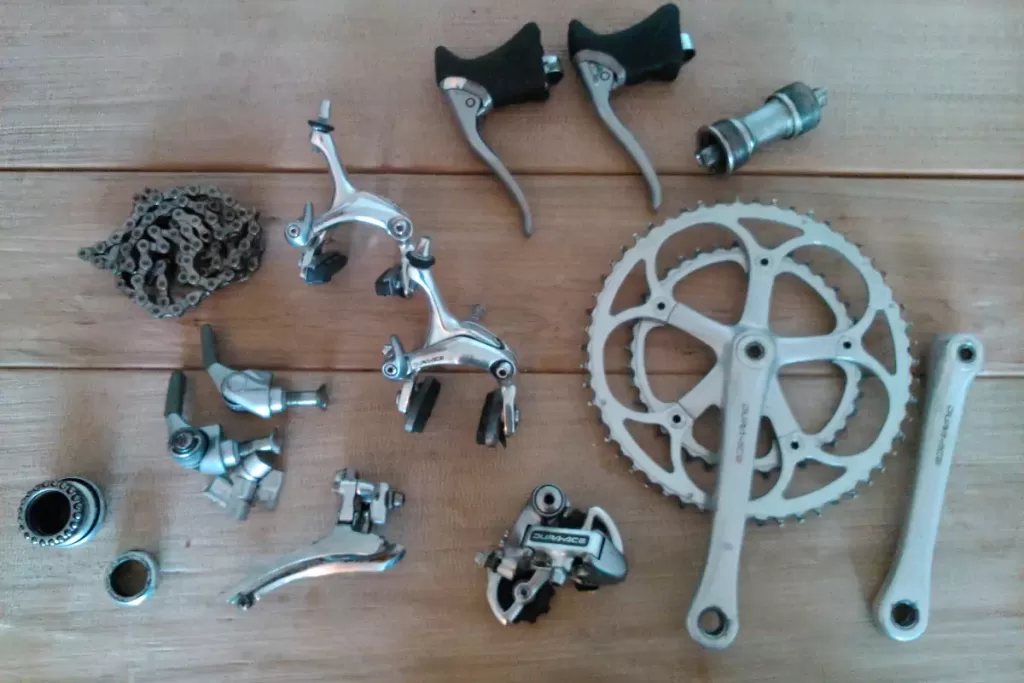 1996: Dura-Ace 7700
7700 series are developed after a thorough review of the previous derailleur system based on the philosophy of "Stress-Free".
A review about DA 7700 that I like: "Reining from 1996 to 2004 as Shimano's top-end groupset, it is arguable that DA 7700 lacks the technological punch to stand out on its own against breakthrough DA 7400 or ultra-refined DA 7800. It was just a sort of 9-speed filler between the two. But in 1999 it was this component group that allowed Shimano to finally climb to the top of the podium at the Tour de France. A cyclist from Texas, USA may have helped it get there." (campagnolodelta.blogspot.com)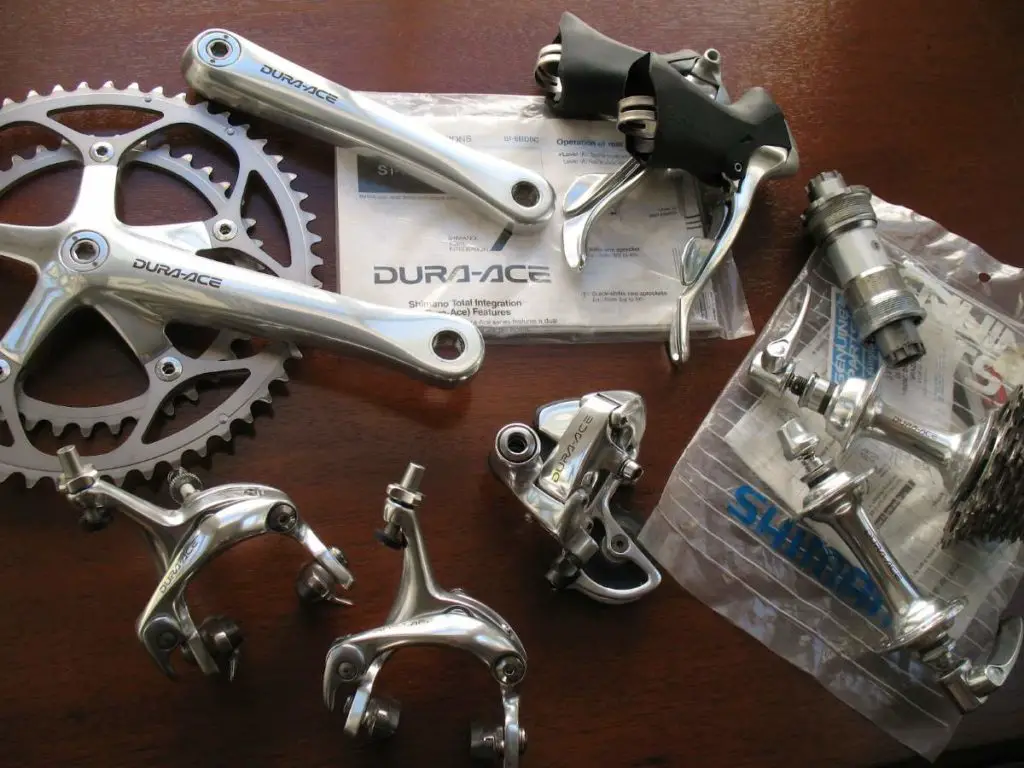 1998: Dura-Ace 25th Anniversary Groupset
This series is a special Dura-Ace released in commemoration of 25 years since its introduction into the market.
1999: The first (now annulled) Tour de France victory
Lance Armstrong of the US Postal Team won the Tour de France 1999 using Dura-Ace 7700 groupset, but the U.S. Anti-Doping Agency (USADA) stripped his all seven Tour de France titles in 2012.
2004: Dura-Ace 7800
Dura-Ace 7800 series components are developed with "For 100% Power Transmission Efficiency" as a catchword. This series consisted of 10-speed rear drive trains, HOLLOWTECH Ⅱ cranksets, ergonomic dual control levers, and other higher performance components. It was the first 10-speed group on the market.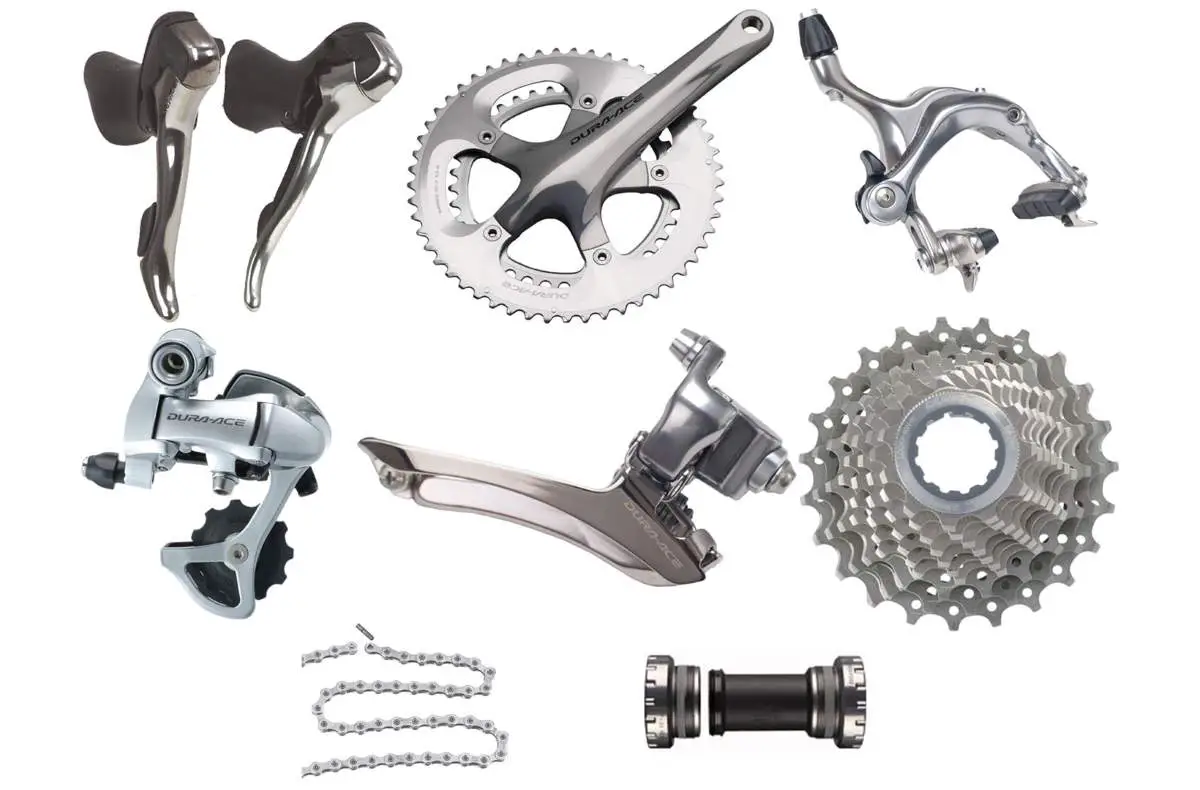 2007: The first (not annulled) Tour de France victory
Alberto Contador, the Spanish rider of the Discovery Channel team won the 2007 Tour de France using Dura-Ace 7800 groupset. As of 2023, Shimano has a total of 11 Tour de France victories.
2008: Dura-Ace 7900
The 7900 series components were developed under the concept of "Evolution of Perfection". A derailleur comprising these components embedded the shift cable completely. Its crankset consisted of a HOLLOWGRIDE (hollow gear) in addition to a HOLLOWTECH Ⅱ. All other components were also reviewed for optimal design. The weight of the groupset w/out hubs was reduced from 2181 grams (DA 7800) to 2052 grams (DA 7900).
2009: Dura-Ace Di2 (electronic)
2009 Electronic Shifting System DURA-ACE 7970 is in the market. A new technology called "Digital Integrated Intelligence (or Di2 for short) was introduced into Dura-Ace. The Dura-Ace 7900 series equipped with this electronic shifting system provides racers with a "complete stress-free" function. Enhanced shifting performance is the most obvious benefit of Shimano's Di2.
"A solution to a problem that doesn't exist." "Unnecessary." "A marketing gimmick." Those were lines offered against Shimano's Dura-Ace Di2 electronic drivetrain, but it quickly became a racing standard. Today, almost every pro team uses electronic shifters.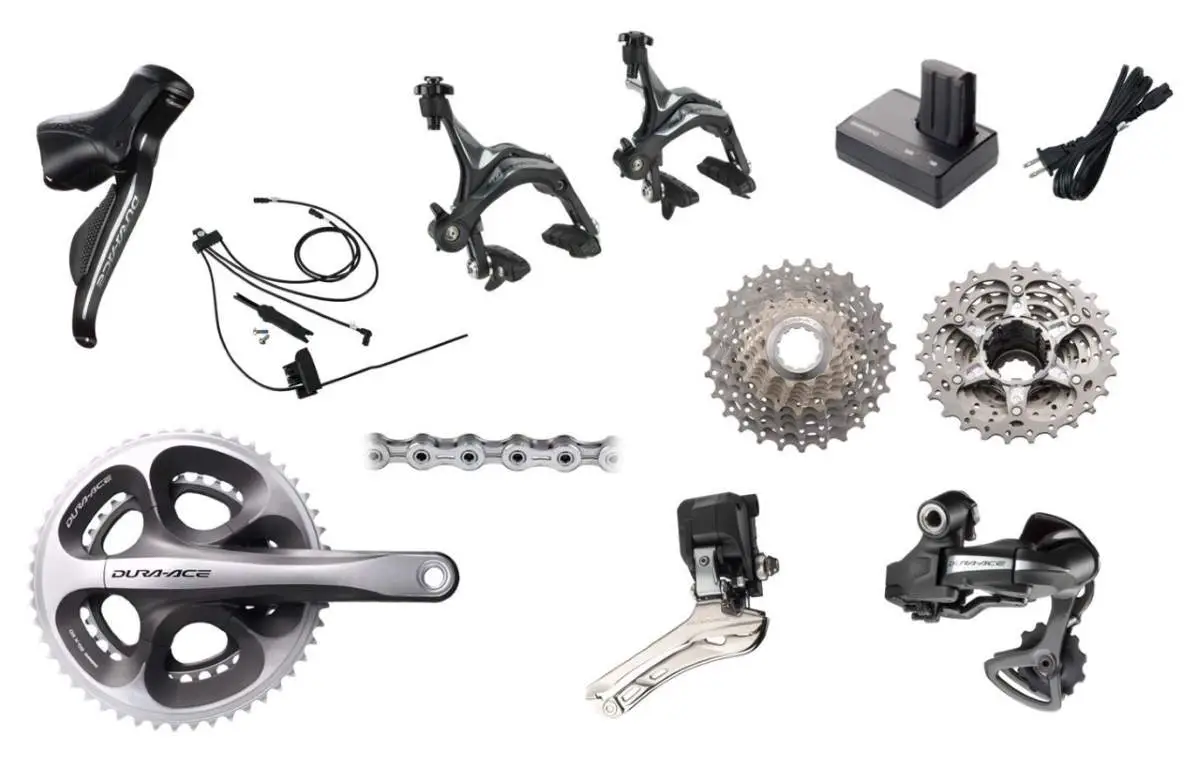 2012: Dura-Ace 9000 (11-speed)
The new series has been fully re-engineered across every system. Highlights include a very robust four-arm crankset, the new SLR-EV brake system, and a new 11-speed drive train. 9000 is mechanical and 9070 is electronic (Di2) series.
2016 – Dura-Ace R9100/R9150
Dura-Ace R9100 (mechanical) and R9150 (electronic) series came with an integrated power meter (which has been ten years in development), the first-ever Dura-Ace hydraulic disc brakes, and the option of synchronized front and rear derailleur shifting to minimize cross-gearing. The crankset and the front and rear derailleurs were also redesigned.
Another change point is the largest sprocket size: it was 28-tooth on previous versions of Dura-Ace, but now the new version is offering an 11-30-tooth cassette.
Shimano use codes R9100 and R9150 for the groups with classic rim brakes, and R9120 and R9170 for the groups with hydraulic disk brakes.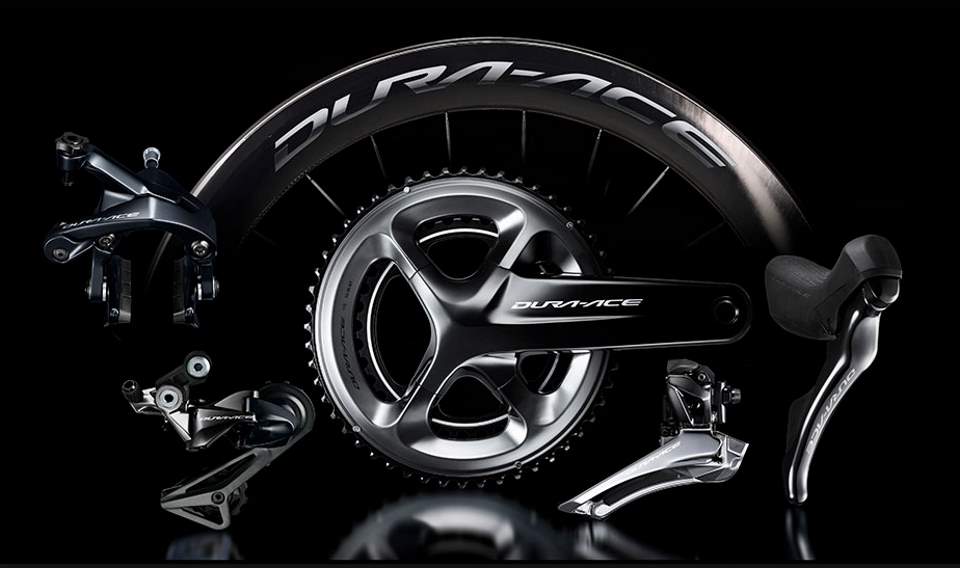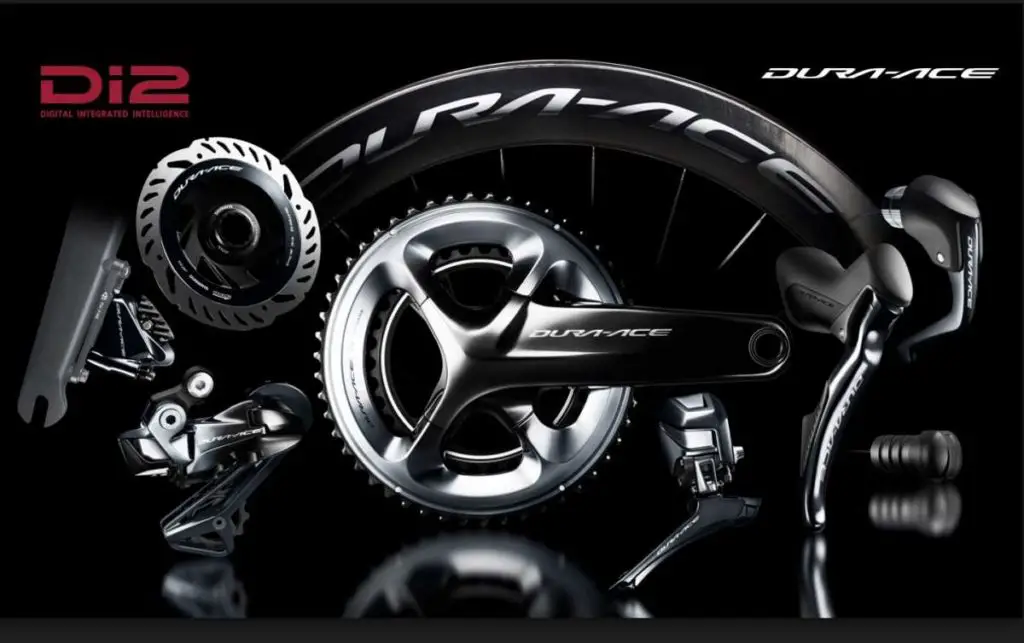 2021: Dura-Ace R9200/R9250/R9270, 12-speed and semi-wireless
Dura-Ace R9200 is Shimano's new generation top-level groupset and has some big changes from its predecessor, including super-smooth Hyperglide +, a 12-Speed cassette, and wireless shifters.
Some key points are:
For the first time ever, there's no mechanical shifting option: the mechanical Dura-Ace is now history.

R9270: Disc brakes with electronic shifting
R9250: Rim brakes with electronic shifting

Interestingly, the new version is slightly heavier than its predecessor, the R9100.
It is available in both rim brake and disc brake variants – but the disk brake version has wireless levers.
300-hour battery life (same as the previous R9100)
The derailleurs and main battery are wired-in
The new series has the fastest (and most precise) shifting in all Dura-Ace versions.
11-34 cassette option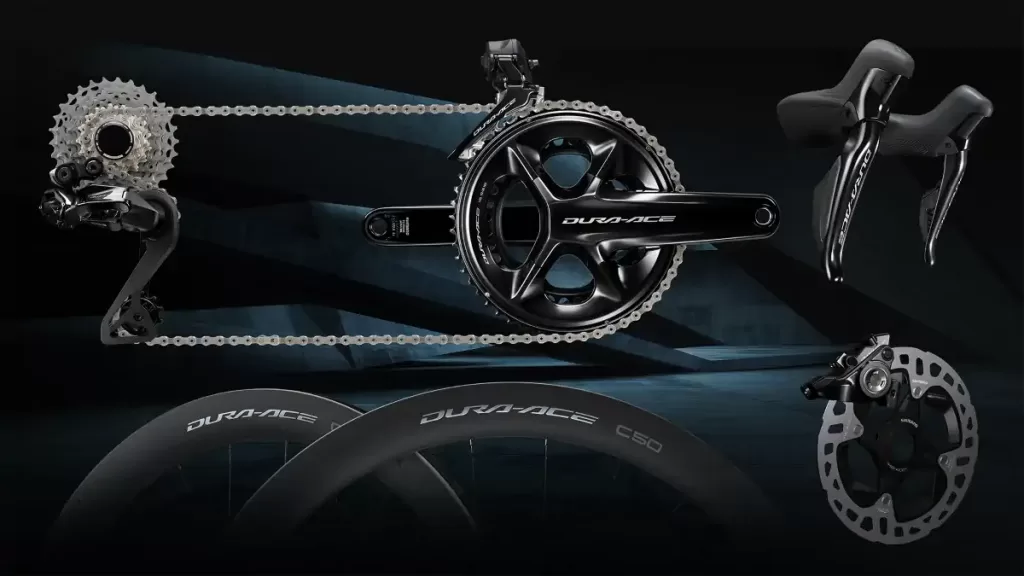 Sources
Latest posts by M. Özgür Nevres
(see all)