Hampsten Cycles, LLC, founded in 1999 by the legendary American cyclist Andy Hampsten and Steve Hampsten, and building all frames in-house in Seattle, WA. They offer a unique line of custom road frames and whole bikes.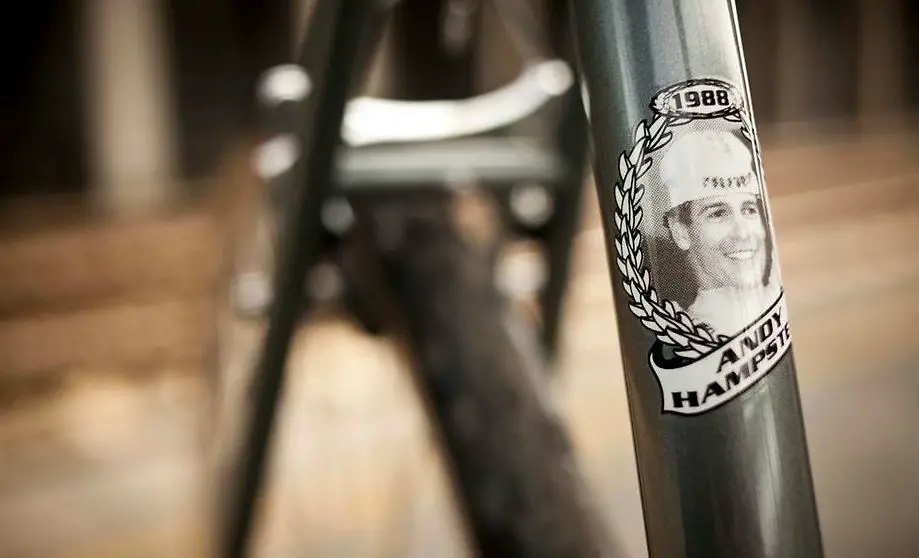 Andy Hampsten – the only American winner of the Giro d'Italia to date
Andrew (Andy) Hampsten (born April 7, 1962, in Columbus, Ohio) is an American former professional road bicycle racer who won the 1988 Giro d'Italia and the Alpe d'Huez stage of the 1992 Tour de France. His Passo di Gavia ride at the 1988 Giro d'Italia was sensational.
In the legendary stage fourteen of the 1988 Giro d'Italia with its crossing of the Aprica, a 120-kilometer trip partway up the Tonale and then a left turn up the south face of the Gavia pass with a final steep, technical descent into Bormio. The day was wet and cold. Until the start, Torriani had been considering an alternate route because of the possibility of bad weather. It would end up being, in the words of La Gazzetta, "the day the big men cried."
Over the first two climbs, the cold, wet riders stayed together. When they began ascending the Gavia with its patches of fifteen percent gradient (back then, only the Gavia's switchback turns were paved), it began to snow and as the riders continued up the pass, it got even colder. Johan Van der Velde, in just shorts and short sleeves, was first over the top. He was followed a few seconds later by Breukink, Hampsten, and then by Chioccioli and Marco Giovannetti.
Breukink and Hampsten had dropped the Italians well before the summit and crested together. The conditions were appalling; the road was frozen and when the riders began the descent, their brakes wouldn't work on the frozen rims. Some had their gears jammed up with ice. Van der Velde gave up, dismounted his bike, waited for warmer clothes to be brought from the team car, and descended the steepest part of the pass on foot. He lost 47 minutes that day.
Hampsten and Breukink pressed on down the steep, icy descent and into Bormio where Breukink won the sprint.
Andy Hampsten became the first American, and non-European, to win the Giro d'Italia.
Andy Hampsten is a fan of the Italian lifestyle and culture, and you can see this in the bikes that he produced (also in the model names).
Hampsten Cycles collection
Gran Paradiso
This model works great with tires in the 23 to 28mm range. Gran Paradiso – along with all of their frames – are custom and are designed and built right at HampCo Seattle.
There are three different framesets of Gran Paradiso:
Minimus: Ultra-lightweight steel frame welded in-house using Columbus Life tubing (frameset $2700)
La Dolce Vita: Lightweight steel frame welded in-house using Columbus Life tubing (frameset $3000)
Titanio: Welded in-house using straight-gauge 3/2.5 titanium (frameset $3700)
Shimano Dura-Ace Di2 electronic capability is adding $200 to the steel frames, and $300 to the titanium frame.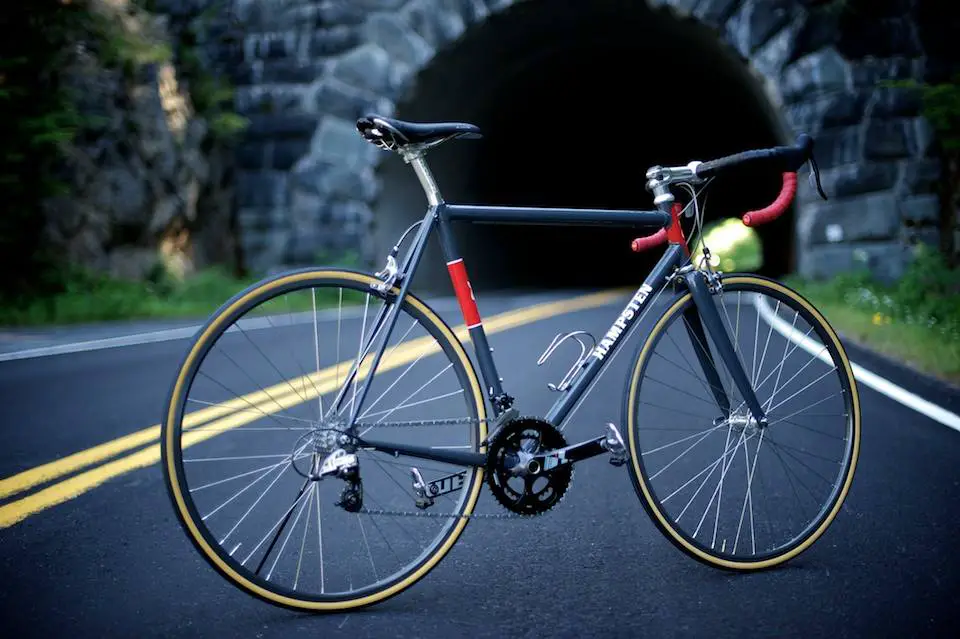 Max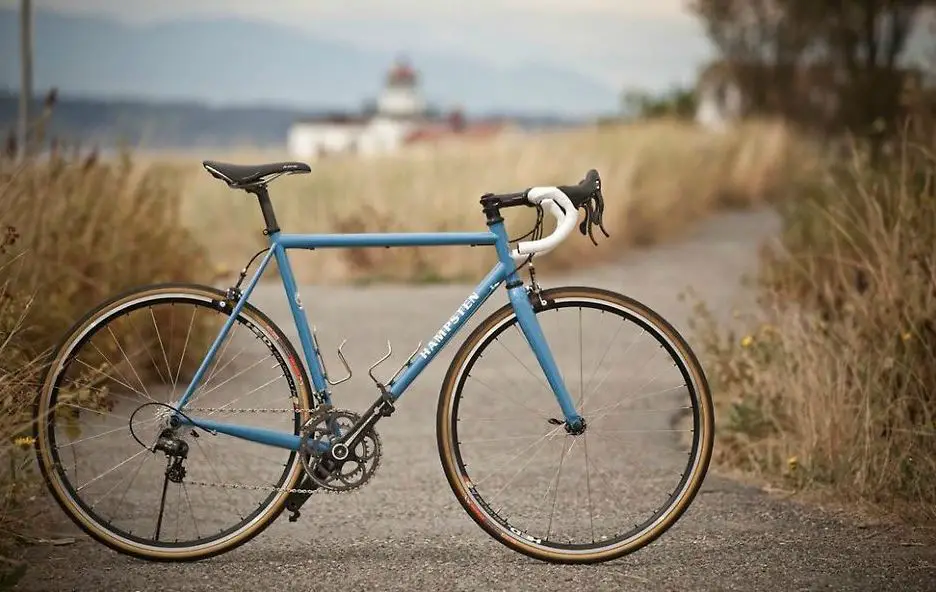 This is the endurance bike to ride on the cobbles. 27.2mm seat post, English threaded BB, 28.6 or 31.8mm clamp-on front derailleur, Strada Bianca-style upon request. MAX – $2800 frame/fork.
Oscar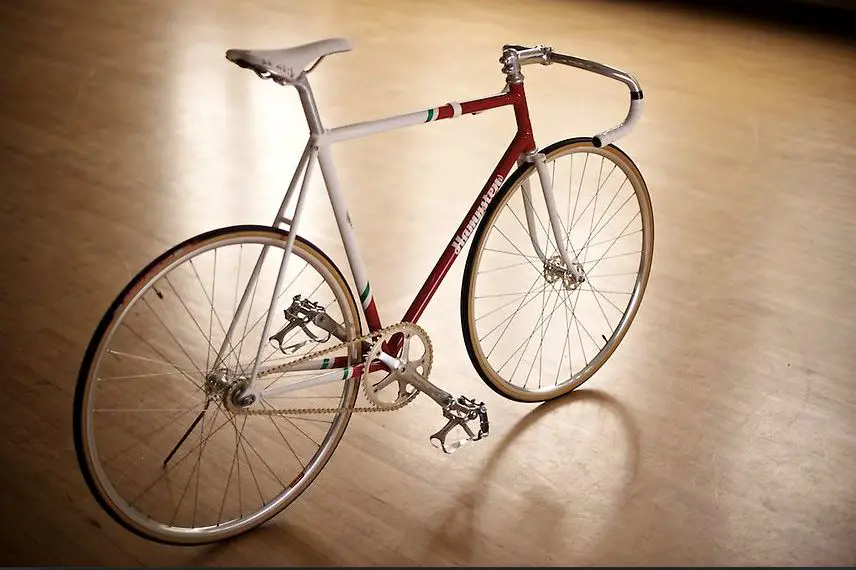 The track bike of Hampsten. Three options are available:
Standard: welded frame with Wound Up carbon fork – $2500
Burly: welded Columbus MAX tubing with MAX fork – $2900
Classic: lugged frame with steel fork – $3000
Strada Bianca
Designed like a 60s-era road race bike, the Strada Bianca ("white road" in Italian) is intended for 24-to-35mm tires, 57mm-reach caliper brakes, maybe some shiny fenders. 130mm rear spacing, 68mm English BB, 27.2mm seat post, Limited lifetime warranty.
Build options:
welded steel with Wound Up fork – $2600. Steel fork – add $250
lugged steel – $3000
titanium: built in-house using straight-gauge 3/2.5 titanium, uses Seven Cycles molded carbon fender fork – $3700
Team Pro
Team Pro and Team UOS are designed as short-wheelbase/skinny tire bikes for all-'round sport riding. They are brazed at HampCo Towers by Martin Tweedy whilst painter Russ sprays every frame in Chico, CA.
Build options:
Team Pro – $3000: 27.2mm seat post, English BB, 1"headset req'd, straight or curved fork, fastback or flat-cap seat cluster, fender/fat tire package optional
Team UOS – $3000: English BB, 1.125"headset, Enve 1.0 or Falz carbon fork, fastback seat cluster
Travelissimo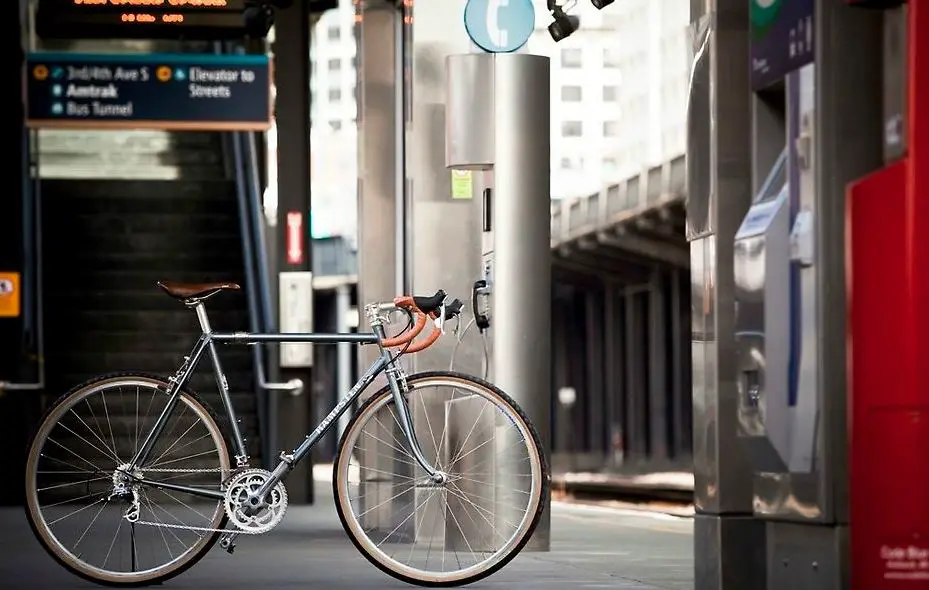 A perfect choice for everyday cyclists. The standard Travelissimo is a short-wheelbase/short-reach caliper sport bike designed to take up to a 29mm tire, typically designed to have a touch more stability than its race-bred Gran Paradiso brethren.
Build options:
Travelissimo – $3000: Welded and painted steel frame built in-house using their own Columbus Spirit tubing blend, price includes a choice of a carbon fork.
Travelissimo ll – $3500: Lugged steel frame by Martin Tweedy using their own Columbus tubing blend, price includes brazed fork.
Travelissimo Ti: Fabricated in-house by Max using 3/2.5 straight-gauge titanium, price includes Enve fork – $4400
Etcetera – $500 Package includes S & S travel case by Sampsonite, cable splitters, compression members, tube wraps, wrench, and security bag.
For all the models, images and specifications check out Hampsten Cycles' official website.
Latest posts by M. Özgür Nevres
(see all)