Giuseppe Marinoni, the famous Italian framebuilder, broke the hour record for the 74-79 age group on October 20. He broke the record in Brescia, Italy. Marinoni covered 35.728 km in one hour.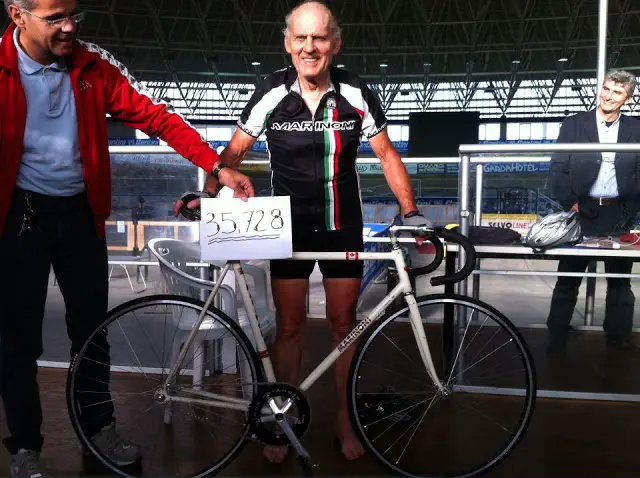 The hour record is the record for the longest distance cycled in one hour on a bicycle. There are several records. The most famous is for upright bicycles meeting the requirements of the Union Cycliste Internationale (UCI). It is one of the most prestigious in cycling. Hour-record attempts are made in a velodrome, but never at high altitude.
On 25 October 1972, legendary Eddy Merckx set the record at 9.431 km. His equipment was drop handlebar/round steel tubing frame/wire spokes.
In January 1984, Francesco Moser set two records, the second being 51.151 km (31.784 mi). This was the first noted use of disc wheels, which provided aerodynamic benefit.
In 1993 and 1994, Graeme Obree, also known as "The Flying Scotsman" who built his own bikes, posted two records with his hands tucked under his chest.
In 1996, Chris Boardman set a record using another position developed by Obree, his arms out in front in a Superman position.
Union Cycliste Internationale (UCI), banned the positions developed by Obree but allowed the records to stand. In 2000, the UCI was concerned that the record was lost in technology: the bikes were far in design from the Merckx's era. So UCI established two records:
The UCI Hour Record (which restricts competitors to roughly the same equipment as Merckx, disallowing time trial helmets, disc or tri-spoke wheels, aerodynamic bars and monocoque frames)
The Best Human Effort – sometimes termed the UCI "Absolute" Record. Aero equipment, disc wheels, aero bars and of course aerodynamic rider positions allowed.
Current UCI Hour Record holder is Czech rider Ondřej Sosenka (49.700 km).
In February 2012, Frenchman Robert Marchand set the hour record for the 100+ age group: 24.251 km.
Marinoni Cycles are producing great bikes: Marinoni Cycles home page.
Video of Giuseppe Marinoni training for the hour record.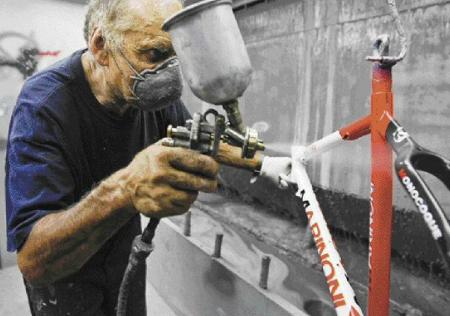 Latest posts by M. Özgür Nevres
(see all)