"Graeme Obree, Athlete or Genius?", is a short film published by the Endura Official channel on YouTube. Endura is a cycling clothing company which was founded in Scotland in 1993. In this short film, they tested the positions invented by Graeme Obree, "The Flying Scotsman". Using these positions (the "praying mantis" and the "Superman"), Obree broke the Hour Record twice (1993, 1994) and became the 4000 m pursuit World Champion, also twice (1993, 1995).
Even Graeme Obree himself was wondering which of the two positions he invented was more aerodynamic. And, nearly a quarter of a century later, the public remains divided over his contribution to cycling: was he an innovative genius, or a world-class athlete? (spoiler: according to the test in the video, he was both). The test also exactly showed which of the two positions were more aerodynamic (they actually tested three positions: the praying mantis or crouching position, the superman position, and the conventional UCI position, and they tested the UCI position with both 1993 UCI approved bike and with a modern time trial setup). Enjoy.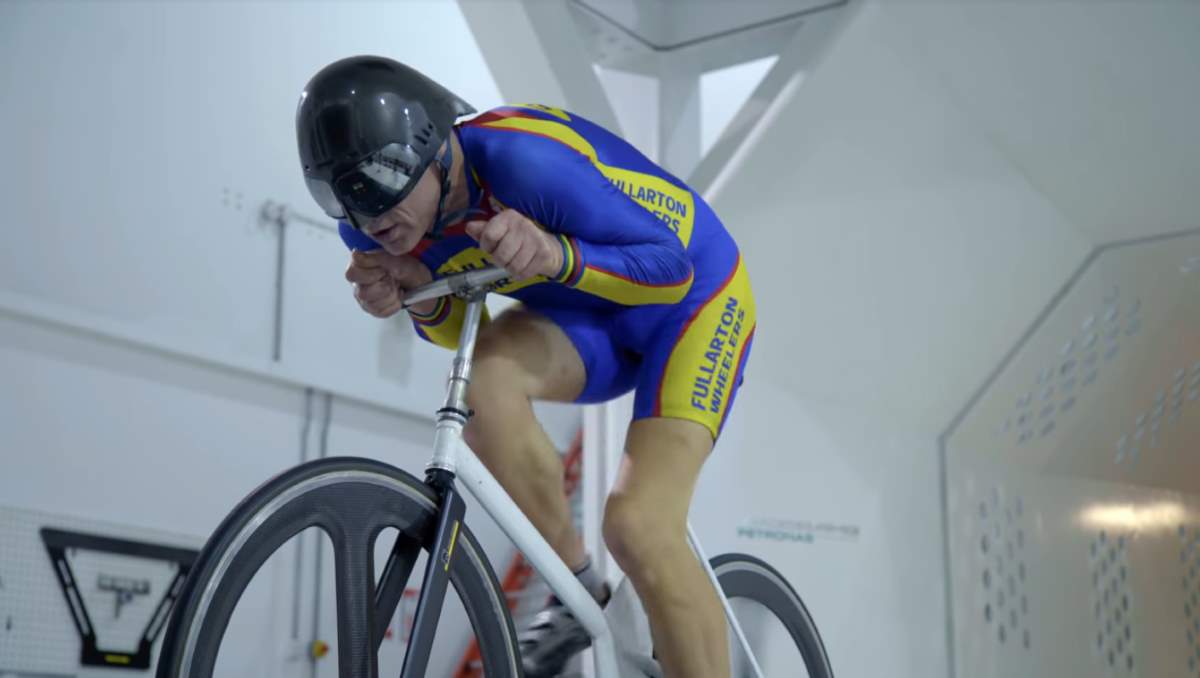 Graeme Obree and Hour Record
The hour record is the record for the longest distance cycled in one hour on a bicycle. There are several records. The most famous is for upright bicycles meeting the requirements of the Union Cycliste Internationale (UCI). It is one of the most prestigious in cycling. Hour-record attempts are made in a velodrome, but never at high altitude. On 25 October 1972, legendary Eddy Merckx set the record 49.431 km (30.715 mi). His equipment was drop handlebar/round steel tubing frame/wire spokes.
In January 1984, Francesco Moser set two records, the second being 51.151 km (31.784 mi). This was the first noted use of disc wheels, which provided aerodynamic benefit.
In 1993 and 1994, Graeme Obree, also known as "The Flying Scotsman" who built his own bikes, posted two records with his hands tucked under his chest, like those of a skier (praying mantis or crouching position).
In 1996, the British cyclist Chris Boardman set a record using another position developed by Obree, his arms out in front in a Superman position.
Union Cycliste Internationale (UCI), banned the positions developed by Obree but allowed the records to stand. In 2000, the UCI was concerned that the record was lost in technology: the bikes were far in design from the Merckx's era. So UCI established two records:
The UCI Hour Record (which restricts competitors to roughly the same equipment as Merckx, disallowing time trial helmets, disc or tri-spoke wheels, aerodynamic bars and monocoque frames)
The Best Human Effort – sometimes termed the UCI "Absolute" Record. Aero equipment, disc wheels, aero bars and of course aerodynamic rider positions allowed. Obree's and Boardman's records have fallen into this category.
But, in 2014, the UCI unified the two classifications into a single classification in line with regulations for current track pursuit bikes. Records previously removed for Chris Boardman and Graeme Obree were returned, however, the benchmark record would remain at 49.7 km (30.9 mi) set in 2005 by Ondrej Sosenka, even though that was not the farthest distance. Complicated, isn't it?
Following the change in the rules, German Jens Voigt became the first rider to attempt the hour, on 18 September 2014 at the Velodrome Suisse, Grenchen, Switzerland. He set a new record of 51.110 km (31.758 mi), beating the previous record set by Sosenka by 1.41 km (0.88 mi). On 30 October 2014, Matthias Brändle set a new record of 51.852 km (32.219 mi) at the World Cycling Center in Aigle, Switzerland.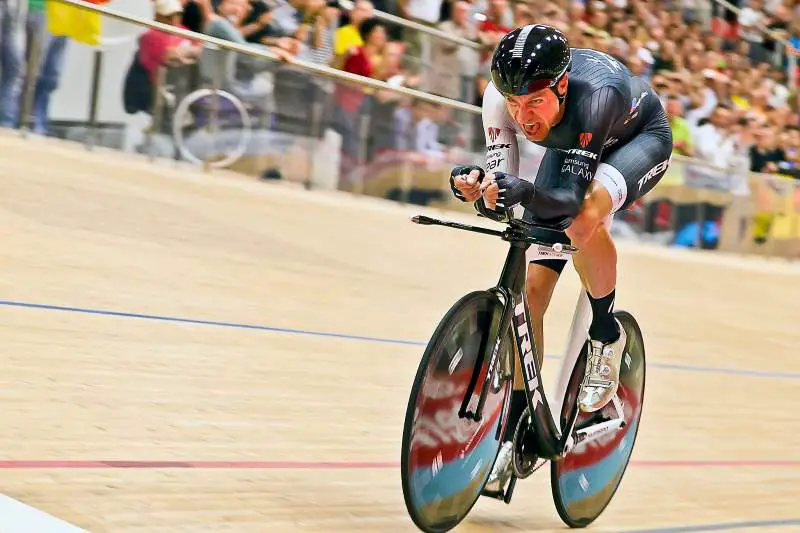 Further attempts by Australians Jack Bobridge, Rohan Dennis, and Thomas Dekker came within a few weeks, between 31 January and 25 February 2015. Dennis was the only one of the three to set a new record, and in doing so broke the 52 kilometers (32.3 mi) barrier.
Dekker's attempt at the Aguascalientes Bicentenary Velodrome was the first attempt to take place at appreciable altitude. Aguascalientes is at 1,890 m (6,200 ft) above sea level, while Melbourne is at only 31 m (102 ft), and, although in Switzerland, Grenchen and Aigle are at 451 m (1,480 ft) and 415 m (1,362 ft), and not in the mountains. High altitude is thought to result in faster times, providing the rider takes the time to acclimatize to the conditions. This is because the air density decreases with an increase in altitude, which reduces the aerodynamic drag.
Having postponed an earlier scheduled attempt due to a broken collarbone incurred in a crash while training, British cyclist Alex Dowsett exceeded Dennis' mark, with a new record of 52.937 km (32.894 mi), at Manchester Velodrome on 2 May 2015.
On 7 June 2015, 2012 Tour de France winner Sir Bradley Wiggins broke Dowsett's record, by completing a distance of 54.526 km (33.881 mi) at the Lee Valley VeloPark in London.
On 16 April 2019, the Belgian cyclist Victor Campenaerts was the first to exceed 55 km/h by completing a distance of 55.089 km (34.231 mi) at the Velodromo Bicentenario in Aguascalientes.
Sources
Latest posts by M. Özgür Nevres
(see all)