Early 20th journalists started creating nicknames for the cyclists. This effort popularized the cycling sport and made the racers interesting to the people who were not interested in cycling much. This tradition is still continuing today. Here is the list of cyclists' nicknames in alphabetical order (by surname, starting with R):
By Surname: A B C D E F G H I J K L M N O P Q R S T U V W
Michael Rasmussen
Kyllingen fra Tølløse (The Chicken from Tølløse)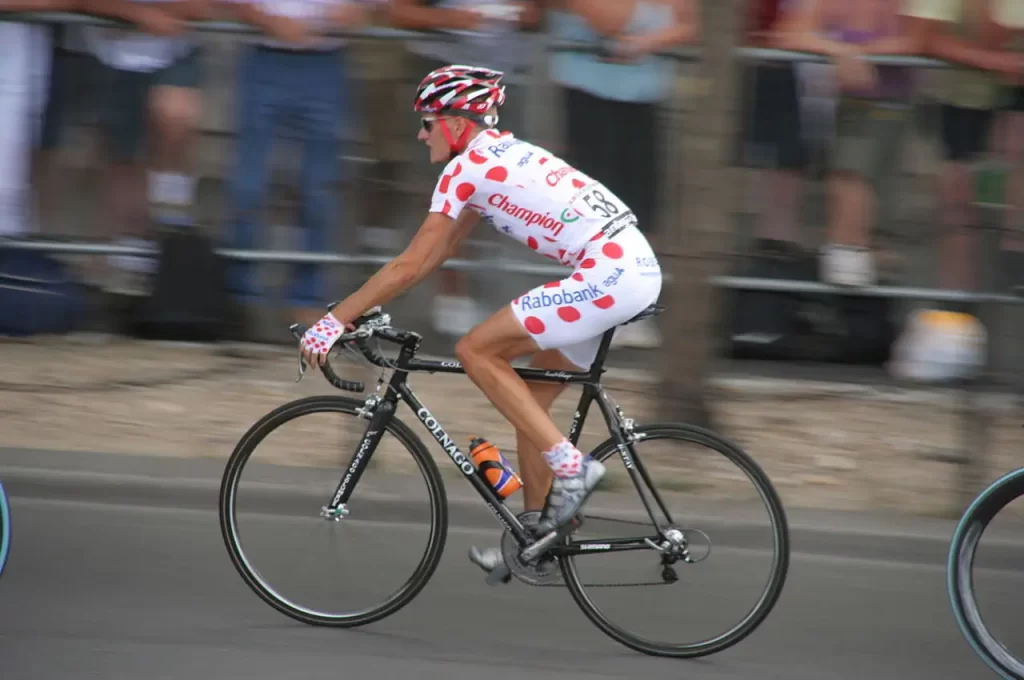 Michael Rasmussen (born 1 June 1974 in Tølløse, Denmark) is a retired Danish professional cyclist. He won 4 stages at the Tour de France (2005-2007) and won the King of the Mountains (KOM) polka-dot jersey twice (2005, 2006). He also won a stage at the Vuelta a España in 2003. He was considered one of the best climbers of his generation.
In the 2007 Tour de France, Rasmussen while wearing the yellow jersey and well on his way to winning the Tour (he was leading Alberto Contador by a 3:10), had his contract terminated by his team and was removed from the Tour.
Davide Cassani, an Italian retired professional rider, reported that he had seen Rasmussen in Italy in June 2007, a time when Rasmussen claimed to have been training in Mexico. So, he was withdrawn from the race and fired by his team Rabobank for "violating internal rules".
Michael Rasmussen's nickname, Kyllingen fra Tølløse (The Chicken from Tølløse) originates from his period as a mountain biker, when a couple of teammates were watching the Danish children's TV show Bamses Billedbog, about a bear and a chicken. One of his teammates was nicknamed Bear, and so Rasmussen was dubbed Chicken.
Riccardo Riccò
The Cobra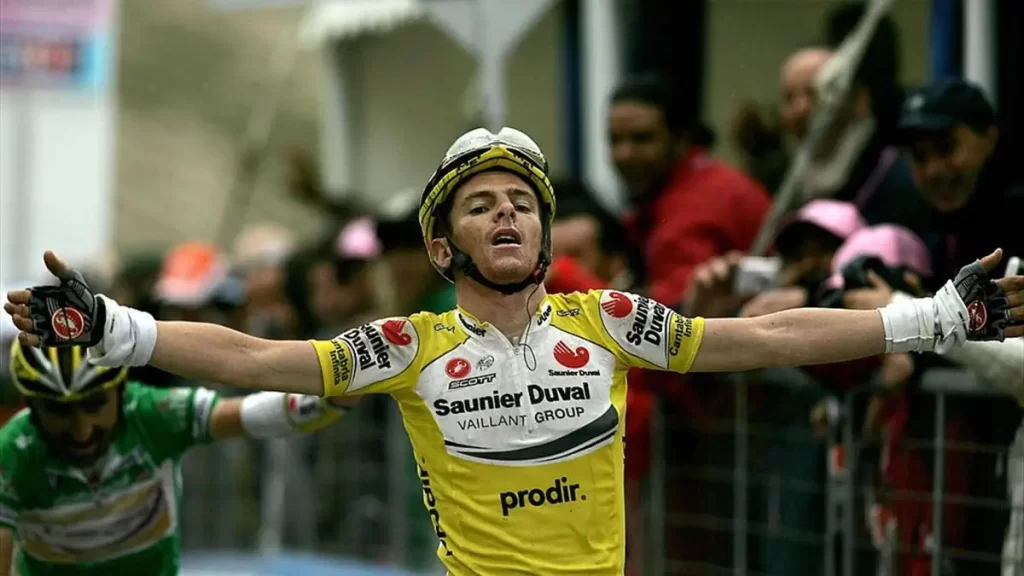 Riccardo Riccò (born 1 September 1983) is an Italian professional road bicycle racer.
As of June 2022, Riccò is suspended from all competition until 2024, due to doping accusations. On 19 April 2012, it was announced that he had been suspended for 12 years effectively ending his career.
He was a once-promising rider nicknamed "The Cobra".
Bjarne Riis
Ørnen fra Herning (The Eagle from Herning), Mr. 60%
Bjarne Riis (born 3 April 1964), nicknamed The Eagle from Herning (Danish: Ørnen fra Herning), is a Danish former professional road bicycle racer who won the 1996 Tour de France.
In grand tours, he won 4 individual stages (1993, 1994, 1996) and 2 TTT stages (1989, 1995) at the Tour de France, and 2 individual stages (1989, 1993) at the Giro d'Italia. Riis also won the 1997 Amstel Gold Race.
Riis also acquired the nickname of Mr. 60%, a suggestion that he has used doping. The 60% is an allusion to a high hematocrit (red blood cell) level, an indication of EPO usage. It has been published, but never proven, that Riis had a hematocrit level of 56% during one test in July 1995; well above typical natural levels, as well as his published reading of 41% in the offseason earlier that year.
Jean Robic
Biquet (Kid goat), Tête de cuir (Leather-head)
Jean Robic 10 June 1921 – 6 October 1980) was a French cyclist, who was a professional cyclist from 1943 to 1961. He won the 1947 Tour de France, where he won also six stages.
Robic's climbing abilities and short stature (1.61m, 60 kg) brought him the nickname "Biquet", or "kid goat". He was also nicknamed "Tête de cuir" (Leather-head) because of his leather helmet.
For the descents, he collected drinking bottles ballasted with lead or mercury at the summits of mountain climbs and "cols". After fracturing his skull in 1944 he always wore a trademark leather crash helmet.
Joaquim Rodríguez
El Purito (The little cigar)
Spanish cyclist Joaquim Rodríguez competed between 2001 and 2016. At the Tour de France, he won 3 individual stages (2010, 2015). He won 2 individual stages (2012) at the Giro d'Italia, he also won the points classification that year.
At his home grand tour, Vuelta a España, Rodríguez won the Mountains classification (2005), Combination classification (2015), and 9 individual stages (2003, 2010, 2011, 2012, 2013, 2015).
He won Volta a Catalunya twice (2010, 2014), Tour of the Basque Country (2015), Vuelta a Burgos (2011), and
Setmana Catalana de Ciclisme (2004).
Rodríguez also won Il Lombardia (formerly Giro di Lombardia) twice, in 2012, and 2013. In 2012, he also won La Fleche Walonne.
In an early-season training camp during his first year as a professional with ONCE-Eroski, when some of his teammates stepped up the pace on a small climb, he passed them making a hand gesture appearing to be smoking a cigar, suggesting he was climbing without much effort. This earned him the nickname El Purito (The little cigar).
According to rumors, the gesture was not welcomed by his teammates, who made him smoke a real cigar as a hazing ritual later in the evening.
One of the best climbers of his generation, Joaquim Rodríguez never won a grand tour, mostly because of his poor time trialing. In the 2012 Giro d'Italia, he lost the pink jersey at the last time trial stage to Ryder Hesjedal in Milan.
In 2012 Vuelta a España, Rodríguez was again leading the general classification. Stage 17 was a hilly 187.3 km stage from Santander to Fuente Dé.
At one point, the overall leaders were in two separate groups with Alberto Contador (Saxo Bank-Tinkoff Bank) and Movistar Team's Alejandro Valverde both in the group ahead of Joaquim Rodríguez before Rodríguez's Team Katusha squad closed the gap. Eleven riders representing eleven different teams eventually formed the day's breakaway after 80 kilometers, with team-mates of both Contador and Valverde in the group.
Their lead never hit much more than three minutes, before splitting on the Collado de Ozalba, and FDJ-BigMat rider Arnold Jeannesson moved up from the peloton to join the leaders. A chase group formed on the descent from the climb, with three of Contador's teammates among them.
With the gap at 1′ 14″ to the leaders at the foot of the Collado La Hoz, Contador attacked out of the peloton. This was the decisive moment of the 2012 Vuelta.
Rodríguez and Valverde tried to chase him, but Contador made it up to the lead group before the top of the climb. His teammates helped push the gap up on the roads, while Rodríguez was struggling to react to the pace and only had Alberto Losada for support in the chasing group.
Contador attacked again just before the intermediate sprint point at Potes, and only his former teammate Paolo Tiralongo (Astana) was able to follow him. Tiralongo helped Contador much. He even carried Contador's bottles. They held a two-minute gap over their closest rivals; Rodríguez was dropped on the lower slopes of the climb, as he was unable to follow Valverde, while Contador had gone solo off the front with around 13.5 km (8.4 mi) remaining.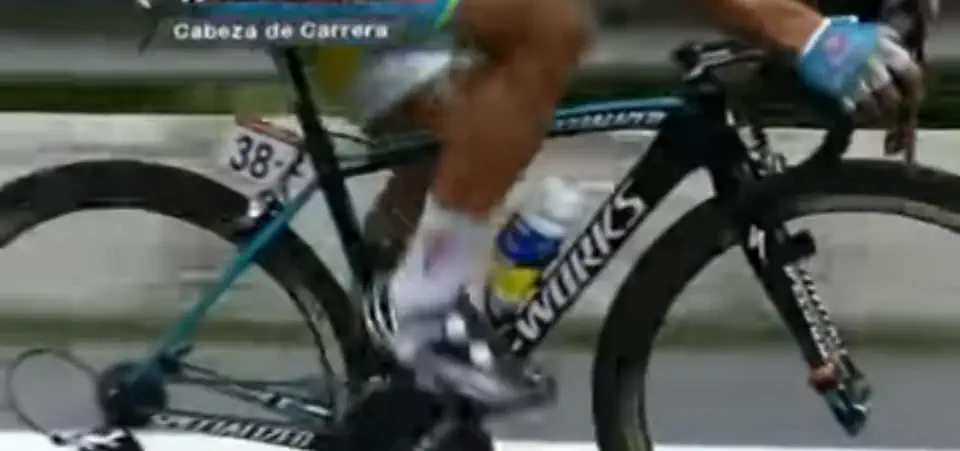 With help from team-mates Nairo Quintana and Beñat Intxausti, Valverde cut the advantage to Contador on the climb, but could not catch him. Contador eventually took his first victory since returning from suspension, six seconds ahead of a group containing Valverde, Sergio Henao of Team Sky, and Euskaltel-Euskadi's Gorka Verdugo. Rodríguez came across the line tenth, 2′ 38″ in arrears, dropping to third overall behind new leader Contador, and also Valverde, who moved up to second.
Contador won the 2012 Vuelta a España.
Tony Rominger
"The Mouse", "The Hammer", "The Camel"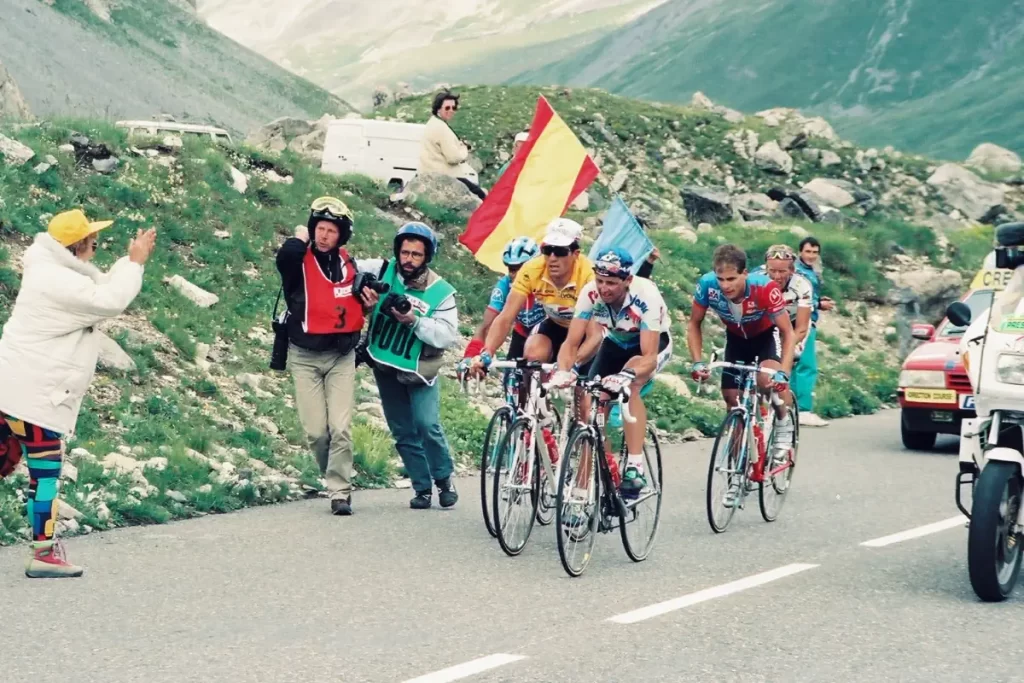 Tony Rominger (born 27 March 1961 in Vejle, Denmark) is a Swiss former professional road racing cyclist. He won the Giro d'Italia in 1995 (he also won the points classification) and the Vuelta a España in 1992, 1993, and 1994.
He also won the Mountains classification at the 1993 Tour de France, where he also won three stages.
At the Giro d'Italia, Rominger won 5 individual stages (1988, 1993). At the Vuelta a España, he won 13 individual stages (1992, 1993, 1994, and 1996).
One of the best all-rounders of his generation, Rominger won the Tour of the Basque Country three times (1992, 1993, 1994), Paris-Nice twice (1991, 1994), Tirreno-Adriatico twice (1989, 1990), and the Tour de Romandie also twice (1991, 1995).
Rominger also won the Giro di Lombardia (now Il Lombardia) twice (1989, 1992). He also broke the Hour Record on November 5, 1994, with 55.291 km.
José Rujano
El Águila de Mérida (The Eagle of Mérida), Jojo, Coffee man
José Humberto Rujano Guillen (born 18 February 1982) is a Venezuelan road bicycle racer who competed professionally between 2003 and 2013. He currently competes as an amateur.
A small but powerful climber, Rujano won 3 individual stages at the Giro d'Italia (2005, 2011, in 2005 he also won the mountains classification). He also won Tour de Langkawi in 2010, Vuelta a Colombia in 2009, Vuelta al Táchira in 2004, 2005, 2010, and 2015, and Vuelta a Venezuela in 2009.
By Surname: A B C D E F G H I J K L M N O P Q R S T U V W
Sources
Latest posts by M. Özgür Nevres
(see all)