Early 20th journalists started creating nicknames for the cyclists. This effort popularized the cycling sport and make the racers interesting to the people who were not interested in cycling much. This tradition is still continuing today. Here is the list of cyclists' nicknames in alphabetical order (by surname, starting with V):
By Surname: A B C D E F G H I J K L M N O P Q R S T U V W
Alejandro Valverde
"Balaverde" (The Green Bullet), "El Bala" (The Bullet), "El Imbatido" (The Unbeaten)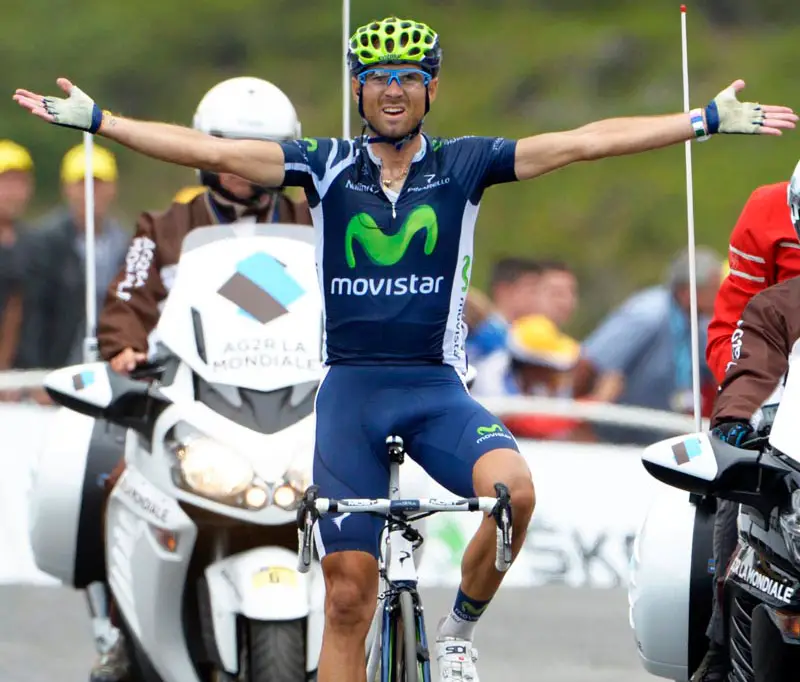 Spanish cyclist Alejandro Valverde Belmonte (born 25 April 1980) is a really strong all-rounder. He became the UCI World Champion in 2018. He won the General Classification of Vuelta a España in 2009.
Other major wins are:
1 individual stage (2016) in Giro d'Italia
Vuelta a España points classification (2012, 2013, 2015), Combination classification (2003, 2009, 2012) and 9 individual stages (2003-2015)
4 individual stages (2005, 2008, 2012) in the Tour de France
Critérium du Dauphiné (2008, 2009)
Volta a Catalunya (2009)
Vuelta a Andalucía (2012, 2013, 2014, 2016)
Vuelta a Burgos (2004, 2009); Vuelta a Castilla y León (2016)
National Road Race Championships (2008, 2015)
National Time Trial Championships (2014)
Liège-Bastogne-Liège (2006, 2008, 2015, 2017)
La Flèche Wallonne (2006, 2014, 2015, 2016, 2017)
Clásica de San Sebastián (2008, 2014)
Paris-Camembert (2008); Roma Maxima (2014)
Vuelta a Murcia (2014)
GP Miguel Indurain (2014).
Hein van Breenen
"Tarzan"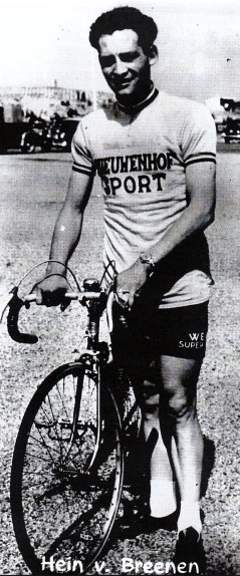 Hein van Breenen (12 June 1929 – 8 March 1990) was a Dutch racing cyclist. He rode the Tour de France between 1952-1955 with the best result of 20th place in 1954; that year he finished within the podium at three Tour de France stages. Next year he ended 11th overall at the Giro d'Italia.
During a race, a rider in front of him has crashed. He managed to avoid the crash by grabbing a tree branch. That's how he earned the nickname "Tarzan".
Odiel Van Den Meersschaut
"De Witte" (The White)
Odiel Van Den Meersschaut (25 December 1919 – 16 March 1993) was a Belgian racing cyclist. He won the Belgian national road race title in 1940. He was nicknamed "De Witte" (English: The White), for his light blond hair (the photo above actually explains the nickname well).
Piet van Est
"De Vuurbal" (The Fireball)
Piet van Est (11 August 1934 – 17 October 1991) was a Dutch racing cyclist. He rode the Tour de France in 1957-1962 and 1964 and finished within the first 30 places in 1958, 1960, and 1962, winning one stage in 1962. In 1961 he won one stage of the Giro d'Italia and finished 31st overall. He won the Ronde van Nederland in 1958 and two stages of the race in 1963. His brothers Nico and Wim van Est were also professional cyclists.
Piet van Est was nicknamed "De Vuurbal" (English: The Fireball) because of his red hair.
Wim van Est
"Iron Wim", "The Locomotive"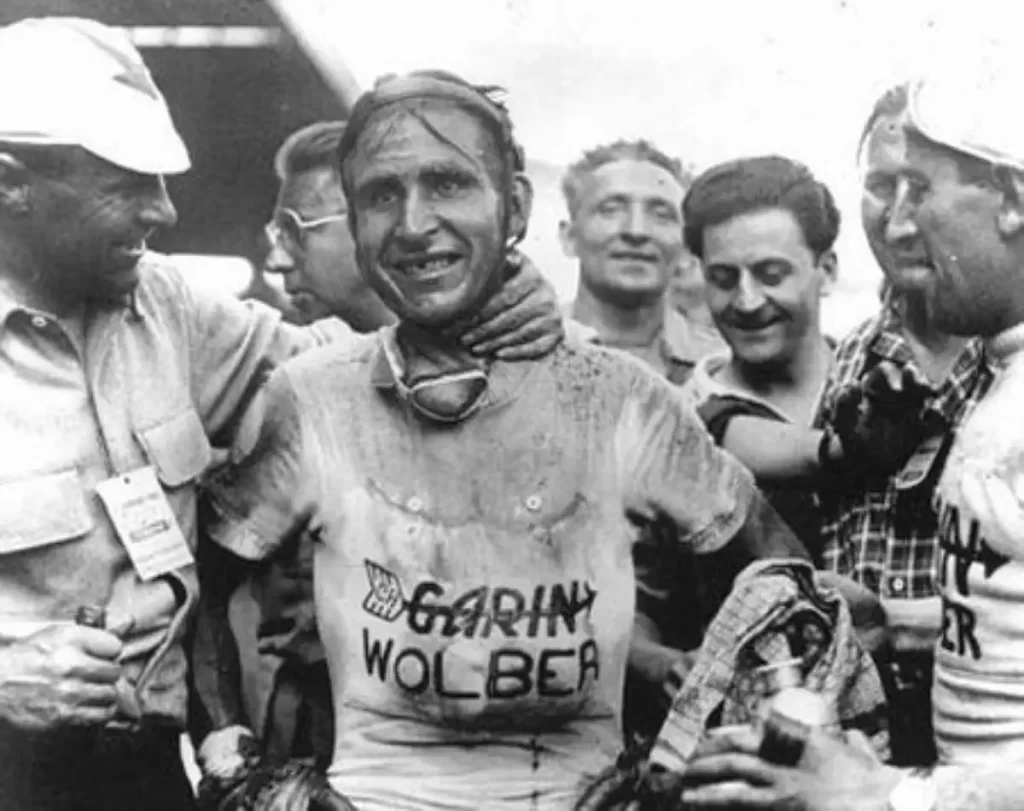 Willem "Wim" van Est (25 March 1923 – 1 May 2003) was the first Dutch cyclist to wear the yellow jersey in the Tour de France (1951). But he heavily crashed the next day and lost the jersey.
In 1951, Van Est was part of the Dutch team for the Tour de France. In the 12th stage, from Agen to Dax, he escaped with a small group. He won the stage and gained 19 minutes on the leader, enough to move up to first place overall. As the first Dutchman to wear the accompanying yellow jersey he was praised by the public and media at home.
The next day, in defense of his position, Van Est was chasing the leaders in the descent of the Col d'Aubisque. Due to a flat tire (according to Van Est himself), he slipped away and fell into a 70-meter deep ravine. Miraculously, he survived the fall and had no serious injuries. Using a chain of tires, and helped by spectators and his manager, he managed to get back to the road. Van Est wanted to continue but was persuaded to go to the hospital.
His main victories include 3 Individual Stages and 1 Team Time Trial in the Tour de France, 1 Individual Stage in the Giro d'Italia, Ronde van Nederland (1952, 1954), Tour of Flanders (1953), and Bordeaux-Paris (1950, 1952, 1961). He was also twice Dutch Road Race Champion (1956, 1957) and Dutch Individual Pursuit Champion (1949, 1952, 1953, 1955).

He turned pro in 1949 at the age of 26. In 1950 Van Est won Bordeaux–Paris. In 1951 he was selected for membership in the Dutch national Tour de France team. Van Est had grown up poor and had never traveled. This was the first time he had ever seen, much less ridden up a major climb. Knowing that he wasn't a climber, he went off early so that he could finish with the leaders and keep his Yellow Jersey. He had never done a mountain descent and did his best to follow the line of the experienced riders.
Close to catching Ockers and Coppi, he flatted near the top of the Aubisque. Remounting, he joined Magni and tried to hold his wheel on the descent. Van Est crashed, remounted, and continued down the mountain. The descent of the Aubisque is considered very difficult with its hairpin turns hidden behind sharp corners.
He went too fast into a decreasing radius turn and lost control of his bike. He flew off the side of the cliff and ended up 20 meters (70 feet) below. Trees broke his fall. He was able to grab one and by not moving much, fell no further.
Looking way down below, people could barely see that he was waving his arms. He was alive! How to get him out? There were no ropes, but there were tubular tires.
The mechanics and riders got together, made a rope of linked tires, and sent someone down the sheer cliff to rescue Van Est. When he got back up to the road, his first question was about his bike. He wanted to resume racing. He was forced to get into the waiting ambulance and go to the hospital for an examination. This was a bitter pill for the man in Yellow. He was fine, with just a few bruises and scratches. The entire Dutch team quit in solidarity.
Van Est went on to win more Tour stages and wore Yellow for a while in both the 1955 and the 1958 Tours.
Edwig Van Hooydonck
"Eddy Bosberg"
Edwig Van Hooydonck (born 4 August 1966 in Ekeren) is a former professional road racing cyclist from Belgium. He won the prestigious Tour of Flanders twice and Brabantse Pijl four times. He retired from professional cycling because he felt he could no longer compete with other cyclists, who were at the time starting to dope themselves, without himself cheating too. At this time Erythropoietin (EPO) was becoming a widely used doping agent in the sport.
He was nicknamed "Eddy Bosberg" because while winning the Ronde van Vlaanderen twice, in both races he made the decisive attack on the Bosberg, the final climb in the Tour of Flanders from 1973 to 2011.
One minor innovation in cycling credited to Van Hooydonk is three-quarter length bibshorts. After he had aggravated a knee problem during the 1989 Tour of Flanders, he had cycling shorts made that stretched below the knee, as an alternative to bandaging the knee.
Lucien Van Impe
"de kleine van Mere" (The little one from Mere)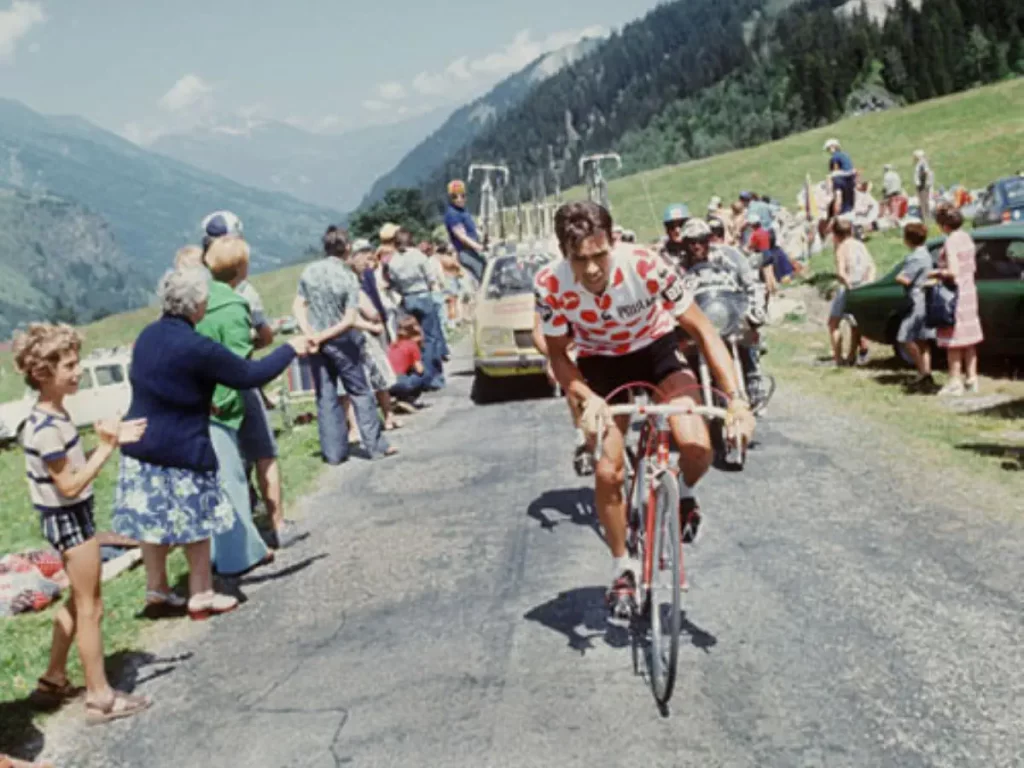 Lucien Van Impe (born 20 October 1946 in Mere, Belgium) was the winner of the 1976 Tour de France, and also six times winner of the mountains classification in the Tour. He earned his nickname "de kleine van Mere" (The little one from Mere) because of his little build.
He won the mountain classification of the Giro d'Italia twice (in 1982 and 1983 – in 1982 he was also second in the general classification, and in 1983 he won a stage). He won a stage in 1979 Vuelta a España.
Henri Van Kerckhove
"Speedy Van Kerckhove" (Kwik Van Kerckhove)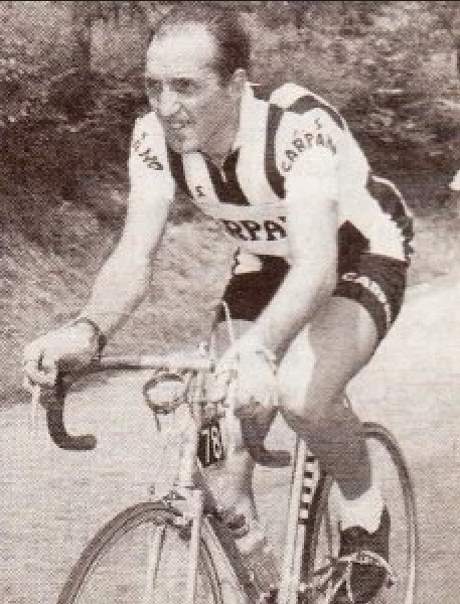 Henri Van Kerckhove (6 September 1926 – 4 November 1999) was a Belgian road cyclist who won a bronze medal at the 1946 World Championships. Next year he turned professional and won the Tour of Belgium in 1952 and 1954. He also rode the 1952 Tour de France and won individual stages of the Tour of Belgium (1948, 1949) and Ronde van Nederland (1949, 1952). His son Florent Van Kerckhove also became an elite road cyclist.
Henri Van Lerberghe
"The Death Rider of Lichtervelde"
Henri Van Lerberghe (Lichtervelde, 29 January 1891 – Lichtervelde, 10 April 1966) was a Belgian cyclist. He was nicknamed "The deathrider from Lichtervelde" (Dutch: Den Doodrijder Van Lichtervelde) because at the start of most races he would tell his opponents he would ride them to death. Van Lerberghe attacked early in the race, which made him popular amongst cycling fans, but this cost him a lot of energy, and he rarely was able to compete at the end of the race.
In the 1913 Tour de France, Van Lerberghe started in the isolated cyclists' category, which meant that he was not part of a team, but rode as an individual. In the fifth stage, the individual cyclists left fifteen minutes later than the cyclists in teams, but because the cyclists in teams were slow, Van Lerberghe was able to reach them and beat them to win the stage.
During the 1919 Ronde Van Vlaanderen (Tour of Flanders, 1919 was the third edition), Van Lerberghe attacked with 120 km to go against the wind, and it looked like one of his chanceless efforts. He saw a helper with a bag of food for Marcel Buysse, and after he convinced the helper that Buysse was already out of the race, Van Lerberghe took the food. Later, he had to stop because a train had stopped at a crossing. Van Lerberghe did not wait for the train to leave, but entered the train with his bicycle and left at the other side. He reached the finish with a margin of 14 minutes, the largest margin in the history of the Tour of Flanders.
Rik Van Looy
"King of the Classics", "Emperor of Herentals", "Rik II"
Henri ("Rik") Van Looy (born 20 December 1933 in Grobbendonk) is a Belgian cyclist of the post-war period, nicknamed the King of the Classics or Emperor of Herentals (after the small Belgian town where he lived), and Rik II (Rik Van Steenbergen was the Rik I). He became the world professional road race champion twice and was the first cyclist to win all five 'Monuments': the most prestigious one-day classics – a feat since achieved by just two others (both also Belgians: Roger De Vlaeminck and Eddy Merckx).
With 379 road victories, he's second to Eddy Merckx only. He is ninth on the all-time list of Grand Tour stage winners with thirty-seven victories.
His major victories include: Tour de France Points Classification (1963) and 7 stages (1963, 1965, 1969); Giro d'Italia Mountain classification (1960) and 12 stages (1959, 1960, 1961, 1962), Vuelta a España Points Classification (1959, 1965) and 18 stages (1958, 1959, 1964, 1965), Road Race World Championships (1960, 1961), Belgian National Road Race Championship (1958, 1963), Milan-San Remo (1958), Ronde Van Vlaanderen (Tour of Flanders) (1959, 1962), Paris-Roubaix (1961, 1962, 1965), Liège-Bastogne-Liège (1961) and Giro di Lombardia (1959).
Jac van Meer
"Jakske"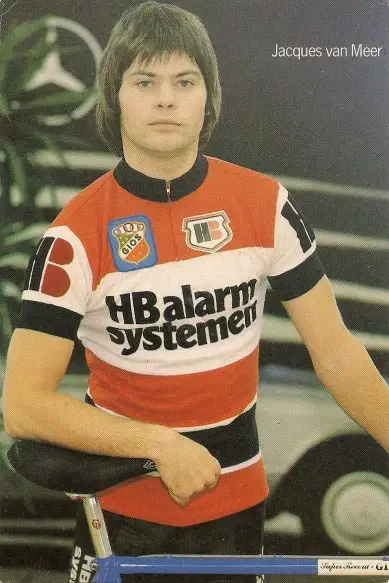 Jacobus "Jacques" van Meer was born on 18 May 1958 in Wouw, Netherlands. As an amateur, he won the Ronde van Limburg (Netherlands) and Omloop der Kempen in 1979. Next year he won a national title in the road race in 1980 and competed in this event at the 1980 Summer Olympics, finishing in 33rd place. After the Games, he turned professional and competed through the 1980s. His best achievement in the UCI World Tour races was 28th place in Vuelta a España in 1981. In 1983, he won Le Samyn and finished second in Paris-Camembert, both rated as 1.1 races.
Here is an interview with him on bikeraceinfo.com.
Peter van Petegem
"De Peet", "de zwarte van Brakel" (the black one from Brakel)
Peter van Petegem (born 18 January 1970 in Brakel, Belgium) rode as a classics specialist. He won Tour of Flanders twice (1999, 2003), Paris-Roubaix (2003), E3 Prijs Vlaanderen (1999), Omloop Het Volk (1997, 1998, 2002) and Scheldeprijs (1994). He also won Three Days of De Panne twice, in 1999 and 2002.
He was nicknamed "De Peet" and "de zwarte van Brakel" (the black one from Brakel).
Herman Van Springel
"Monsieur Bordeaux-Paris"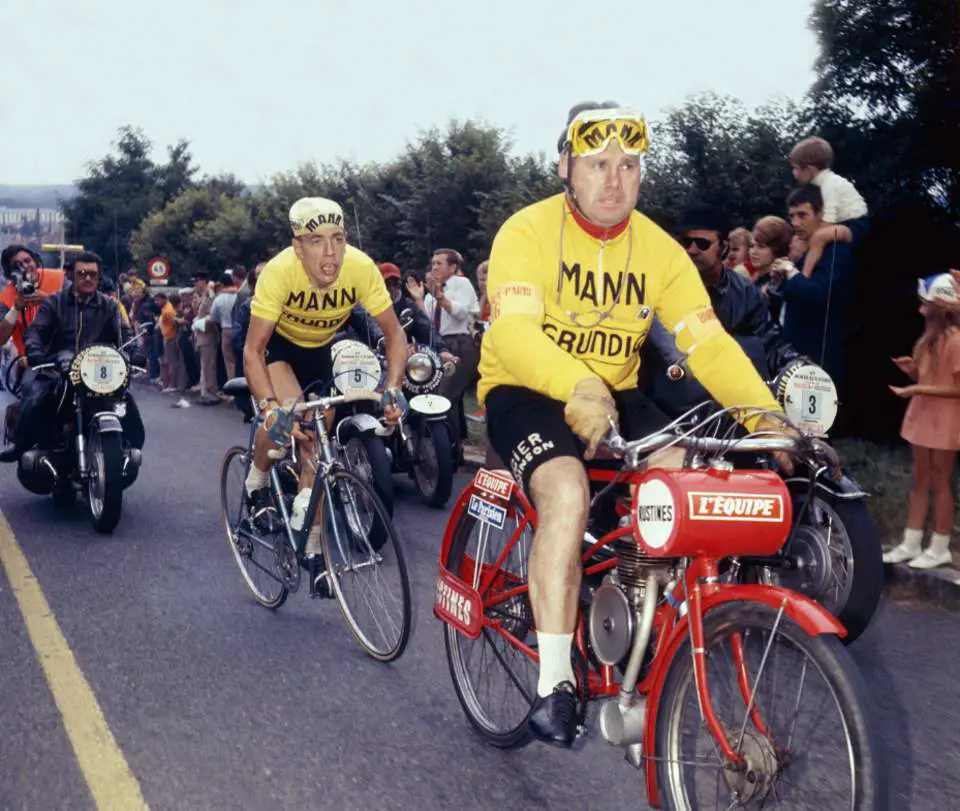 Herman Van Springel (born 14 August 1943, Belgium) was an accomplished time-trial rider, almost winning the Tour de France in 1968 when he was beaten in the last stage by Dutchman, Jan Janssen in a time trial. In the autumn that year, he won the classic Giro di Lombardia.
He won a record seven editions of the marathon Bordeaux–Paris (1970, 1974, 1975, 1977, 1978, 1980, 1981), that's why he was nicknamed "Monsieur Bordeaux-Paris". He also won the green jersey in the 1973 Tour de France without winning a single stage. However, he did win five stages during his ten participations in the Tour. He kept on cycling through the seventies and ended his long career at the end of 1981.
Bordeaux-Paris was one of Europe's Classic cycle races, and one of the longest in the professional calendar, covering approximately 560 km (350 mi). The event was first run on 23 May 1891, and the Derby of the Road as it was sometimes called, was notable in that riders were paced – allowed to slipstream – behind tandem or conventional cycles.
From 1931, the pacing was by motorcycles or small pedal-assisted Dernys. The pacing was also briefly by cars. In early events, the pacing was provided from Bordeaux. In later events, it was introduced part-way towards Paris. From 1946 to 1985, more than half the distance was paced, Dernys being introduced at Poitiers or Châtellerault, roughly half-way.
The professional event was held from 1891 until 1988. It was held as an amateur event in 2014.
Rik Van Steenbergen
"Rik I", "The Boss"
Rik Van Steenbergen (Arendonk, 9 September 1924 – Antwerp, 15 May 2003) was a Belgian cyclist, considered to be one of the best among the great number of successful Belgian cyclists. He was a triple world champion. His major wins include Road Race World Championships (1949, 1956, 1957), Ronde Van Vlaanderen (Tour of Flanders) (1944, 1946), Paris-Roubaix (1948, 1952), La Flèche Wallonne (1949, 1958), Paris-Brussels (1950) and Milan-San Remo (1954). He was nicknamed Rik I (Rik II is Rik Van Looy) and "The Boss".
Frans Verbeeck
"The Flying Milkman"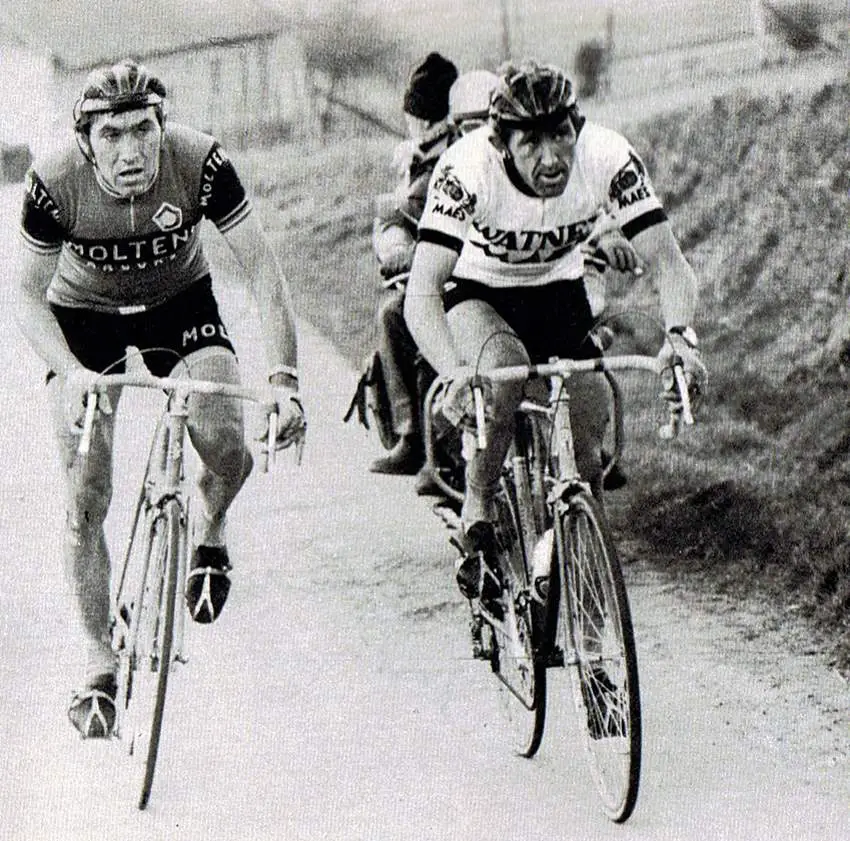 Frans Verbeeck was born in Langdorp, Belgium on 13 June 1941. He was a classics specialist, his major wins include: Amstel Gold Race (1970), Omloop Het Volk (twice – 1970, 1972), La Flèche Wallonne (1974) and Brabantse Pijl (1977). He was also the national road champion in 1973. But, he was also another "eternal second": he was seventeen times a runner-up in major one-day races. He mostly lost out these races to Eddy Merckx.
René Vermandel
"The Belgian Lapize"
René Vermandel (23 March 1893 – 20 April 1958) was one of the most successful Belgian road racers of the 1920s. In 1921 he became Belgian champion in the cross-country race, in the same year he won both the Tour of Belgium and the Tour of Flanders (Ronde van Vlaanderen). In 1922 again he won the Tour of Belgium. He also won the Liège-Bastogne-Liège (1923 and 1924). In 1922 and 1924 he was the Belgian champion in the road race.
Once, in 1921, he also took part in the Tour de France but gave up in the third stage. He finished in 2nd place in the 1923 Paris-Roubaix and 4th place in the 1921 Paris-Roubaix.
René Vermandel was nicknamed the "Belgian Lapize", probably because of his curly hair.
René Vietto
"King René" (Le Roi René)
René Vietto (17 February 1914, Le Cannet, Alpes-Maritimes – 14 October 1988, Orange, Vaucluse) was a French cyclist.
In the 1934 Tour de France, Vietto, a relative unknown, got wings on the mountains. This was not a surprise, because he had won the Grand Prix Wolber. He was prepared for the Alps and won easily on the steepest terrain. After he won the two major Alpine stages, journalists reported that this 'boy' could be the purest mountain climber that France knew.
During the 1934 Tour, he was poised to be race leader after his team leader Antonin Magne crashed during stage 16. Vietto was unaware of Magne's situation; his advantage gave him the virtual race lead. A marshal on a motorcycle caught Vietto to inform him his captain was on the side of the road, with team-mate Lapébie ahead, and the other team-mates behind the yellow jersey.
Vietto turned and rode back up the mountain into the descending riders (at the time, reversing course was legal, but is no longer so), to give Magne his bike. Magne mounted Vietto's bike and with Lapébie closed the gap to preserve his overall lead and win the Tour. A photograph shows Vietto sitting on a stone wall as the race passes.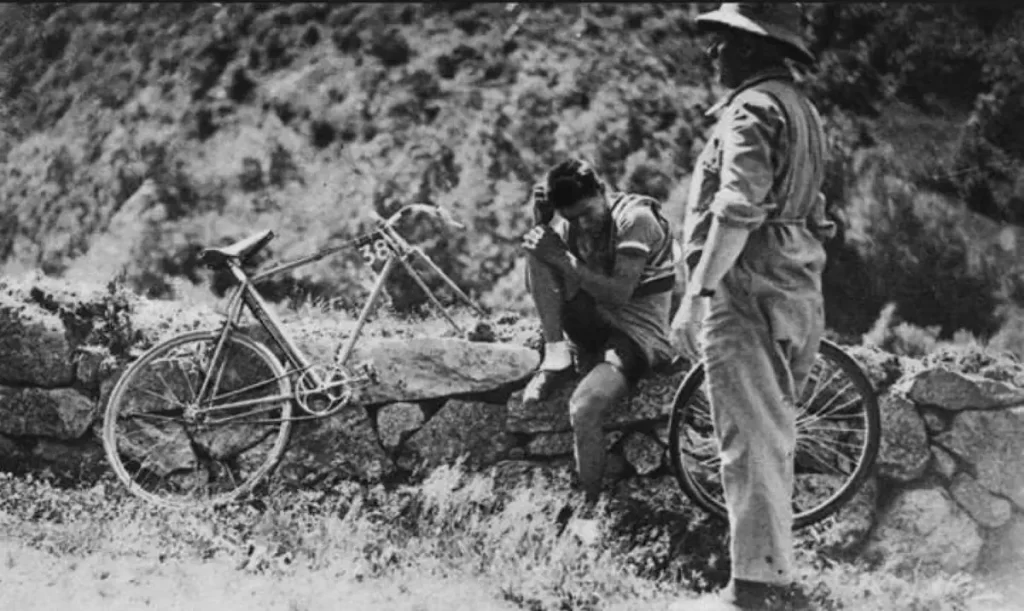 This made him a star in France. The image of a 20-year-old who sacrificed his chance of winning the Tour doubled his popularity. Vietto was nevertheless named the Tour's best climber; he finished 5th overall, almost 1 hour behind Magne. Vietto never won the Tour.
He was closest in 1939 when he gained the yellow jersey in Lorient in one of the first stages, but in the mountains, once his favorite place, he was left by Sylvère Maes. After that Tour, war broke out and the race wasn't held until 1947. Vietto, still loved, attacked from the second stage. As a result, he took the yellow jersey in Brussels, to lose it two days before the finish, in a time trial of 139 km.
Despite failing to hold the lead, Vietto wore the yellow jersey for 15 stages during the 1938 Tour de France and during the 1947 Tour de France for 14 stages. He finished second in 1939, fifth in 1934 and 1947, and eighth in 1935. Until Fabian Cancellara broke his record in the 2012 Tour de France, Vietto had the highest career yellow jersey statistics of anyone to never win the Tour de France overall.
Vietto lost a toe to sepsis in 1947. Legend has it that Vietto insisted his domestique, Apo Lazarides, cut off one of his own toes to match. According to legend, Vietto's toe is in formaldehyde in a bar in Marseilles.
Alexander Vinokourov
"Vino"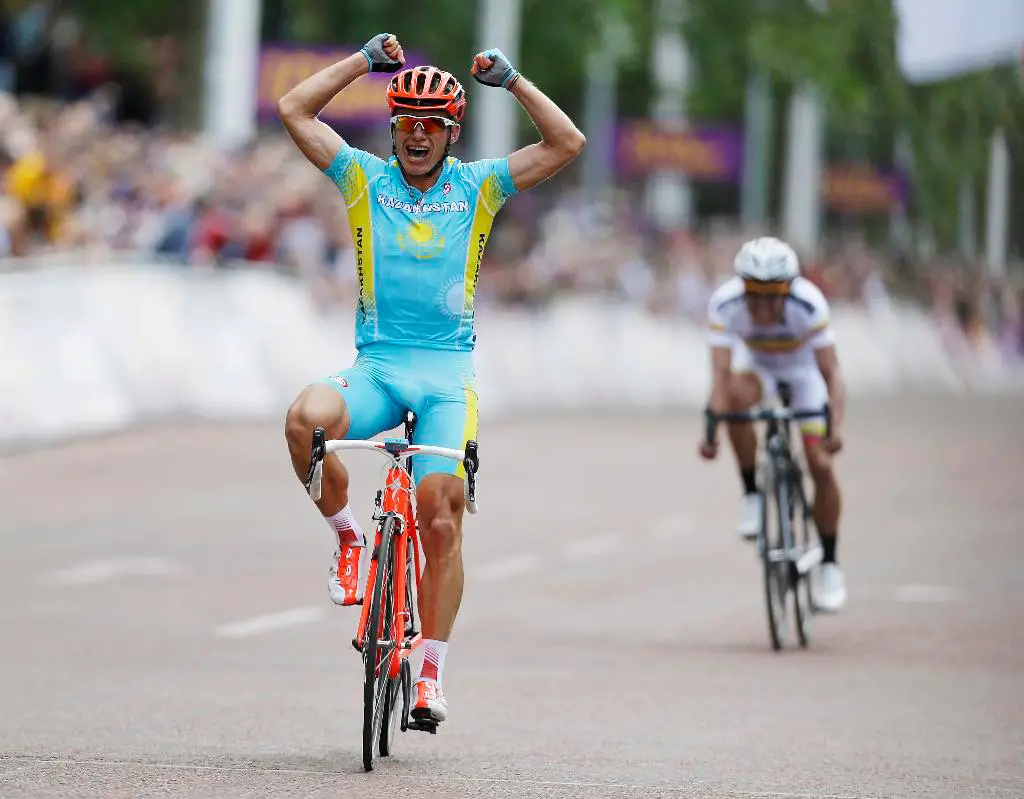 Alexander Nikolayevich Vinokourov was born on 16 September 1973 in Petropavl, Kazakhstan. He began cycling at the age of 11. As a competitor, his achievements include two bronze medals at the World Championships, four stage wins in the Tour de France, four in the Vuelta a España plus the overall title in 2006, two Liège-Bastogne-Liège monuments, one Amstel Gold Race, and most recently, the gold medal at the 2012 London Olympics Men's Road Race. Vinokourov is a past national champion of Kazakhstan and a dual-medalist at the Summer Olympics.
He is currently the general manager of UCI ProTeam Astana (as of 2019).
Thomas Voeckler
"Ti-Blanc", "Le Chouchou"
Thomas Voeckler was born on 22 June 1979 in Schiltigheim, Alsace, France. He turned professional in 2001. Since then, he won the Tour de France Mountains classification (2012) and 4 individual stages (2009, 2010, 2012). Other major wins are Stage races – Tour de Luxembourg (2003), Four Days of Dunkirk (2011), Route du Sud (2006, 2013), Tour La Provence (2016), Tour de Yorkshire (2016); One-day races and Classics – National Road Race Championships (2004, 2010), GP Ouest-France (2007), GP de Québec (2010), Brabantse Pijl (2012).
Voeckler spent all his career in the same team: originally Bonjour, then went under the name of Brioches La Boulangère (2003-2004), Bouygues Télécom (2005-2008), Bbox Bouygues Telecom (2009-2010), Team Europcar (2011-2015) and Direct Énergie (2016-).
In September 2016, he announced that he will retire at the end of the 2017 Tour de France.
Voeckler was nicknamed "Ti-Blanc" (a contraction of petit blanc, the literal translation of which is "little white") due to his small stature and pale complexion.
By Surname: A B C D E F G H I J K L M N O P Q R S T U V W
Sources
Latest posts by M. Özgür Nevres
(see all)