Giovanni Rossignoli was the hidden winner of two Giri d'Italia. He never won the Italian grand tour, but, in fact, he was the fastest finisher – twice.
In the early years of Giro d'Italia, the winner was decided by a point system: After each stage, the stage winner had earned one point, the second finisher two points, and so on, and so- forth down to 50th, 51th, and the others each awarded 51 points.
The first Giro (1909) was won by Luigi Ganna (see notes 1), he accumulated 25 points overall. With 28 points, Carlo Galetti (see notes 2) took second overall.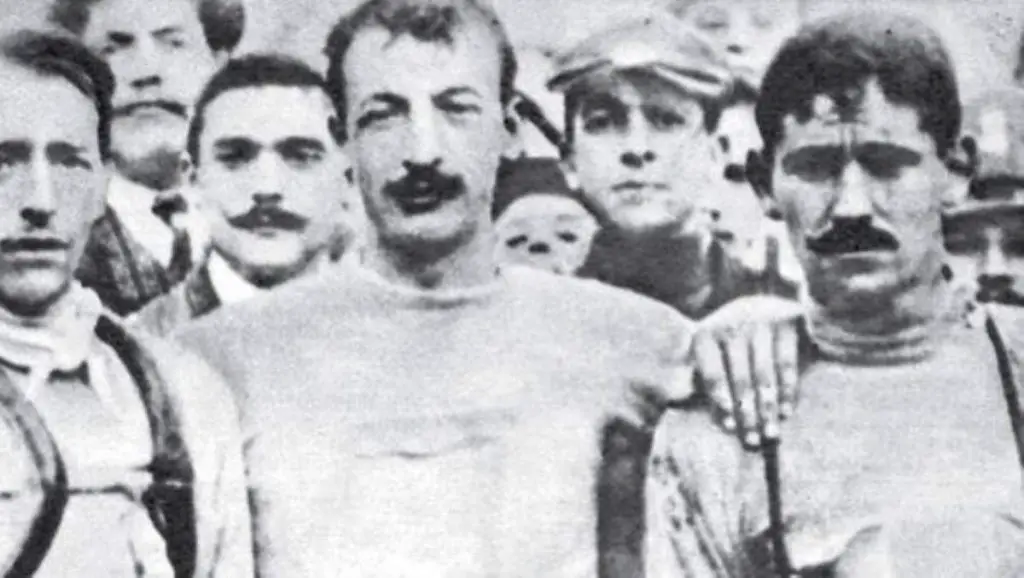 Giovanni Rossignoli
The third overall with 40 points was Giovanni Rossignoli (see notes 3). But his finishing time was some 50 minutes superior to that of Ganna! That means, if they were racing in the modern era, the winner would be Rossignoli. Rossignoli would finish second again in the 1911 Giro, his time on the road again over half an hour less than the overall victor (Carlo Galetti). He paid heavily for his inability to sprint, it cost him the Giro on two separate occasions. He would give up trying to win the Giro in 1927, aged 45.
On 6 May 1954, Rossignoli, dying in a hospital in Pavia, would receive an unexpected and very welcome visitor as Giovanni Gerbi, the old "Red Devil" himself (see notes 4), appeared at his bedside. He reminded his old mate of the day they'd cycled together from Milan to Paris in order to take part in the Tour de France, then wished him luck and took his leave.
Driving home that night Gerbi, still addicted to speed, totaled his sports car. Though badly injured, he escaped the wreckage before being confined to a hospital bed of his own. The Devil, though, was having none of it. He hauled himself up, famously proclaiming that "if I'm to die, I'll do it on my feet." And then he did. Die. Rossignoli, ever the bridesmaid, finished second again, trailing into the great peloton in the sky some six weeks later (see notes 5).
NOTES
Luigi Ganna (December 1, 1883 – October 2, 1957) was an Italian professional road racing cyclist. The highlights of his career were his overall win in the first Giro d'Italia, held in 1909, and victory in the classic Milan – San Remo earlier that year. He was born in Induno Olona, near Varese, in Lombardy.
Carlo Galetti (26 August 1882 – 2 April 1949) was an Italian professional road racing cyclist. He was born in Corsico. The highlight of his career was his three consecutive overall wins in 1910, 1911, and 1912 Giri d'Italia, the last of which was won as part of Team Atala along with Giovanni Micheletto and Eberardo Pavesi. He died in Milan in 1949.
Giovanni Rossignoli (In the "Maglia Rosa" by Herbie Skyes, his name appears as Baslòt Rossignoli, Baslòt was his nickname) (3 December 1882 – 27 June 1954) was an Italian professional road bicycle racer who won 3 Giro d'Italia stages during his career.
Giovanni Gerbi (born 20 May 1885 in Trincere, a frazione of Asti, Piedmont, died 6 May 1954 in Asti) was an Italian road racing cyclist. He was nicknamed the "red devil", due to his red jersey and his "never-say-die" attitude. In 1905, he won the first Giro di Lombardia. In 1911, he finished third in the Giro d'Italia. He held the world "6 hours" record in 1913 with 208.161 km. Between 1921 and 1925, he did not race. He began racing again in 1926. Failing to get a single result, he retired from racing.
"Maglia Rosa" – Triumph and Tragedy at Giro d'Italia by Herbie Skyes, Rouleur Limited, 2011. Pages 17-25.
Sources
Latest posts by M. Özgür Nevres
(see all)