"Au Vélodrome", also known as "At the Cycle-Race Track" and "Le cycliste", is a painting by the French painter Jean Metzinger. According to the art historian Erasmus Weddigen, it illustrates the final meters of the Paris-Roubaix monumental classic and portrays its 1912 winner Charles Crupelandt (1886-1955).
The painting was acquired by Peggy Guggenheim in 1945 and is now permanently on view in her museum in Venice; Peggy Guggenheim Collection.
Jean Metzinger (June 24, 1883- November 3, 1956) was a major 20th-century French painter, writer, critic, poet, and sensitive and intelligent theoretician. Along with Pablo Picasso, Georges Braque, and Albert Gleizes, developed the art style known as Cubism.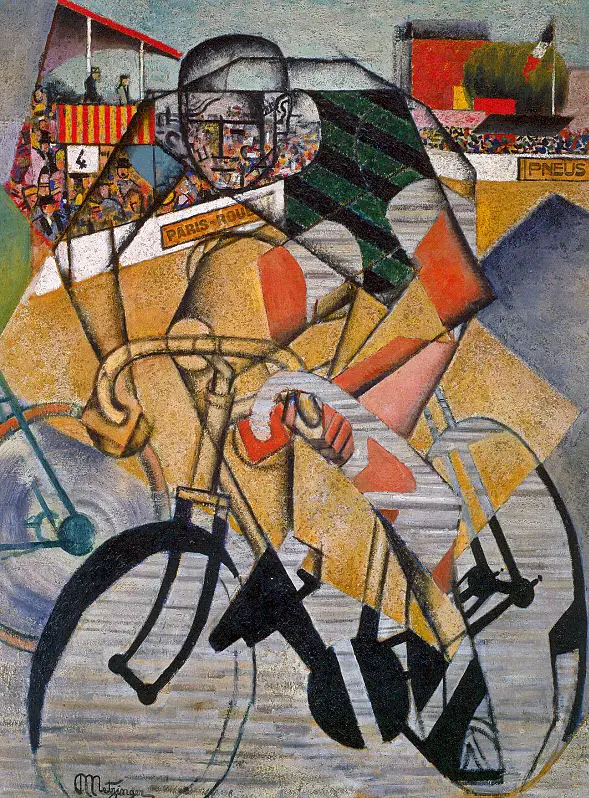 Metzinger's painting was the first in Modernist art to represent a specific sporting event and its champion.
"Au Vélodrome" is an oil, sand, and collage on canvas painted in a vertical format with dimensions 130.4 × 97.1 cm (51 3/8 × 38 1/4 in), signed JMetzinger towards the lower left.
In 2012, one hundred years after it was painted, Metzinger's Vélodrome was showcased in an exhibition entitled Cycling, Cubo‐Futurism, and the 4th Dimension. Jean Metzinger's "At the Cycle‐Race Track", at the Peggy Guggenheim Collection in Venice, Italy.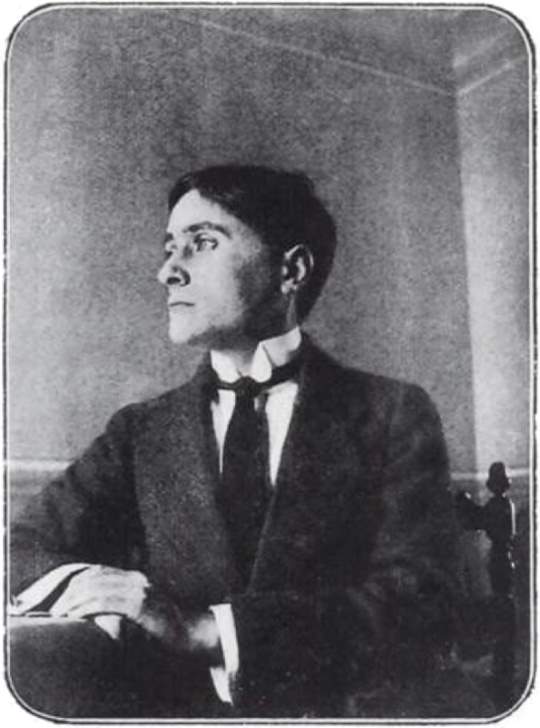 Charles Crupelandt, the cyclist on Metzinger's "Au Vélodrome" painting
Charles Crupelandt (23 October 1886, Wattrelos, Nord – 18 February 1955, Roubaix) was a French professional road bicycle racer. He won stages in the Tour de France, but his biggest successes were the 1912 and 1914 Paris-Roubaix. The last cobbled section (300 meters long) of the race, just before the velodrome, is named Espace Charles Crupelandt.
A native of Roubaix, Crupelandt participated in Paris-Roubaix for the first time in 1904 and finished the race in the thirteenth position. After completing his military service in 1908 and 1909, he returned to competition in 1910. That year, he won a stage in the Tour de France which took place between Paris and Roubaix.
Charles Crupelandt won two stages during the Tour de France 1911, which earned him to be welcomed in Roubaix by a dense crowd and to be received at the town hall of the city.
The following year, in 1912, he won the Paris-Roubaix by beating Gustave Garrigou in the sprint and became the first and only Roubaix native to win the race.
Two years later, he won the "queen of the classics" again and also became the French national champion.
During the First World War, Crupelandt was awarded the Croix de Guerre (see notes 1) in 1915 and was wounded twice.
But, three years later, Crupelandt was arrested for stealing car batteries in Chatou (a commune in the Yvelines department in the Île-de-France region in north-central France). He was then sentenced to two years in prison.
After being released from prison, he wanted to resume competition in 1921, but he was prevented from doing so by the Union Vélocipédique de France, which refused to grant him a license because of this past crime. He then ran in a dissident federation, the Société des courses.
In 1923, without being officially registered, Crupelandt joined the Paris-Roubaix peloton and finished the race among the best.
He then sold bicycles for a few years. He has also run a bistro in Roubaix.
Suffering from diabetes, he died in the town on February 18, 1955. At the time of his death, both his legs were amputated, he was almost blind and living in great poverty.
Notes
The Croix de Guerre (Cross of War) is a military decoration of France. It was first created in 1915 and consists of a square-cross medal on two crossed swords, hanging from a ribbon with various degree pins. The decoration was awarded during World War I, again in World War II, and in other conflicts. It may be awarded either as an individual award or as a unit award to those soldiers who distinguish themselves by acts of heroism involving combat with the enemy.
Sources
Latest posts by M. Özgür Nevres
(see all)