During the pandemic period, electric bikes have been becoming one of the best means of commuting. But not all electric bikes are suitable for the old, especially those who have physical or mental disabilities, health issues, or personal challenges. By manufacturing electric tricycles for adults, however, the ADDMOTOR e-bike store makes cycling possible for the elders again.
The electric trike has so many unexpected advantages that could be the game changer of your life. First of all, as a 3-wheeler for adults, electric tricycle bikes are more stable and easy to keep balance than electric bikes. If you have poor balance or do not want to pay attention to balancing, a trike is a good choice. Because of the more physical space, a trike takes up, more storage space is available as well, which means you can carry more while riding. Equipped with a rear rack for storage, e-trike for adults and seniors helps you get a better experience of running errands, family camping, and delivery.
Riding an electric trike is conducive to both your physical and mental health. Enjoying the outdoors was people's wild wish during the pandemic period. But now, it's time to cycle around the cities and conquer the hills again. And e-trike is definitely one of the best options for people to do so. Even those with limited abilities are capable of covering more ground while doing exercise.
Electric bike trikes are more environmentally-friendly than cars that use fuel. Powered by rechargeable lithium-ion batteries, 3-wheel electric bikes for adults help to alleviate the environmental pressure these days, becoming one of the most eco-friendly alternatives to commuting. With gas prices hovering, three-wheel electric bikes provide people with a more economic and convenient way to come and go.
However, three-wheeler adult electric trikes also have a lot of disadvantages. Because it's monster-sized and weighs, it takes up more space in your garage and is hard to take to somewhere far away from your place. For people who are commuting every day, heavy traffic is one of their dilemmas. E-trikes do have more mobility than cars on the street, but they cannot go freely in the city compared to electric bikes. For those who ride the trike for the first time, electric tricycles for adults are much more difficult to steer and they need to take some time to get used to them.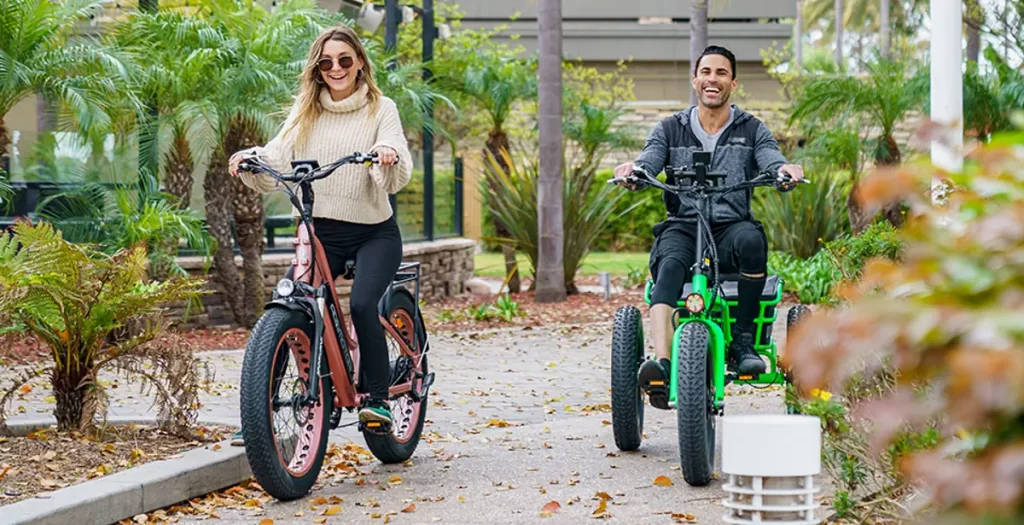 It is a nightmare when your battery runs out suddenly on the road. An electric trike for adults is so heavy that it's difficult to ride it back home by self-propel. As an electric vehicle, e-trikes like all his brothers and sisters- electric bikes, electric scooters, electric cars, and other electric vehicles, need to be charged every day, which means several hours should wait before you get your ride fully recharged.
The Best Addmotor Electric Trikes Are Here:
Addmotor M340 electric trike has a step-thru frame design making it easy to get on and off the bike. You can rest your legs or carry your belongings on the wood board. Its super-large capacity alloy rear basket with a waterproof storage bag is convenient for running errands or taking your lovely pet with you.
The 2022 latest electric trike M-340 combines all the features from Addmotor electric trikes like M-330, M-350, and M360, which will give you the most impressive experience.
If you want to enjoy more comfort during your ride, Addmotor has another electric trike- the M-360, a semi-recumbent electric trike The M-360 is an exclusive design for those who have back issues. It is the ultimate ride for comfort, cruising, and riding through uneven terrains.
With the reclined seating, get comfortable and enjoy the ride without frequently repositioning your lower back. The crank-forward trikes give people with spine problems a more comfortable riding position that is more upright and longer riding time because of the improved riding position. This trike is also designed with a large-capacity rear storage bag allowing you to take your belongings with you as you go.
Latest posts by Robert Farnum
(see all)