If you want to hit the road with comfort and style every day, then the Addmotor M-360 electric trike is the perfect choice for you. It is one of the best electric trikes that is an unbeatable deal for all riders. This e-bike is lightweight and strong and allows you to safely move smoothly on the road. The fat all-terrain tires will help you to handle the bicycle and move it on the road swiftly. This e-trike is designed to expand your adventures and everyday travels. Let's learn more about the fan favorite Addmotor M-360 semi-recumbent electric trike.
4 Bright Color Options
This electric trike is available in 4 bright colors. You can choose the color of your choice and travel with style and class. The electric trikes with captivating colors are appealing to the eye and make you fall in love with your favorite trike at first sight. You can pick from four striking colors: green, orange, pearl white, and blue. The buyers can choose the color options at Addmotor and instantly place their orders. Every person has a different choice when it comes to colors. Why not add some style to your life by choosing a vibrant color?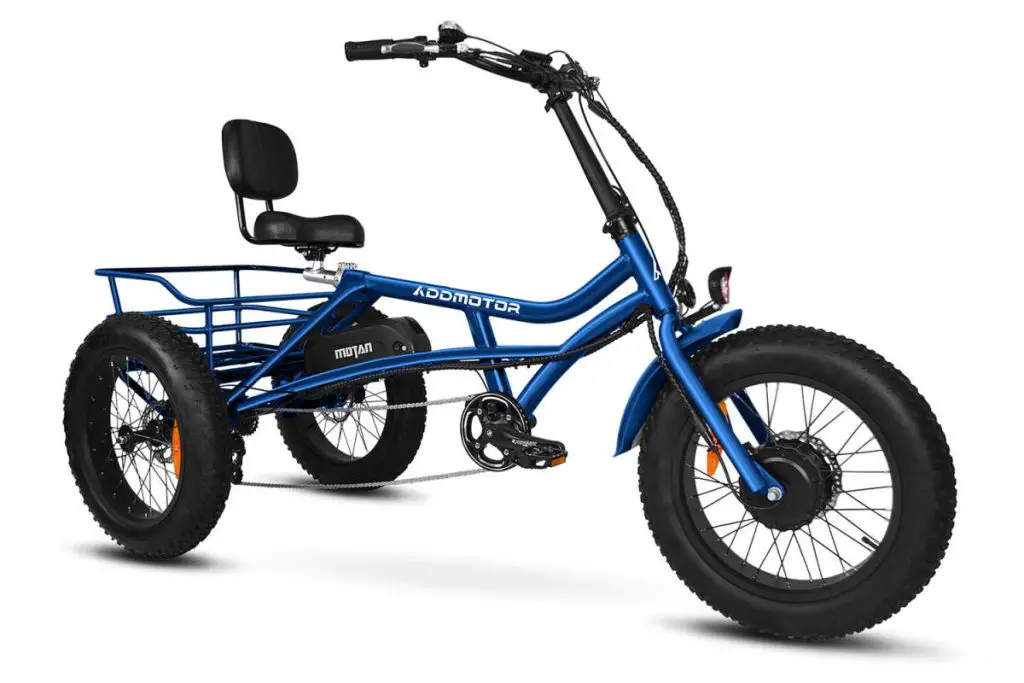 Constructed With A Fat Tire
The three-wheel structure of the Addmotor M360 will allow you to move stably on all-terrain roads. This is one of the most impressive fat tire electric trikes that easily move smoothly on slippery and terrain roads. The semi-recumbent design allows the rider to traverse uneven terrains comfortably.
If you love to cruise around the beaches to catch the fresh air, then buying this excellent e-bike is the ideal choice. It is designed with wider tires that offer stability over varied terrain. The improved ergonomics make it a suitable choice for a broader range of riders. The three fat tires make this a comfortable model and will make it easy for you to take on any adventure.
With Addmotor M-360 Semi-Recumbent Electric Trike Enjoy The Ultimate Riding Experience
The M-360 e-trikes ensure that you get a comfortable ride on the road. You can enjoy a longer ride with a lot of comfort and safety. It is a natural go-getter and the perfect electric fat trike for beginners and professional riders. You can explore new cities and campgrounds while riding on the bike as it offers a seamless riding experience. The riders can stroll around the neighborhood with complete safety as it gives you the ultimate riding experience.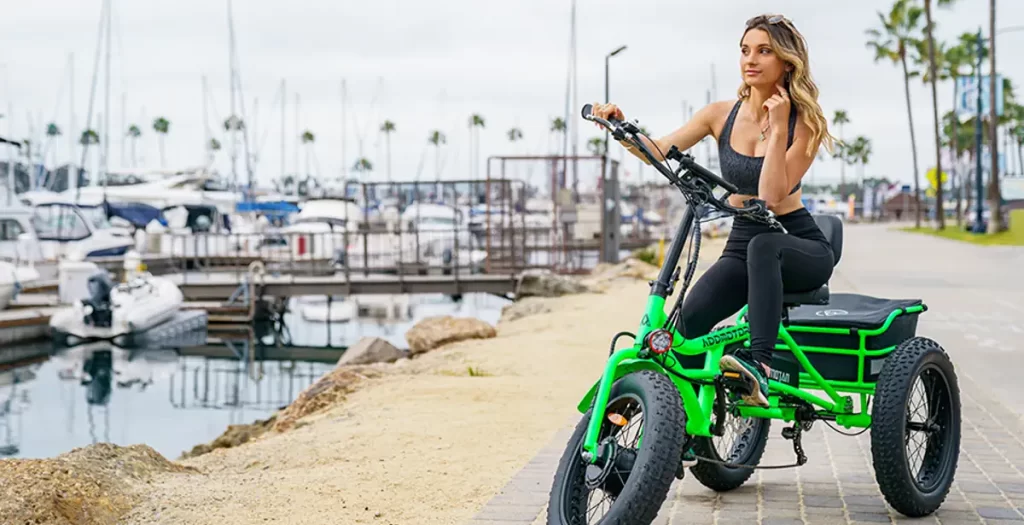 750W Front Mounted Motor
Addmotor M-360 is one of the best electric trikes for seniors as it is designed with a long-lasting battery and powerful motor. The motor is reliable and will allow you to ride the e-trike without any trouble or interruptions. The M-360 is equipped with a Bafang 750W hub motor that makes the bike powerful. The 3-wheel electric bikes like M-360 can carry about 100lbs items easily. You will be able to climb the hills and accelerate quickly on this beautiful e-bike. The high-quality Samsung battery gives this bike excellent longevity.
55 Miles (88 km) Riding Range
The three-wheel electric bike is designed with 4" fat tires and an exclusive semi-recumbent design. This feature allows the e-bike to give a memorable and comfortable riding experience. If you wish to enjoy a comfortable and long ride, then you should get an M-360. You can travel miles after miles without worrying about the bike getting damaged or punctured.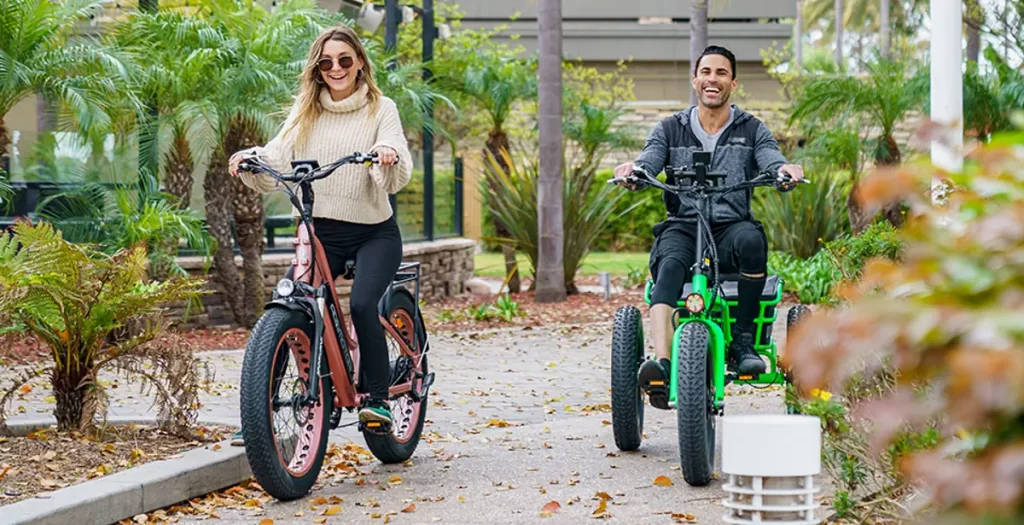 Improved Ergonomics
The semi-recumbent electric trike offers improved ergonomics and is suitable for a wider range of riders. It is designed with an adjustable high-rise handlebar that can easily move in or back. The heavy-duty rear rack allows you to load it up with cargo. You can take the trip to the store with complete comfort.
Riders can ride on any kind of path without any trouble. The step-thru design is ideal for riders that have limited mobility. It also makes it easier to get on and off the bike. You can also balance loads on the rear rack with complete safety.
Wide Range Of Features
Addmotor M-360 features waterproof connectors that make it easy to ride even in bad weather conditions. You can safely ride on the e-trike in the rainy season as it is designed with a headlight and taillight.
The puncture-resistant tires will let you speed up on the terrain and uneven roads. It is designed with a premium quality alloy frame that ensures you charge up the hills and zip across intersections. Due to these features, you can enjoy a comfortable ride.
Conclusion
Addmotor M-360 comes with extensive and powerful features. It is one of the best electric tires on the market and is one of the best choices for E-bike lovers. You can buy this electric trike from Addmotor at affordable prices. Addmotor offers various tricks that are highly durable and of a high standard.
Latest posts by Robert Farnum
(see all)