Electric vehicles have been gaining more and more attention ever since gas prices started to rise. Many cyclists tend to own an electric tricycle/bicycle. Also, the convenience and versatility of an electric tricycle make it a more excellent choice than the bicycle. But indeed, they are a considerable investment. So you may hesitate to choose an e-trike when you can have a traditional bike or trike. Then here are the pros of riding an electric fat tire trike to help you make a decision!
Electric Fat Tire Trikes Encourage Further Travel And Outdoor Fun
Cycling is an excellent kind of physical activity. Riding an electric trike can help you get more exercise. While pedaling on an electric trike is far more enjoyable than on a traditional bicycle. Pedal-assist and throttle modes are standard features on Addmotor electric tricycles. 5 to 7 levels of pedal-assist mode make it easier and more efficient to control the riding speed.
Plus, a tricycle's step-through structure and three wheels make it easier to maneuver and more stable than an electric bike. So you have no stress to travel faster and further, just go outside and have fun.
More Transport Capacity
Most electric tricycles can be fitted with a front basket and a rear basket to store more items. Coupled with an electric motor, it can take heavy cargo without too much effort. Especially, Addmotor electric tricycle is equipped with a free rear basket with 100lbs carrying capacity and a waterproof rear basket liner. Therefore, you can feel free to go shopping and make deliveries in your spare time.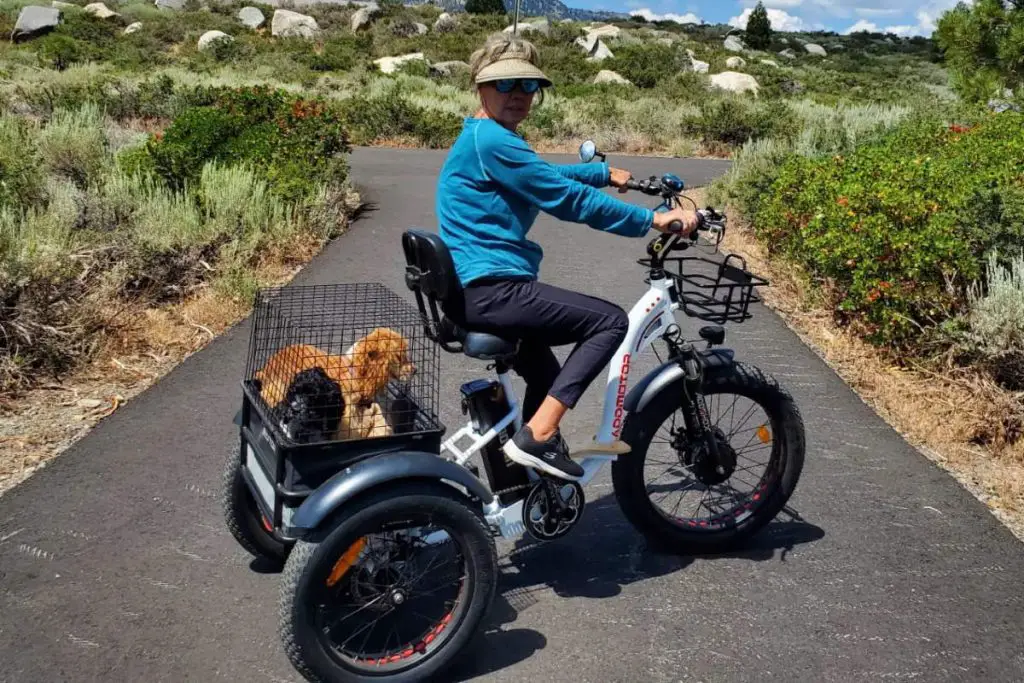 Gas-Free, Eco-Friendly
Interested in saving our planet? We've put environmental preservation at the top of our list of priorities. Because it produces no hazardous gases, it is environmentally friendly. There should be more e-trikes in the fleet. A single battery can power up to 55-65 kilometers (34-40 miles) worth of electric tricycles. Commuting, delivering, shopping, and camping are all possible on these fuel-free tricycles.
No License Needed
Everywhere a bicycle can go, so can a tricycle. Every type of bicycle is subject to the same rules and regulations. In the same way that cars must have a license, bicycles do as well. Before you get behind the wheel, check your state's rules.
E-Trikes Are Considered Safer
Because electric tricycles do not easily tip over, they are safer than bicycles. The stability reduces the risk of injury. Also, to improve visibility, some tricycle riders use extra lights and fluorescent materials. By installing fiberglass flag poles, your tricycle's visibility and safety will be improved.
Fat Tires Provide Better Shock Absorption
A rider should experiment with several PSI settings to find the one that works best for them, their riding style, and the terrain they are riding on. Usually, dirt tracks and concrete demand a PSI of 15, whereas new snow requires as little as 5 PSI. Shock absorption and comfort are improved by high PSI fat tires, but traction is improved by low PSI them.
Fat Tire Electric Trikes Suit For More Terrains
In terms of climbing and trail riding, fat-tire e-bikes are the best. More significantly, fatter tires may be able to absorb shocks better. It is more difficult to stop and ride an e-trike with thin tires. Addmotor M-360 semi-recumbent e-trike and M-340 e-trike both come with fat tires, which are versatile and may be used in any environment.
Also, the fatter tires on electric bikes make them safer to ride. Separately, the M-360 semi-recumbent electric tricycle is more suitable for the elderly and people with limited mobility, and the M-340 electric fat trike is ideal for shopping, commuting, and adventure riding.
Despite their large tires, fat bikes are not challenging to ride. the 4″ tires on the M-340 are hard to puncture. The cost-effective rubber becomes an excellent pressure reliever and cushion. As a result, the M-340 Model 2022 offers the most enjoyable ride of any Addmotor trike to date.
Conclusion
Fat tire electric tricycles are becoming increasingly popular among cyclists. People of all ages are suitable for riding fat tire e-bikes. Electric tricycles with fat tires are on sale, and I hope you can choose the right one.
Latest posts by Robert Farnum
(see all)