Giro d'Italia 2013 Stage 14 is a high mountain stage with summit finish, between Cervere and Bardonecchia (Jafferau). The length of the course is 168 kilometers. The route contains the famous Sestriere climb.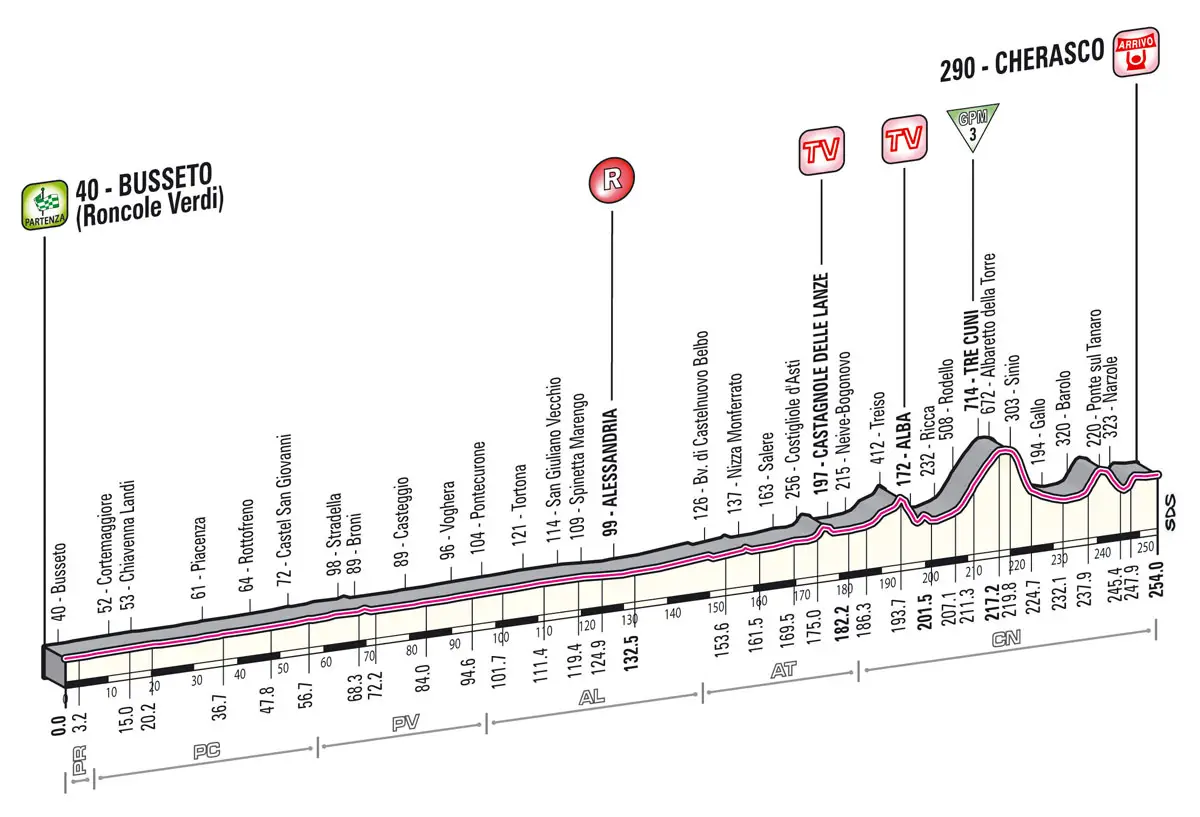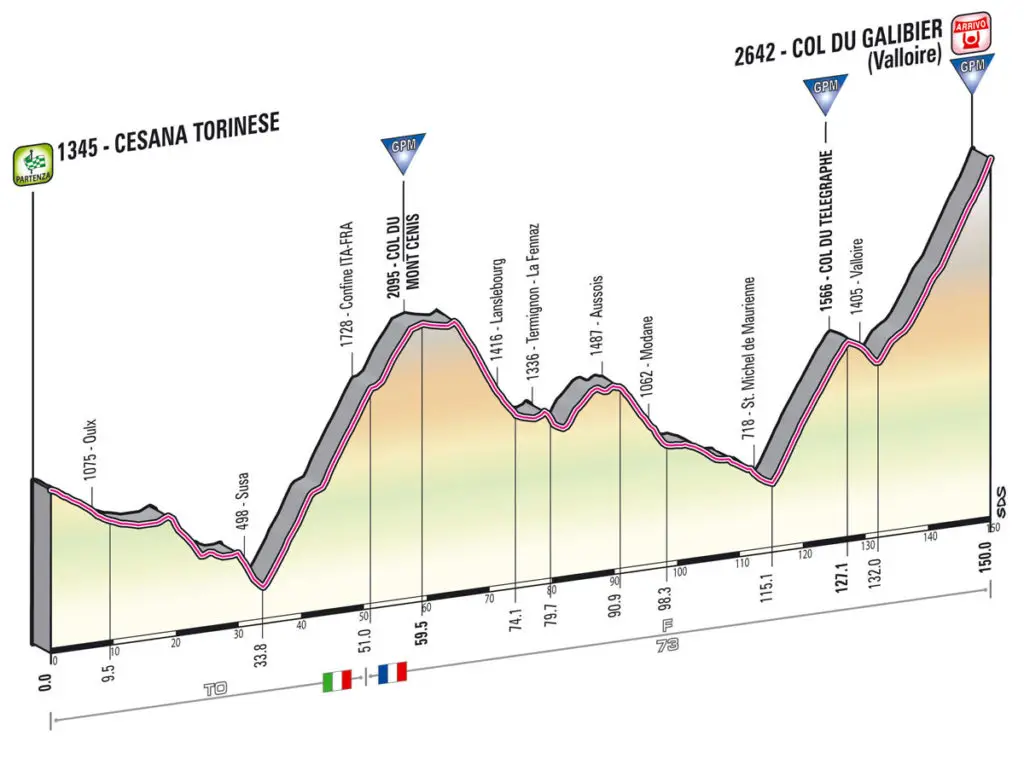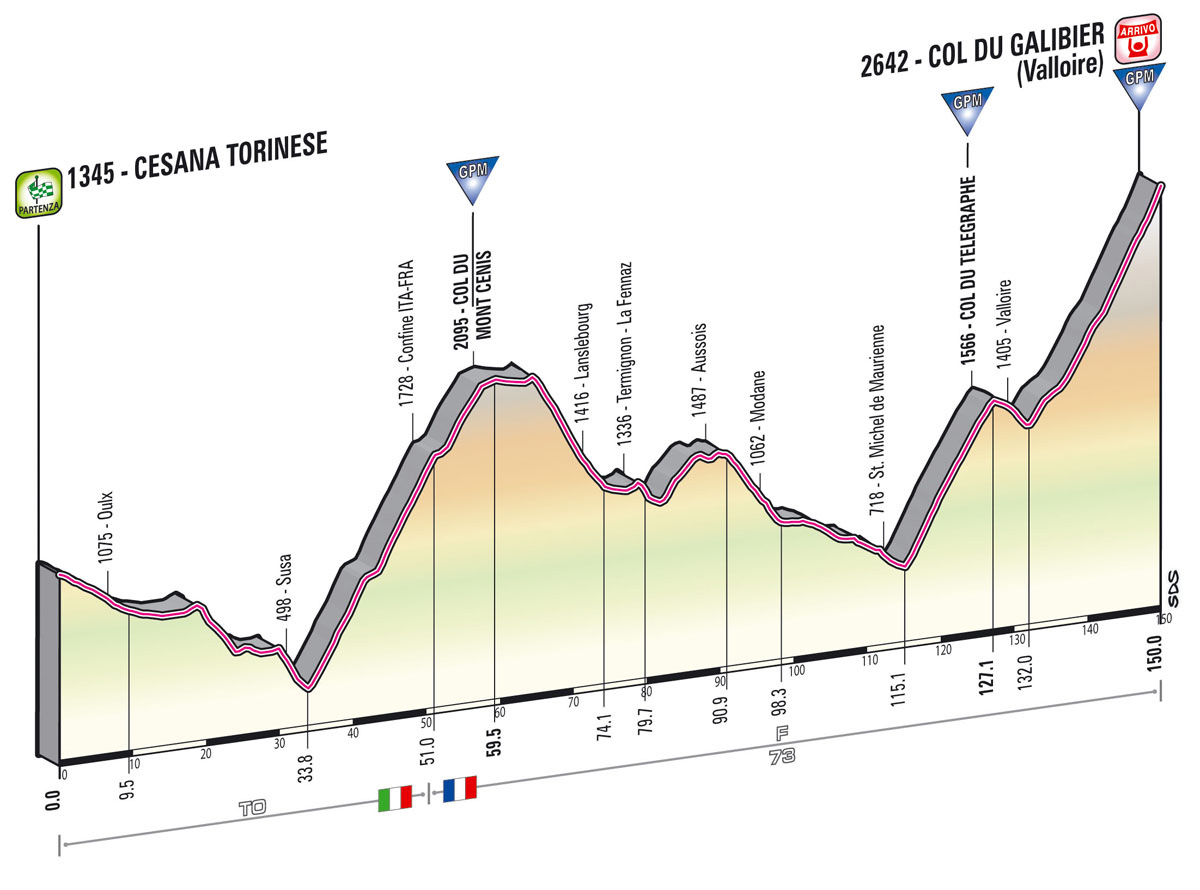 Giro d'Italia 2013 Stage 14 quick info
DATE: May 18, 2013, Saturday
STAGE TYPE: High Mountain with Summit Finish
START-FINISH: Cervere (315 m) > Bardonecchia (Jafferau) (1908 m)
LENGTH OF THE COURSE: 168 km
DIFFICULTY:
Giro d'Italia 2013 Stage 14 Profile
Giro d'Italia 2013 Stage 14 Map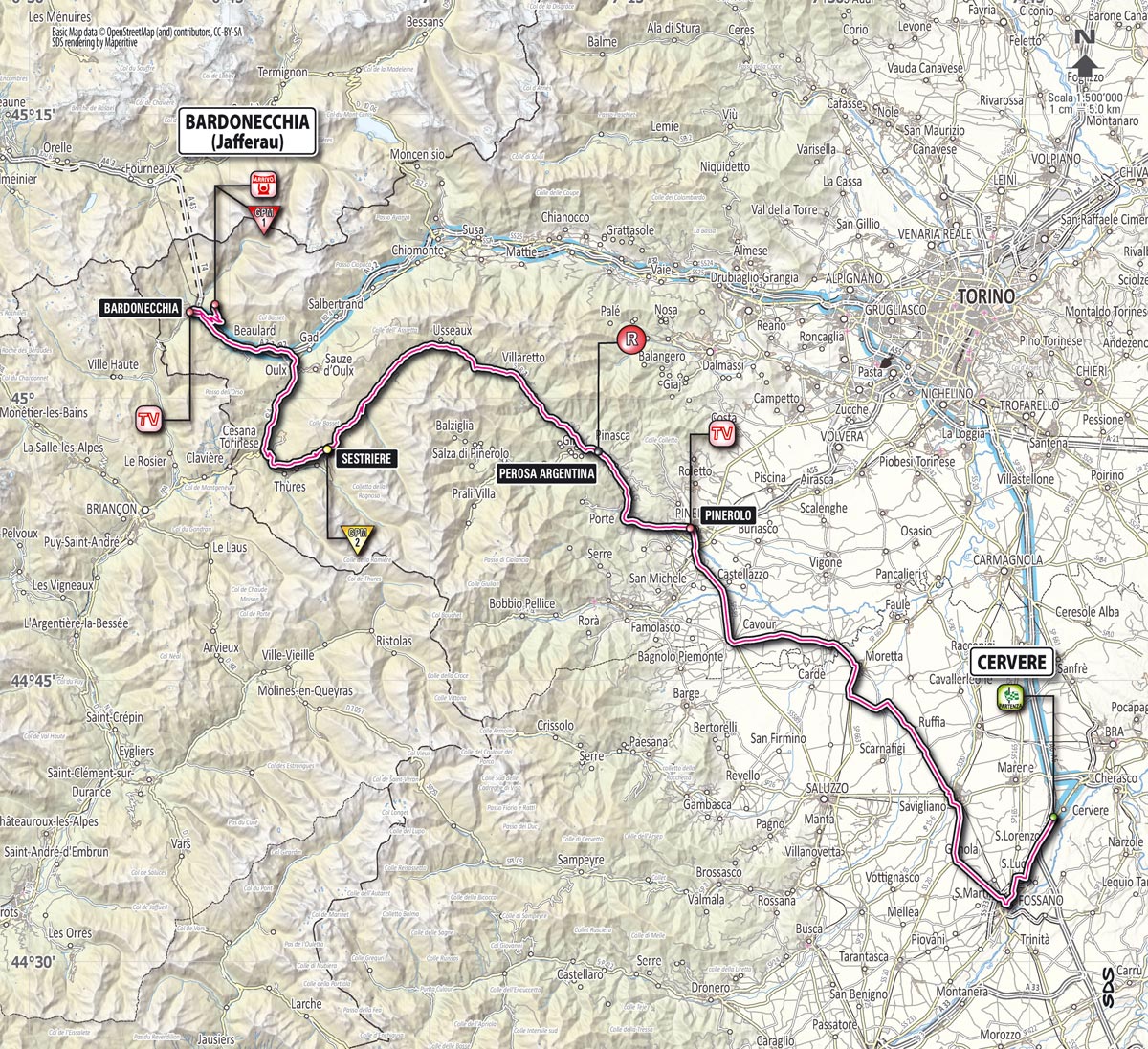 Last kilometers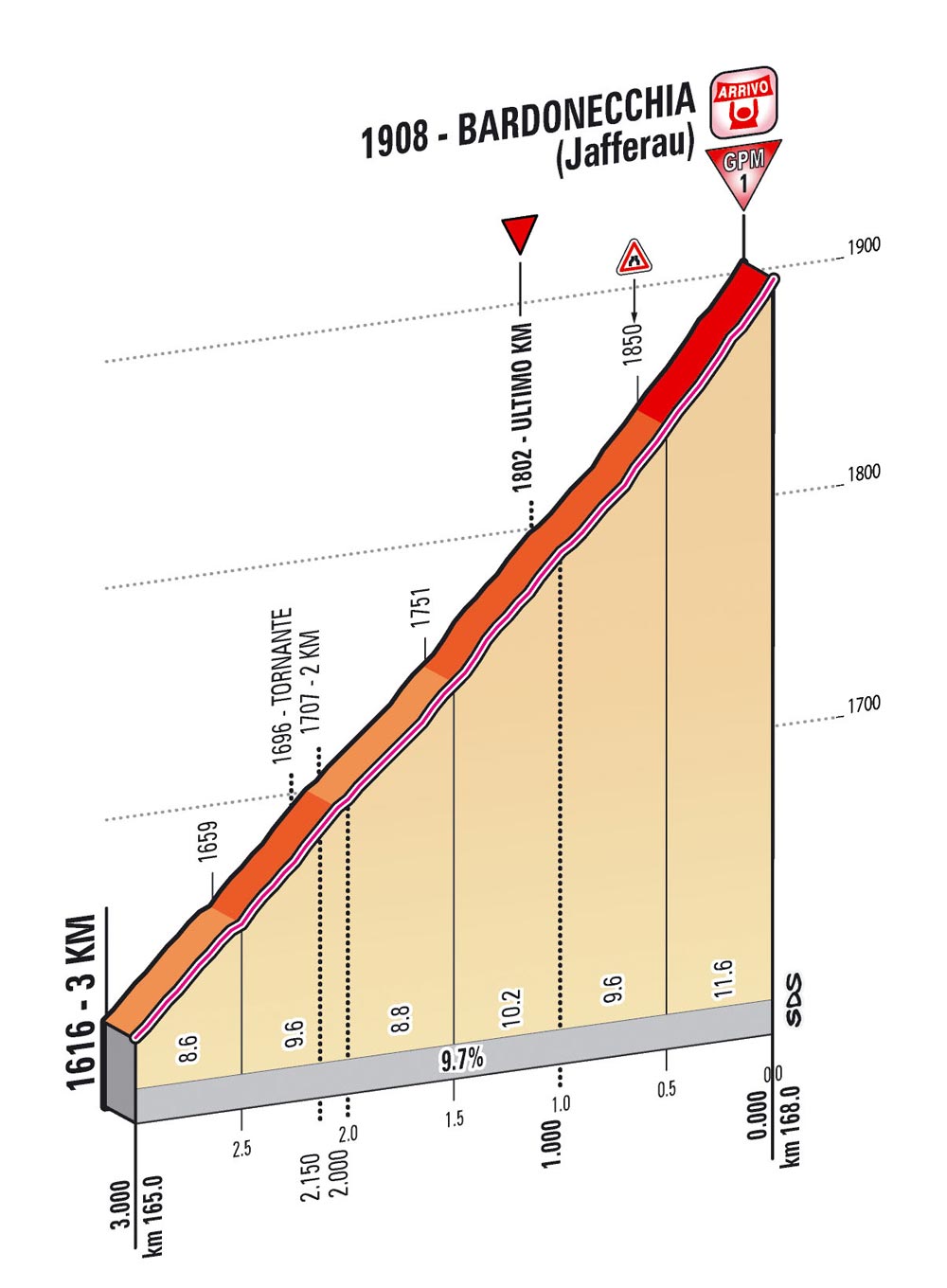 Climbs
There are 2 main climbs in the stage route:
Sestriere (125.3rd km, 2035 m)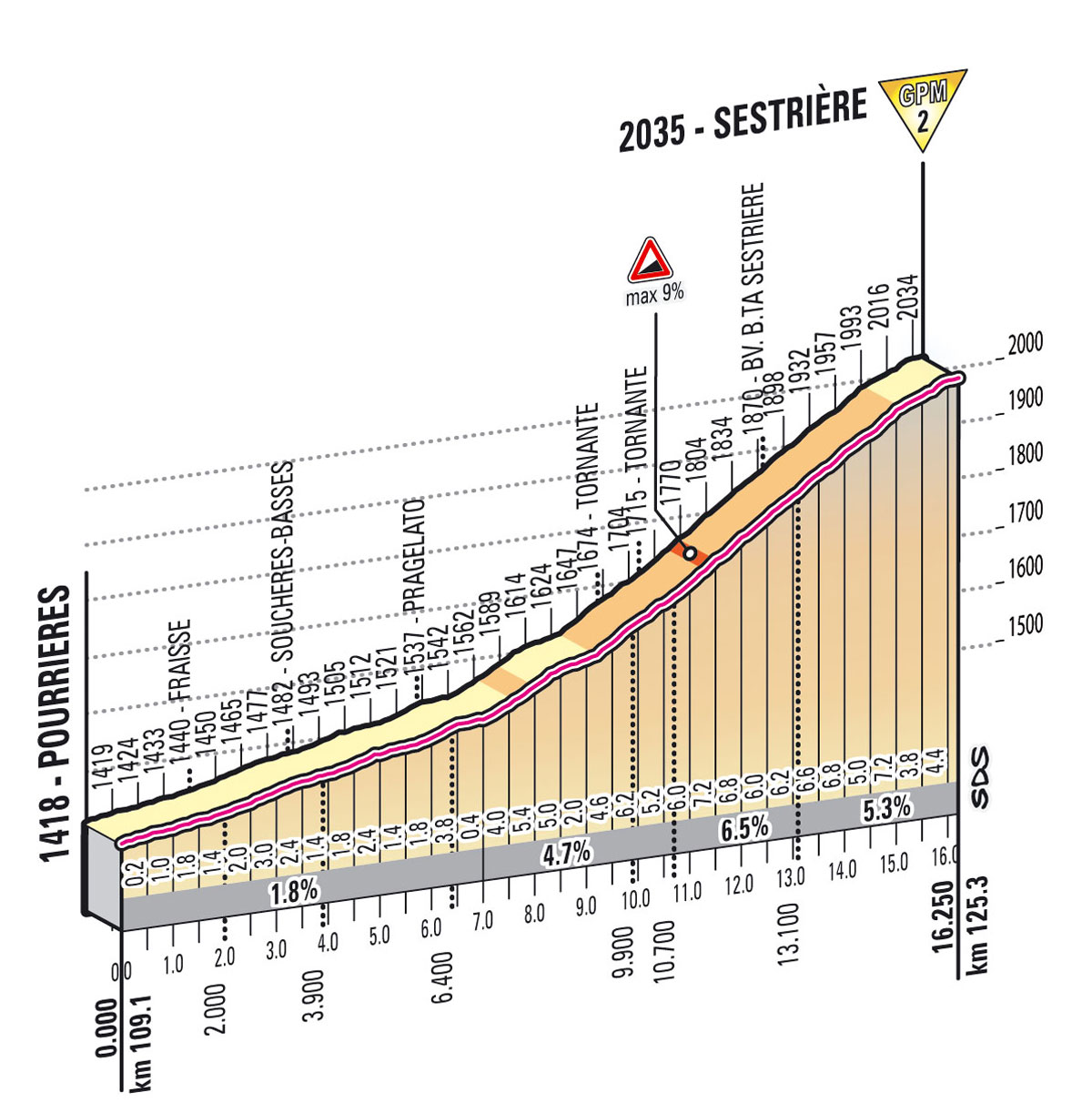 The famous Sestriere climb is starting at 87.8th kilometer at Perosa Argentina (609 m). After Pourrierers, Riders will gain 617 meters in 16.25 kilometers (average 3.8%, max. 9%).
Sestriere is an alpine village in Italy, a comune (municipality) of the Province of Turin. It is 17 km (11 mi) from the French border. Its name derives from Latin: ad petram sistrariam, that is at sixty Roman miles from Turin. Sestriere is a popular skiing resort.
Jafferau (Bardonecchia) (168th km, 1908 m), Summit finish
Starting at 159.4th kilometer at Bardonecchia (1281 m). Riders will gain 654 meters in 8.6 kilometers (average 7.6%, max. 14%).
Giro d'Italia 2013 Stage 14 star town: Cervere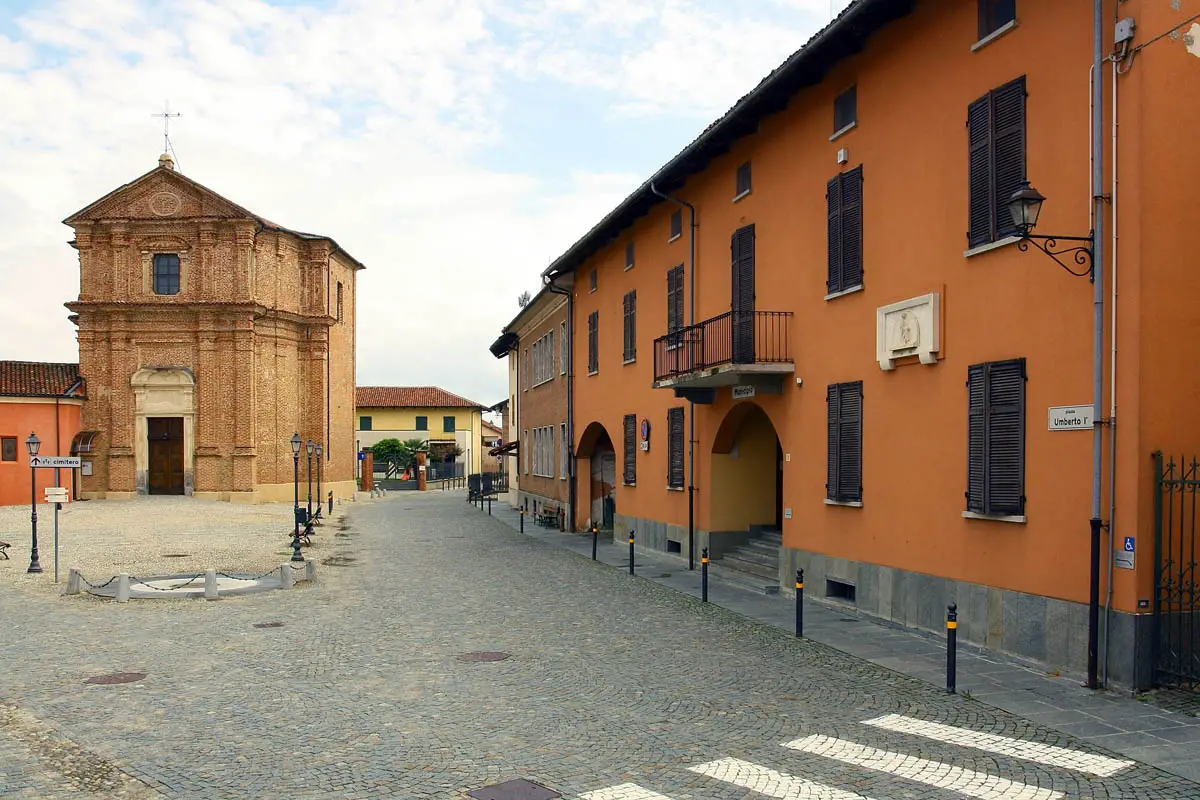 Cervere is a comune (municipality) in the Province of Cuneo in the Italian region Piedmont, located about 50 km south of Turin and about 35 km northeast of Cuneo. As of 31 December 2004, it had a population of 1,932.
Giro d'Italia 2013 Stage 14 finish town: Bardonecchia
Bardonecchia is an Italian town and comune located in the Province of Turin, in the Piedmont region, in the western part of Susa Valley.
The town hosted the snowboarding events of the 2006 Winter Olympics, as well as the Bardonecchia Guitar Festival "La Nuova Camerata dei Bardi" founded by Pier Luigi Cimma.
The town, which is located about 90 km (56 mi) from Turin at the intersection of four valleys, is surrounded by mountains, including several whose peaks surpass 3,000 m (9,800 ft).
The historic center is set back and elevated (Borgo Vecchio), while the new part of town was built around the train station (Borgo Nuovo). The town has grown thanks to activities related to customs, logistics, and tourism; as a result, it has incorporated some neighboring villages and thus is one of the largest towns in the Susa Valley.
Bardonecchia is at one end of both the Fréjus Road Tunnel and the Fréjus Rail Tunnel, part of a TGV Paris to Milan connection.
Main sights
Bramafam Fort, the most important late-1800 fortification in the Cottian Alps, was built between 1885 and 1894 on the promontory of the same name, and which dominates the Bardonecchia basin, to watch over the Frejus Tunnel. During its construction, innovative techniques were adopted for the first time along with a traditional stone structure covered in concrete, as well as a new concept of weaponry: 120 mm Gruson artillery and 57 mm retractable turrets were installed.
Ethnographic civic museum: In the Parish church square, in the historic center of Bardonecchia, is the Civic Museum: an 18th-century building (the former home of the Communal House) that accommodates testaments to local cultural relics on two floors. In the room on the ground floor objects, furniture, décor, and equipment from daily life are on display, as well as a small section of religious art and antique objects; the upper floor houses objects and equipment related to labor and photographs that show the use of wood in construction and agricultural equipment.
Festival Hall: The Festival Hall – Conference Centre of Bardonecchia is located in a Liberty-style building dating back to the beginning of the last century that has been entirely renovated. The two overlapping rooms, named Giolitti and Viglione, can be employed together or independently, offering space for a total of seven hundred people.
Sources