Giro d'Italia 2013 Stage 8 is an Individual Time Trial (TT) between Gabicce Mare and Saltara. The length of the course is 54.8 km near the Adriatic coast, pretty long for an individual time trial.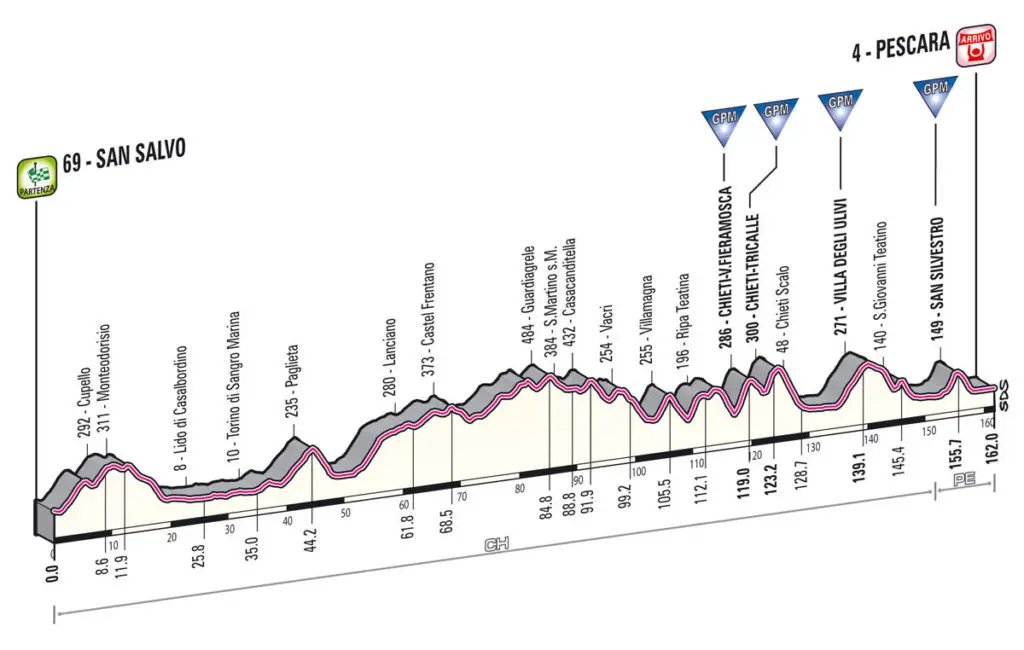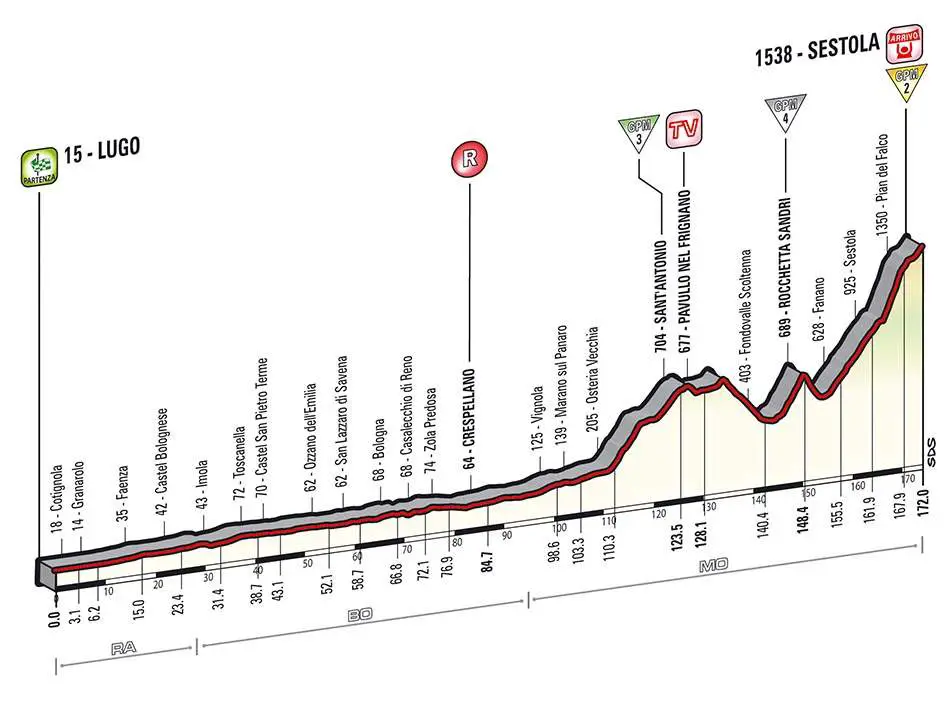 Giro d'Italia 2013 Stage 8 quick info
DATE: May 11, 2013, Saturday
STAGE TYPE: Individual Time Trial (TT)
START-FINISH: Gabicce Mare (9 m) – Saltara (234 m)
LENGTH OF THE COURSE: 54.8 km
DIFFICULTY:
The stage also passes through Pesaro. The finish will be uphill. Riders will gain 166 meters (from 64m to 230m) in 3.4 kilometers (4.9% average).
Giro d'Italia 2013 Stage 8 profile
Gabicce Mare
Gabicce Mare is a comune (municipality) in the Province of Pesaro e Urbino in the Italian region Marche, located about 70 km northwest of Ancona and 16 km north of Pesaro. It is close to the borders with the Province of Rimini, in Emilia-Romagna.
The village has once been a fisherman's place, but nowadays it is well known for its blue flagged beaches.
Pesaro
Pesaro is a town and comune in the Italian region of the Marche, capital of the Pesaro e Urbino province, on the Adriatic. According to the 2011 census, its population was 95,011.
In 2015 the Italian Government applied for Pesaro to be declared a "Creative City" in UNESCO's World Heritage sites.
Pesaro was dubbed "Cycling City" (Città della Bicicletta) by Italian environmentalist association Legambiente in recognition of its extensive network of bicycle paths and promotion of cycling.
The city is also known as the "City of Music" as it is the birthplace of the Italian composer who gained fame for his 39 operas, Gioacchino Rossini (29 February 1792 – 13 November 1868).
Fishery, the furniture industry, and tourism are the main strengths of the local economy.
Saltara
Saltara is a town in the province of Pesaro e Urbino, Marche, central Italy. Is is located on a 120 m hill overlooking the lower Metauro valley.
Saltara was a separate comune until 1 January 2017. Since then, it is a frazione (the Italian name given in administrative law to a type of territorial subdivision of a comune)of the comune of Colli al Metauro in the province of Pesaro e Urbino.
Sources