Giro d'Italia 2013 Stage 9 is a Medium Mountain stage between Sansepolcro and Firenze (Florence). The length of the course is 170 km.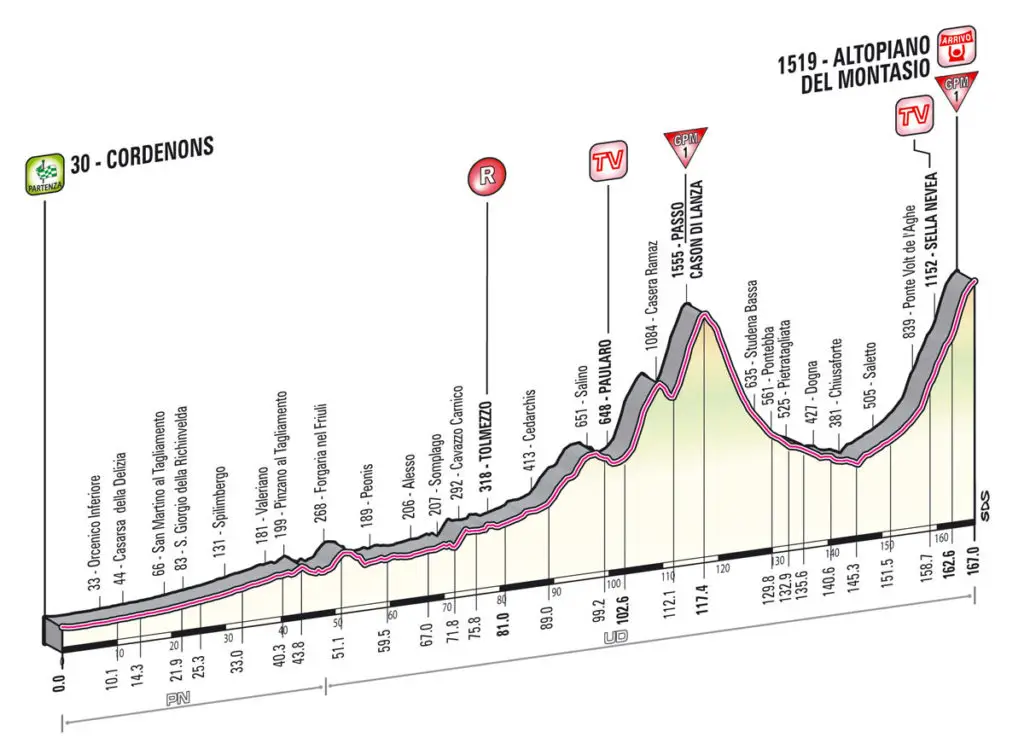 Giro d'Italia 2013 Stage 9 quick info
DATE: May 12, 2013, Sunday
STAGE TYPE: Medium Mountain
START-FINISH: Sansepolcro (312 m) > Firenze (104 m)
LENGTH OF THE COURSE: 170 km
DIFFICULTY:
Giro d'Italia 2013 Stage 9 profile
Giro d'Italia 2013 Stage 9 map
Giro d'Italia 2013 Stage 9 start town: Sansepolcro
Sansepolcro, formerly Borgo Santo Sepolcro, is a town and comune in Tuscany, Italy, in the province of Arezzo.
Situated on the upper reaches of the Tiber river, the town is the birthplace of the painters Piero della Francesca (c. 1415 – 12 October 1492), Raffaellino del Colle (1490-1566, a pupil of Raphael), Matteo di Giovanni (c. 1430 – 1495), Santi di Tito (December 5, 1536 – July 25, 1603) and Angiolo Tricca (17 February 1817 – 23 March 1884).
Sansepolcro was also the birthplace of the Italian mathematician Luca Pacioli (c. 1447 – 19 June 1517), and of Matteo Cioni, who translated Piero della Francesca's treatise about perspective in painting (De prospectiva pingendi) into Latin.
Today, the economy of the town is based on agriculture, industrial manufacturing, food processing and pharmaceuticals. It is the home of Buitoni pasta, founded by Giulia Buitoni in 1827.
Main sights
The main church is the Cathedral of St. John the Evangelist built in Gothic-Romanesque style in 1012-49. Other churches of note are San Francesco and San Lorenzo. The latter church has a Deposition by Rosso Fiorentino.
The English writer Aldous Huxley described the Resurrection by Piero della Francesca, which is in the Museo Civico, as "the greatest painting in the world"[citation needed]. The museum collection includes three other works by Piero della Francesca and many other treasures including paintings by Santi di Tito, Raffaellino del Colle, and Luca Signorelli.
Giro d'Italia 2013 Stage 9 finish city: Florence (Firenze)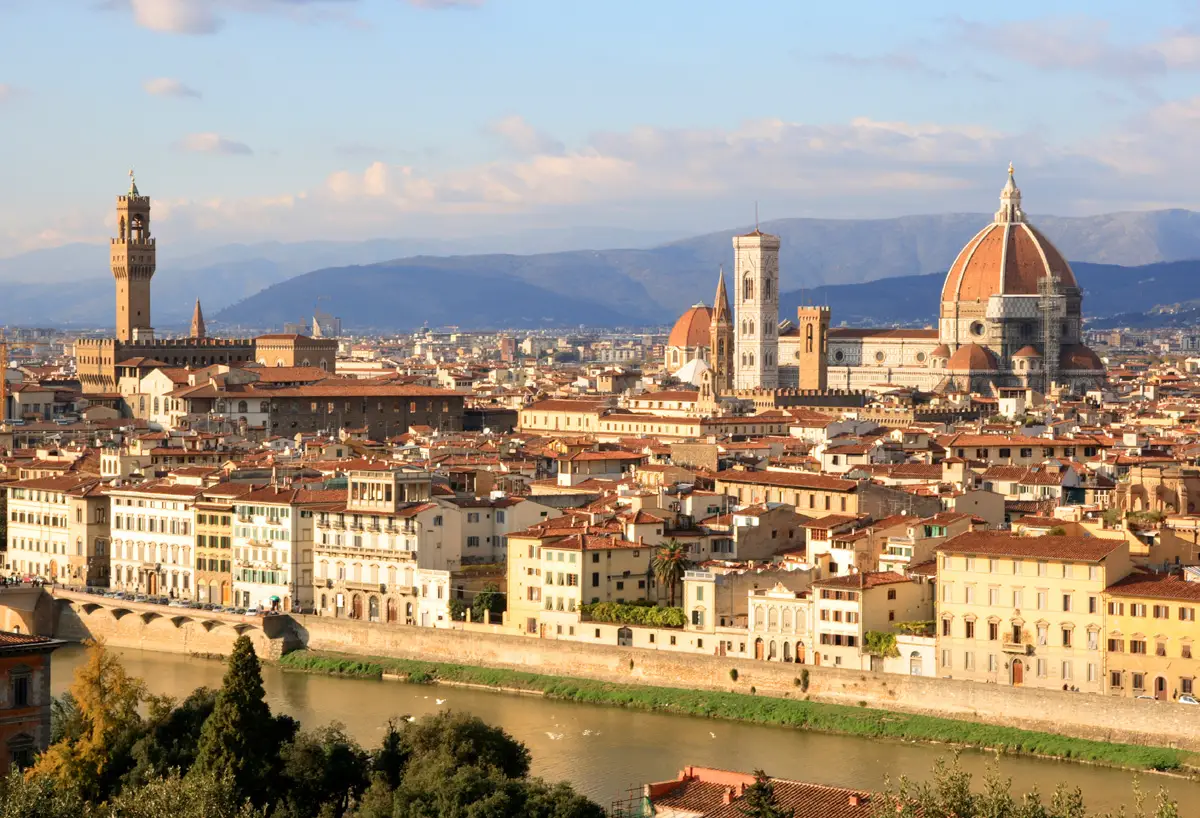 Firenze (Florence) is the capital city of the Italian region of Tuscany (Toscana) and of the province of Florence. It is the most populous city in Tuscany, with approximately 370,000 inhabitants, expanding to over 1.5 million in the metropolitan area.
The historic center of Florence attracts millions of tourists each year, and Euromonitor International ranked the city as the world's 72nd most visited in 2009, with 1,685,000 visitors. Florence is also an important city in Italian fashion, being ranked within the top fifty fashion capitals of the world; furthermore, it is also a major national economic center, being a tourist and industrial hub.
The city attracts millions of tourists each year, and UNESCO declared the Historic Centre of Florence a World Heritage Site in 1982. The city is noted for its culture, Renaissance art and architecture, and monuments. The city also contains numerous museums and art galleries, such as the Uffizi Gallery and the Palazzo Pitti, and still exerts an influence in the fields of art, culture, and politics. Due to Florence's artistic and architectural heritage, Forbes has ranked it as one of the most beautiful cities in the world.
Climbs of the Giro d'Italia 2013 Stage 9
There are 4 main climbs in the stage route:
Passo Della Consuma (1060m @81.8 km): Starting at 49.5th kilometer at Bibbiena (378m). Riders will gain 721 meters in 32.3 km (average 2.2%).
Vallombrosa (957m @106.7 km): Starting at 97.9th kilometer at Patero (397m). Riders will gain 560 meters in 8.8km (average 6.3%, 12%max).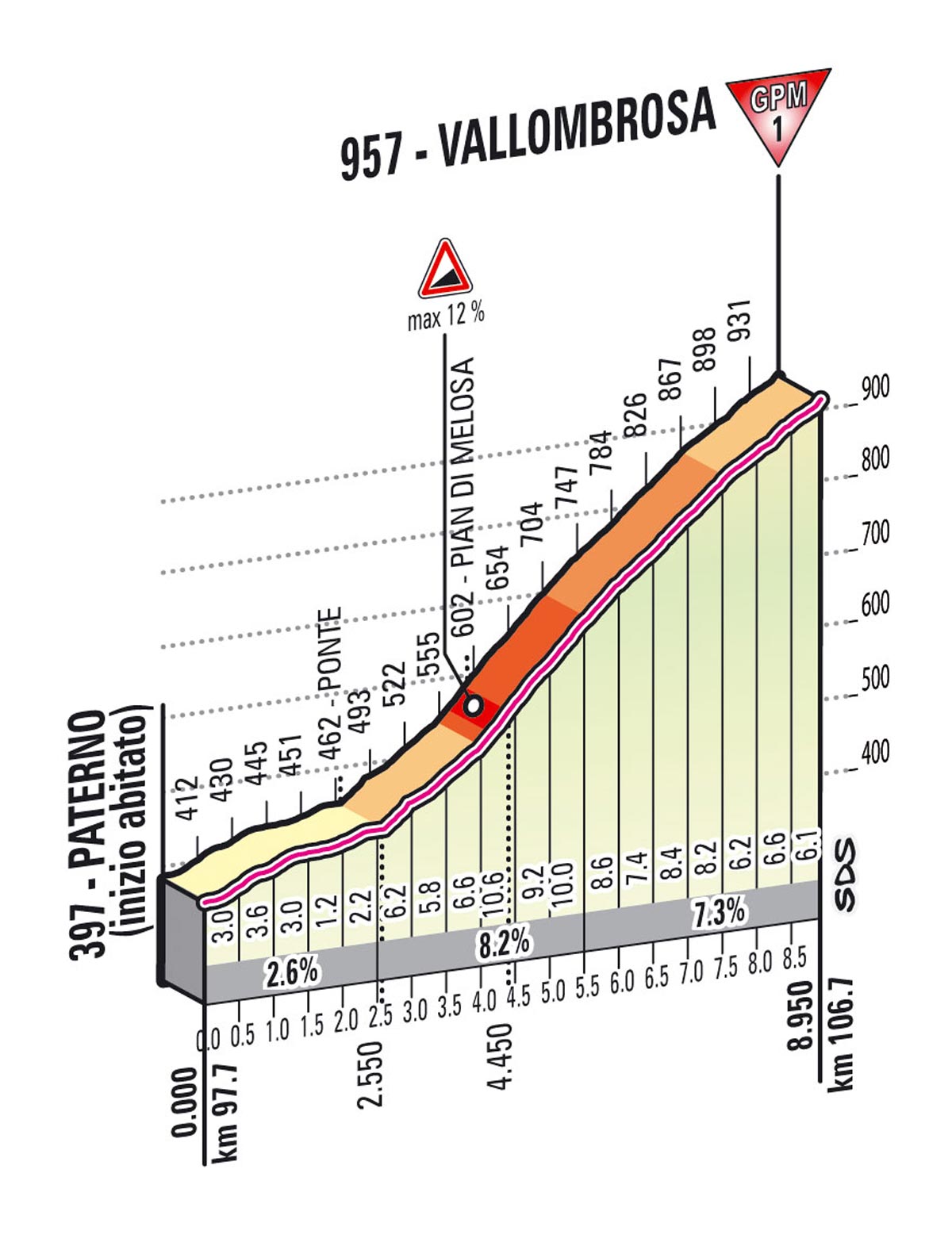 Vetta le Croci (545m @147.9 km): Starting at 137.6th kilometer at Sieci (71m). Riders will gain 474 meters in 10.3km (average 4.6%, max. 12%).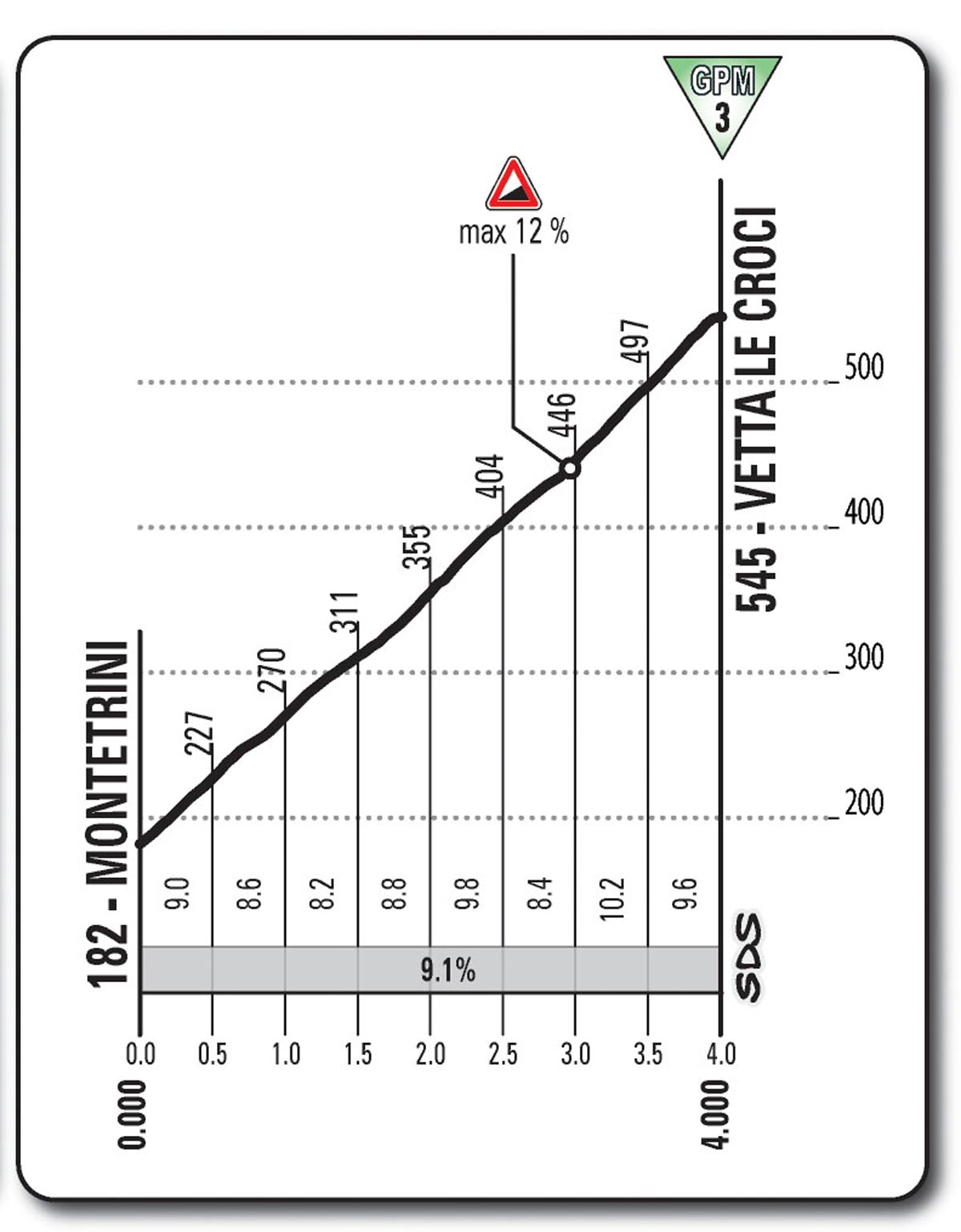 Fiesole (295m @159.3 km): Starting at 156.3rd kilometer at Pian di Mugnone (127m). Riders will gain 168 meters in 3km (average 5.7%, max. 11%).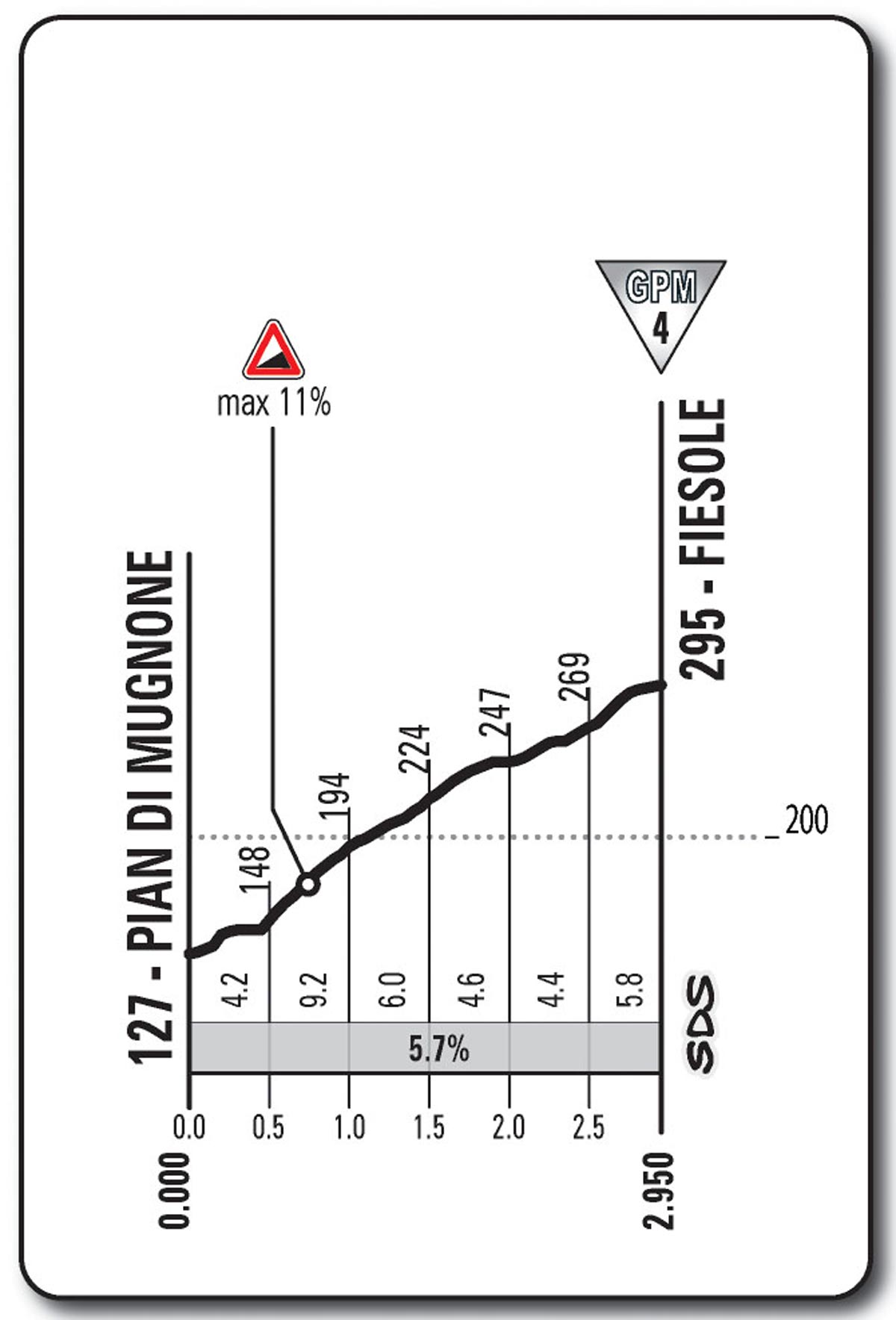 Sources