During the long, warm summer days, we spend much more time in the saddle. And, especially, if your skin is sensitive like mine, you have to do something to avoid saddle sores.

To avoid saddle sores:
Keep it clean! Never wear a short twice, without washing it. Always wear clean shorts for each ride.
After a ride, take off your shorts as soon as possible. Then take a shower, clean well your crotch.
Sleep in the buff, this will keep your crotch dry, and prevents clothing contact.
Choose a correct saddle – The best choice for any individual rider can only be found through trial and error.
Wear good quality shorts.
Use chamois cream. In fact, without using a chamois cream, none of the above were the exact solution to saddle sores (at least to me).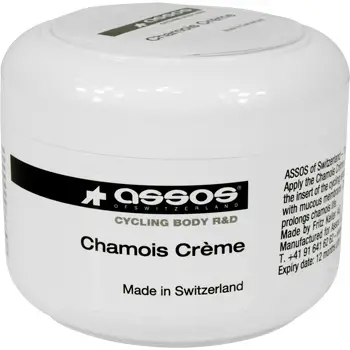 Normally I prefer Assos Chamois cream (pictured above), but I saw a cheaper alternative on wiggle, so decided to give it a try. Udderly Smooth Cmaois Cream – $9.17 on wiggle (May 2013 price).
Read more: "how to solve saddle sores", an article published on roadbikerider.com, by Fred Matheny