Here is the bike of the day: a black and white Basso Diamante SV, an Italian Beauty. This bike is assembled by Veloholic Cycles, a local bike shop in Vancouver, Canada.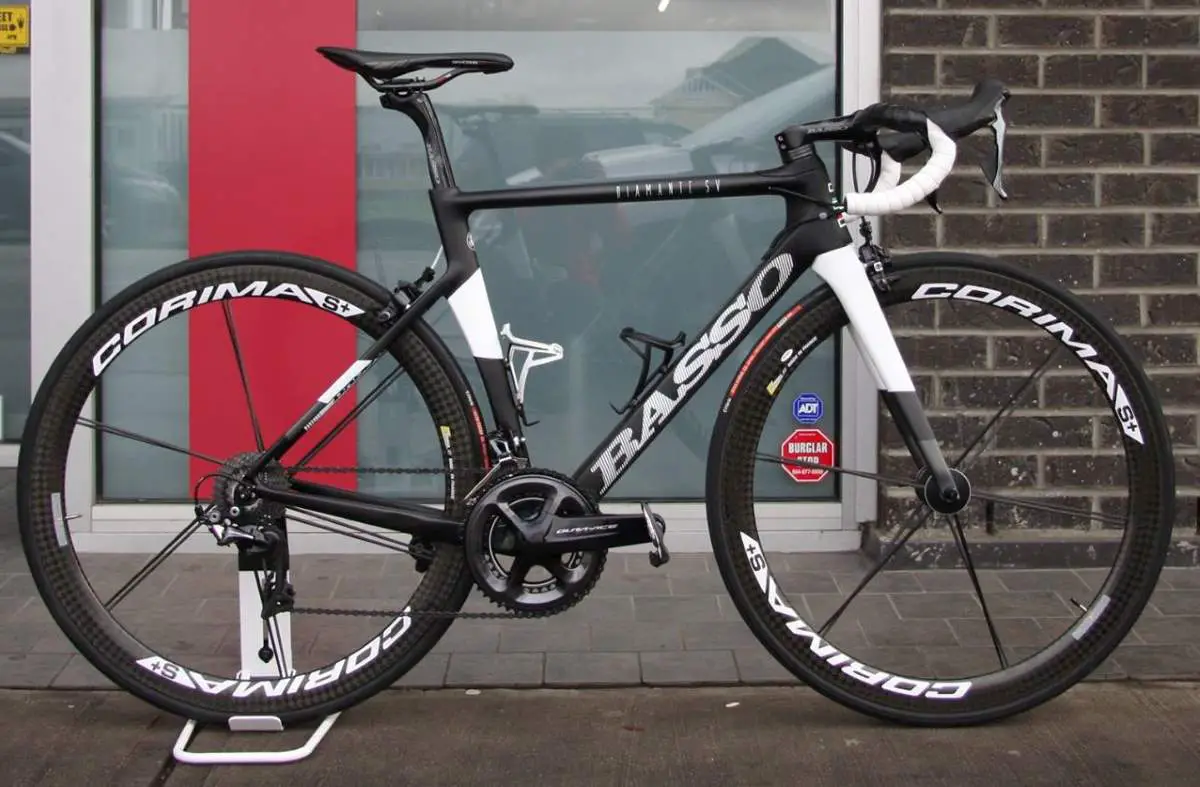 This bike is assembled by Veloholic Cycles, a local bike shop in Vancouver, Canada.
Basso Diamante SV
Basso Diamante SV is designed for aerodynamic position lovers. The air penetration is improved by designing new tube shapes, and reactivity by making a straight blade front fork. The new system is applied with double pivot brake fixing.
The bike also introduces the "3B-BASSO" (patented) clamp system.
The seat clamping is totally masked and invisible on the frame. Not only nice to look at but also technically innovative. Getting way ahead of the usual clamp-ring/screw holding the seat post, or the extra bulking knot on the frame to house the seat screw; The 3B-BASSO (pat.) triple point fixing becomes a solid structure between seat-post and seat-tube.
This system is slim, invisible, and strong. In addition to all of this, the extra rubber gusset in connection with the 3B-BASSO (pat.) has an anti-vibration function that anyone can appreciate on rough surface roads. See more photos on Veleholic Cycles Facebook page.
Located in Dueville, Vicenza, Italy, Cicli Basso was founded in 1977 by two brothers, Renato Basso (born 1947) and Alcide Basso (born 1954). Their older brother, one of the best sprinters of his generation and 1972 UCI World Champion, Marino Basso (born 1945) lent his experience to the young company which his two younger brothers had just created, after retiring in 1978, when he was 33 years old.
One of his sons, Alcide Basso was also a racing cyclist, but his mechanical skills were superior. His other son Renato Basso graduated from the University of Tubingen in Germany in 1974 with a degree in philosophy and political science and did postgraduate work in philosophy at the University of Padua, but he is also a cycling fan.
From Basso Bikes website:
Here at Basso, we believe that the frame is an extension of the cyclist and as such it must be made to a higher standard.
Extreme attention to detail and a holistic approach are necessary in order to have an extension of the cyclist that is not merely a compliment to the rider but an improvement to his or her own capabilities.
Like the tool of an expert craftsman, the finely made Basso frame is meant to confer heightened capability, inspire confidence and earn the trust of its owner. Confirming its value kilometer after kilometer the Basso frame is a choice for those who expect something more for their cycling experience.
There are many choices but for the discerning cyclist who wants to RIDE BETTER, RIDE BASSO…
Latest posts by M. Özgür Nevres
(see all)