Cannondale Slice is a time trial (TT) bike, produced by US-based bicycle manufacturer Cannondale. The bike holds the Ironman World Championship in Kona women course record.
The bike also has three-in-a-row women Ironman World Championship victories (Chrissie Wellington of Great Britain, 2007,2008 and 2009). The current Ironman Hawaii (Kona) women course record was set in 2011 by Chrissie Wellington, whose winning time was 9 hrs 3 mins 29 sec, on a Slice.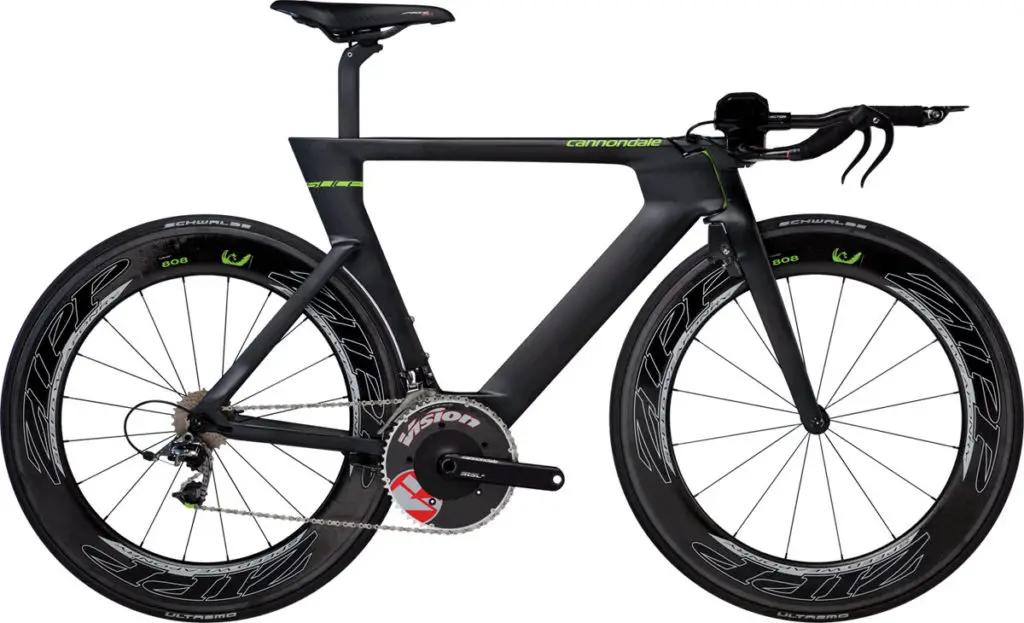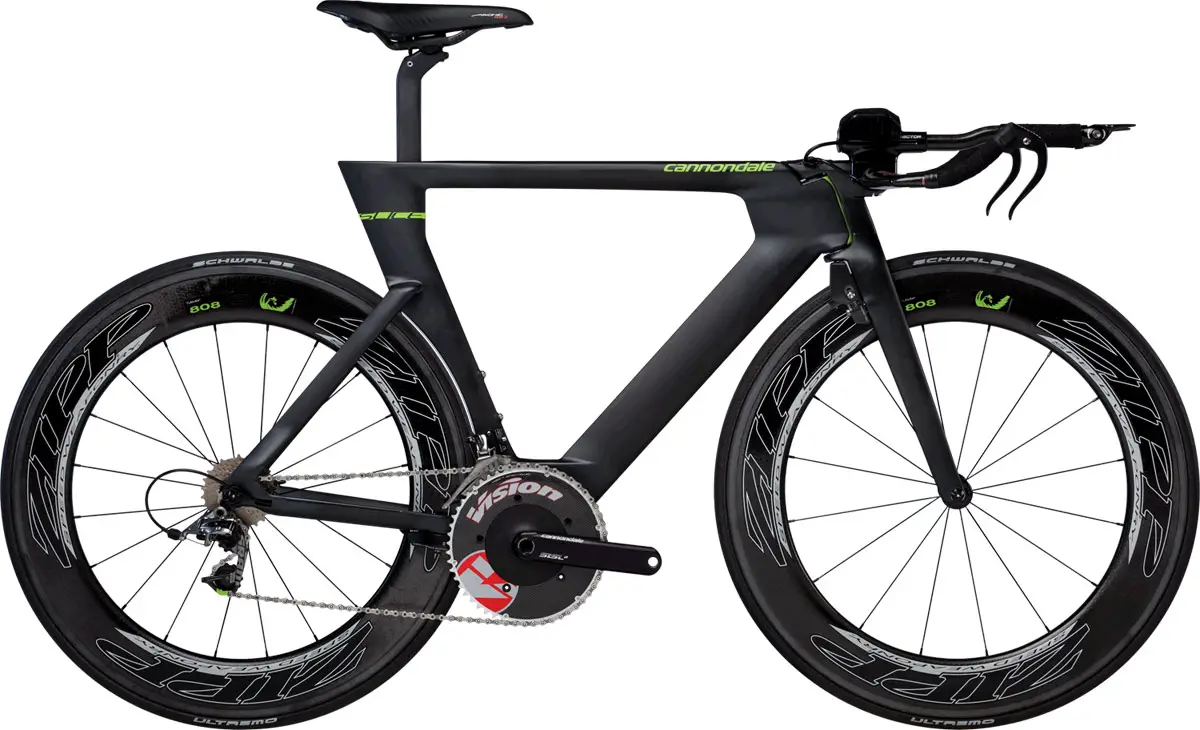 Cannondale Slice 2013 Specifications
Slice 2013 is coming with 3 different builds.
HI-MOD SRAM RED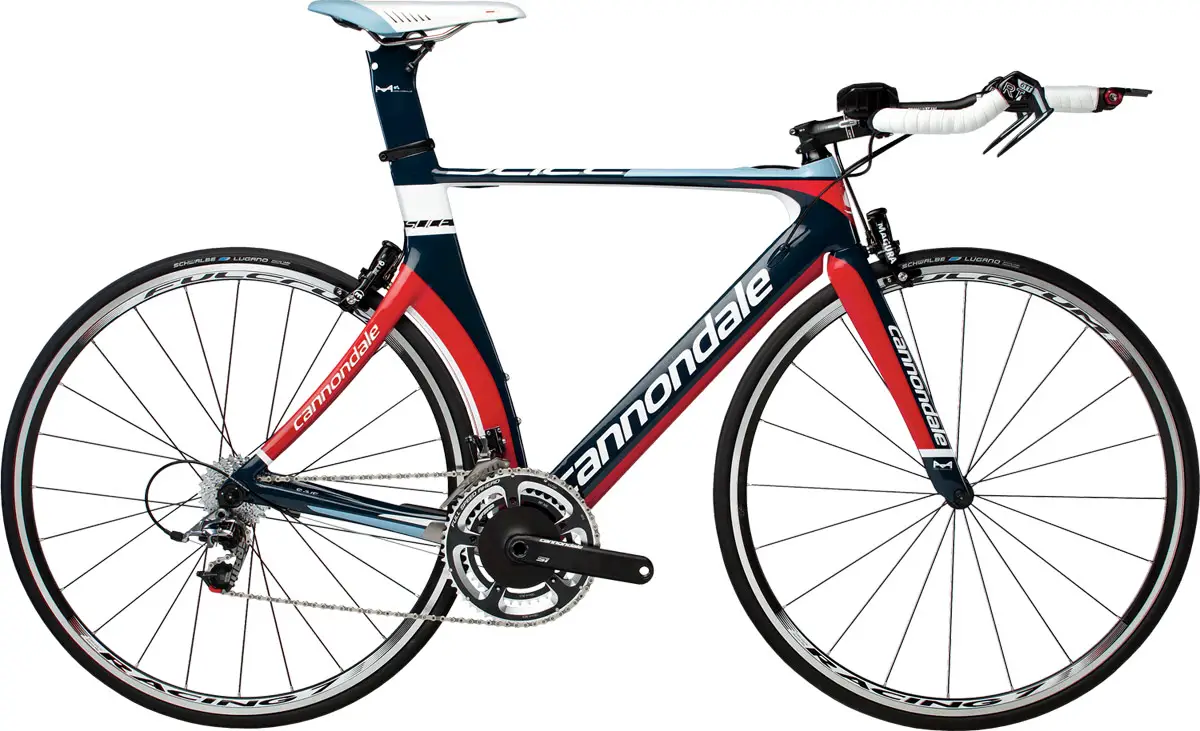 Frame: SLICE, Hi-Mod Carbon, AERO SAVE, BB30
Fork: Slice Aero, Hi-MOD carbon, 1-1/8"
Rims: Fulcrum Racing 7
Hubs: Fulcrum Racing 7
Spokes: Fulcrum Racing 7
Tires: Schwalbe Durano S, 700X23c, folding
Pedals: n/a
Crank: NEW Cannondale Hollowgram Si, FSA Chainrings, 53-39t
Bottom Bracket: FSA BB30
Chain: SRAM PC-1070
Cog Set: Sram PG-1050, 11-26 10-speed
Front Derailleur: new SRAM RED, braze-on
Rear Derailleur: new SRAM RED
Shifters: SRAM TT 900 Carbon
Handlebar: Cannondale C3 base bar, 31.8 w/ FSA Tri Max Team clip-ons
Grips: New Cannondale bar tape w/gel, 2.5mm
Stem: Cannondale C3, 31.8, 6 deg.
Headset: Slice, Si, 15mm top cap
Brakes: Magura RT-6 TT Hydraulic Caliper
Saddle: Fi'zi:k Arione Tri2, w/ Mg rails
Seat Post: Cannondale Slice Carbon Aero
SLICE-3 ULTEGRA
Frame: Slice, full carbon, AERO SAVE, BB30
Fork: Slice Aero, full carbon, 1-1/8"
Rims: Fulcrum Racing 7
Hubs: Fulcrum Racing 7
Spokes: Fulcrum Racing 7
Tires: Schwalbe Lugano, 700x23c, folding
Pedals: n/a
Crank: FSA Gossamer TT, BB30, 52,38
Bottom Bracket: FSA BB30
Chain: Shimano 105 5700
Cog Set: Shimano 105 5700, 12-27, 10-speed
Front Derailleur: Shimano Ultegra 6700
Rear Derailleur: Shimano Ultegra 6700
Shifters: Shimano Dura-Ace, bar-end
Handlebar: Cannondale C3 base bar, 31.8 w/ FSA Tri Max Team clip-ons
Grips: New Cannondale bar tape w/gel, 2.5mm
Stem: Cannondale C3, 31.8, 6 deg.
Headset: Slice, Si, 15mm top cap
Brakes: Shimano Ultegra 6700
Saddle: Fi'zi:k Arione Tri2, w/ Mg rails
Seat Post: Cannondale Slice Carbon Aero
SLICE-5 105
Frame: Slice, full carbon, AERO SAVE, BB30
Fork: Slice Aero, full carbon, 1-1/8"
Rims: Shimano RS-10
Hubs: Shimano RS-10
Spokes: Shimano RS-10
Tires: Schwalbe Lugano, 700x23c
Pedals: n/a
Crank: FSA Gossamer Pro, BB30,53/39
Bottom Bracket: FSA BB30
Chain: Shimano Tiagra 4600, 10-speed
Cog Set: Shimano Tiagra 4600, 12-28, 10-speed
Front Derailleur: Shimano 105 5700
Rear Derailleur: Shimano 105 5700
Shifters: MicroShift bar-end
Handlebar: Cannondale C3 base bar, 31.8 w/ FSA Tri Max Team clip-ons
Grips: New Cannondale bar tape w/gel, 2.5mm
Stem: Cannondale C3, 31.8, 6 deg.
Headset: Slice, Si, 15mm top cap
Brakes: Tektro R580
Saddle: Cannondale Ergo Tri
Seat Post: Cannondale Slice Carbon Aero
Sources
Latest posts by M. Özgür Nevres
(see all)