Cannondale Slice RS is the top-end time trial (TT) bike of the bicycle manufacturer Cannondale. The new Slice RS first used in Tour de France 2012 by the WorldTour team Liquigas-Cannondale.
For the construction of the frame, Cannondale uses the same Hi-Modulus carbon fiber as found on the Cannondale SuperSix Evo. To offer some comfort, Cannondale uses the SAVE technology found on bikes like Cannondale Synapse on the seat stays.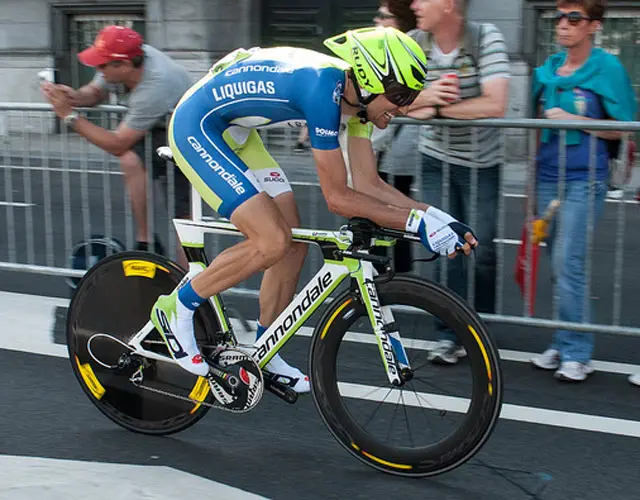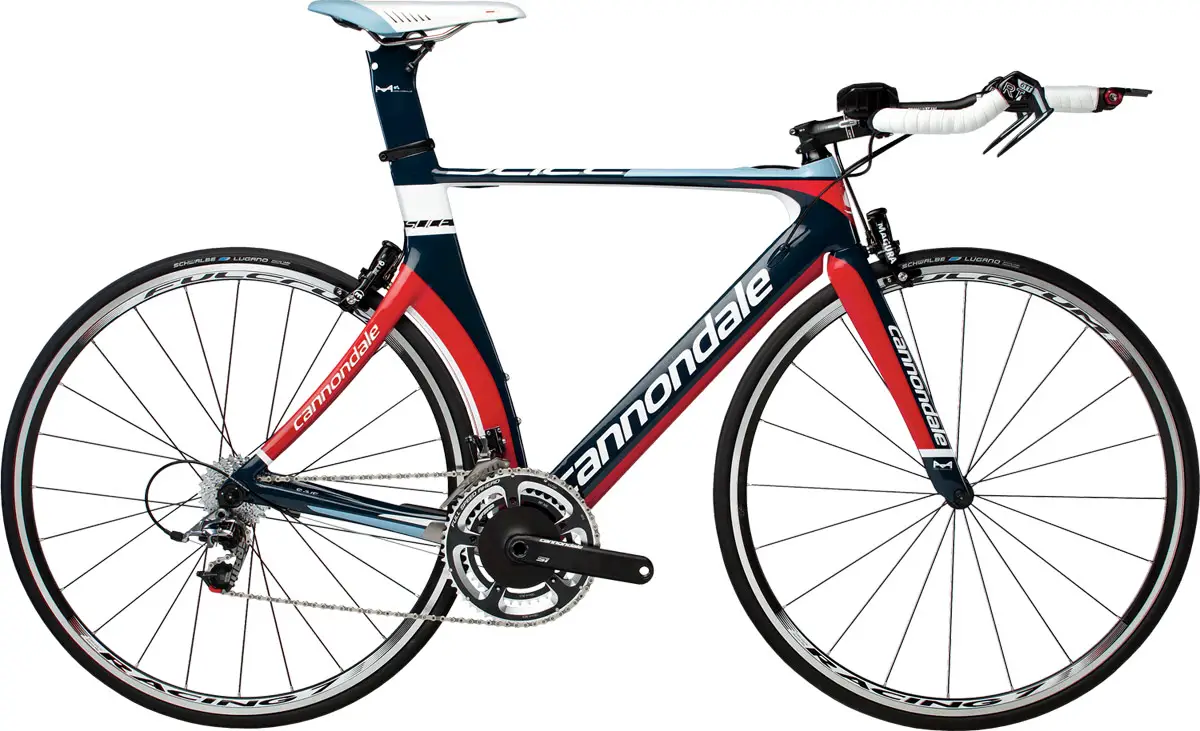 Narrow is Aero – Cannondale Slice RS' slogan
Cannondale's slogan describing the Slice is "Narrow is Aero". They tried to meet their aero targets rather than putting aesthetics first. To keep the frame as narrow as possible, Cannondale use an external steerer tube fork. No steerer tube passes through the head tube in the traditional sense, instead bearings are pressed into the top and bottom and secure the fork to the frame. This helps Cannondale to achieve their aim of making the front narrow.
Like the other modern TT bikes, brakes (Cannondale Naero-Tec Integrated mini V-brakes) are tucked out of the airflow behind the bottom bracket and neatly at the rear of the fork. The seat post also has been narrowed as much as the UCI would allow.
Cannondale claims that "tests show the Slice RS can save up to 20 seconds in 40k compared to our competition."
Cannondale Slice RS 2013 Specifications
Cannondale Slice RS 2013 is coming with 3 different builds.
SRAM RED BLACK INC.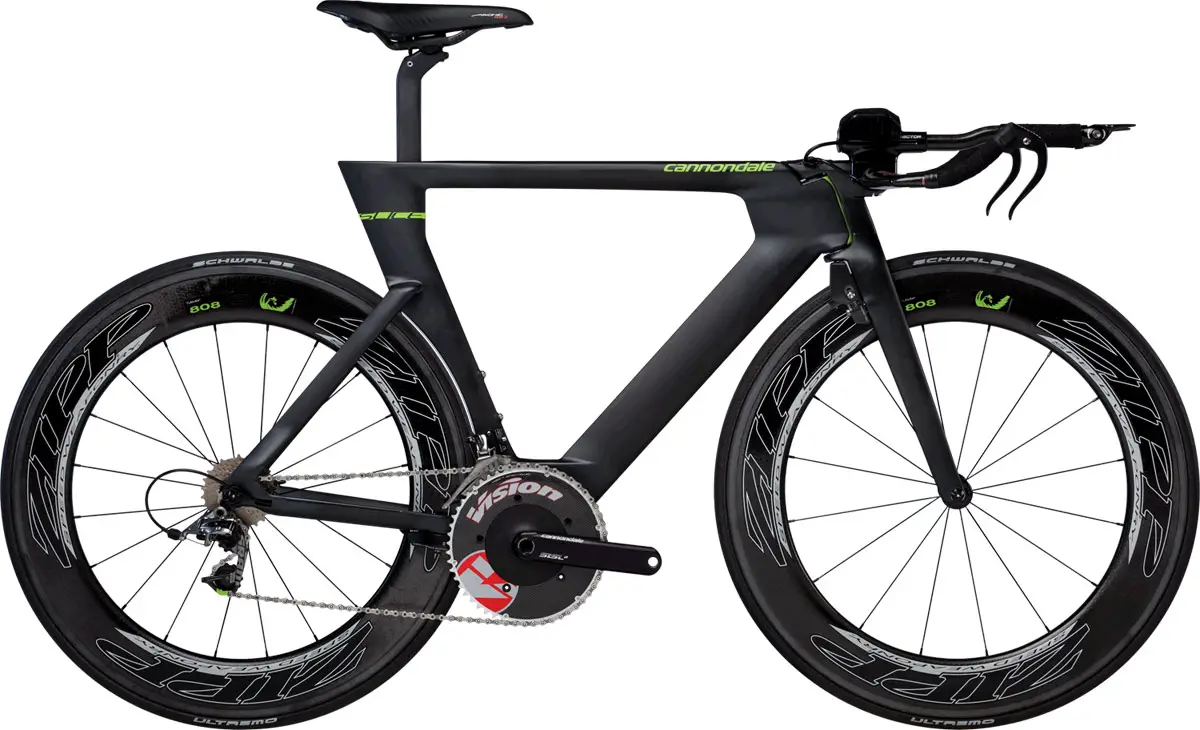 Frame: Slice RS, full carbon, AERO SAVE, PF30, Naero-Tec
Fork: Slice RS Aero, Carbon w/ integrated external steerer, Naero-Tec
Rims: Zipp 808 Firecrest Tubular
Hubs: Zipp 808 Firecrest Tubular
Spokes: Zipp 808 Firecrest Tubular
Tires: Schwalbe Ultremo HT tubular 700x22c
Pedals: n/a
Crank: NEW Cannondale Hollowgram SiSL2, Aero Spider, 54/42
Bottom Bracket: Cannondale Aluminum PF30 BB Cup, FSA Ceramic BB30 Bearing
Chain: SRAM PC-1091R, 10-speed
Cog Set: SRAM RED, 11-26, 10-speed
Front Derailleur: SRAM RED
Rear Derailleur: SRAM RED
Shifters: SRAM RED
Handlebar: Vision Carbon 31.8mm, Vector Carbon extensions
Grips: Fi'zi:k bar tape
Stem: Integrated, adjustable 31.8mm
Headset: Tange Seiki Integrated
Brakes: Cannondale Naero-Tec Integrated Mini-V, Carbon Arms
Saddle: Fi'zi:k Arione 00 Tri2 Carbon
Seat Post: Cannondale Slice RS Carbon Naero-Tec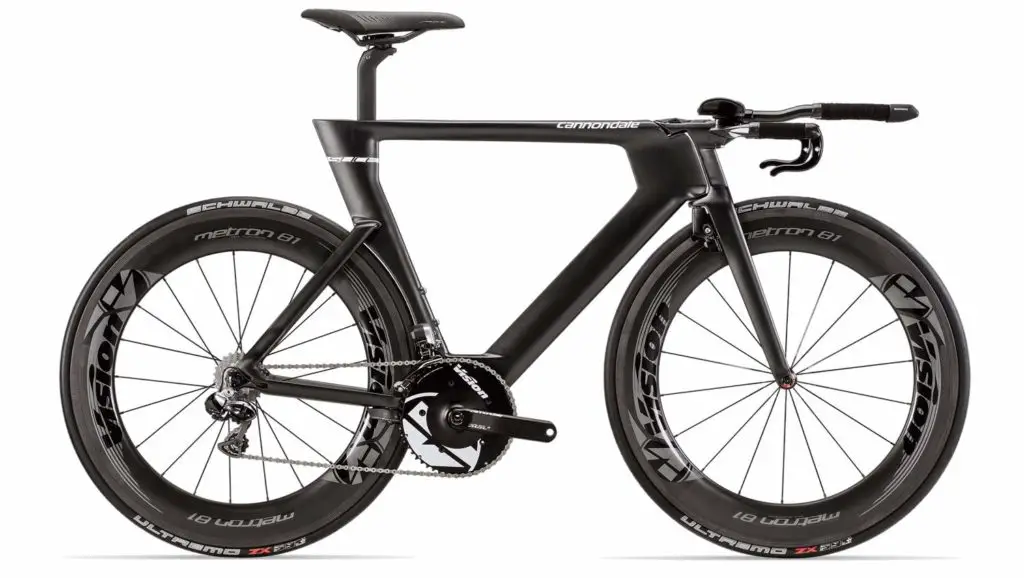 HI-MOD ULTEGRA Di2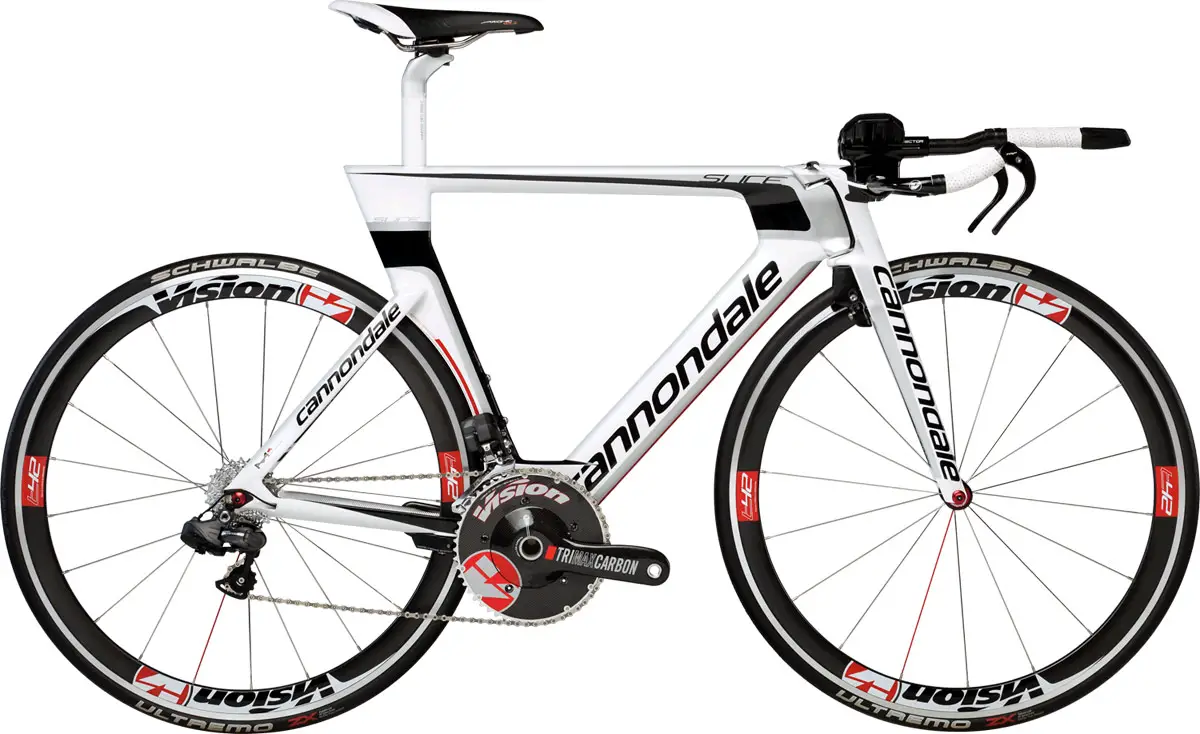 Frame: Slice RS, full carbon, AERO SAVE, PF30, Naero-Tec
Fork: Slice RS Aero, Carbon w/ integrated external steerer, Naero-Tec
Rims: Vision Trimax T42
Hubs: Vision Trimax T42
Spokes: Vision Trimax T42
Tires: Schwalbe Ultremo ZX 700x23c
Pedals: n/a
Crank: FSA Trimax carbon rings, BB30
Bottom Bracket: Cannondale Aluminum PF30 BB Cup, FSA BB30 Bearing
Chain: Shimano Ultegra 6700
Cog Set: Shimano 105 5700, 12-25, 10 speed
Front Derailleur: Shimano Ultegra Di2
Rear Derailleur: Shimano Ultegra Di2
Shifters: Shimano Ultegra Di2
Handlebar: Vision 31.8mm, Vector Carbon extensions
Grips: Fi'zi:k bar tape
Stem: Integrated, adjustable 31.8mm
Headset: Tange Seiki Integrated
Brakes: Cannondale Naero-Tec Integrated Mini-V
Saddle: Fi'zi:k Arione Tri2, w/ Mg rails
Seat Post: Cannondale Slice RS Carbon Naero-Tec
HI-MOD ULTEGRA
Frame: Slice RS, full carbon, AERO SAVE, PF30, Naero-Tec
Fork: Slice RS Aero, Carbon w/ integrated external steerer, Naero-Tec
Rims: Mavic Cosmic Elite
Hubs: Mavic Cosmic Elite
Spokes: Mavic Cosmic Elite
Tires: Schwalbe Durano S, 700X23c, folding
Pedals: n/a
Crank: FSA Trimax Alloy rings, BB30
Bottom Bracket: Cannondale Aluminum PF30 BB Cup, FSA BB30 Bearing
Chain: Shimano Ultegra 6700
Cog Set: Shimano 105 5700, 12-25, 10 speed
Front Derailleur: Shimano Ultegra 6700
Rear Derailleur: Shimano Ultegra 6700
Shifters: Shimano Dura-Ace
Handlebar: Vision 31.8mm, Vector Carbon extensions
Grips: Fi'zi:k bar tape
Stem: Integrated, adjustable 31.8mm
Headset: Vision 31.8mm, Vector Carbon extensions
Brakes: Cannondale Naero-Tec Integrated Mini-V
Saddle: Fi'zi:k Arione Tri2, w/ Mg rails
Seat Post: Cannondale Slice RS Carbon Naero -Tec
Sources
Latest posts by M. Özgür Nevres
(see all)