Cannondale Synapse built for everyday cyclists, century riders, long-distance riders, and any other cyclists enjoying the miles, willing to sacrifice some top-end speed for a smoother ride.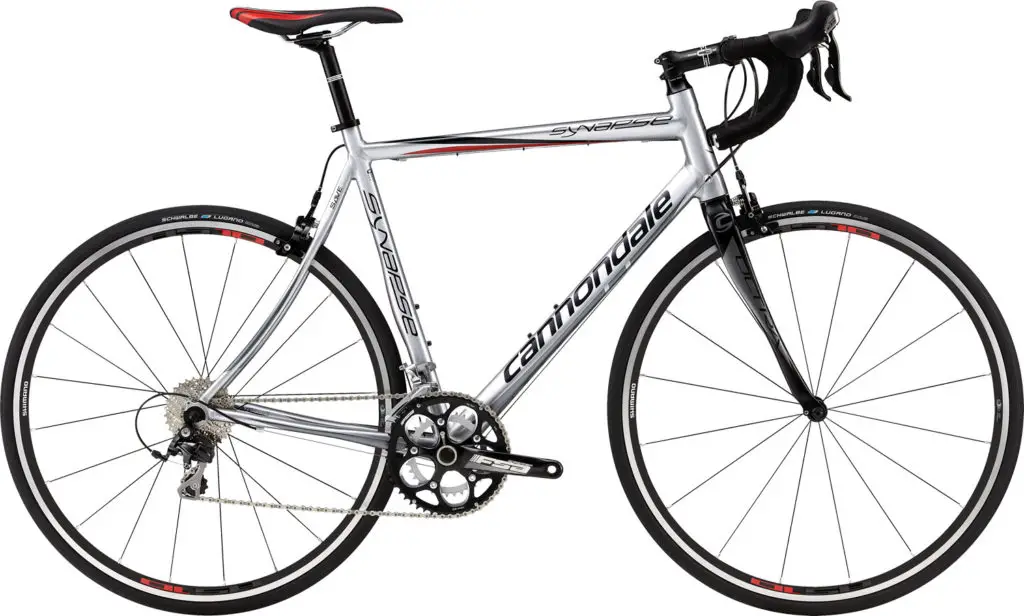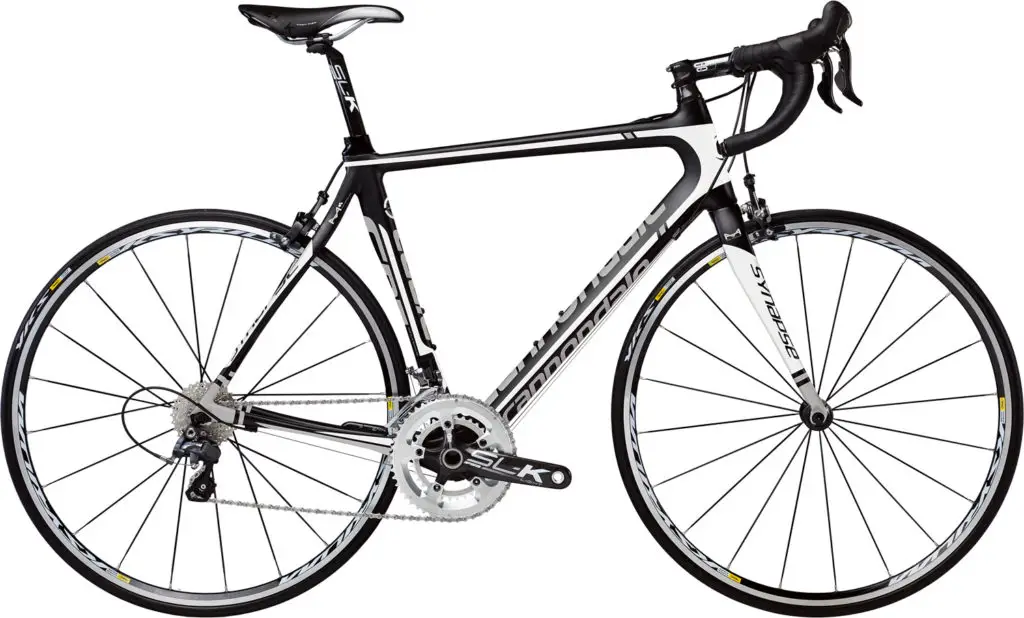 Compared to Cannondale's Elite race geometry (SuperSix – SuperSix Evo Nano in 2013, CAAD10, CAAD8), the Synapse features a 2-2.5 cm taller head tube, slightly relaxed head angle and longer wheelbase for a more upright riding position and a stable yet lively feel. According to Cannondale, it's confidence-inspiring, relaxing and it avoids the sluggish feel and awkward handling of many road bikes.
SAVE PLUS Rear Stay Micro-Suspension System
A directional carbon lay-up and exaggerated vibration-absorbing tube shapes give the SAVE PLUS chain stay/seat stay system 13% more vertical deflection than the previous version, while actually improving the frames lateral and torsional stiffness. (from cannondale.com)
SAVE PLUS Full Carbon Fork
Offset dropouts allow the fork blades to have the vertical compliance of a shallow rake fork, without sacrificing the Synapses nimble, precise handling. Refined carbon lay-up and SAVE shaping further enhance the forks vertical compliance. (from cannondale.com)
UCI World Tour team Liquigas-Cannondale (will go under the name of Cannondale Pro Cycling Team from the beginning of the 2013 season) use customized Cannondale Synapse bikes in the "Queen of the Classics", Paris-Roubaix.
If you want to ride a road bike and doing it with a comfortable fashion, Synapse is for you. For a cheaper alternative, you can check out Cannondale Synapse Alloy.
Cannondale Synapse Carbon 2013 Hi-MOD 3 Ultegra Specifications
Frame: Synapse, Hi-MOD full carbon, SAVE PLUS, BB30
Fork: Synapse, Hi-MOD full carbon, SAVE PLUS, 1-1/8" steerer
Rims: Mavic Ksyrium Equipe S WTS
Hubs: Mavic Ksyrium Equipe S
Spokes: Mavic Ksyrium Equipe S
Tires: Mavic WTS 700x25c
Pedals: n/a
Crank: FSA SL-K Light Carbon BB30, 50/34
Bottom Bracket: FSA BB30
Chain: Shimano Ultegra 6700
Cog Set: Shimano Ultegra 6700, 11-28, 10-speed
Front Derailleur: Shimano Ultegra 6700
Rear Derailleur: Shimano Ultegra 6700
Shifters: Shimano Ultegra 6700
Handlebar: Cannondale C1 Compact
Grips: New Cannondale Bar Tap w/ gel, 3.5mm
Stem: Cannondale C1 31.8mm 6 deg.
Headset: Synapse HM, 1-1/4" lower bearing, 25mm carbon top cover (w/ 5mm alloy hidden top cover)
Brakes: Shimano Ultegra 6700
Brake Levers: Shimano Ultegra 6700
Saddle: Fi'zi:k Aliante Delta, Mg rails
Seat Post: FSA SL-K Carbon, 27.2mm
Sizes: 48, 51, 54, 56, 58, 61cm
Cannondale Synapse Carbon 3 Ultegra Specifications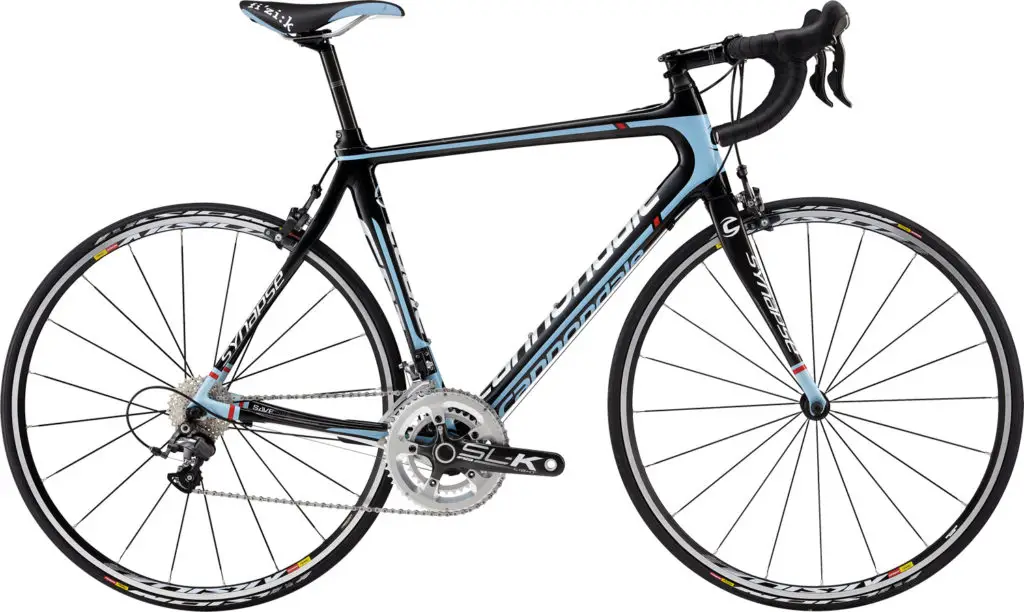 Frame: Synapse, full carbon, SAVE PLUS, BB30
Fork: Synapse, full carbon, SAVE PLUS, 1-1/8" steerer
Rims: Mavic Aksium WTS
Hubs: Mavic Aksium WTS
Spokes: Mavic Aksium WTS
Tires: Mavic Aksion, 700x25c, folding
Pedals: n/a
Crank: FSA SL-K Light Carbon BB30, 50/34 (crank option: 52/39/30)
Bottom Bracket: FSA BB30
Chain: Shimano Ultegra 6700
Cog Set: Shimano Ultegra 6700, 11-28, 10-speed
Front Derailleur: Shimano Ultegra 6700
Rear Derailleur: Shimano Ultegra 6700
Shifters: Shimano Ultegra 6700
Handlebar: Cannondale C2 Compact
Grips: New Cannondale Bar Tap w/ gel, 3.5mm
Stem: Cannondale C2 31.8mm 6 deg.
Headset: Synapse Si, 25mm top cap
Brakes: Shimano Ultegra 6700
Brake Levers: Shimano Ultegra 6700
Saddle: Fi'zi:k Aliante Delta, Mg rails
Seat Post: Cannondale C2, UD Carbon, 27.2x300mm
Sizes: 48, 51, 54, 56, 58, 61cm
Cannondale Synapse Carbon 5 105 Specifications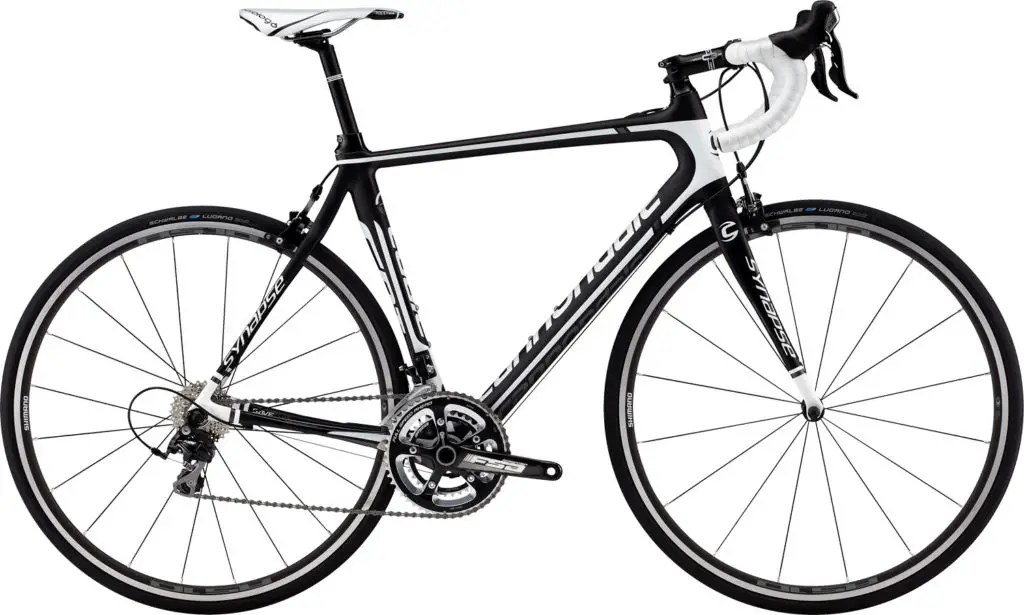 Frame: Synapse, full carbon, SAVE PLUS, BB30
Fork: Synapse, full carbon, SAVE PLUS, 1-1/8" steerer
Rims: Shimano RS-10
Hubs: Shimano RS-10
Spokes: Shimano RS-10
Tires: Schwalbe Lugano, 700x25c, folding
Pedals: n/a
Crank: FSA SL-K Light Carbon BB30, 50/34 (crank option: 52/39/30)
Bottom Bracket: FSA BB30
Chain: Shimano 105 5700
Cog Set: Shimano 105 5700, 11-28, 10-speed
Front Derailleur: Shimano 105 5700
Rear Derailleur: Shimano 105 5700
Shifters: Shimano 105 5700
Handlebar: Cannondale C3 Compact
Grips: New Cannondale Bar Tape w/ gel, 3.5mm
Stem: Cannondale C3 31.8mm 6 deg.
Headset: Synapse Si, 25mm top cap
Brakes: Tektro R580
Brake Levers: Shimano 105 5700
Saddle: Prologo, Kappa EVO
Seat Post: Cannondale C3 alloy, 27.2mmx300mm
Sizes: 48, 51, 54, 56, 58, 61cm
Cannondale Synapse Carbon 6 Tiagra Specifications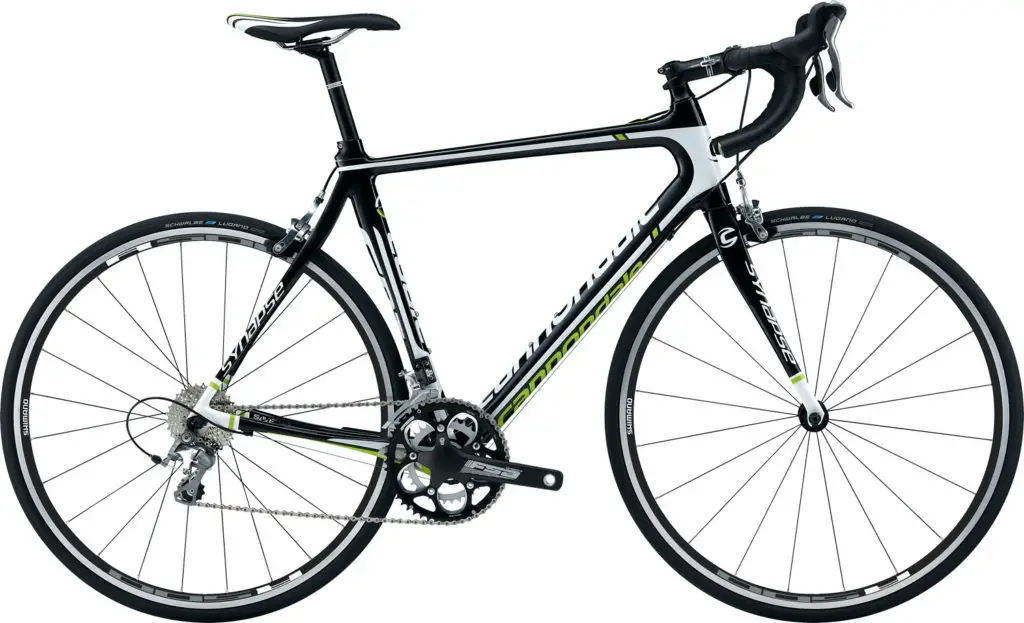 Frame: Synapse, full carbon, SAVE PLUS, BB30
Fork: Synapse, full carbon, SAVE PLUS, 1-1/8" steerer
Rims: Shimano R501
Hubs: Shimano R501
Spokes: Shimano R501
Tires: Schwalbe Lugano, 700x25c
Pedals: n/a
Crank: FSA Omega, BB30, 50/34
Bottom Bracket: FSA BB30
Chain: Shimano Tiagra 4600, 10-speed
Cog Set: Shimano Tiagra 4600, 12-30, 10-speed
Front Derailleur: Shimano Tiagra 4600
Rear Derailleur: Shimano Tiagra 4600
Shifters: Shimano Tiagra 4600
Handlebar: Cannondale C3 Compact
Grips: New Cannondale Bar Tape w/ gel, 3.5mm
Stem: Cannondale C3 31.8mm 6 deg.
Headset: Synapse Si, 25mm top cap
Brakes: Shimano Tiagra 4600
Brake Levers: Shimano Tiagra 4600
Saddle: Cannondale Stage Ergo w/ Crmo Rails
Seat Post: Cannondale C3 alloy, 27.2mmx300mm
Sizes: 48, 51, 54, 56, 58, 61cm
Latest posts by M. Özgür Nevres
(see all)