You don't have to spend a bulk of money to ride a high-performance road bike. Cannondale's award-winning CAAD (Cannondale Advanced Aluminum Design) series of road bikes (since 1983) still offers best price/performance ratio.

You're mountain biker, and want to buy a road bike as a second bike. Or you're a youngster who want to start cycling with fastest fashion. Or for some other reason… You want to buy a road bike, but don't want to spend thousands of dollars.
Then Cannondale CAAD8 may be your best choice. Cannondale have always been renowned for their fat-tubed and smoothly welded aluminium frames, and the CAAD 8 was, until a few years ago, the Cannondale's top-end race offering.
CAAD8 is built of a lesser quality aluminum than the CAAD10, and the tubes are not hydroformed, mechanically shaped. But the bike looks and rides almost as well as its more expensive counterpart, CAAD10. The frame geometry is virtually the same: this means you can get a time-tested (CAAD series of road bikes appeared in the grand tours like Tour de France and Giro d'Italia in the first half of 2000's), race-worthy bike for surprisingly little money.
I personally rode a Cannondale CAAD8 2006 for 4 years, and I loved the bike much. I even enter my country's (Turkey) national road championship with it (finished 12th in 30+), and the bike performed very well in the race. I used the bike in some other races too, and I always satisfied with the bike's performance. So if anyone ask me which low-price road bike is best to buy, I always suggest a Cannondale CAAD series bike, currently CAAD 8 or CAAD 10.
I would recommend that you to stay away from Shimano Sora, because it is a 9-speed system. If you want to upgrade your gear system partially in the future, you will have to change the whole gear system. But Tiagra and 105 are both 10-speed systems. For example, you can upgrade only the rear derailleur to Ultegra or Dura-Ace, because they're 10-speed systems too (Dura-Ace 2013 is 11-speed).
All three default configurations of CAAD8 is good for your everyday rides, training rides or even 100-mile weekend rides. With better wheels and a 53/39 crank, you can enter local crits or even bigger races. CAAD8 is race-proven.
Cannondale CAAD8 5 105 Specifications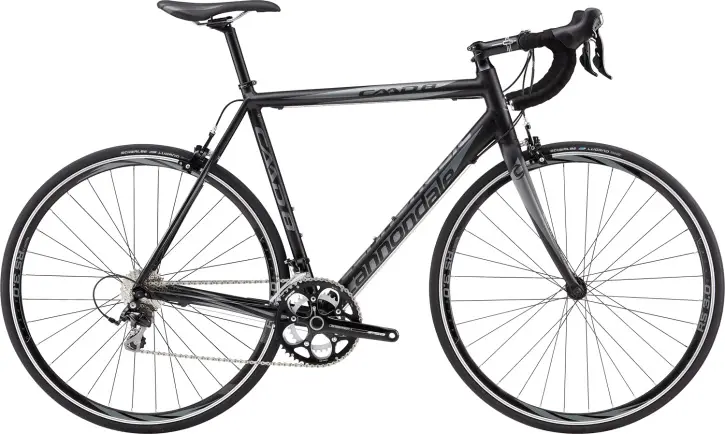 Frame: CAAD8, Optimized 6061 Alloy, SAVE, BB30
Fork: Cannondale Ultra, carbon blades, 1-1/8"
Rims: Maddux RS 3.0 Speed, 32 hole
Hubs: Formula, RB-51 front, RB-52 rear
Spokes: Stainless Steel, 15g
Tires: Schwalbe Lugano, 700x23c
Pedals: Wellgo
Crank: FSA Gossamer, BB30, 50/34 (crank option: 50/39/30)
Bottom Bracket: FSA BB30
Chain: KMC X10, 10-speed
Rear Cogs: Shimano Tiagra 4600, 12-28, 10-speed
Front Derailleur: Shimano 105 5700, 31.8mm clamp
Rear Derailleur: Shimano 105 5700
Shifters: Shimano 105 5700
Handlebar: Cannondale C3 Compact
Grips: Cannondale Suede Bar Tape w/ gel, 2.5mm
Stem: Cannondale C3, 31.8mm, 6 deg.
Headset: Tange Seiki Integrated, 25mm top cap
Brakes: Tektro R540, dual pivot, cartridge pad
Brake Levers: Shimano 105
Saddle: Cannondale Stage Ergo w/ Crmo Rails
Seat Post: Cannondale C3, carbon wrap, 27.2x300mm
Sizes: 48, 51, 54, 56, 58, 61cm
Cannondale CAAD8 6 Tiagra Specifications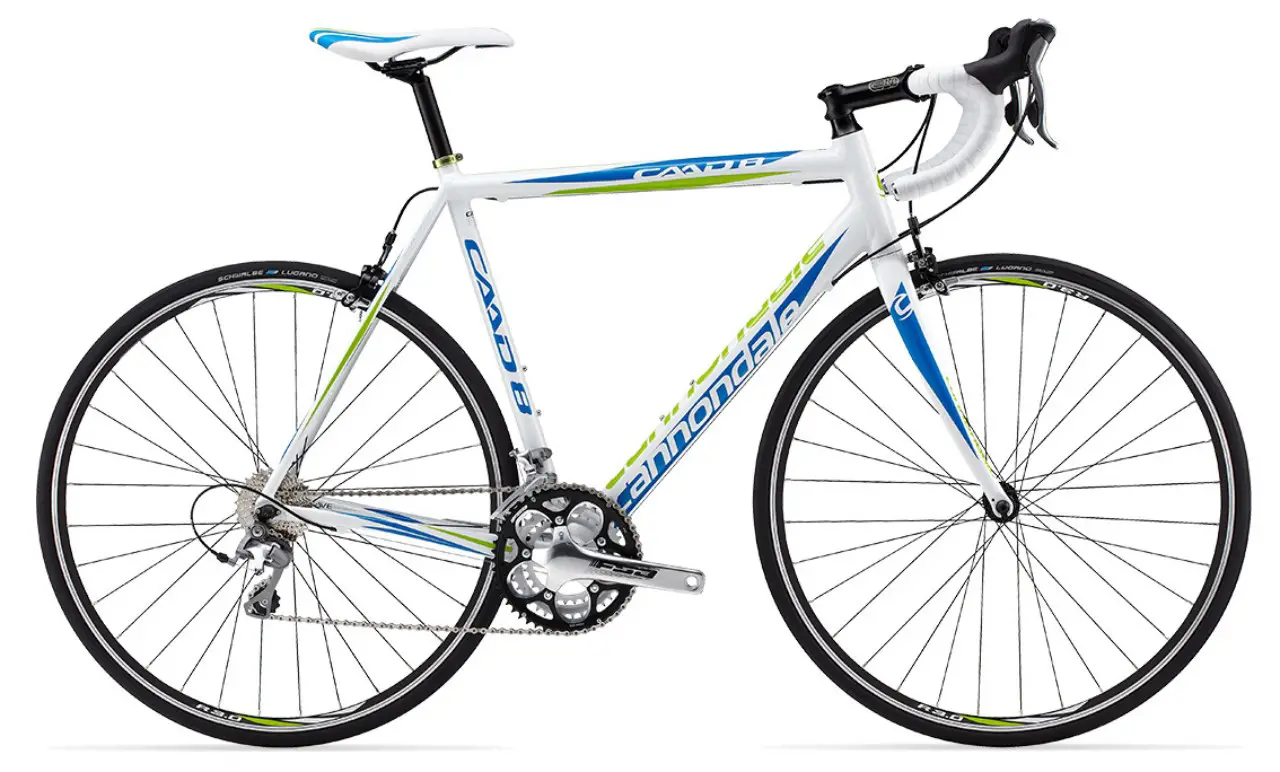 Frame: CAAD8, Optimized 6061 Alloy, SAVE, BB30
Fork: Cannondale Ultra, carbon blades, 1-1/8"
Rims: Maddux RS 3.0, 32 hole
Hubs: Cannondale C4
Spokes: Stainless Steel, 15g
Tires: Schwalbe Lugano, 700x23c
Pedals: Wellgo
Crank: FSA Omega BB30, 50/34 or 50/39/30
Bottom Bracket: FSA BB30
Chain: KMC X10, 10-speed
Rear Cogs: Shimano Tiagra 4600, 12-28, 10-speed
Front Derailleur: Shimano Tiagra 4600, 31.8mm clamp
Rear Derailleur: Shimano Tiagra 4600
Shifters: Shimano Tiagra 4600
Handlebar: Cannondale C4 Compact
Grips: Cannondale Suede Bar Tape w/ gel, 2.5mm
Stem: Cannondale C4, 31.8mm, 6 deg.
Headset: Tange Seiki Integrated, 25mm top cap
Brakes: Cannondale C4, dual pivot, cartridge pad
Brake Levers: Shimano Tiagra
Saddle: Cannondale Stage Ergo w/ Steel Rails
Seat Post: Cannondale C4 alloy, 27.2mmx300mm
Sizes: 48, 51, 54, 56, 58, 61cm
Cannondale CAAD8 7 Sora Specifications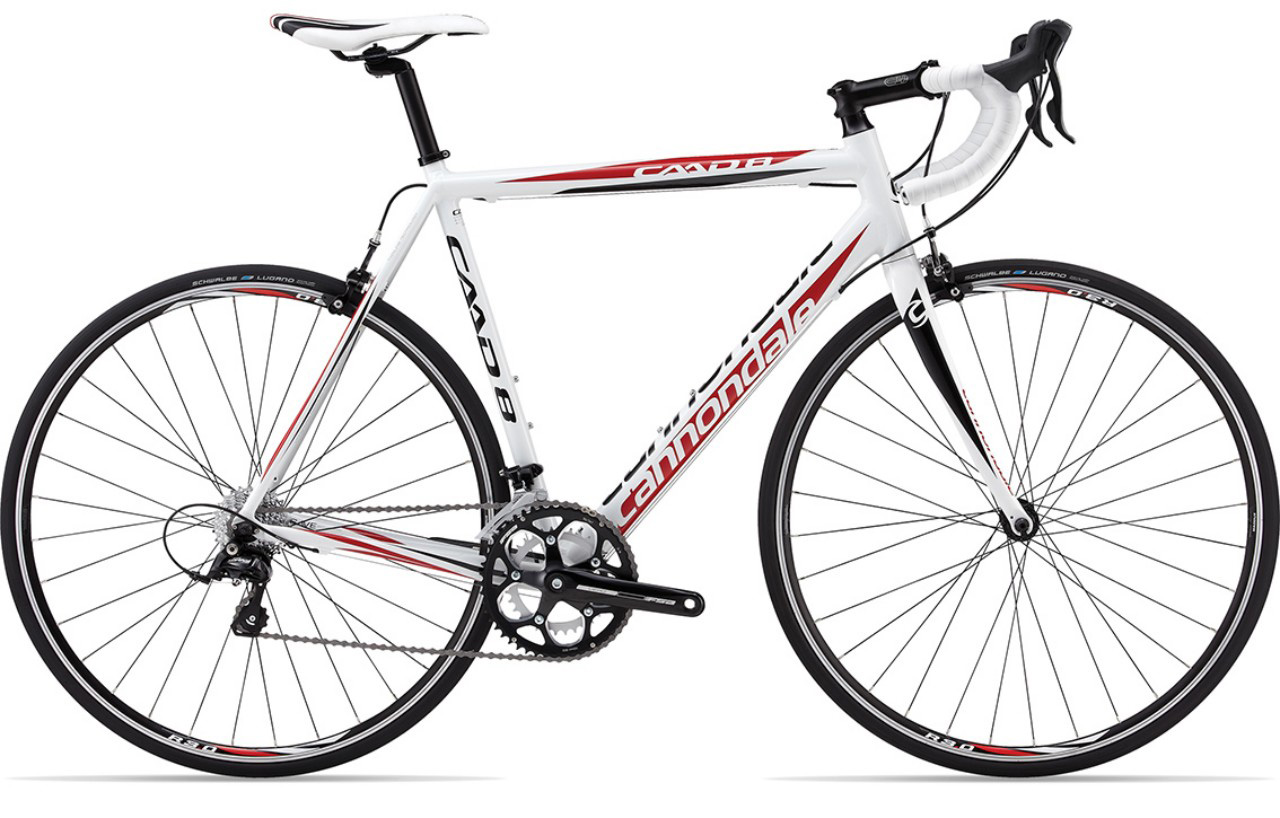 Frame: CAAD8, Optimized 6061 Alloy
Fork: Cannondale Ultra, carbon blades, 1-1/8"
Rims: Maddux RS 3.0, 32 hole
Hubs: Cannondale C4
Spokes: Stainless Steel, 15g
Tires: Schwalbe Lugano, 700x23c
Pedals: Wellgo
Crank: FSA Vero, 50/34
Bottom Bracket: FSA
Chain: KMC 9-speed
Rear Cogs: SRAM PG-950, 12-26, 9-speed
Front Derailleur: Shimano Sora, 31.8mm clamp
Rear Derailleur: Shimano Sora
Shifters: Shimano Sora
Handlebar: Cannondale C4 Compact
Grips: Cannondale Suede bar tape w/gel, 2.5mm
Stem: Cannondale C4, 31.8mm, 6 deg.
Headset: Tange Seiki Integrated, 25mm top cap
Brakes: Cannondale C4, dual pivot, cartridge pad
Brake Levers: Shimano Sora
Saddle: Cannondale Stage Ergo w/ Steel Rails
Seat Post: Cannondale C4 alloy, 27.2mmx300mm
Sizes: 48, 51, 54, 56, 58, 61cm
Latest posts by M. Özgür Nevres
(see all)