US Anti-doping agency USADA banned Lance Armstrong's former US Postal teammates Levi Leipheimer, Christian Vande Velde, David Zabriskie, Tom Danielson, Michael Barry, and George Hincapie from racing for six months, and disqualified some of their past results.
11 former teammates of Lance Armstrong testified under oath in USADA's investigation into doping practices carried out by Lance Armstrong and the US Postal team, which found Armstrong guilty of several doping related charges. Frankie Andreu, Michael Barry, Tom Danielson, Tyler Hamilton, George Hincapie, Floyd Landis, Levi Leipheimer, Stephen Swart, Christian Vande Velde, Jonathan Vaughters and David Zabriskie were part of a 26-strong group that gave written testimonies.
As a result of the investigation, Armstrong was stripped of his seven Tour de France titles and chose not fight the charged leveled at him. The six active former teammates suspended for six months and disqualified some of their past results.
George Hincapie and Michael Barry announced they would retire this season.
Riders banned by US Anti-Doping Agency (USADA)
Levi Leipheimer
Suspension start/end: From September 01, 2012 to February 28, 2013
Disqualification start/end: From June 01, 1999, to July 30, 2006, and from July 7 to July 29, 2007
Voided results
1999: 1st Overall Tour de Beauce (1st Stage 3)
1999: 2nd Pan American Games Men's Road Race3rd Sea Otter Classic
2000: 1st Stage 2 Circuit Franco-Belge
2001: 1st Stage 5 Redlands Bicycle Classic (1st Mountains Classification)
2001: 1st Stage 1 Sea Otter Classic
2001: 2nd Overall Vuelta a Castilla y León
2001:3rd Overall Vuelta a España
2002: 1st Overall Route du Sud
2002: (1st Stage 3-ITT) 8th Overall Tour de France
2003: 8th Overall Critérium du Dauphiné
2004: 1st Stage 4 Setmana Catalana
2004: 9th Overall Tour de France
2005: 1st Overall Deutschland Tour (1st King of the Mountains classification, 1st Stage 4)
2005: 2nd Overall Tour de Georgia
2005: 3rd Overall Dauphiné Libéré
2005: 6th Overall Tour de France
2006: 1st Overall Dauphiné Libéré
2006: 2nd Overall Deutschland Tour (1st Stage 5)
2006: 6th Overall Tour of California (1st Prologue, 1st King of the Mountains)
2006: 12th Overall Tour de France (Combativity award Stage 18)
2007: 3rd Overall Tour de France (1st Stage 19-ITT)
George Hincapie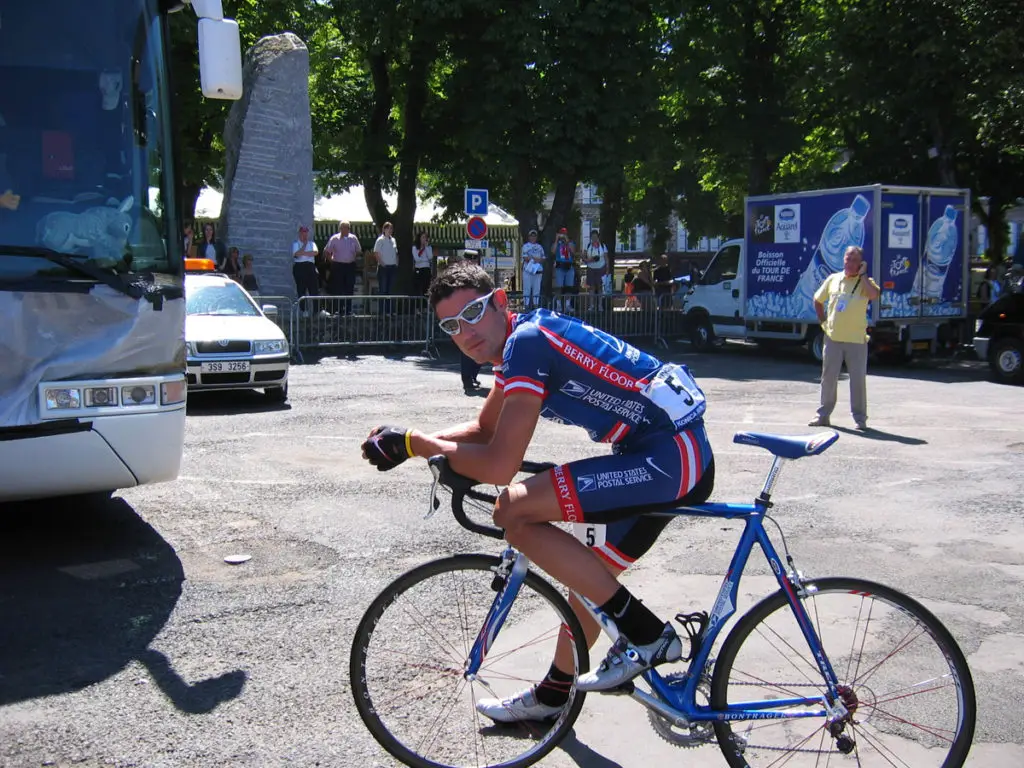 Suspension start/end: From September 01, 2012, to February 28, 2013
Disqualification start/end: From May 31, 2004, to July 31, 2006
Voided results
2004: 1st Stage 4 TTT Tour de France
2004: 8th Paris-Roubaix
2004: 10th Ronde van Vlaanderen
2005: 1st Kuurne-Brussels-Kuurne
2005: Critérium du Dauphiné Libéré (1st Prologue & Stage 7)
2005: 1st GP Ouest-France
2005: 2nd Paris-Roubaix
2005: 7th Ronde van Vlaanderen
2005: 14th Overall Tour de France (1st Stage 4-TTT & 15)
2006: 2nd Overall Eneco Tour of Benelux (1st Stage 4-ITT)
2006: Tour de France (Held Maillot Jaune from Stages 1-2)
2006: 3rd Ronde van Vlaanderen
Christian Vande Velde
Suspension start/end: From September 09, 2012, to March 08, 2013
Disqualification start/end: From June 04, 2004, to April 31, 2006
Voided results
2005: 1st Mountains classification Eneco Tour of Benelux
2006: 1st Overall Tour de Luxembourg
2006: 2nd Overall Tour of Elk Grove
2006: 3rd Stage 14 Tour de France
2006: 9th Overall Tour of California
2007: 1st Eindhoven Team Time Trial
2007: 2nd Overall Tour de Georgia
2007: 6th Overall Tour of California
David Zabriskie
Suspension start/end: From September. 01, 2012, to February 28, 2013
Disqualification start/end: From June 04, 2004, to April 31, 2006
Voided results
2003: 1st Best young rider Quatre Jours de Dunkerque (Four days of Dunkerque)
2004: 1st US Elite National Time Trial Championships
2004: 1st Stage 1 TTT Vuelta a España
2004: 1st Stage 11 Vuelta a España
2005: 1st Stage 1 ITT Tour de France (Held Maillot Jaune from Stages 1-3)
2005: 1st Stage 8 ITT Giro d'Italia
2005: 1st Stage 4 TTT Tour Méditeranéen
2006: 1st USPRO National Time Trial Championships
2006: 1st Stage 2 TTT Settimana Ciclistica Internazionale
2006: 1st Prologue Dauphiné Libéré
2006: 1st Stage 3 ITT Dauphiné Libéré
2006: 1st Eindhoven Team Time Trial
Tom Danielson
Suspension start/end: From September 01, 2012, to February 28, 2013
Disqualification start/end: From June 04, 2004, to April 31, 2006
Voided results
2005: 1st Overall Tour de Georgia (1st Stage 5)
2005: 7th Overall Vuelta a España
2006: 1st Overall Tour of Austria
2006: 2nd Overall Tour de Georgia (1st Stage 5)
2006: 6th Overall Vuelta a España (1st Stage 17)
2006: 10th Overall Tirreno-Adriatico
Michael Barry
Suspension start/end: From September 10, 2012, to March 09, 2013
Disqualification start/end: From June 04, 2004, to April 31, 2006
Voided results
2003: 4th Overall Tour of Georgia
2003: 7th UCI World Championships Road Race
2004: 1st Stage 1 TTT Vuelta a España
2005: 6th Overall Österreich-Rundfahrt (1st Stage 1, 1st Points Classification)
2005: 8th, Stage 21 Vuelta a España
2006: 2nd Eindhoven Team Time Trial
Sources
Latest posts by M. Özgür Nevres
(see all)