Trek Domane is the carbon endurance road bike, this means it's good for bad road surfaces, cobbled roads, etc. It is specifically designed for the cobbled classics in Europe. It has a big frame, uses a unique IsoSpeed Decoupler at the seat tube/top tube junction to separate the rider from bumps on the road. Here are the Trek Domane 2013 models.
Upfront, the IsoSpeed fork uses thinner legs with rearward-set dropouts to absorb vibrations and bumps without sacrificing steering precision. Combined, they do an admirable job of smoothing out rough roads, cobbles, gravel paths and cracks in the pavement. Trek Domane is a true "race winner". UCI World Tour Team RadioShack-Nissan use Domane bikes in the cobbled spring classics in Europe.
Cobbled classics specialist Fabian Cancellara won Montepaschi Strade Bianche 2012 edition with a Trek Domane 6 series bike.
Trek Domane 2013 6 Series Specifications
Domane 6.9
Upgrades from Domane 6.2:
Bontrager Race X Lite Tubeless Ready wheels
Shimano Dura-Ace drivetrain
Shimano 11-speed shifting
Specifications:
Bontrager Race X Lite IsoZone handlebar
Colors: Trek White/Chi Red/Onyx Carbon
Frame: 600 Series OCLV Carbon, E2, BB90, performance cable routing, DuoTrap compatible, Ride Tuned seatmast, IsoSpeed
Fork: Trek IsoSpeed full carbon, E2
Sizes: 44, 47, 50, 52, 54, 56, 58, 60, 62cm
Wheels: Bontrager Race X Lite, Tubeless Ready
Tires: Bontrager R3, 700x25c
Shifters: Shimano Dura-Ace STI, 11 speed
Front Derailleur: Shimano Dura-Ace, braze-on
Rear Derailleur: Shimano Dura-Ace
Crank: Shimano Dura-Ace, 50/34 (compact)
Cassette: Shimano Dura-Ace 11-28, 11 speed
Saddle: Bontrager Affinity Race X Lite, carbon rails
Seatpost: Bontrager Ride Tuned Carbon seatmast cap, 20mm offset
Handlebar: Bontrager Race X Lite IsoZone, OCLV carbon, VR-CF, 31.8mm
Stem: Bontrager Race X Lite, 31.8mm, 7 degree
Headset: Cane Creek IS-8 integrated, stainless cartridge bearings, sealed, alloy, 1-1/8" top, 1.5" bottom
Brakes: Shimano Dura-Ace brakes w/Shimano Dura-Ace STI levers
Grips: Bontrager Gel Cork tape
Domane 6.9 WSD
Upgrades from Domane 6.2 WSD:
Bontrager Race X Lite Tubeless Ready wheels
Shimano Dura-Ace drivetrain
Shimano 11-speed shifting
Bontrager Race X Lite IsoZone handlebar
Specifications:
Colors: Black Titanite/Trek Gold/White Shell
Frame: 600 Series OCLV Carbon, E2, BB90, performance cable routing, DuoTrap compatible, Ride Tuned seatmast, IsoSpeed
Fork: Trek IsoSpeed full carbon, E2
Sizes: 44, 47, 50, 52, 54, 56, 58, 60, 62cm
Wheels: Bontrager Race X Lite, Tubeless Ready
Tires: Bontrager R3, 700x25c
Shifters: Shimano Dura-Ace STI, 11 speed
Front Derailleur: Shimano Dura-Ace, braze-on
Rear Derailleur: Shimano Dura-Ace
Crank: Shimano Dura-Ace, 50/34 (compact)
Cassette: Shimano Dura-Ace 11-28, 11 speed
Saddle: Bontrager Affinity Race X Lite WSD, carbon rails
Seatpost: Bontrager Ride Tuned Carbon seatmast cap, 20mm offset
Handlebar: Bontrager Race X Lite IsoZone, OCLV carbon, VR-CF, 31.8mm
Stem: Bontrager Race X Lite, 31.8mm, 7 degree
Headset: Cane Creek IS-8 integrated, stainless cartridge bearings, sealed, alloy, 1-1/8" top, 1.5" bottom
Brakes: Shimano Dura-Ace brakes w/Shimano Dura-Ace STI levers
Grips: Bontrager Gel Cork tape
Domane 6.2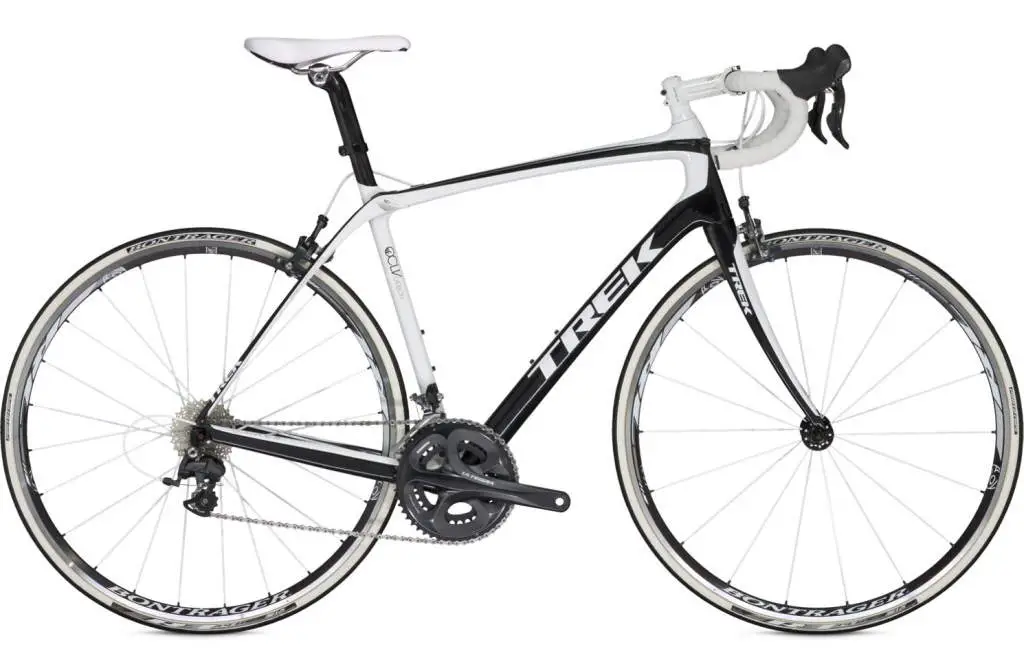 Colors: Black Titanite/Trek White
Frame: 600 Series OCLV Carbon, E2, BB90, performance cable routing, DuoTrap compatible, Ride Tuned seatmast, IsoSpeed
Fork: Trek IsoSpeed full carbon, E2
Sizes: 44, 47, 50, 52, 54, 56, 58, 60, 62cm
Wheels: Bontrager Race Lite
Tires: Bontrager R3, 700x25c
Shifters: Shimano Ultegra STI, 10 speed
Front Derailleur: Shimano Ultegra, braze-on
Rear Derailleur: Shimano Ultegra
Crank: Shimano Ultegra, 50/34 (compact)
Cassette: Shimano Ultegra 11-28, 10 speed
Saddle: Bontrager Affinity Race Lite, hollow stainless steel rails
Seatpost: Bontrager Ride Tuned Carbon seatmast cap, 20mm offset
Handlebar: Bontrager Race Lite IsoZone, alloy, VR-CF, 31.8mm
Stem: Bontrager Race X Lite, 31.8mm, 7 degree
Headset: Cane Creek IS-2, integrated, cartridge bearings, sealed, alloy, 1-1/8" top, 1.5" bottom
Brakes: Shimano Ultegra brakes w/Shimano Ultegra STI levers
Grips: Bontrager Gel Cork tape
Domane 6.2 WSD
Colors: Gunmetal/Rage Red/Trek White
Frame: 600 Series OCLV Carbon, E2, BB90, performance cable routing, DuoTrap compatible, Ride Tuned seatmast, IsoSpeed
Fork: Trek IsoSpeed full carbon, E2
Sizes: 44, 47, 50, 52, 54, 56, 58, 60, 62cm
Wheels: Bontrager Race Lite, Tubeless Ready
Tires: Bontrager R3, 700x25c
Shifters: Shimano Ultegra STI, 10 speed
Front Derailleur: Shimano Ultegra, braze-on
Rear Derailleur: Shimano Ultegra
Crank: Shimano Ultegra, 50/34 (compact)
Cassette: Shimano Ultegra 11-28, 10 speed
Saddle: Bontrager Affinity Race Lite WSD, hollow stainless steel rails
Seatpost: Bontrager Ride Tuned Carbon seatmast cap, 20mm offset
Handlebar: Bontrager Race Lite IsoZone, alloy, VR-CF, 31.8mm
Stem: Bontrager Race X Lite, 31.8mm, 7 degree
Headset: Cane Creek IS-2, integrated, cartridge bearings, sealed, alloy, 1-1/8" top, 1.5" bottom
Brakes: Shimano Ultegra brakes w/Shimano Ultegra STI levers
Grips: Bontrager Gel Cork tape
Trek Domane 2013 5 Series Specifications
Domane 5.9
Upgrades from Domane 5.2:
Shimano Ultegra Di2 groupset
Bontrager Race Lite Tubeless Ready wheels
Specifications:
Colors: Trek Black/Trek Charcoal
Frame: 500 Series OCLV Carbon, E2, BB90, performance cable routing, DuoTrap compatible, Ride Tuned seatmast, IsoSpeed
Fork: Trek IsoSpeed full carbon, E2
Sizes: 50, 52, 54, 56, 58, 60, 62cm
Wheels: Bontrager Race Lite, Tubeless Ready
Tires: Bontrager R3, 700x25c
Shifters: Shimano Ultegra STI Di2, 10 speed
Front Derailleur: Shimano Ultegra Di2, braze-on
Rear Derailleur: Shimano Ultegra Di2
Crank: Shimano Ultegra, 50/34 (compact)
Cassette: Shimano Ultegra 11-28, 10 speed
Saddle: Bontrager Affinity Race Lite, titanium rails
Seatpost: Bontrager Ride Tuned Carbon seatmast cap, 20mm offset
Handlebar: Bontrager Race Lite IsoZone, alloy, VR-CF, 31.8mm
Stem: Bontrager Race X Lite, 31.8mm, 7 degree
Headset: Integrated, cartridge bearings, sealed, alloy, 1-1/8" top, 1.5" bottom
Brakes: Shimano Ultegra brakes w/Shimano Ultegra STI Di2 levers
Grips: Bontrager Gel Cork tape
Domane 5.9 WSD
Upgrades from Domane 5.2 WSD:
Shimano Ultegra Di2 groupset
Bontrager Race Lite Tubeless Ready wheels
Specifications:
Colors: White Shell/Trek Gold
Frame: 500 Series OCLV Carbon, E2, BB90, performance cable routing, DuoTrap compatible, Ride Tuned seatmast, IsoSpeed
Fork: Trek IsoSpeed full carbon, E2
Sizes: 47, 50, 52, 54, 56cm
Wheels: Bontrager Race Lite, Tubeless Ready
Tires: Bontrager R3, 700x25c
Shifters: Shimano Ultegra STI Di2, 10 speed
Front Derailleur: Shimano Ultegra Di2, braze-on
Rear Derailleur: Shimano Ultegra Di2
Crank: Shimano Ultegra, 50/34 (compact)
Cassette: Shimano Ultegra 11-28, 10 speed
Saddle: Bontrager Affinity Race Lite WSD, titanium rails
Seatpost: Bontrager Ride Tuned Carbon seatmast cap, 20mm offset
Handlebar: Bontrager Race Lite IsoZone, alloy, VR-CF, 31.8mm
Stem: Bontrager Race X Lite, 31.8mm, 7 degree
Headset: Integrated, cartridge bearings, sealed, alloy, 1-1/8" top, 1.5" bottom
Brakes: Shimano Ultegra brakes w/Shimano Ultegra STI Di2 levers
Grips: Bontrager Gel Cork tape
Domane 5.2
Colors: Viper Red/Trek White
Frame: 500 Series OCLV Carbon, E2, BB90, performance cable routing, DuoTrap compatible, Ride Tuned seatmast, IsoSpeed
Fork: Trek IsoSpeed full carbon, E2
Sizes: 50, 52, 54, 56, 58, 60, 62cm
Wheels: Bontrager Race, Tubeless Ready
Tires: Bontrager R3, 700x25c
Shifters: Shimano Ultegra STI, 10 speed
Front Derailleur: Shimano Ultegra, braze-on
Rear Derailleur: Shimano Ultegra
Crank: Shimano Ultegra, 50/34 (compact)
Cassette: Shimano 105 11-28, 10 speed
Saddle: Bontrager Affinity 3, hollow chromoly rails
Seatpost: Bontrager Ride Tuned Carbon seatmast cap, 20mm offset
Handlebar: Bontrager Race Lite IsoZone, alloy, VR-CF, 31.8mm
Stem: Bontrager Race X Lite, 31.8mm, 7 degree
Headset: Integrated, cartridge bearings, sealed, alloy, 1-1/8" top, 1.5" bottom
Brakes: Shimano Ultegra brakes w/Shimano Ultegra STI levers
Grips: Bontrager Gel Cork tape
Domane 5.2 WSD
Colors: Eggplant/Crystal White
Frame: 500 Series OCLV Carbon, E2, BB90, performance cable routing, DuoTrap compatible, Ride Tuned seatmast, IsoSpeed
Fork: Trek IsoSpeed full carbon, E2
Sizes: 44, 47, 50, 52, 54, 56cm
Wheels: Bontrager Race, Tubeless Ready
Tires: Bontrager R3, 700x25c
Shifters: Shimano Ultegra STI, 10 speed
Front Derailleur: Shimano Ultegra, braze-on
Rear Derailleur: Shimano Ultegra
Crank: Shimano Ultegra, 50/34 (compact)
Cassette: Shimano 105 11-28, 10 speed
Saddle: Bontrager Affinity 2 WSD, chromoly rails
Seatpost: Bontrager Ride Tuned Carbon seatmast cap, 20mm offset
Handlebar: Bontrager Race Lite IsoZone, alloy, VR-CF, 31.8mm
Stem: Bontrager Race X Lite, 31.8mm, 7 degree
Headset: Integrated, cartridge bearings, sealed, alloy, 1-1/8" top, 1.5" bottom
Brakes: Shimano Ultegra brakes w/Shimano Ultegra STI levers
Grips: Bontrager Gel Cork tape
Trek Domane 2013 4 Series Specifications
Domane 4.5
Upgrades from Domane 4.0:
Bontrager Race Tubeless Ready wheels
Shimano Ultegra drivetrain
Specifications:
Colors: Trek White/Black Titanite
Frame: 400 Series OCLV Carbon, E2, BB90, DuoTrap compatible, IsoSpeed
Fork: Trek IsoSpeed carbon, E2
Sizes: 50, 52, 54, 56, 58, 60, 62cm
Wheels: Bontrager Race, Tubeless Ready
Tires: Bontrager R2, 700x25c
Shifters: Shimano Ultegra STI, 10 speed
Front Derailleur: Shimano Ultegra, braze-on
Rear Derailleur: Shimano Ultegra
Crank: Shimano R565, 50/34 (compact)
Cassette: Shimano 105 11-28, 10 speed
Saddle: Bontrager Affinity 2, hollow chromoly rails
Seatpost: Bontrager Carbon, 20mm offset
Handlebar: Bontrager Race Blade VR-C, 31.8mm
Stem: Bontrager Race Lite, 31.8mm, 7 degree
Headset: Integrated, cartridge bearings, sealed, alloy, 1-1/8" top, 1.5" bottom
Brakes: Shimano 105 brakes w/Shimano Ultegra STI levers
Grips: Bontrager Gel Cork tape
Domane 4.5 WSD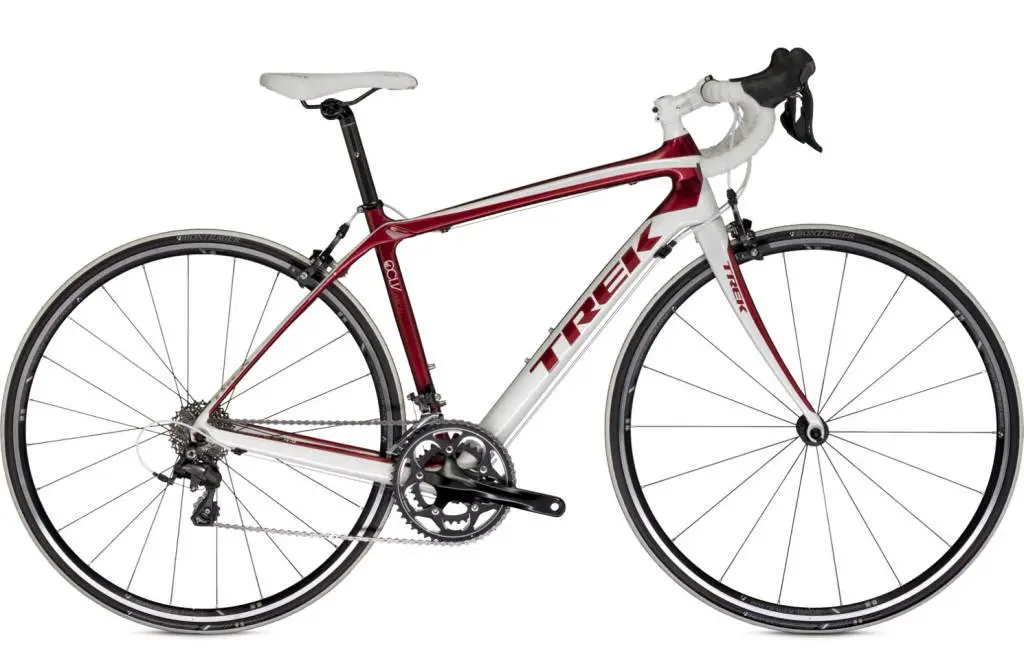 Upgrades from Domane 4.0 WSD:
Bontrager Race Tubeless Ready wheels
Shimano Ultegra drivetrain
Specifications:
Colors: White Shell/Rage Red
Frame: 400 Series OCLV Carbon, E2, BB90, DuoTrap compatible, IsoSpeed
Fork: Trek IsoSpeed carbon, E2
Sizes: 47, 50, 52, 54, 56cm
Wheels: Bontrager Race, Tubeless Ready
Tires: Bontrager R2, 700x25c
Shifters: Shimano Ultegra STI, 10 speed
Front Derailleur: Shimano Ultegra, braze-on
Rear Derailleur: Shimano Ultegra
Crank: Shimano R565, 50/34 (compact)
Cassette: Shimano 105 11-28, 10 speed
Saddle: Bontrager Affinity 2 WSD, hollow chromoly rails
Seatpost: Bontrager Carbon, 20mm offset
Handlebar: Bontrager Race VR-S, 31.8mm
Stem: Bontrager Race Lite, 31.8mm, 7 degree
Headset: Integrated, cartridge bearings, sealed, alloy, 1-1/8" top, 1.5" bottom
Brakes: Shimano 105 brakes w/Shimano Ultegra STI levers
Grips: Bontrager Gel Cork tape
Domane 4.3 WSD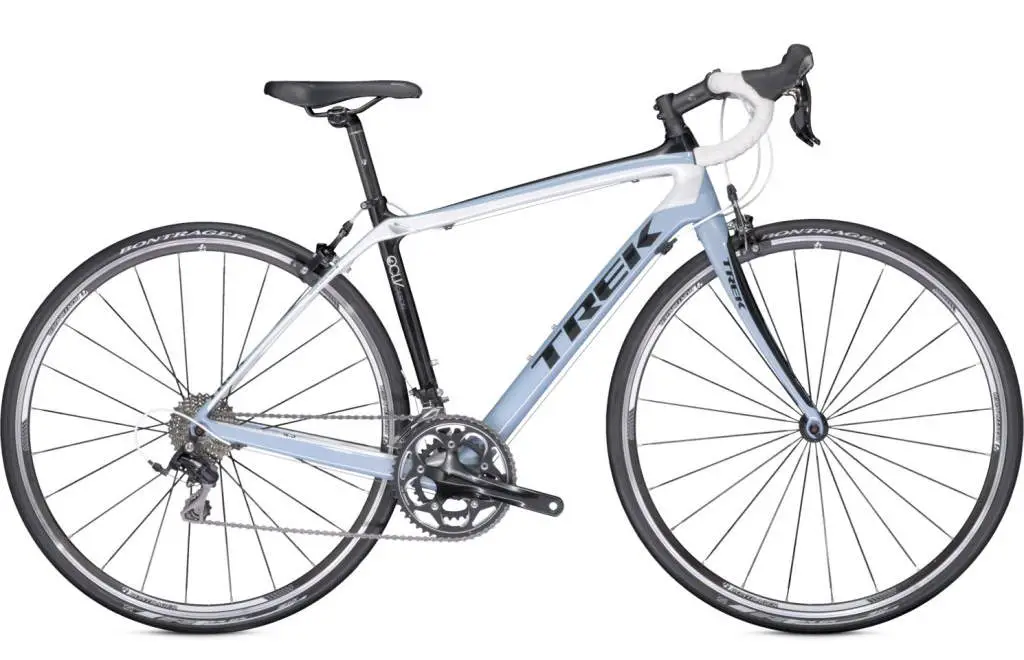 Colors: Washed Denim/Crystal White/Trek Black
Frame: 400 Series OCLV Carbon, E2, BB90, DuoTrap compatible, IsoSpeed
Fork: Trek IsoSpeed carbon, E2
Sizes: 44, 47, 50, 52, 54, 56cm
Wheels: Alloy hubs w/Bontrager Approved alloy rims
Tires: Bontrager R1, 700x25c
Shifters: Shimano 105 STI, 10 speed
Front Derailleur: Shimano 105, braze-on
Rear Derailleur: Shimano 105
Crank: Shimano R565, 50/34 (compact) or 50/39/30 (triple)
Cassette: Shimano Tiagra 12-30, 10 speed
Saddle: Bontrager Affinity 1 WSD, steel rails
Seatpost: Bontrager Carbon, 20mm offset
Handlebar: Bontrager Race VR-S, 31.8mm
Stem: Bontrager Race Lite, 31.8mm, 7 degree
Headset: Integrated, cartridge bearings, sealed, alloy, 1-1/8" top, 1.5" bottom
Brakes: Shimano 105 brakes w/Shimano 105 STI levers
Grips: Bontrager Gel Cork tape
Domane 4.0
Colors: Trek Black/Placid Blue
Frame: 400 Series OCLV Carbon, E2, BB90, DuoTrap compatible, IsoSpeed
Fork: Trek IsoSpeed carbon, E2
Sizes: 50, 52, 54, 56, 58, 60cm
Wheels: Alloy hubs w/Bontrager Approved alloy rims
Tires: Bontrager R1, 700x25c
Shifters: Shimano Tiagra STI, 10 speed
Front Derailleur: Shimano Tiagra, braze-on
Rear Derailleur: Shimano Tiagra
Crank: Shimano Tiagra, 50/34 (compact)  or 50/39/30 (triple)
Cassette: Shimano Tiagra 12-30, 10 speed
Saddle: Bontrager Affinity 1, steel rails
Seatpost: Bontrager Race Lite, infinite tilt adjustment, 20mm offset
Handlebar: Bontrager Race Blade VR-C, 31.8mm
Stem: Bontrager Race Lite, 31.8mm, 7 degree
Headset: Integrated, cartridge bearings, sealed, alloy, 1-1/8" top, 1.5" bottom
Brakes: Alloy dual-pivot brakes w/Shimano Tiagra STI levers
Grips: Bontrager Gel Cork tape
Sources
Latest posts by M. Özgür Nevres
(see all)