Slice RS 2014 and Slice 2014: Cannondale's motto about their time-trial bikes is "narrow is aero". There are three Slice RS and three Slice models are available for 2014.
Slice RS 2014 Series
Cannondale Slice RS Black Inc.
Based on the concept that "Narrow is Aero", everything on the Cannondale Slice RS 2014, from the radical steerer-less fork to the windshadow brakes to that crazy-looking seat post, is designed to minimize the surface area presented to the wind. With Cannondale's AERO SAVE anti-vibration technology and CFit modular fit system, it is also a comfortable time-trial bike. According to Cannondale, Slice RS can save up to 20 seconds in 40k against their competitors.
Specifications:
Frame: Slice RS Hi-MOD Carbon, AERO SAVE, Pressfit BB30, Naero-Tec
Fork: Slice RS Naero-Tec Si
Crank: Cannondale HollowGram SiSL2, BB30, Aero Spider, Vision Trimax 53/39
Bottom Bracket: Cannondale Alloy PF30 BB Cups, Ceramic Bearings
Shifters: Shimano Dura-Ace Di2 9070 Aero
Cog Set: Shimano Dura Ace 9000, 11-25
Chain: Shimano Dura-Ace 9000, 11-speed
Front Derailleur: Shimano Dura Ace Di2 9070, braze-on
Rear Derailleur: Shimano Dura Ace Di2 9070
Rims: Vision Metron 81 carbon clincher
Hubs: Vision Metron
Tires: Schwalbe Z1, 700x23c
Pedals: N/A
Brake: Slice RS Windshadow Si, Carbon
Handlebar: Vision Metron Slice RS Si
Stem: Slice RS Integrated, adjustable 31.8
Headset: Slice RS Si
Brake Levers: Vision Slice RS Integrated
Spokes: Vision Metron
Grips: Fi'zi:k bar tape
Saddle: Fi'z:ik Arione Tri2 00, Carbon Rails
Seat Post: Slice RS Naero -Tec carbon
Rear Shock: N/A
Extras: Di2 Charger, Cfit stem/handlebar spacer kit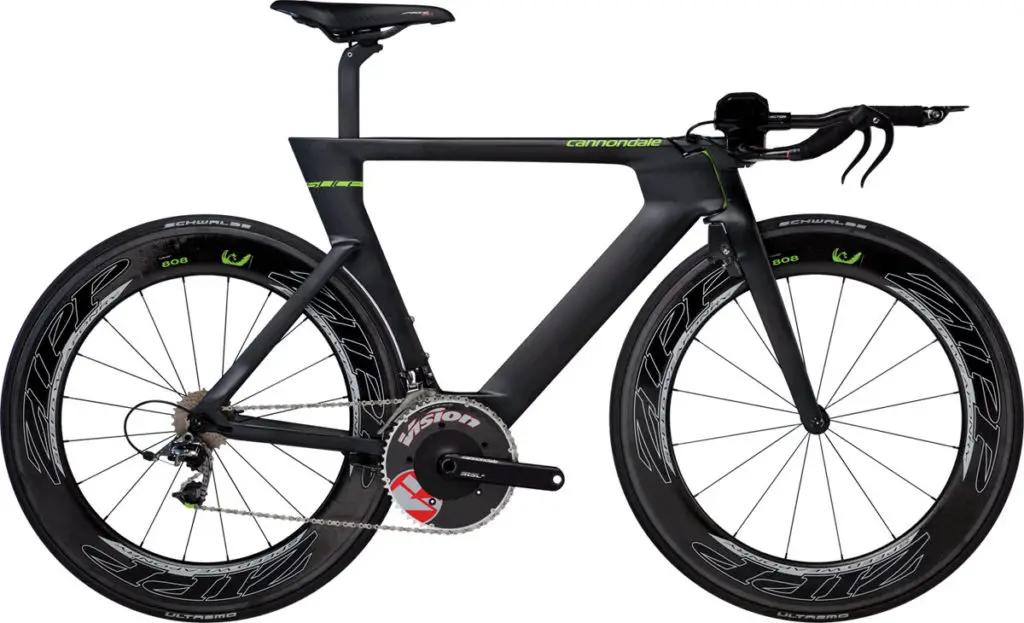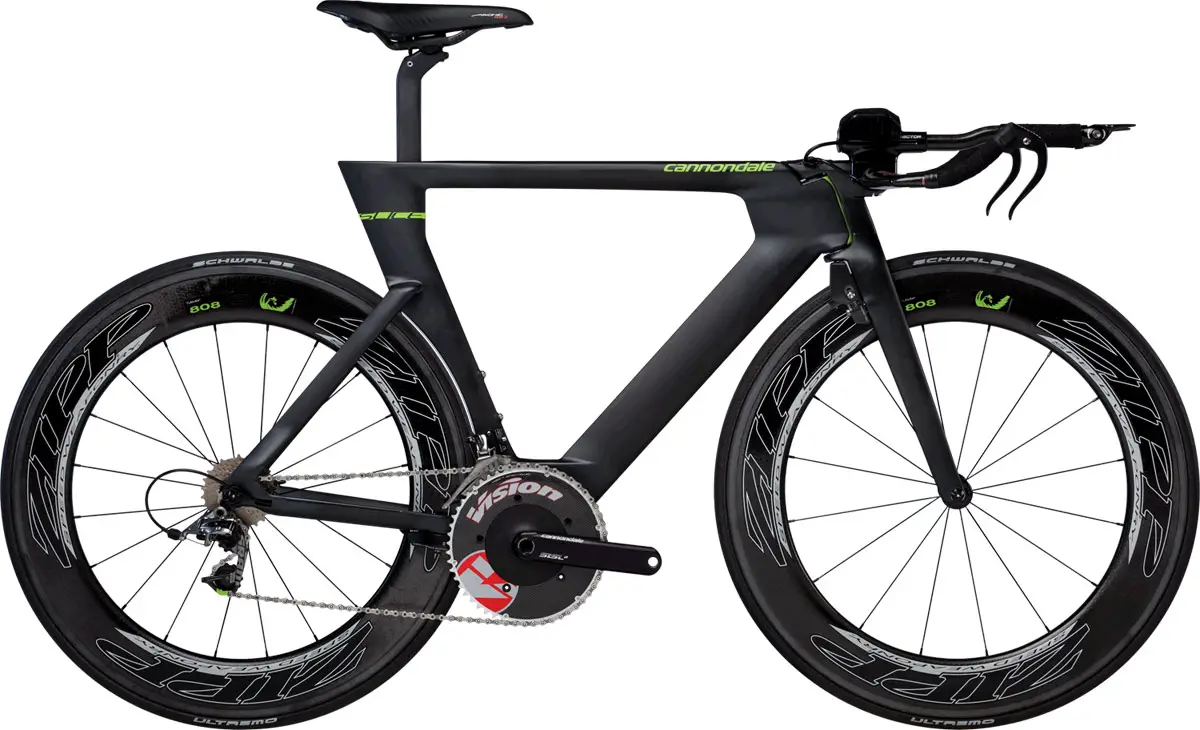 Cannondale Slice RS Dura Ace Di2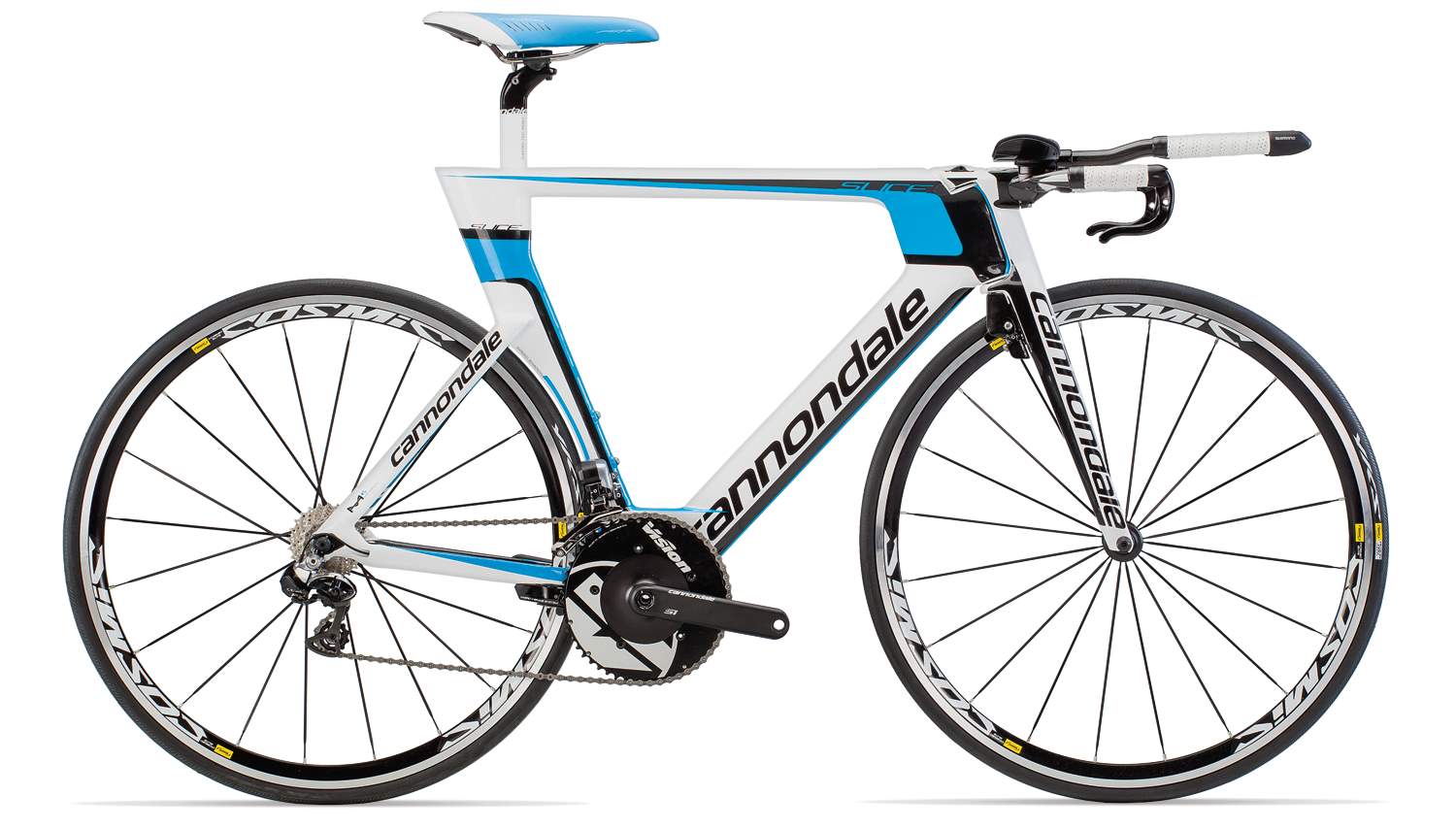 Specifications:
Frame: Slice RS Hi-MOD Carbon, AERO SAVE, Pressfit BB30, Naero-Tec
Fork: Slice RS Naero-Tec Si
Crank: Cannondale HollowGram Si, BB30, Aero Spider, Vision Trimax 53/39
Bottom Bracket: Cannondale Alloy PF30 BB Cups, Ceramic Bearings
Shifters: Shimano Dura-Ace Di2 9070 Aero
Cog Set: Shimano Ultegra 6800, 11-25, 11-speed
Chain: Shimano Ultegra 6800, 11-speed
Front Derailleur: Shimano Ultegra Di2 6870, braze-on
Rear Derailleur: Shimano Dura Ace Di2 9070
Rims: Mavic Cosmic Elite WTS
Hubs: Mavic Cosmic Elite
Tires: Mavic WTS, 700x23c
Pedals: N/A
Brake: Slice RS Windshadow Si
Handlebar: Vision Metron Slice RS Si
Stem: Slice RS Integrated, adjustable 31.8
Headset: Slice RS Si
Brake Levers: Slice RS Integrated
Spokes: Mavic Cosmic Elite
Grips: Fi'zi:k bar tape
Saddle: Fi'z:ik Arione Tri2, K:ium Rails
Seat Post: Slice RS Naero -Tec carbon
Rear Shock: N/A
Extras: Di2 Charger, Cfit stem/handlebar spacer kit
Cannondale Slice RS 3 Ultegra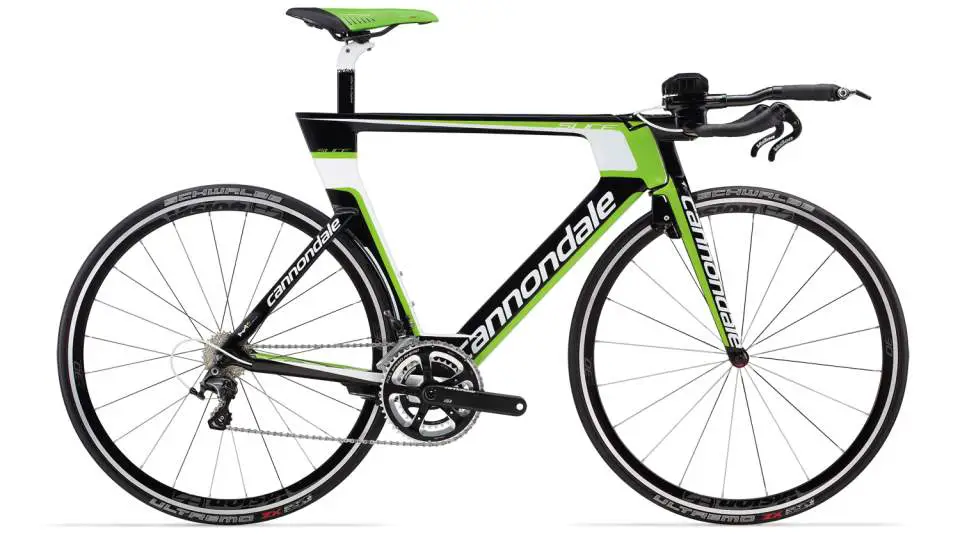 Specifications:
Frame: Slice RS Hi-MOD Carbon, AERO SAVE, Pressfit BB30, Naero-Tec
Fork: Slice RS Naero-Tec Si
Crank: Cannondale HollowGram Si, BB30, FSA Chainrings, 53/39
Bottom Bracket: FSA PF30
Shifters: Shimano Dura-Ace bar-end
Cog Set: Shimano Ultegra 6800, 11-25, 11-speed
Chain: Shimano Ultegra 6800, 11-speed
Front Derailleur: Shimano Ultegra 6800, braze-on
Rear Derailleur: Shimano Ultegra 6800
Rims: Vision Team 30 Aero
Hubs: Vision Team 30
Tires: Schwalbe Ultremo ZX, 700x23c
Pedals: N/A
Brake: Slice RS Windshadow Si
Handlebar: FSA OS Slice RS Si
Stem: Slice RS Integrated, adjustable 31.8
Headset: Slice RS Si
Brake Levers: Slice RS Integrated
Spokes: Vision Team 30
Grips: Fi'zi:k bar tape
Saddle: Fi'z:ik Arione Tri2, Mg Rails
Seat Post: Slice RS Naero -Tec carbon
Rear Shock: N/A
Extras: Cfit stem/handlebar spacer kit
Slice 2014 Series
Cannondale Slice Hi-Mod Sram Red
Specifications:
Frame: SLICE, Hi-Mod Carbon, AERO SAVE, BB30
Fork: Slice Aero, Hi-MOD carbon, 1-1/8"
Crank: NEW Cannondale Hollowgram Si, FSA Chainrings, 53-39t
Bottom Bracket: FSA BB30
Shifters: SRAM TT 900 Carbon
Cog Set: Sram PG-1050, 11-26 10-speed
Chain: SRAM PC-1070
Front Derailleur: new SRAM RED, braze on
Rear Derailleur: new SRAM RED
Rims: Fulcrum Racing 7
Hubs: Fulcrum Racing 7
Tires: Schwalbe Durano S, 700X23c, folding
Pedals: n/a
Brake: Magura RT-6 TT Hydraulic Caliper
Handlebar: Cannondale C3 base bar, 31.8 w/ FSA Tri Max Team clip ons
Stem: Cannondale C3, 31.8, 6 deg.
Headset: Slice, Si, 15mm top cap
Spokes: Fulcrum Racing 7
Grips: New Cannondale bar tape w/gel, 2.5mm
Saddle: Fi'zi:k Arione Tri2, w/ Mg rails
Seat Post: Cannondale Slice Carbon Aero
Cannondale Slice 3 Ultegra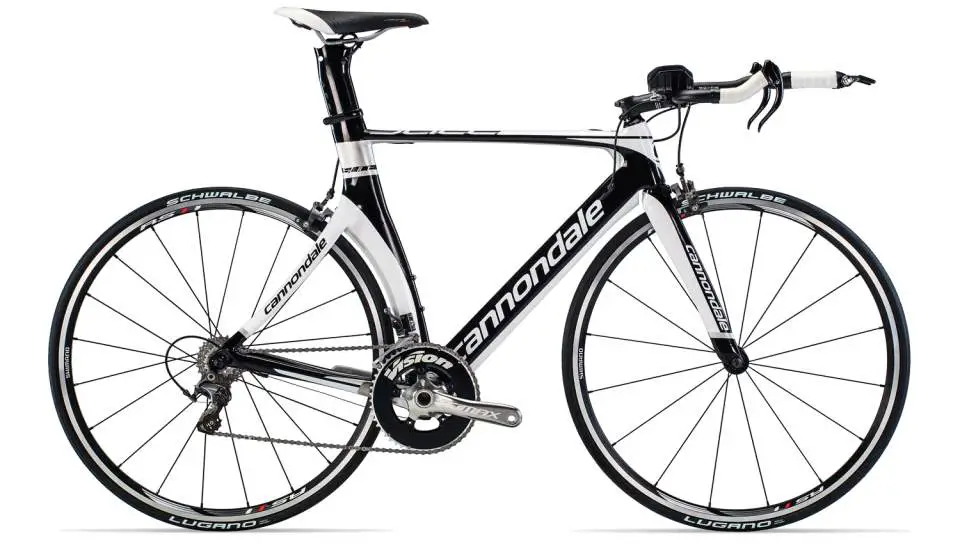 Specifications:
Frame: Slice, full carbon, AERO SAVE, BB30
Fork: Slice Aero, full carbon, 1-1/8"
Crank: FSA Trimax TT, BB30, 53/39
Bottom Bracket: FSA BB30
Shifters: Shimano Dura-Ace bar-end
Cog Set: Shimano Ultegra 6800, 11-25, 11-speed
Chain: Shimano Ultegra 6800, 11-speed
Front Derailleur: Shimano Ultegra 6800, braze-on
Rear Derailleur: Shimano Ultegra 6800
Rims: Shimano RS11
Hubs: Shimano RS11
Tires: Schwalbe Lugano, 700x23c, folding
Pedals: N/A
Brake: Shimano Ultegra 6800
Handlebar: Cannondale C3 base bar, 31.8 w/ FSA Tri Max Team clip ons
Stem: Cannondale C3, 31.8, 6 deg.
Headset: Slice, Si, 15mm top cap
Brake Levers: Alloy Aero Levers
Spokes: Shimano RS11
Grips: Cannondale Bar Tape w/Gel, 2.5mm
Saddle: Fi'z:ik Arione Tri2, Mg Rails
Seat Post: Cannondale Slice Carbon Aero
Rear Shock: N/A
Cannondale Slice 5 105
Specifications:
Frame: Slice, full carbon, AERO SAVE, BB30
Fork: Slice Aero, full carbon, 1-1/8"
Crank: FSA Gossamer Pro, BB30, 53/39
Bottom Bracket: FSA BB30
Shifters: MicroShift bar-end
Cog Set: Shimano 105 5700, 12-27, 10-speed
Chain: Shimano 105 5700, 10-speed
Front Derailleur: Shimano 105 5700, braze-on
Rear Derailleur: Shimano 105 5700
Rims: Shimano R501
Hubs: Shimano R501
Tires: Schwalbe Lugano, 700x23c
Pedals: n/a
Brake: Tektro R580
Handlebar: Cannondale C3 base bar, 31.8 w/ FSA Tri Max Team clip ons
Stem: Cannondale C3, 31.8, 6 deg.
Headset: Slice, Si, 15mm top cap
Brake Levers: Alloy Aero Levers
Spokes: Shimano R501
Grips: Cannondale Bar Tape w/Gel, 2.5mm
Saddle: Cannondale Ergo Tri
Seat Post: Cannondale Slice Carbon Aero
Rear Shock: N/A
To see all the models and frames visit cannondale.com
Latest posts by M. Özgür Nevres
(see all)