Today's historic photo of the day: Fausto Coppi and Gino Bartali smoking cigars in "Totò al Giro d'Italia" (Totò in Giro d'Italia), a 1948 Italian comedy film directed by Mario Mattoli and starring Totò.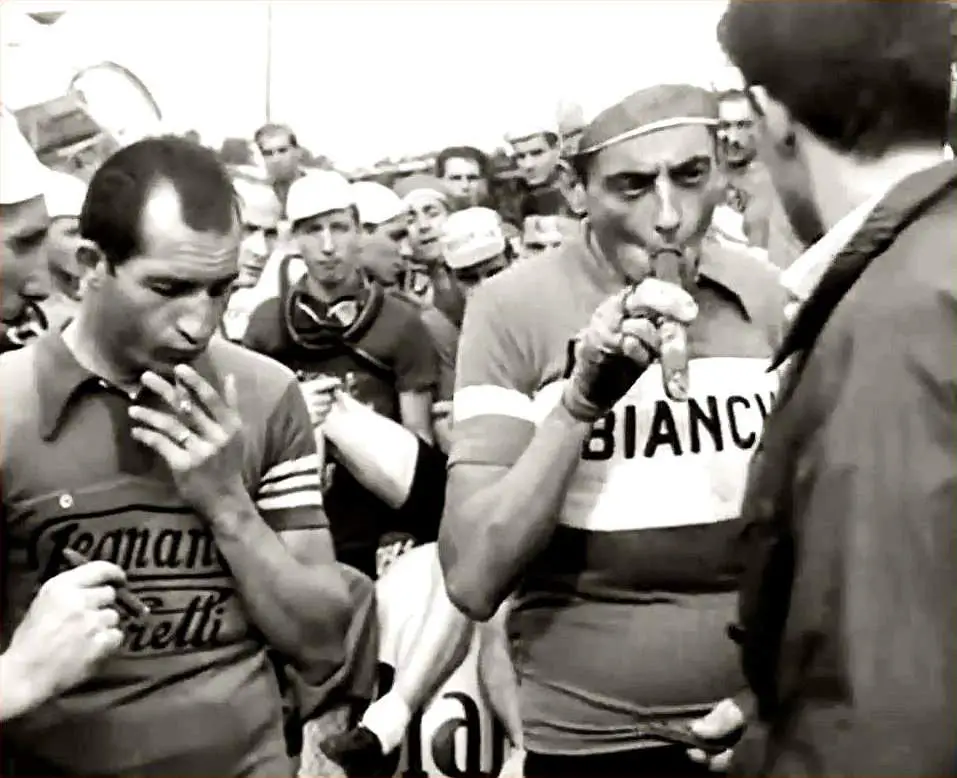 Totò al Giro d'Italia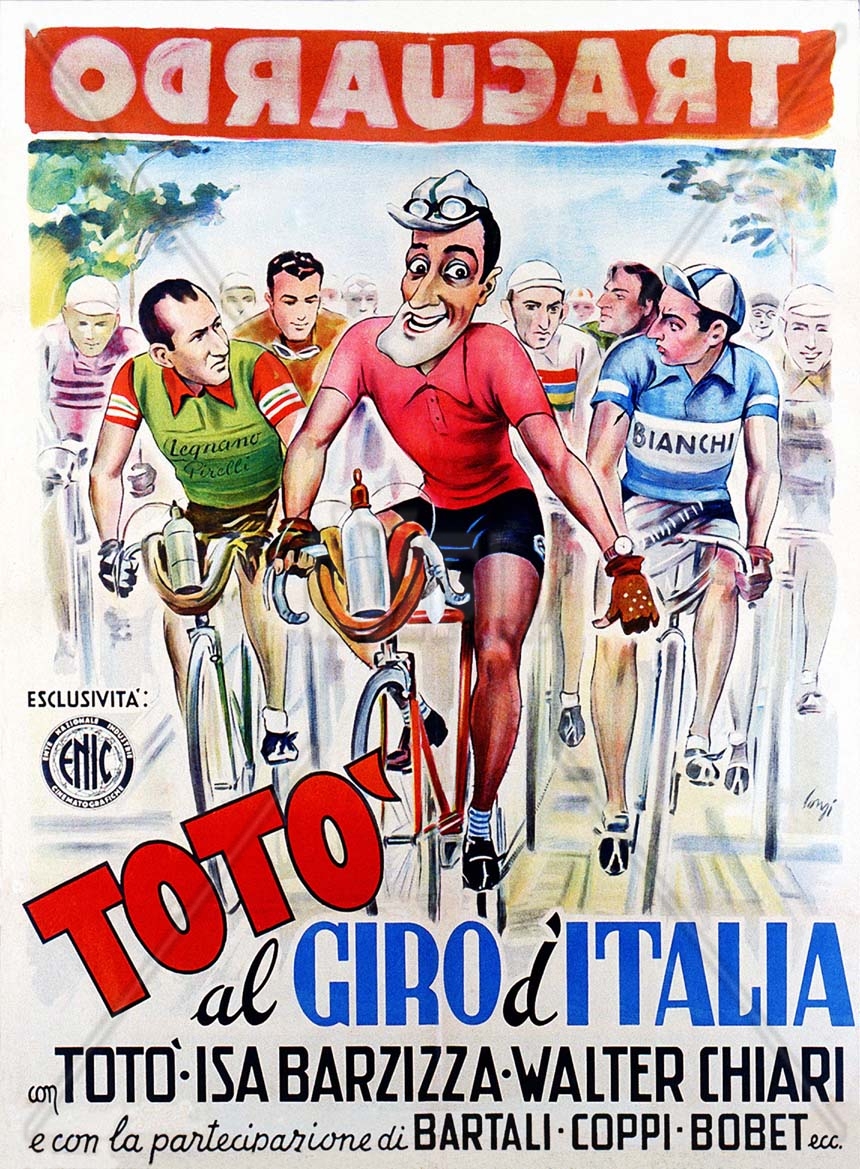 The film features cameo's of famous cyclists of that time: Fausto Coppi, Gino Bartali, Fiorenzo Magni, Ferdi Kubler, Giordano Cottur, Gianni Ortelli, Oreste Conte, Adolfo Consolini, Louison Bobet, Briek Schotte, Amos Matteucci, Jean-Pierre Wimille, Ulisse Lorenzetti, Di Segni, Amadeo Deiana, Aldo Spoldi, Giuseppe Tosi, Camillo Achilli and Tazio Nuvolari.
You can watch the scene on Youtube.
Plot
Italy is about to take the famous cycling race of 1948, the event is seen by everyone, even by Dante Alighieri and by the Roman Emperor Nero from top of the Paradise. Totò is a mild professor who knows nothing about cycling and bicycles, but to make a good impression with her students is at stake practicing day after day. But Totò proves to be a total failure and so desperate calls the devil.
This really comes and offers him a contract: Totò would win all cycling races past champions like Gino Bartali or Fausto Coppi, but in the end, he had to give his soul and life after the demon. Totò initially includes only the first part of the contract or to win all the races, but then the demon appears to him a second time to remind him of the price you pay.
Totò is desperate and does everything possible to not win the last race, but the legs on the pedals are as haunted and Totò can not stop. Approaching the last race and Totò is on the verge of collapsing morally, but his friends and the lovely Dorina, which Totò was madly in love, you invent a trick so clever as to deceive even the Devil.
Totò
Prince Antonio Focas Flavio Angelo Ducas Comneno De Curtis di Bisanzio Gagliardi, best known by his stage name Totò (15 February 1898 – 15 April 1967) or as Antonio De Curtis, and nicknamed il principe della risata ("the prince of laughter"), was an Italian comedian, film and theatre actor, writer, singer, and songwriter.
He is widely considered one of the greatest Italian artists of the 20th century. While he first gained his popularity as a comic actor, his dramatic roles, his poetry, and his songs are all deemed to be outstanding; his style and a number of his recurring jokes and gestures have become universally known memes in Italy. Writer and philosopher Umberto Eco has thus commented on the importance of Totò in Italian culture:
"In this globalized universe where it seems that everybody's watching the same movies and eating the same food, there are still abysmal and overwhelming fractures separating one culture from another. How can two peoples [i.e. the Chinese and the Italian], one of which unknowing of Totò, truly understand each other?"

Umberto Eco, Ma che capirà il cinese?
Mario Monicelli, who directed some of the most appreciated of Totò's movies, thus described his artistic value:
"With Totò, we got it all wrong. He was a genius, not just a grandiose actor. And we constrained him, reduced him, forced him into a common human being, and thus clipped his wings."

Mario Monicelli, Cinquant'anni di cinema (Fifty years of cinema)
As a comic actor, Totò is classified as an heir of the Commedia dell'Arte tradition and has been compared to such figures as Buster Keaton and Charlie Chaplin. He starred in about one hundred movies; while many of them were low profile, box-office driven productions, they tend to be all appreciated by the critics, at the very least, for Totò's performances many classify as masterpieces of Italian cinema.
Sources
Latest posts by M. Özgür Nevres
(see all)